Look here to find out about the best condenser mics for your home studio or simply apartment room to reliably broadcast and record
your instrumental music or vocal performance with transcendent acoustic qualities.
...
Read more
...Read less
Blue Yeti
Unlimited Possibilities
The Blue Yeti USB is an exemplary condenser mic aimed at the creation of quality audio content, including interviewing, podcasting, music recording, and literally anything else that can be done with a stationary mic. While most of the stand mics are designed for capturing the sound in a cardioid pattern, the Blue Yeti's 3-capsule array, hidden inside the metal housing, allow capturing the robust sounds in 4 different ways. Namely, you can choose between the cardioid, stereo, omnidirectional, and bidirectional modes for capturing the most robust sound field in different situations. For instance, the bidirectional is more suitable for the interview with 2 people, while the cardioid one would be appropriate for a single commentator or podcaster. As for the control, the mic has 3 knobs for the gain, headphones volume, and pattern selection. The mute button is handily placed on the front side for when you have to quickly shut it off. On the bottom, the housing has a Mini-USB port for the cable, 3.5mm audio out with zero-latency, and a threaded hole for attaching it to the shock mount that can be bought separately.
Additional Info
---
VIDEO
YouTube Gear #1 | Blue Yeti!
What customers say about this product
The size is good and the handle and comfort to play is good.
I bought this to use in a school music classroom to record rehearsals. I have used it for choir and band and the recording quality is great. I have also used it to record solo piano and vocal music.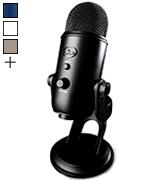 Blue Yeti
Rode NT-USB
Versatile Mic for Any Conditions
Sydney-based RODE company takes one of the top positions among the manufacture of microphones for all purposes. The Rode NT-USB Condenser Microphone is a great solution for artists who want the finest mic for the consistent instrument or vocal recording. We liked the fact that the mic comes with a pop-filter that we recommend using almost all the time to fight off the rapid air puffs that usually occur when we pronounce letters "B" or "P". 
The 20" USB cable is included for hooking it up to the computer. Speaking about compatibility, it doesn't require any driver installation. Therefore, it works right out of the box with both Mac and Windows computers. Also, you can use it with any modern programs for sound capturing and editing like Rode Rec, GarageBand, and others. We've found out that 6" is an optimal distance from your mouth for the generic voice recording, and overall, we were pleased with the robustness of the recorded audio. For this reason, we would clearly recommend this Rode Condenser Microphone for voiceover and music artists who want to experience all the key benefits of the professional equipment at a way more affordable price.
Additional Info
---
VIDEO
Rode NT-USB Desktop Mic - Inexpensive, Awesome, Plug-and-play Solution?
What customers say about this product
This mic has an amazing tone, its warm and clear on vocals.
It's probably not the best for traveling but it does come with a case and it's totally user friendly.
Rode NT-USB
Blue Snowball iCE
Crystal Clear iCE
The ball-shaped design of the Blue Snowball iCE Condenser Microphone is actually not the only thing that attracts attention to it. Just don't forget that the Blue is the name of the company while the mic is available in either black or white color. This one has a single capsule that has a cardioid polar pattern. Although it might not look like a piece of the high-end studio equipment, the ball may surprise you with the decent audio quality. It also has a built-in pop filter hidden behind the black grill. Thus, it is still a viable option for the music composing or practicing. That way, you can track your progression or share your work with your friends by livestreaming or uploading the videos on YouTube. This model is USB-powered and comes with a 6-ft. cord for connecting it to the computer. That way, you can have fun holding it in your hand like an oversized lollipop while moving around the computer and singing all your favorite Disney songs. On a serious note, the Snowball iCE does not require any special software and works well on both Windows and Mac OS. In our opinion, the Snowball Ice by Blue is a trendy-looking microphone that can offer more than can offer its balanced characteristics to obtain crystal clear audio right in your bedroom or office room.
Additional Info
---
VIDEO
Blue Snowball Review + Microphone Settings Test
Blue Snowball iCE
MXL 990
Equip Your Own Studio
The MXL 990 mic comes at a comparatively low price, though it doesn't look cheap. Quite the contrary, it has a rather classy design, especially, when the shock mount is attached. The mic, shock mount, and the stand mount come in a hard plastic case with the foamed insides. Note, that it's shipped without an XLR cable and needs phantom power at 48 V. Thus, make sure your mixer or preamp can provide it. As for hooking it up to the computer, you will need an XLR-to-USB audio interface.
The captured sound quality may vary, depending on other equipment that you have. Still, the MXL 990 is pretty sensitive and can capture the finest acoustic details while you are using it for the record. It has an extra-quiet inherent self-noise, while its large membrane can also pick up some unwanted noises from the background, so make sure you use it in a sound proof room, especially in an apartment. Anyhow, the mic delivers fluid treble, solid middles, and sturdy sub-bass frequencies. Feel free to use it for vocals, speech or instruments.
---
VIDEO
Part 1 - MXL 990 Microphone Review
What customers say about this product
The size is perfect and it looks great.
I use this mic for podcast recording and it has been great.
MXL 990
Audio-Technica AT2020USB
Studio Sound in Your Room
Basically, the Audio-Technica AT2020USB is a total copy of the AT2020 condenser mic with the only exception that it has a type B USB port in the bottom instead of the XLR-out. This allows you to plug it directly into the USB port on your computer via the included 10 ft. long cable. As usual, you don't need any additional drivers for this - just plug and play. What's more, it comes with a small tripod stand for placing it on your desk. The mic features a lightweight diaphragm that effectively picks up the sound in 20-16,000 Hz frequency range. Therefore, the highs are a bit mellow, so it might not work well for the singing in the upper vocal range. However, everything else is very impressive, especially, when you add the price to the picture. The deep bass and clear, sensitive medium frequencies make it great for podcasting, voiceover, and any speech recording in general. It can be even used outdoors with varying degrees of success, though we still advise getting a pop filter for it to obtain the best results and clearest sound quality. Lastly, it has a classy, professional-grade design that will look great if you want to have a serious look while recording a song or a conversation on video.
Additional Info
---
VIDEO
Audio-Technica AT2020 USB Mic Review- Best Mic for YouTube, Twitch & Podcasts
What customers say about this product
Everything is made out of some heavy duty metal, from the stand, to the mic casing, to the threaded attachment.
It has a great quality sound and a great range of frequency registration. Not too low, not too high.
Audio-Technica AT2020USB
What is a Condenser Microphone
In simple words, a microphone is an electrical music and sound equipment that can capture sound waves around it for recording or amplifying and further reproduction with the sound speakers. Long story short, the condenser-type mics usually have a slightly upper hand over dynamic mics in terms of frequency response. They have a wider frequency range allowing them to pick up the smallest nuances in your voice or your music instrument's tonality. Therefore, if you need a mic for a home studio, online webcasting or general audio recording, these microphones are exactly what you need.
Looking for more equipment? You can also check out our pick of the best over-ear headphones too. And if you are into game live streaming, we recommend getting a powerful graphics card and an HD webcam so that your videos wouldn't look pixelated or have low resolution.