If you like spending time in a cozy little bungalow by a lake in the mountains, you still want to eat different delicious food.
And spending money on a large stove makes no sense since you can use a small and handy electric skillet. We have chosen 5 best electric frying pans for you!
...
Read more
...Read less
Presto 06857
COOKING OPTIONS
This Presto electric skillet is big enough to cook large portions of food so it is really convenient if you have a large family or need to cook something for your guests and relatives. The frying pan is quite deep so you can easily fry chicken legs, meat steaks, and fish. Also, the frying pan is excellent for slow cooking and baking - lots of users bake pies and buns without any difficulties.
COOKING SURFACE
The cooking surface of Presto electric skillet is quite large - the pan is 16 inches long and 12 inches wide, whilst the depth is 3 inches. Therefore, this is a great skillet for making a huge pie for your guests or, for example, roasting a big fish. This electric fry pan is suitable for any family with lots of members and for people who like having guests around.
MATERIAL
This electric skillet has a base which is made mainly of plastic while a frying pan is a heavy cast aluminum with a special non-stick coating. The pan can be easily extracted from the base (when a temperature probe is off). It has its own small metal legs so you can serve the food right in it (when, of course, the pan cools off after cooking).
CONVENIENCE
Presto electric skillet is truly convenient in use since, as we have already mentioned, it folds up for easy storage. Next, the frying pan is made of aluminum and it is absolutely dishwasher-safe so you do not need to think of cleaning it up. The pan also has a spout for pouring liquids and the tempered glass lid which allows you to keep an eye on the food being cooked.
---
VIDEO
Presto® 16-inch Electric Foldaway® Skillet
What customers say about this product
First and foremost, it heats evenly over the entire cooking surface which is a must when making crepes or pancakes. Second, it maintains an even and constant cooking temperature without shutting off and on the cooking elements as the desired temperature is reached.
SUPER easy to clean. Just unsnap the base and the whole skillet goes into the dishwater.
The spoon rest cutaway in the corner makes a nice vent for the pan when cooking, and easy pouring for liquids in the skillet.
First of all, it's really powerful and doesn't lose power like most electric skillets. It's very good at maintaining its temperature.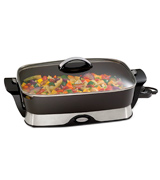 Presto 06857
BELLA 12-inch
COOKING OPTIONS
Bella electric skillet can touch the heart of every cook since it's an extremely handy appliance for a novice and for a professional restaurant chef. Forget about dozens of different pans and sweating while choosing the right heat on your gas stove. Bella makes it all much simpler and allows you to cook various food in many ways. First of all, you can fry or saute - just set the temperature of 350 F and add some oil. Next, you can pan-broil meat - set the temperature of 450 F, then add oil and some butter and off you go broiling some delicious beef steaks. Next, you can simmer - add some liquid and choose 300 or 350 F. Also, unlike some other electric skillets, this one allows you to steam. And if you just need to heat some food up - choose the Warming option on the temperature control knob.
COOKING SURFACE
This is a mid-sized electric skillet and its cooking surface measures 12 by 12 inches. A square shape is good for cooking since it ensures an even heating. The pan is 2 inches deep (most other skillets on our review are deeper). However, the cavity is big and deep enough for cooking steaks, sausages, vegetables, and other everyday meals a common family eats every day. In general, the cooking surface is big enough to cook a meal for a typical family of 4 members.
MATERIAL
As far as material is concerned, this electric skillet is quite similar to many other appliances. It has a lightweight cooking pan made of genuine aluminum with a ceramic non-stick coating. The 2 large plastic legs are attached to the pan by means of several screws. The lid is made of tempered glass so you can always see what's happening to your dish. In general, the electric skillet is very durable but you should strictly follow all the precautions mentioned in the user guide. For example, a ceramic coating mustn't be damaged, so make sure not to drop the pan.
CONVENIENCE
Bella 12-inch electric skillet has all the necessary convenience features. The first one is an indicator that tells you when the pan reaches the pre-set temperature. Next, both the pan and lid are dishwasher-safe - you can go do what you want and leave an annoying cleaning process to the machine. Finally, the handles are made of cool-touch plastic. Therefore, you can touch them even if the pan is hot, though if you feel that the handles are too hot for your skin - use grippers.
---
VIDEO
Mexican Albondigas Soup (Meatball Soup) and the Bella Ceramic Skillet
What customers say about this product
It is like the copper pan so nothing sticks to the bottom and the temperature is so easy to adjust. I cooked chicken drumsticks with tomatoes in it the first day and it marinated beautifully and tasted absolutely delicious.
I absolutely love this electric frying pan!!! Nothing sticks to it. Very easy cleanup with a paper towel! Light weight.
Easy to clean when I run the cooled pan under faucet water, and everything glides off. Or, I just put the pan into the dishwasher. I use metal instruments with it, and so far, no scratches.
Cleans up so well since the cord detaches. Wish I had bought one sooner!
BELLA 12-inch
Proctor Silex 38526
COOKING OPTIONS
This electric skillet is a fairly compact yet an extremely helpful appliance that will find its place in any kitchen. Proctor Silex allows you to stir-fry, slow cook, simmer, saute, etc. Therefore, you can cook lots of different healthy dishes. The temperature probe has the following range: from 200 to 400 F. If you have no experience of using such appliances, make sure to read the manual to find out what the necessary temperature for each ingredient is. For example, frying bacon requires 350 F and up to about 15 minutes. Chicken (legs) are fried at the temperatures around 375 F for about 20-25 minutes. Sauteing requires continuous stirring of ingredients and a high temperature (about 350-400 F).
COOKING SURFACE
Proctor Silex has a square cooking cavity that is around 10.5 inches long and wide. Thus, it's a compact kitchen appliance that requires little place. The depth of the cooking pan is 2.5 inches - quite a typical result for electric skillets. Such size and depth allow you to fry vegetables and meat. For example, you can fry chicken wings or legs, make some beef steaks, sausages. However, this electric skillet isn't big enough for cooking the whole chicken or turkey.
MATERIAL
The frying pan is made of aluminum that has a special non-stick coating. Aluminum is a light metal, so no wonder the whole appliance weighs about 5 pounds. The square shape ensures an even heating, so no part of your dish burns. However, the very name 'non-stick coating' mustn't misguide you - oil is still required but in far smaller amounts than for conventional stovetop frying pans. Of course, any coating should be treated carefully - you mustn't use sharp metal cookware for fear of damaging the surface of the pan.
CONVENIENCE
This electric skillet is very simple in use. First of all, both an aluminum cooking pan and a tempered glass lid are dishwasher-safe, so cleaning requires no effort at all. If you don't use a dishwasher (yes, it happens today!) - no worries, a non-stick coating can be washed with the help of a soft brush and some grease detergent. Next, a special light indicator tells you when the pre-set temperature has been reached for you to know when you can start cooking. The handles of this electric skillet are made of durable heat-resistant plastic, which means you can easily carry the whole unit to dish up.
---
VIDEO
Proctor Silex 38526 Electric Skillet
What customers say about this product
My wife loves this. We have fried chicken a number of time since we purchased this. It seems to cook very evenly. The only complaint is the top is glass and I am always afraid to break it.
I cook for two mostly, one more when our son is home and the size is wonderful for 2 or 3 people. You won't be sorry if you choose this skillet.
I really like it and I would recommend it for the small to medium sized family without reservations. It heats up to 400 degrees. Has a nice glass lid and it's dishwasher safe.
Upon closer examination, the power plug is basically a large thermostat with a thermocouple that checks the temperature of the skillet and cuts off the power once it reaches the set temperature.
Proctor Silex 38526
Presto National Presto 07115
COOKING OPTIONS
Presto electric skillet is surely a kitchen appliance one should purchase. The heating probe allows you to choose the temperature from 200 to 400 F, which is enough to make some stew, to grill meat, vegetables or fish, to fry meat and vegetables, and so on. However, make sure to read the manual before using the appliance: you need to know what temperature for what type of cooking is required. Presto electric skillet is also a great appliance to cook a lot of tasty casserole. However, this appliance isn't actually the best one for steaming - the lid has no steam release valve, but the steam escapes through a spout.
COOKING SURFACE
This is a small electric skillet that has a rectangular pan, each side of which is about 12 inches long. Such a shape ensures an even heating of the bottom, which, in its turn, makes cooking quicker. Presto electric skillet is 2.75 inches deep, so you can easily fry fish and steaks, or roast some small poultry. Of course, the cooking cavity isn't big enough for a turkey, so don't even try to cook it there. It's not a deep fryer after all.
MATERIAL
The frying pan of this model of Presto electric skillet is made of heavy cast aluminum that is very durable. When fully assembled, the skillet weighs 7.2 pounds. The pan has a special ceramic coating with non-stick capabilities. It's easy to wash the pan: you simply need to remove it from the base and use a soft brush and some detergent. No need to say, no mesh brushes can be used - they will damage the coating.
CONVENIENCE
This Presto electric skillet is very convenient in use. First of all, you can serve food right in the skillet - the fold-down handles are heat-resistant, so you can carry the appliance without a fear of burns. Next, you can supervise the cooking process through a transparent tempered glass lid. The lid is absolutely dishwasher-safe, so cleaning it requires no effort at all. When you don't use the skillet, you can save storage space by putting a base and a heating element inside a pan.
---
VIDEO
Presto® 12-inch Electric Foldaway® Skillet
What customers say about this product
Fabulous skillet. I have both sizes. Perfect temperature control. Since the base separates, clean up is as easy as any Teflon pan. Especially nice if you're washing in a small sink.
The pan snaps right off for easy washing and washing is a breeze. I did order two Teflon spatulas so I would be sure not to scratch the surface. The temperature seems to be true, not too hot. 350 is about what I expect it to be and doesn't burn the food.
I particularly love how I can see through the glass cover to see if my food is actually simmering or if it's over-bubbling so I can more easily adjust the temperature.
Both work perfect when our power goes out because our generator provides power to kitchen outlets but not electric oven or stove top.
Presto National Presto 07115
De'Longhi BG45
COOKING OPTIONS
Speaking of cooking options, De'Longhi electric skillet is a truly versatile appliance that is indispensable in any kitchen. The frying pan is big enough to do nearly anything but roasting is particularly convenient - you can even roast a small turkey or hen. No need to say, baking a huge pie for your family or guests will be a sheer pleasure. You'll find it an excellent skillet for slow cooking. This electric fry pan provides a temperature from 200 to 400 F - make sure to choose the right setting depending on what you are going to cook. The manual contains the instructions about it.
COOKING SURFACE
De'Longhi electric skillet is mid-sized. The frying pan is rectangular - 15 inches long and 11.5 inches wide. The depth - a key factor for skillets - is 3 inches, which is deep enough. Of course, this best electric skillet is not designed for roasting a Thanksgiving Day turkey, but it will easily cope with everyday cooking.
MATERIAL
This electric frying pan is made of a durable die-cast aluminum which has a special non-stick surface. The body of the pan is designed to provide even heat in any part of the bottom for the most efficient cooking. That is why this electric skillet is far superior to any stovetop frying pan. Also, the die-cast body keeps warmth for a long time (if covered with a lid, of course) so the food will be warm when you serve it.
CONVENIENCE
Unlike many other electric skillets, this one is extremely easy in use. First of all, when the probe is plugged in you can still lift the skillet by the handles (it is impossible to do on some cheaper electric frying pans because it is too close). Next, both the body of the pan and the lid are dishwasher-friendly, so the clean-up is simple after you have finished with cooking. Finally, the tempered glass lid allows you to see and supervise the cooking process.
---
VIDEO
De'Longhi BG45 Electric Skillet Review
What customers say about this product
Very pleased with this electric frying pan. The high side walls are great for simmering stews and indian curries. The non-stick surface appears well made and certainly has worked well so far.
It can be kept on a buffet when serving a large crowd on holidays or informal entertaining.
I absolutely love this product. You can cook just about anything in this. It cooks evenly and cleaning is quick and easy. It says non stick and it truly is. I highly recommend this product.
It fits inside the smallest rolling luggage with a little room for foodstuff and a 10 foot heavy duty extension cord.around it.
De'Longhi BG45
What is an Electric Skillet?
In the following review, we are comparing the most popular electric skillets available on the market. A skillet (basically, a large frying pan) is a usual kitchen appliance that millions of people can't do without when cooking delicious dishes. Most skillets are stovetop but the technology does not stand still - it is developing every year and so electric skillets are now getting more and more widespread. Its advantages are clear - no gas supply is required in your house and you can cook in it and serve a dish right in a skillet. Let alone the situation when you move to your cottage for a couple of weeks and need a frying pan - an electric skillet is indispensable in this case. You can cook a lot of dishes in an electric fry pan: from a simple omelet to a shrimp stew and from French fries to an appetizing turkey. Any electric skillet goes with a lid which speeds up the cooking and keeps your kitchen clean.
If you like grilling, pay attention to our review of the best electric griddles - these compact appliances is a great electric alternative to conventional outdoor grills.
What Features to Compare
If you think a choice of the best electric skillet is easy, you are totally wrong. There are so many of them in any large store but still people get confused and very often get really poor appliances. That is why we have decided to make our electric skillet review as simple for a common buyer as possible, and yet, provide as much necessary information as you need to make the best pick.
First of all, you are buying an electric fry pan for cooking and if you are not an experienced wife or husband, you might not even put your finger on what exactly you can cook with the help of this appliance. Therefore, begin with Cooking Options - find out what kind of food you can make in an electric skillet. Of course, an electric frying pan is big enough to cook nearly anything - from your favorite French fries to a beef stew with potatoes. However, some electric fry pans are designed to accommodate the whole turkey, for example. Also, skillets are deeper than usual frying pans which means you can have pleasure baking: make pies, biscuits, and a lot of other stuff. Next, any electric skillet is perfect for cooking stew - you can make a stew and serve it right in a pan, without a need of another dish - most skillets are designed with a removable thermostat. Also, it is easy to roast in a deep frying pan and you can sometimes roast a whole turkey for Thanksgiving Day! No need to say, the cooking abilities heavily depend on temperature every electric skillet can provide. Most of them support a temperature from 200 to 400 degrees Fahrenheit (not Celsius - be attentive!). You need at least 375 degrees for cooking poultry, beef, pork, or veal. 300 degrees are enough for frying sausages or eggs whereas baking requires 300-400 degrees. Also, some electric frying pans have a Warm mode which is convenient if you need to keep a dish warm for some time before serving it.
Next feature you need to consider is the Cooking Surface of an electric skillet. Honestly, you do not need to know how much a whole frying pan weighs but what you truly need is the dimension of the frying pan. They are usually square, round, rectangular, or oval. The shape is usually important for cooking: a rectangular one is the most suitable for a turkey, fish, or a hen, for example. But if you are buying an electric skillet for baking - a square form will be the most convenient. Next, consider the capacity of the pan - it depends on the depth. 3-inch deep skillet will not be suitable for roasting a hen or turkey, so you need a deeper one (at least 5 inches). Naturally, if you have a big family, a small skillet will not be enough, so choose a big one.
Also, pay attention to the Material a frying pan is made from. Most skillets are made of aluminum or aluminum alloys and weigh around 4.5 pounds. However, stainless steel pans are more durable. All electric fry pans have a special non-stick coating which requires particular care since if it gets damaged, you might need to buy a new skillet. However, it is better to buy a pan with a reliable coating than save up some money and then throw a skillet into a trashcan.
Finally, make sure to choose a skillet with a decent level of Convenience. The best electric skillets boast a transparent tempered-glass lid through which you can see what is going on and control the cooking. Also, good lids have a small vent hole through which excessive steam goes out. Some frying pans also boast a special spout that facilitates pouring liquids (it is particularly important to remove oil, for example). And do not forget to check if a frying pan is dishwasher-safe since if it is - the cleaning will be just a piece of cake.