Do you have time for reading? Not much, right? There's always work to do. But reading is interesting and useful. With an e-reader
you can read in transport, or while having lunch, or have a chapter or two before going to sleep, without even bothering your family with lights on.
...
Read more
...Read less
X
This site is a free online resource that strives to offer helpful content and comparison features to its visitors. Please be advised that the operator of this site accepts advertising compensation from certain companies that appear on the site, and such compensation impacts the location and order in which the companies (and/or their products) are presented, and in some cases may also impact the scoring that is assigned to them. The scoring that appears on this site is determined by the site operator in its sole discretion, and should NOT be relied upon for accuracy purposes. In fact, Company/product listings on this page DO NOT imply endorsement by the site operator. Except as expressly set forth in our Terms of Use, all representations and warranties regarding the information presented on this page are disclaimed. The information which appears on this site is subject to change at any time. More info
Kindle Voyage 6"
Ergonomic Aspects
Front panel of a Kindle Voyage e-reader is finished with matte glass which is framed all-round by hard black rugged plastic. Use of capacitive touch screen allowed the manufacturer to make the front panel flat like a tablet's, when most readers have a significant difference between the height of E Ink screen and a frame. Two pairs of PagePress buttons with tactile reaction are placed at the sides of display frame opposite to each other and are intended to turn the pages. Body with a Soft-touch coating is nice on the touch, resistant to graze and scratches, and feels good in your hand.
Image Quality
Automatic adjustment of brightness in Kindle Voyage slowly lowers display brightness so that the reading is pleasant to your eyes. Display glass has micro-engravings that diffuse light to eliminate flecks and to create a paper-like feeling. High contrast and display resolution are the advantages of a new E Ink Carta matrix.
Additional Features
Embedded Wi-Fi receiver will help you visit a branded book store of electronic books where you will be able to choose books and download them to your Kindle e-book reader. By means of a pre-installed dictionary you will have the opportunity to learn the meaning of any new word. There are touch buttons for turning pages. This Kindle Ebook is considered one of the best ebooks.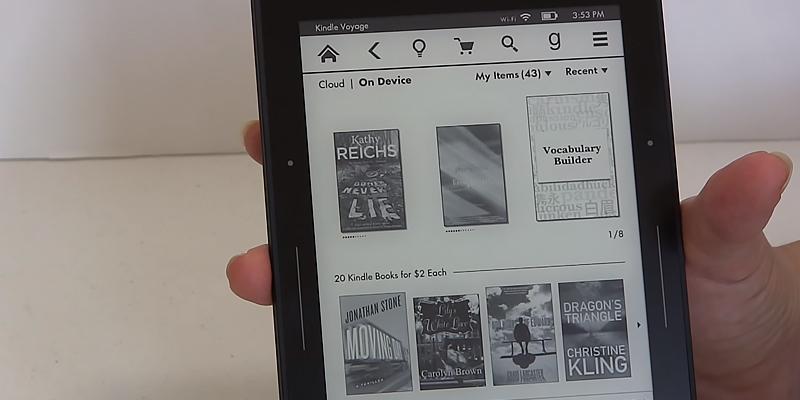 Last updated price

$

0.00

Stock
May be out of stock
ASIN

B00IOY8XWQ
---
VIDEO
Amazon Kindle Voyage Hands-on
What customers say about this product
The PPI resolution (300) makes reading easy with less eye strain
Page turns using the touch screen and the bezel pressure touch work quickly.
Kindle Voyage 6"
Kindle Paperwhite
Ergonomic Aspects
Kindle Paperwhite Ebook body is made of rough plastic (resistant to any finger prints) that sits in your hand rather firmly. The front panel is finished with black matte plastic, the frame is minimal along the larger sides of a 6-inch screen and notably wider above and under it. There are no control buttons here, all the operation is still performed using the capacitive touch screen.
Image Quality
New E Ink Carta matrix provides Kindle Paperwhite ebook with a high quality of image. The latter becomes even more detailed, sharp, and there are no flecks of reflection if you prefer reading outside in the bright sunshine. Display backlighting will allow you to read a few chapters of your favorite book in the evening before you decide to go to sleep.
Additional Features
This Ebook has a built-in Wi-Fi adapter, so you will have an opportunity to visit the Kindle Store of electronic books. There is a browser installed in the reader. The Whispersync technology synchronizes the last page you have read, bookmarks, and summaries on all of your devices - you will be able to start from the very place you have stopped the last time you were reading.
Last updated price

$

38.35

Stock
In stock
ASIN

B00OQVZDJM
---
VIDEO
All New Kindle Paperwhite High Resolution 300 ppi Unbox
What customers say about this product
The screen is beautiful. Being able to read either in complete darkness or in direct sunlight is a thing of beauty - especially coming from an iPhone.
Also appreciate the ease of changing dictionaries once the definition comes up.
Kindle Paperwhite
Kindle 6" Glare-Free
Ergonomic Aspects
The front panel of this Amazon Kindle 6 Ebook is performed in a very smooth high-quality black colored plastic with a miniature glossy logo of a Kindle brand. The type of plastic used here has an extremely high resistance to scuffs and fingerprints, and is actually one of rather high-performance characteristics overall.
Image Quality
A screen of this electronic book reader looks the same as any real printed document. The display has a High Gloss coating of the very best quality, and thanks to it you will have the opportunity to read your favorite book, or a magazine even sitting outside in the park or at the beach under the bright sun shining full strength.
Additional Features
The built-in wireless adapter gives your Kindle e-reader an access to the Internet via Wi-Fi, and also to the Goodreads network at Kindle, where you will be able to connect to the largest community of book lovers, to see what your friends read, and to share with them the most important or most interesting and breathtaking moments of the books you have been reading.
If you can not imagine your life without listening to music, you could probably get interested in Bluetooth speakers. Looking through our review, you will find the best model for you. 
Last updated price

$

0.00

Stock
May be out of stock
ASIN

B00I15SB16
---
VIDEO
Kindle, 6" E Ink Display, Wi-Fi - Includes Special Offers (Black)
What customers say about this product
The text is amazingly clear--really, my graphics geek husband marveled over it--and being able to adjust the size means that even if I've forgotten my reading glasses, I can still read.
Dictionary: this is my favorite. Simply touch a word you don't know and it brings up the definition
Kindle 6" Glare-Free
Rakuten Kobo Aura H2O
Functional Device
The Kobo AURA H2O e-reader offers a convenient 6.8" Carta E Ink HD touchscreen with the high resolution of 1430 x 1080. This is more than enough to get detailed and sharp pictures and crisp text when reading books. The reliable 1 GHz processor ensures trouble-free operation of the device.
Talking about the memory capacity, we would like to point out that this model provides 4 GB of onboard memory and can store about 3,000 eBooks. For an average user, this number is more than enough. Anyway, in case you need more, there is an option to expand the memory up to 32 GB. This will enable you to have up to 30,000 eBooks on your appliance. Thanks to the Wi-Fi support, you can wirelessly surf the Internet, check your e-mail, or watch videos.
Great Ergonomics
This electronic reader has one of the smartest designs out there. The device is equipped with a useful front light to ensure even light distribution. It will do a really good job for people who frequently read at night and do not want to disturb their partners. This light is nice and even after long hours of reading at night, your eyes will not hurt.
The Aura H2O e-book is a water-resistant appliance. Just for an experiment, you can hold it under the water (at up to one
meter
) for a half an hour without any worries. In addition, this model is sand- and dustproof. Thus, it will not get damaged if you are hiking with it or reading on the beach.
Its user-friendly interface supports English, German, French,
Spanish, Japanese
, Dutch, Italian, and Portuguese languages making it a versatile device suitable for users worldwide.
Thoughtful Design
The Kobo company focuses on durability and usability. Since an e-reader is usually stored in a bag with lots of other items, the manufacturer has made this model extremely reliable and well-protected from various external damages.
The black plastic housing of this model is strong enough to withstand abuses of traveling. It is quite comfy to hold for a long time. The power button is located on the top corner and is easy to reach. Actually, you will have to press the button rather hard to make it respond. It means the appliance will not accidentally turn on in your backpack and its battery will not get low. Overall, the Kobo H20 will be a perfect choice for active people who are often on the go.
If you have children, you can get interested in tablets for kids. This device will be perfect not only for entertaining but also for a child`s developing.
Additional Info
Last updated price

$

0.00

Stock
May be out of stock
ASIN

B00N9ZVN90
---
What customers say about this product
The device is so good, the screen is everything I wanted it to be and the battery life is supurb. Just pop an SD card in, download Calibre to your computer and have at it.
This works really well, and is simple to use. It also has great battery life. Touch feedback on the display doesn't seem as good as the Kindle, but it works well enough.
Rakuten Kobo Aura H2O
Barnes & Noble Nook 6" Simple Touch
Ergonomic Aspects
Barnes & Noble Nook Ebook has a frontal panel with finely rounded corners and is made of rubberized plastic. It is of the graphite grey shade. Side parts of the screen frame have two pairs of buttons intended to turn pages, and there is an operational Home button at the bottom performed in the shape of an "n" symbol. The rear panel of the ereader is an integral unit with the lateral parts. It is also made of the same hand-filling rubberized plastic, dark grey in color, and has a unique shape. There is a deepening at the center of the case cover, and closer to the edges there are extensions which help to firmly hold the reader and are considered NOOK readers' trademark.
Image Quality
E Ink Pearl screens are traditionally well known for their conveniently high image contrast and the speed of updating the image displayed. The viewing angle of the Nook e-reader screen is up to 180 degrees without any changes inflicted to the image. The display does not flicker when you turn pages. The screen has a matte coating.
Additional Features
NOOK e-reader is based on Android operating system which is also used on many smartphones and tablets. This means that you can easily download and install third-party applications in addition to those already present on your Ebook, or use Google services via Wi-Fi connections to Internet. There is also a possibility to widen your on-device storage by means of MicroSD memory card. Nook Ebook is also one of the cheapest ebooks compared to other ebooks presented on the market.
Last updated price

$

208.96

Stock
In stock
ASIN

B00L89V1AA
---
VIDEO
New Barnes & Noble Nook "Simple Touch": Review (Nook vs Kindle)
What customers say about this product
Love it. Item as advertised, and all the charger+cable works great as well.
I have had it for about 3 years and it is still working perfectly, no faded ink or screen problems.
Barnes & Noble Nook 6" Simple Touch
What Is an e-Reader?
Recently e-readers have gained quite a few followers, you can see people reading ereaders in transport, on vacations, and at home. This is all thanks to the fact that this tiny device has space for thousands of books, and all of them you can take with you. Just put an e-book into your bag or in the pocket.
An e-book is a portable device for storing and displaying various electronic text formats. An e-book allows you to read your favorite novel, a magazine, scientific literature, or comics.
An e-reader is an absolutely necessary device for each and every book lover.
If you not only read books but also write them, we recommend you think about obtaining a touchscreen laptop.
What Features to Compare
E-readers can be different in sizes, from 4.5" to 10". Manufacturers determined the 'happy mean' of a display to be 6" to 7". These sizes make a device more compact and easy to transport than an average tablet. In this review, we will compare 5 best e-readers.
The size of an Ebook is slightly smaller than a notebook, and it is not thicker than a pencil. Even compared to a single printed book, a reader is much more mobile. E-reader body can be made of different materials, for example, aluminium, plastic, or combined. But mostly they are manufactured of extra-strong and lightweight plastic, that makes the device cheaper. Material quality and size of the device affect its Ergonomic Aspects.
First, you need to determine display characteristics, as it is essential for the e-reader Image Quality. Nowadays Ebooks have monochrome displays with matte High Gloss coating and use the so-called 'electronic ink' (E Ink). Such displays consume energy only when the displayed information is being changed (for example, when you turn a page), thereby battery life can last several weeks. Text sharpness and quality of little details in pictures depend on display resolution and pixel density per inch (ppi). The higher this index is the more detailed picture you will see. The average resolution is 800x600px (E Ink Pearl). To solve the problem of reading with weak light (for example, before sleep), some e-readers are equipped with an embedded backlighting.
In the latest models, manufacturers strive to replace the mechanical operational buttons with touch screens. There are three main types of touchscreens: Resistive, which reacts to pushing on the display with any object, Capacitive, which reacts only to a finger touch, and Infrared, which reacts to both object and finger touch. Models with infrared and resistive displays react to operation even when you wear gloves.
With the help of an e-reader not only will you be able to read exciting detective stories, romance novels, and other literature, but also, thanks to the embedded Wi-Fi, you will have the option of going online and will be well informed about what is happening around the world by reading the latest news. That's why pay attention to Additional Features of your e-reader. There are models that support 3G Internet, for example. You can also download new study books, magazines, fiction novels and other electronic books via the Internet or using a USB cable to connect your e-reader to a PC. If you have encountered new or odd word in a book you have been reading, you can learn its meaning with the help of a pre-installed vocabulary.
There might be more additional features in an e-reader, but you are primarily looking for a reading device, right?