Do you have time for reading? Not much, right? There's always work to do. But reading is interesting and useful. With an ereader
you can read in transport, or while having lunch, or have a chapter or two before going to sleep, without even bothering your family with lights on.
...
Read more
...Read less
What is an E-Reader
Recently ereaders have gained quite a few followers, you can see people reading ereaders in transport, on vacations, and at home. This is all thanks to the fact that this tiny device has space for thousands of books, and all of them you can take with you. Just put an ebook into your bag or in the pocket.
ebook is a portable device for storing and displaying various electronic text formats. An ebook allows you to read your favorite novel, a magazine, scientific literature, or comics.
E-reader is an absolutely necessary device for each and every book lover.
If you not only read books but also write them, we recommend you think about obtaining a touchscreen laptop.
...
Read more
...Read less
What Features to Compare
Ereaders can be different in sizes, from 4.5" to 10". Manufacturers determined the 'happy mean' of a display to be 6" to 7". These sizes make a device more compact and easy to transport than an average tablet. In this review we will compare 5 best ereaders.
The size of an Ebook is slightly smaller than a notebook, and it is not thicker than a pensil. Even compared to a single printed book, a reader is much more mobile. Ereader body can be made of different materials, for example aluminium, plastic, or combined. But mostly they are manufactured of extra-strong and lightweight plastic, that makes the device cheaper. Material quality and size of the device affect its Ergonomic Aspects.
First, you need to determine display characteristics, as it is essential for the ereader Image Quality. Nowadays Ebooks have monochrome displays with matte High Gloss coating and use the so-called 'electronic ink' (E Ink). Such displays consume energy only when the displayed information is being changed (for example, when you turn a page), thereby battery life can last several weeks. Text sharpness and quality of little details in pictures depend on display resolution and pixel density per inch (ppi). The higher this index is the more detailed picture you will see. The average resolution is 800x600px (E Ink Pearl). To solve the problem of reading with weak light (for example, before sleep), some ereaders are equipped with an embedded backlighting.
In the latest models manufacturers strive to replace the mechanical operational buttons with touch screens. There are three main types of touch screens: Resistive, which reacts to pushing on the display with any object, Capacitive, which reacts only to a finger touch, and Infrared, which reacts to both object and finger touch. Models with infrared and resistive displays react to operation even when you wear gloves.
With the help of an ereader not only will you be able to read exciting detective stories, romance novels, and other literature, but also, thanks to the embedded Wi-Fi, you will have the option of going online and will be well informed about what is happening around the world by reading the latest news. That's why pay attention to Additional Features of your ereader. There are models that support 3G Internet, for example. You can also download new study books, magazines, fiction novels and other electronic books via Internet or using USB cable to connect your ereader to a PC. If you have encountered new or odd word in a book you have been reading, you can learn its meaning with the help of a pre-installed vocabulary.
There might be more additional features in an ereader, but you are primarily looking for a reading device, right?
...
Read more
...Read less
Kindle Voyage, 6" High-Resolution Display (300 ppi) with Adaptive Built-in Light, PagePress Sensors, Wi-Fi - Includes Special Offers
Ergonomic Aspects
Front panel of a Kindle Voyage e-reader is finished with matte glass which is framed all-round by hard black rugged plastic. Use of capacitive touch screen allowed the manufacturer to make the front panel flat like a tablet's, when most readers have a significant difference between the height of E Ink screen and a frame. Two pairs of PagePress buttons with tactile reaction are placed at the sides of display frame opposite to each other and are intended to turn the pages. Body with a Soft-touch coating is nice on the touch, resistant to graze and scratches, and feels good in your hand.
Image Quality
Automatic adjustment of brightness in Kindle Voyage slowly lowers display brightness so that the reading is pleasant to your eyes. Display glass has micro-engravings that diffuse light to eliminate flecks and to create a paper-like feeling. High contrast and display resolution are the advantages of a new E Ink Carta matrix.
Additional Features
Embedded Wi-Fi receiver will help you visit a branded book store of electronic books where you will be able to choose books and download them to your Kindle e-book reader. By means of a pre-installed dictionary you will have the opportunity to learn the meaning of any new word. There are touch buttons for turning pages. This Kindle Ebook is considered one of the best ebooks.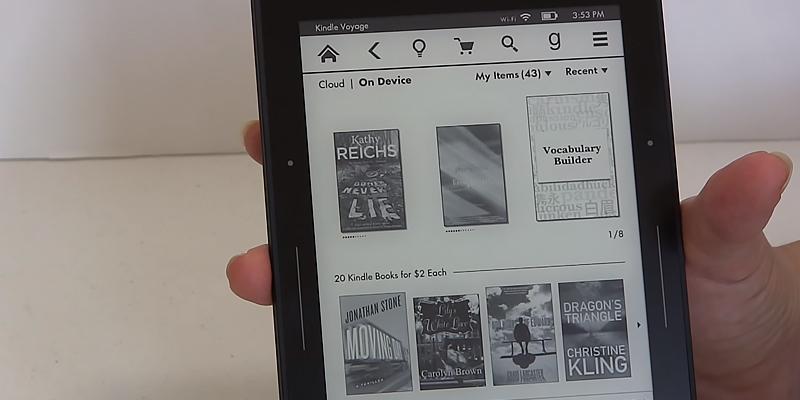 ---
VIDEO
Amazon Kindle Voyage Hands-on
Kindle Voyage, 6" High-Resolution Display (300 ppi) with Adaptive Built-in Light, PagePress Sensors, Wi-Fi - Includes Special Offers
Kindle Paperwhite
Ergonomic Aspects
Kindle Paperwhite Ebook body is made of rough plastic (resistant to any finger prints) that sits in your hand rather firmly. The front panel is finished with black matte plastic, the frame is minimal along the larger sides of a 6-inch screen and notably wider above and under it. There are no control buttons here, all the operation is still performed using the capacitive touch screen.
Image Quality
New E Ink Carta matrix provides Kindle Paperwhite ebook with a high quality of image. The latter becomes even more detailed, sharp, and there are no flecks of reflection if you prefer reading outside in the bright sunshine. Display backlighting will allow you to read a few chapters of your favorite book in the evening before you decide to go to sleep.
Additional Features
This Ebook has a built-in Wi-Fi adapter, so you will have an opportunity to visit the Kindle Store of electronic books. There is a browser installed in the reader. The Whispersync technology synchronizes the last page you have read, bookmarks, and summaries on all of your devices - you will be able to start from the very place you have stopped the last time you were reading.
---
VIDEO
All New Kindle Paperwhite High Resolution 300 ppi Unbox
Kindle Paperwhite
Kindle 6" Glare-Free Touchscreen Display, Wi-Fi - Includes Special Offers
Ergonomic Aspects
The front panel of this Amazon Kindle 6 Ebook is performed in a very smooth high-quality black colored plastic with a miniature glossy logo of a Kindle brand. The type of plastic used here has an extremely high resistance to scuffs and fingerprints, and is actually one of rather high-performance characteristics overall.
Image Quality
A screen of this electronic book reader looks the same as any real printed document. The display has a High Gloss coating of the very best quality, and thanks to it you will have the opportunity to read your favorite book, or a magazine even sitting outside in the park or at the beach under the bright sun shining full strength.
Additional Features
The built-in wireless adapter gives your Kindle ereader an access to the Internet via Wi-Fi, and also to the Goodreads network at Kindle, where you will be able to connect to the largest community of book lovers, to see what your friends read, and to share with them the most important or most interesting and breathtaking moments of the books you have been reading.
---
VIDEO
Kindle, 6" E Ink Display, Wi-Fi - Includes Special Offers (Black)
Kindle 6" Glare-Free Touchscreen Display, Wi-Fi - Includes Special Offers
Kobo Glo HD 6"
Everything You Need for Comfortable Reading
Our goal to find great e-book readers has eventually brought us to this Kobo Glo HD 6". As the name points out, its display is regular 6 inches, but what makes it stand out is the 1448x1072 pixels of resolution. That's pretty awesome, with such a resolution a reading tires your eyes much less. The anti-gloss makes it easy and comfortable to read in the daylight, whereas the auto-adjustable backlit helps at night. You can read anytime! Among other specs, we have also found the 11 various fonts, each of which can be set at one of the 48 sizes. This is a blessing for people with a bad eyesight, really. The battery can hold the charge up to 2 months, so if you are busy and have no time to read for a few weeks, there is no need to charge the e-reader when you finally find a minute to immerse yourself into the world of your favorite story. And as a final touch, we'd like to point out that Kobo Glo has a rubber, comfortable to hold coating.
All Your Library Inside
For you to keep all your favorite books in one place right where you can reach them anytime you want Kobo equipped this e-reader with 4 GB of internal storage. A pretty large library will fit there. And with the installed software, you will easily sort the books and place them in the order to your liking. There is also an option to connect to the Kobo Bookstore online library via Wi-Fi and learn about all the updates or download new best-sellers for future reading. The search is possible by a book name and the author, so it will hardly take much of your time. Moreover, you can even store all your purchased books in a Kobo Cloud and download them whenever you want.
More Products to Consider
To carry your e-Reader with you wherever you go you will need a case. A KOBO GLO HD 6" Case is a good choice, you can select a color you like best and take your library with you.
Additional Info
---
VIDEO
Kobo Glo HD Hands on Review
Kobo Glo HD 6"
Barnes & Noble Nook 6" Simple Touch (Touchscreen) 2GB eBook Reader eReader (Wi-Fi Only) E-Ink Pearl Technology, MicroSD, USB 2.0 Expansion Ports - Books, Newspapers, Magazines
Ergonomic Aspects
Barnes & Noble Nook Ebook has a frontal panel with finely rounded corners and is made of rubberized plastic. It is of the graphite grey shade. Side parts of the screen frame have two pairs of buttons intended to turn pages, and there is an operational Home button at the bottom performed in the shape of an "n" symbol. The rear panel of the ereader is an integral unit with the lateral parts. It is also made of the same hand-filling rubberized plastic, dark grey in color, and has a unique shape. There is a deepening at the center of the case cover, and closer to the edges there are extensions which help to firmly hold the reader and are considered NOOK readers' trademark.
Image Quality
E Ink Pearl screens are traditionally well known for their conveniently high image contrast and the speed of updating the image displayed. The viewing angle of the Nook e-reader screen is up to 180 degrees without any changes inflicted to the image. The display does not flicker when you turn pages. The screen has a matte coating.
Additional Features
NOOK e-reader is based on Android operating system which is also used on many smartphones and tablets. This means that you can easily download and install third-party applications in addition to those already present on your Ebook, or use Google services via Wi-Fi connections to Internet. There is also a possibility to widen your on-device storage by means of MicroSD memory card. Nook Ebook is also one of the cheapest ebooks compared to other ebooks presented on the market.
---
VIDEO
New Barnes & Noble Nook "Simple Touch": Review (Nook vs Kindle)
Barnes & Noble Nook 6" Simple Touch (Touchscreen) 2GB eBook Reader eReader (Wi-Fi Only) E-Ink Pearl Technology, MicroSD, USB 2.0 Expansion Ports - Books, Newspapers, Magazines