Everybody wants to get in good shape quick but not every weight loss program is effective enough to get you a beachbody before the
summer. If you want to be successful, check out five of the most popular weight loss program options and see which ones we recommend for an efficient workout and diet regime.
...
Read more
...Read less
X
This site is a free online resource that strives to offer helpful content and comparison features to its visitors. Please be advised that the operator of this site accepts advertising compensation from certain companies that appear on the site, and such compensation impacts the location and order in which the companies (and/or their products) are presented, and in some cases may also impact the scoring that is assigned to them. The scoring that appears on this site is determined by the site operator in its sole discretion, and should NOT be relied upon for accuracy purposes. In fact, Company/product listings on this page DO NOT imply endorsement by the site operator. Except as expressly set forth in our Terms of Use, all representations and warranties regarding the information presented on this page are disclaimed. The information which appears on this site is subject to change at any time. More info
Noom Weight Loss
Change It Up
Tired of the same old boring diet models that reduce your meals to a narrow list of plain and tasteless slop? There's no need to stick to these when you're living in a modern age with accessible and user-friendly alternatives available. One such option is the Noom Weight Loss Program, a diet plan that separates itself from the rest thanks to its unusual presentation and features.
Firstly, instead of letting you rely on your own willpower, Noom gives you a chance to get a coach. That person is assigned specifically to you and will help you handle all aspects of Noom and your program. Thanks to that you have someone to turn to if you need help with an issue that isn't easily solved via the FAQ or the forums. Plus, it's also a companion to encourage you and help you stick out the journey to weight loss.
We do feel like this excellent help along the way should have transitioned to the post-weight loss period. Instead, once you reach your goal you simply finish up your subscription to the service and though you can renew it, the Noom program is definitely intended more for the intensive part. The most you get are some, admittedly good, tips on how to keep that weight steady and not gain it all back immediately.
No Restrictions Placed
What we liked best though is the flexibility. While the Noom Weight Loss plan does provide recipes and food logging, it's not a model set in stone and the program doesn't force you into eating something particular. Instead, it separates different meals into several groups, each of which is regulated in terms of intake. The least healthy foods are still allowed, just in small portions, but you can eat them daily if you don't feel like giving up your favorite treats.
Logging food is pretty easy as well as you can even transfer meals from the last couple of days, which is great for people of habit and those that cook for the whole week. Plus, you can, of course, log separate ingredients just in case you've decided to treat yourself on some day and added a bit more to your regular serving.
Also important, alongside giving you exercise guidelines, the app (and the coach, should you get one) will help you curb harmful behavior from which health gain stems a lot of the time. The app addresses stress eating, nighttime snacks, and much more. Dealing with these unhelpful habits will impact your weight loss substantially and help keep the extra pounds off in the future. That really increases the efficiency of the program and makes a difference for the post-diet period.
A New Competitor Emerges
Those looking for a new way to lose weight and make sure it doesn't come back should definitely give the innovative Noom Weight Loss Program a chance. It's effective, encompasses both dieting and exercise and adds a bit of its own twist to the process. Thanks to helpful coaches, smart app design (for logging foods and getting personal recommendations), and a threefold system, the Noom Weight Loss plan comes out on top amidst a sea of already established competitors. And, considering the quality you get here, we wouldn't be surprised to see it become a household name as people all over the world can use this program to keep their weight at their desired level.
---
Noom Weight Loss
Jillian Michaels Weight
Work It Out
If you've watched "The Biggest Loser" or even did any research into popular diet methods, you're likely already passingly familiar with our pick for the best weight loss program. The Jillian Michaels Weight Program is presented and compiled by the famous trainer, renowned for her rigorous workout regimes and strict guidelines. So yes, right away, if you only want to cut out a few unhealthy foods from your meal plan, this might be overkill for you. This program is designed to help you lose weight in a reasonable time-frame and, more importantly, to make it stick. You don't want a 12 week training regiment that gets those pounds off but doesn't have any follow-up options to help retain your newly slim body.
The Michaels diet is, as you might expect from a trainer on "The Biggest Loser", pretty heavily focused on exercise. If you're willing to sweat for it, the training will help you burn fat faster and go from obesity to a healthy weight. Those who have some injuries or problems with their body shouldn't worry as the exercise is varied and you can choose workouts that are safe for you. And if you can't handle physical strain at all, the mobile app for the Jillian Michaels program also allows logging more mundane activities that don't disrupt your routine: cleaning the house, walking to and from work, playing catch with your kids.
On a Sparse Diet
It might, admittedly, be surprising to see the dieting info that the Jillian Michaels program offers. We'll be straight with you, it's not the most comprehensive guide in the world but what is there is really easy to pick up on thanks to video guides and a helpful online forum where other members of the program will give you tips.
However, the dieting portion of this program is still a bit slim in terms of versatility. Sure, you get a few options for protein intake that exclude the unhealthy choices and a quick breakdown of what you should eat for slim figure achievement. However, there's not a lot of info regarding the nutritional benefits of your meals and it's pretty much impossible to find alternative food plans (gluten-free, low-salt, vegan etc).
The service does, however, achieve the results, one way or the other and it seems like following the Jillian Michaels Weight Program does bear fruit and work long-term. If you comply with the admittedly rigorous training, you'll not only watch as the pounds evaporate but also never see them come back as long as you keep up a bit of a workout regiment afterwards.
Lose It Forever
In conclusion, those who have the free time and the willpower to workout according to the Jillian Michaels program will undoubtedly get a lot out of this service. And though it's not aimed specifically at dieting and meal planning, the results are evident. It's a great choice for able-bodied people willing to spend time working out and following a basic set of meal preparation rules though it doesn't account for vegans, gluten-allergic, and a few other subsets of dieters. Still, if you want to lose weight there's a lot of promise in the Jillian Michaels program.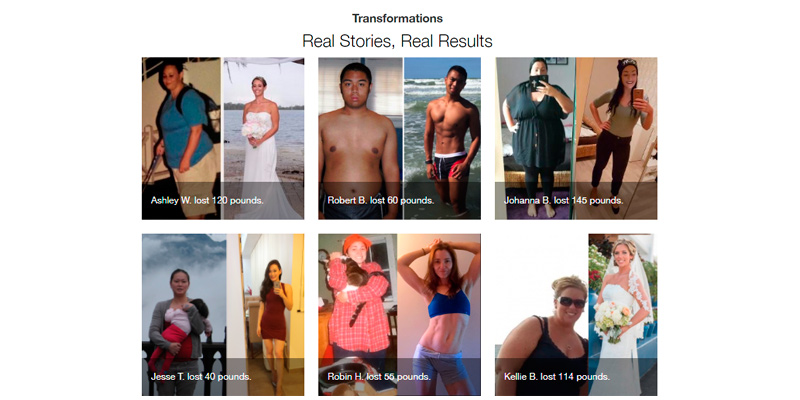 ---
Jillian Michaels Weight
South Beach Diet Weight Loss
Cutting the Carbs
Those who have some pre-existing health issues such as allergies know the pain of finding a truly efficient dieting option. After all, it would have to be safe and adhere to your personal preferences and restrictions and also actually help lose weight. Strangely enough, such a diet isn't the stuff of fantasies but rather the very real South Beach Diet Weight Loss Plan.
This program was developed by a medical doctor so it adheres to a strict standard in terms of safe weight loss. Your food options will be highly limited, sure, but nutritious enough to sustain your body. Plus, it's split into multiple stages and literally gets easier as you go so those willing to stick out the tough first level will be rewarded with an effective yet sparing diet.
The first stage is pretty punishing, though, as the food program eliminates common meals that are usually considered acceptable. For example, you won't be able to have any rice and many varieties of fruit and these are just the obvious examples.
Thankfully, there is a bit of instant gratification as you use a mobile app from the South Beach Diet program to log your meals and calculate your nutrition intake as well as calories. Seeing the calories and weight dwindle and nutrition go up is a uniquely-rewarding feeling and you can stick with it long after you've finished the initial stages of the diet. That way you'll always have a mobile helper keeping you in check. Plus, the dieting plans are worked out to include people with all kinds of allergies and health conditions so the South Beach plan is all-encompassing.
Work for It
Don't think that just because the South Beach Diet Weight Loss Plan is focused on dieting it has no exercise regimen to offer. Though it's not as fully fleshed out as a training plan made specifically for gaining muscle, it's good enough to complement the dietary portion and help you feel invigorated thanks to the exercise. There are options for home and gym workouts available so you can do quick training or, if you can, devote some real time to it.
As for sticking through the tough parts, the South Beach Diet might be the best weight loss program to help with that as you get weekly chats with nutrition specialists and dieticians. There are also several forums where participants can swap tips and recipes and those with established good results post their success stories and encouraging articles on blogs. The service also does a regular compilation of links to educational and generally useful information about weight loss and obesity so that you can see why the diet was designed this way and how you should approach it.
A Service That Keeps on Giving
To sum up, those who want to lose weight without spending hours at the gym or risking their health can definitely rely on the South Beach Diet Weight Loss Plan. It's not easy to start but once you get going, this safe and effective diet will help you along with bundles of information and supportive articles and dietary specialists. And once the initial dieting is over, the service sustains your further meal planning instead of leaving you hanging. It's a great comprehensive package for those seeking an effective and all-encompassing diet.
---
South Beach Diet Weight Loss
Mayo Clinic Weight Loss
A Name You Can Trust
There are plenty of different diet-planning services out there but it's tough to trust a no-name plan that might just waste your time or money. Those who want to feel secure in their choice can opt for the Mayo Clinic Weight Loss Program, coming from the renowned Mayo Clinic and providing their classic level of quality.
More than that, the Mayo Clinic has always been a customer-friendly experience and the same goes for the weight loss plan here as it only costs about $5 a week. You can afford this by simply skipping a cup of coffee or two, which you'll be doing anyway if you want to lose weight.
While we're on the subject of cutting food from your meal plans, it should be pretty easy with the Mayo Clinic diet as the plan offers personalized meal plans for people. That includes optimizing them for any health issues you might have as well as your weight and height. This will help balance your calorie intake and provide all the nutrients your body needs while you're in the process of losing weight.
Living the Healthy Lifestyle
Your weight loss will be kickstarted as the first stage includes losing around 10-15 pounds in just 2 weeks. While some would want to keep that pace going, it's not a healthy decision. Instead, after shedding that substantial weight, the program switches you to stage two where you'll be slowly losing the extra pounds with 2 or 3 per week. It's a safe and more sustainable model as you reject bad habits in favor of healthy ones and model your life to make weight loss easy and non-invasive. After all, it's far more taxing to devote hours out of your day to exercising and quite a few people will dump the diet altogether if they have to eat 5-6 times a day in small portions or cook complicated recipes.
Thankfully, the second stage of the Mayo Clinic Weight Loss Program, appropriately dubbed "Live It!", makes the changes gradually (the groundwork is laid on the first stage, of course) and doesn't ask for any drastic shifts in your lifestyle. The demands are simple and more than doable and the Mayo Clinic app will help you along with tips and encouragement. Plus, it's a place to store your progress and keep track of your meals.
Those that have some free time can also take advantage of the exercise routines available via the Mayo Clinic guide. They're not the most expansive and aren't as personalized as the meal options since the program is focused on dieting but there's still enough to get your physical activity up and running.
Put Some Mayo On It
So while it's not perfect, the Mayo Clinic Weight Loss Program is helpful and affordable, mixing the instant weight loss of rigorous diets and the follow-up healthy lifestyle that's usually offered by the expensive competitors. There are quite a few meal options for people with allergies and vegetarians and the diet isn't too restrictive, making long-term weight loss more likely and accessible. The Mayo Clinic Weight Loss Plan is a great affordable alternative to exercising and eating on strict diets, offering a good way to get in shape and, more importantly, stay in shape.
---
Mayo Clinic Weight Loss
Atkins Weight Loss
Strict but Worth It
There's no shame in going for a diet that's not exactly cutting-edge but time-tested and proven to work instead. And it's a particularly smart choice if that diet is the famous Atkins Weight Loss Program. Depending on your goal weight, you can sign up for the Atkins 20 and Atkins 40 to either go on a hard-set diet and really lower your body weight and potentially prevent obesity and diabetes or lose a bit and get in shape quick.
Both of these options offer a low-carb approach to dieting, cutting out almost all products that lead to weight gain. So, admittedly, the Atkins Weight Loss Program is pretty strict, especially in those first weeks when you can only eat the core vegetables, nuts, and seeds. Those that stick it through won't be rewarded with cake, of course, but the later phases do open up the food choices substantially, even if you do still have to stick to healthy meals instead of pizza and pasta.
Despite the relatively narrow subset of foods you are allowed to eat, the Atkins Weight Loss Plan does account for those with allergies and food preferences. So whether you're gluten-free, vegetarian, or sticking to a low-salt diet, the Atkins will accommodate its plan for you. It's a nice touch that some of the popular diets don't seem to offer as they're all too often set in stone.
Say No to Diabetes
One of the biggest advantages to name-brand diets is supposed to be their refinement. Having been tried by hundreds of thousands of people, we expect plans like the Atkins Weight Loss Program to deliver on all fronts in terms of customer experience. And while it's easy to get supported and the support team is always ready to help, there are still a few hitches to work out.
For one, the mobile app here (an essential tool in today's high-speed world) is designed relatively well but the food logging can be a chore. The app tends to offer up products from store-bought brands which complicates matters when you're just trying to log a few grams of almonds or sunflower seeds.
What the Atkins Weight Loss Plan does ace are the prediabetic prevention measures. Those who are nearing the scary condition have likely already heard it all from doctors: you need to cut down on carbs, less sugar, eat healthily! But many diets don't account for this specific condition, which makes them dangerous for people that are at risk of diabetes. Admittedly, it's not the best program for those who already have diabetes as increased fat intake leads to insulin resistance.
Worth the Time
In the end, we saw a few downsides in the famed Atkins Weight Loss Program but it's still a fairly effective diet that offers a strict but manageable way to get rid of extra pounds. As long as you can stick out the tough initial weeks, you'll not only see your weight decrease but also feel your body shape changing as the weight is distributed more evenly so you won't feel wide in the hips or have the so-called "muffin top" situation anymore. So as long as you're willing to overlook a few mild problems, the Atkins Weight Loss Plan is a great choice with a reasonable price.
---
Atkins Weight Loss
What Is a Weight Loss Program?
Trying to lose weight fast can be a bit of a tricky task as you don't always know which kind of exercise or nutrition plan will be the most effective for you. After all, there are different metrics for teen girls and boys, for men and for women, and for older people and that's not even getting into the issues of height and weight and health issues. Not everybody should be running on a treadmill day in and day out or going vegan abruptly. Thankfully, a weight loss program is just what's needed to help guide you on the path toward an easy and safe change in your body for the better.
Many of these will help plan your workout regime so that you can do cardio safely, perhaps via a walking program, and cut down on unhealthy food via easy recipes and calorie count apps. Plus, there will always be a guide to help you along, whether in video or chat form or, if you're willing to pay extra, an in-person helper to watch over your progress and create your meal plan.
If you really want to see the effects of your diet and exercise regime show effect in just 30 days, the training and dieting will have to be rigorous but we'll find the best weight loss program to help you along.