Seek to follow the best sleeping traditions and add a luxury down pillow to your bedding? If so, we have a selection of the best
down pillows that feel like a cloud and will help you create the bed of your dreams.
...
Read more
...Read less
X
This site is a free online resource that strives to offer helpful content and comparison features to its visitors. Please be advised that the operator of this site accepts advertising compensation from certain companies that appear on the site, and such compensation impacts the location and order in which the companies (and/or their products) are presented, and in some cases may also impact the scoring that is assigned to them. The scoring that appears on this site is determined by the site operator in its sole discretion, and should NOT be relied upon for accuracy purposes. In fact, Company/product listings on this page DO NOT imply endorsement by the site operator. Except as expressly set forth in our Terms of Use, all representations and warranties regarding the information presented on this page are disclaimed. The information which appears on this site is subject to change at any time. More info
Continental Bedding King Size (Set of 2)
A Touch of Pure Down Luxury
If you are ready to pay some more for the ultimate sleeping comfort and bedding luxury that will last you years to come, the pillow set from Continental Bedding is for you. Though a bit pricey, it offers top-of-the-line quality and will bring your sleeping experience to a totally new level, so, the investment will pay off pretty soon.
Straight off the reel, both pillows in a set are filled with 100% premium goose down and there is no single feather in it, hence the higher price. It's notable that this product is RDS certified, which means that down clusters are sourced from geese that were not exposed to unnecessary harm. Thus, you can rest assured that no bird was killed or tortured for your pillow. Besides, packed into tightly woven shells made of first-class Egyptian cotton, these down pillows are not prone to trapping dust and other common allergens. As such, they will not cause any adverse reaction and can be safely used even by allergy sufferers.
Filled with 35 oz of down, each pillow has a 550 fill power level and feels firm enough to provide proper neck and head support and puffy enough to ensure maximum sleeping comfort. In the meantime, the pillow height and loft are optimal for all sorts of sleepers including those who like to sleep on their stomach and the king-size dimensions (36" x 20") provide an ample sleeping area and will perfectly fit bigger beds. Unlike memory foam, pure down is fairly breathable. It ensures good air circulation, wicking away the moist and retaining body heat.
All things considered, with a pair down pillow from Continental Bedding, you'll have a chance to enjoy the best of the goose down goodness and get top-quality bedding items that will serve you for many years, with no loss of comfort and support.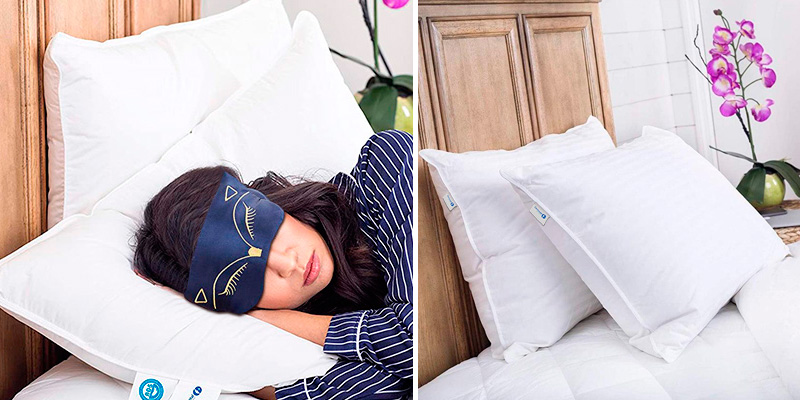 Additional Info
Last updated price

$

239.98

Stock
May be out of stock
ASIN

B06XH48DQ8
---
Continental Bedding King Size (Set of 2)
Basic Beyond 2 Pack Luxury Gusseted
Premium Bedding Items
What you'll get with the Basic Beyond pillows is a set of premium bedding items distinguished by a thought-out design and high-quality materials to provide improved body support and comfort as you sleep.
First and foremost, each pillow comes stuffed with a combo of goose feather and down that has passed three-cycle cleaning and proved to be perfectly clean and hypoallergenic. Besides, this mix is more supportive and makes the pillows machine washable in contrast to down-only models. So, to keep your pillows clean, you can safely wash them on a delicate mode with cold water and then let them air dry. Another good thing is that once dried, the pillows will regain their original shape and loft. And dense cotton shells give feather quills no chance to poke out even after wash.
Filled with 42 oz of feather and down mix, the pillows are both supportive and comfy and the queen size at 28" x 18" will suit pretty much any bed size. Meanwhile, a gusseted design (2 inches high) works to release the muscle strain in the neck and shoulder areas and will be highly appreciated by those sleepers who seek some added neck support for maximum sleeping comfort.
To add more, both Basic Beyond pillows come complete with protectors. Fitted with zippers, protectors are easy to put on and off the pillow and made of 500TC cotton, they will keep allergens at bay while keeping you comfortable during warm and cold seasons alike.
To cut a long story short, the Basic Beyond is a complete set of premium bedding items that will suit any bedroom and save you the need to look for an alternative for quite a while.
Last updated price

$

49.99

Stock
In stock
ASIN

B07H4HZ3ZQ
---
Basic Beyond 2 Pack Luxury Gusseted
puredown Natural
Affordable Choice for Fussy Sleepers
We all are different sleepers. While some can sleep in a single position all night long, other use to tumble in the bed. With that in mind, the folks behind puredown have created these pillows to meet the needs of all types of sleepers.
To start with materials, each pillow comes stuffed with a mix of down (15%) and feathers (85%). Compliant with RDS certification standards and cleansed under the branded Oxipower technology, this all-natural filling was expertly selected and duly disinfected. So, it proves to contain no allergens, potential irritants, or harmful chemical compounds. Meanwhile, the shell has a dual-layer construction to provide efficient dust protection and prevent the feathers from pricking. Thus, the outer cotton shell is hypoallergenic and nice to the skin while the lush polyester inner lining will keep the filling securely sealed inside.
At 32 oz of stuffing, the pillow provides medium-firm support and is sufficiently high to let you feel comfy in any sleeping position. In other words, it will mold to your head and neck contours and adapt to your body shape, no matter if you lie on your back, side, or stomach. And when you turn, it will quickly adjust to a new position giving you just the right amount of support. A standard pillow size (26" x 20") in this case is a golden middle between too big and too small ideal for fussy sleepers and those who like to hug pillows as they sleep.
It's worth mentioning that pillows come rolled and vacuum-packed into a strong PVC bag. Protecting the items during transportation, it can also double as a storage bag to compactly stow the pillows away if not in use.
That said, delivering perfect comfort and support for all sorts of sleepers, these pillows also come at a fairly affordable price that makes them a great choice for those who are on a stringent budget, yet, still want the down pillow goodness.
Additional Info
Last updated price

$

45.99

Stock
In stock
ASIN

B0168H5SZ0
---
puredown Natural
puredown Downproof King Set of 2
Added Support Where You Need It
If you've already tried a number of different pillows and are close to despair of finding your perfect one, it's time to give these down pillows from puredown a try. At a fairly reasonable price that won't hit your budget, they offer great adjustability and can be easily customized to your comfort. And you'll get a two-pillow kit to get your bedding set.
The pillow filling is a combo of grey goose feathers and down. Though grey goose down is considered of a bit lower quality, it in no way compromises the pillow loft and comfort. All raw materials were meticulously selected and duly processed to deliver the same feel you'll get with a pure down pillow. Besides, the stuffing is heat-treated to ensure there will be no dust mites, bacteria, and other germs inside the pillow during its whole service life.
The pillow cover is a two-layer shell made of 100% cotton from the outside and inlined with lush polyester from the inside. As such, it is soft and very nice to lie on while leaves those tricky little feathers no chance to poke out. And the box stitched cover design will prevent the inner layer from shifting when you fluff up the pillow.
Speaking of comfort, the pillows are pretty soft and there will be no crunchy feather sound or rustling as you move your head on a pillow. In the meantime, the gusseted design will provide some added neck and shoulder support while perfectly conforming to your body shapes. Whatever your favorite sleeping position, the pillow will adjust to keep your spine aligned and naturally alleviate the muscle stress and strain that makes it a great choice for back and neck pain sufferers.
To conclude, easily adjusting to your sleeping comfort, this down pillow set can completely change the way you've slept before.
Additional Info
Last updated price

$

49.99

Stock
In stock
ASIN

B01A0LCP8S
---
puredown Downproof King Set of 2
puredown Quilted Set of 2
Heavy-wearing and Comfy
Down pillows are often not the best choice for bigger and heavier users since they go flat under the weight of the body. Likewise, some models tend to feel hot and cause sweating during a warmer season. With these puredown pillows in polyester covers, you can rest assured that you'll face none of those issues.
While a polyester shell is often avoided by many users due to its synthetic content, this material is pretty dense, highly resistant to tear and wear, easy to clean, and quick to dry. Paired with a quilted pattern and reinforced seams, it will not only keep the filling securely trapped inside but also stay strong ad won't rip under the weight of heavier users. Besides, you are always free to put on a pillowcase or protector cover made of whatever material you prefer.
Inside the pillow is a mix of white goose feathers and down. Meeting the Responsible Down Standard requirements, the stuffing proves to be high quality, free from harmful chemicals, side odors, and user-safe. At the same time, a combo of down and feathers is less prone to flattening and is more supportive. At 48 oz of filling, the pillows boast the 500 fill power level that corresponds to medium firmness. In practice, though, it translates into a cuddly pillow that provides decent head and neck support. More than that, the pillow stuffing is easy to bunch or fluff up if you want a flatter or puffier pillow accordingly. And at king size dimensions (36" x 20"), it provides a really generous sleeping area and is good for reading or watching TV when lying in bed too.
Summing up, if you need a set of durable and dependable down pillows that can withstand the test of time and any body weight, you can't go wrong with these quilted down pillows from puredown. Great for home use, they will also suit for hotels, motels, lodgings, and hostels.
Last updated price

$

49.99

Stock
In stock
ASIN

B014IDTOTM
---
puredown Quilted Set of 2
What Is a Down Pillow?
As the name suggests, down pillows (just like down comforters) are those filled with the bird's feather undercoating, which is down. The best quality down is that of Hungarian or European geese. It is soft, white, and voluminous. Notably, a really good down pillow contains only down, with no feathers. That's the reason why down pillows are pretty expensive. However, some manufacturers combine down with feathers and label their pillows as "down". Though these models are more affordable, they will lack some of the pure down pillow benefits.
To be honest, with memory foam taking the lead, down pillows are less popular today. Yet, this traditional sleeping item has a lot to offer. Not only is down an all-natural material itself, but also goose down pillows usually come in cotton covers or liners, which is a selling point for many users who try to avoid synthetics. Further on, down pillows are extremely soft and comfortable. Your head will literally sink in the pillow and you'll enjoy a luxury feel no synthetic down counterpart will lend. With that, down pillows are impressively long-lasting. While synthetic feels tend to lose elasticity and support in about three years, down pillows will serve you for about three times longer, subject to proper maintenance.
To add more, unlike its latex and memory foam rivals, down pillows boast greater flexibility and adjustability. You can simply fluff the down pillow up and shape it to perfectly fit your comfort. Besides, as you lie on a down pillow, it will so-to-say mold around your head to conform to your neck and shoulder contours and provide maximum natural and anatomic support that makes this type of pillow suitable for all types of sleepers.