Audio & Video
Amazon Fire TV vs Roku 4 4400R (MAIN-08458)
Product Comparison: Amazon Fire TV vs Roku 4 4400R (MAIN-08458)
X
This site is a free online resource that strives to offer helpful content and comparison features to its visitors. Please be advised that the operator of this site accepts advertising compensation from certain companies that appear on the site, and such compensation impacts the location and order in which the companies (and/or their products) are presented, and in some cases may also impact the scoring that is assigned to them. The scoring that appears on this site is determined by the site operator in its sole discretion, and should NOT be relied upon for accuracy purposes. In fact, Company/product listings on this page DO NOT imply endorsement by the site operator. Except as expressly set forth in our Terms of Use, all representations and warranties regarding the information presented on this page are disclaimed. The information which appears on this site is subject to change at any time. More info
Model
Fire TV
4 4400R (MAIN-08458)
About the Product
Amazon Fire TV connects your HDTV to a world of online entertainment, letting you stream over 500,000 movies and TV shows in 4K Ultra HD, 1080p, or 720p. Use the included Alexa Voice Remote to easily find the content you love with universal search across more than 190 channels and apps, or discover something new with personal recommendations right on the home screen.
The future of streaming is here. Brilliant picture quality for 4K Ultra HD & standard HD TVs and powerful wireless for the best streaming experience. The included point anywhere remote offers voice search, headphones for private listening, gaming capability, and even a lost remote finder. Enjoy more than 2,500 streaming channel, offering access to 300,000+ movies and TV episodes, plus games, music, sports, International, kids programming and more. Search the widest selection of channels, get unbiased results, and quickly find the best option or value. Follow your favorite entertainment and get updates when new content is ready to stream.
Amazon Fire TV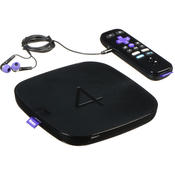 Roku 4 4400R (MAIN-08458)
Amazon Fire TV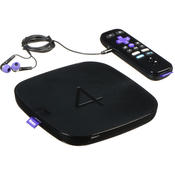 Roku 4 4400R (MAIN-08458)
What customers say about "Key Specs"
Roku 4 4400R (MAIN-08458) Streaming Media Player
The unit is a Quad Core and does have a fan to keep it cool.
It has a quad core processor which gives snappy performance in both menus, and speed of loading content
Its 4 core processor plays without any issue all of my high-def video files (via Plex - including WTV and MKV files - even when I tell Plex to play them at 18Mbps).
Unexpectedly hot temperature: Top is always warm, bottom is always uncomfortably warm, perhaps because connected to 4k HDMI?
Runs very hot and very noise due to the fan trying to keep the unit cool. The remote finder is cool but works a little funny, like it doesn't always want to find it.
Processor & GPU
MediaTek Quad-core: 2x2.0 GHz + 2x1.6 GHz / Power VR GX6250
Quad-core ARM processor
Interfaces
HDMI output, LAN, USB, microSD card, DC Jack
HDMI output, LAN, USB, Digital Audio Output (optical), microSD card
What customers say about "Hardware"
Amazon Fire TV with 4K Ultra HD
Glad to have a way to access tons of content via my TV and not a computer. 2 GBs of RAM makes it very snappy.
Simply the best. All great content, with Ethernet and USB port, micro SD card slot and 2GB of RAM.
Extra ports usb, micro sd, ethernet
Love it. I wish it had 3G ram than 2 but it still works great
The unit comes with 8GB standard, which isn't much
Roku 4 4400R (MAIN-08458) Streaming Media Player
Is faster than my R3/RS models(obviously cause has more RAM & Storage capacity) also has Micro SD Card & USB Slot(like previous models)
This one DOES have USB, HDMI, Ethernet, Micro SD, and Optical audio ports.
Roku is also a very good MP3 player with it's USB port and connected to an audio system via it's fiber optic port.
It also has Micro SD Card & USB Slot
Operating System
Android-based Fire OS
Roku OS 7
Compatibility With Other OS
iOS 7.0 and higher, Android 2.3 and higher
iOS 7.0 and higher, Android 2.3 and higher, Windows 8.1 and 10
Included Apps
Amazon Prime, Netflix, Hulu, HBO GO, Hulu Plus, Showtime ESPN, X-Ray
Netflix, Amazon Prime, YouTube, Hulu, ABC News, PBS, PBS KIDS, Pandora, Pluto.TV, Rdio, Roku, Showtime Anytime, SlingPlayer, Spotify, TuneIn, Crackle, Twitch, Vevo, Vudu, iHeartRadio, HBO GO, MLB.tv, Hulu Plus, MLS, NBA, NHL
What customers say about "Software"
Amazon Fire TV with 4K Ultra HD
Alexa is a great addition. The ability to sideload Android apps like Kodi is the best. Even better if you are an Amazon Prime member. Enjoy
The user interface and OS is simple, straight forward and easy to use.
It works great with Hulu Plus, Amazon Instant Video, and Netflix.
Lots of apps to watch including Netflix and Slingbox. I used this in Israel to watch my TV back home.
The new OS of fire TV is MUCH slower than the original OS. This new edition comes with it and the first edition has now been upgraded to it as well. I'm constantly restarting due to lagging and freezing, which I never ever had to do with the original software.
Roku 4 4400R (MAIN-08458) Streaming Media Player
Not only does this product have more services that connect to it than most smart TVs, but it is also less buggy and more reliable than my old Android OS and Samsung smart features.
It is simple to add apps and they have a huge selection. It does have the popular ones: Amazon video, Netflix, Youtube, HBO go. Go to their website to see all.
Netflix, Amazon and Hulu play fine and no other issues noted on other channels.
I had a Roku 3, gave it to my parents and "upgraded" to Roku 4 thinking it would be a smart move. It is slow (not faster than roku 3) and youtube crashes or becomes very slow or irresponsible to the remote control very very often.
Only one issue that effects all the roku's I own. The YouTube channel is totally and completely useless and freezes all the time often requiring a hard reset/reboot/unplug of the Roku to begin playing anything again.
Supported Formats
H.264/AVC, H.265/HEVC, AAC, MP3, WMA, AC3/EAC3, JPG, Dolby Atmos, PNG, FLAC, DTS, Vorbis, GIF, BMP, PCM/Wave
H.264/AVC, H.265/HEVC, VP9, AAC, MP3, WMA, FLAC, PCM, AC3/EAC3, DTS, ALAC, JPG, PNG, GIF
Wireless Standart
Bluetooth (V.4.0 Low Power, Full Speed), Wi-Fi Dual-band (802.11a/b/g/n/ac)
IEEE 802.11ac
Remote
Amazon Fire TV Voice Remote, Alexa Voice Remote
Voice remote with TV power and volume buttons as well as voice search, headphone jack, and gaming buttons
What customers say about "Features"
Amazon Fire TV with 4K Ultra HD
When it comes play back from a local file (DLNA, USB), it has literally no competition. It supports a wide range of A/V codec and containers (MPEG2/4, MKV, H264, DivX, True HD, HDMA, etc.) No other device comes even close
Another cool thing is that it can connect to bluetooth items.
I'm very impressed with how good the WiFi reception and speed is.
Simple remote (and a free app so you can turn your cell or tablet into a remote).
The Fire TV does NOT support NTFS disk partitioning! Therefore, you have to reformat any external hard drive as FAT32. After formatting to FAT32, BIG SURPRISE - you can NOT write to the hard drive!
The remotes seem overly delicate. My first remote unregistered itself and ceased to function within six hours of first use. My second remote (Amazon replaced for free) did the same thing, though I am fortunate in that it began working again.
Roku 4 4400R (MAIN-08458) Streaming Media Player
Picture quality not much different than the 3 except with 4K video and WOW! big improvement. Sound is definitely improved with all formats.
Different format than the fire stick but very user friendly and the voice activation to find movies is awesome.
I love its ability to use voice activated searches and provide alternative sites for the show that I am searching for with a price comparison for each site, if applicable.
No audio pass through for formats like DTS-HD or Dolby Master Audio. Everything is parsed down to 5.1 at best.
The voice search should be more customizable with the ability to select where to search.
Warranty / Certifications
Amazon Fire TV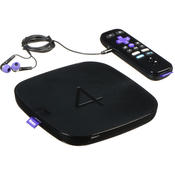 Roku 4 4400R (MAIN-08458)