Do you love watching television, but hate the fact that you are often a slave to the schedules of your favorite shows? The best solution
to this problem is to use a DVR to automatically record your favorite shows without being tied to the television. Take a look at five great DVRs that can greatly enhance your television watching experience.
...
Read more
...Read less
TiVo TCD849000V
Enough Space for Everything
Are you a binge-watcher and a TV lover, always struggling to keep up with several shows at once and having to choose between a few of your favorites due to the fact that they air simultaneously? Stop fretting and start enjoying TV again with the TiVo TCD849000V BOLT VOX, one of the best DVRs out there.
While at first glance it might seem like your typical DVR with all the features you usually get, this is pretty much the peak of DVR functionality, refining the points you usually get. For example, the TiVo TCD849000V records video in 4K Ultra HD, the best quality currently possible. While others provide only HD, also quite good but not the best, this model will deliver pristine image quality consistently.
Now, admittedly, 4K footage takes up a lot of space and even one season of a TV show could fill up to 200 GB or so. Thankfully, the manufacturer took that into account so the TiVo TCD849000V has 1 TB of storage and, if you're ready to pay a bit more, you can even get a 3 TB model. That's enough for several shows so you'll definitely be able to keep up with all of your favorites. There's also a 500 GB model if you don't need much space to work with or if you're not recording in 4K. You'll likely save quite a lot of space by using the patented SkipMode that lets you roll right past by all advertisements and cut them out of the footage.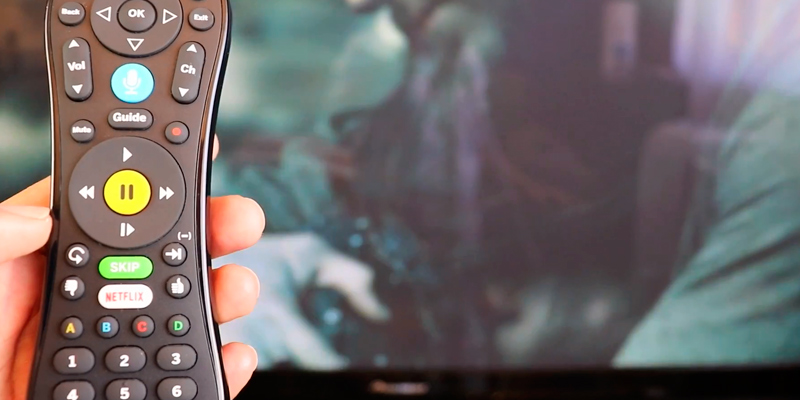 Never Lost Again
Although you might think that compatibility with cable and all streaming services (Netflix, Hulu, Prime etc) means you'll just get lost in all the shows available, the choice will be easy. All thanks to the handy OneSearch mode that surfs through all sources possible to find what you want. And though there's a lot to go through, the DVR won't lag as it supports up to 1000 Mbps speeds. We should point out that this is via Ethernet cable but the device also supports Wi-Fi connectivity and is thus perfectly portable and can be a multi room model if you have TVs set up in the bedroom as well as the living room.
While controls on the TiVo TCD849000V are pretty simple, we did feel like the installation and registration took a bit too long for comfort. So plan ahead and don't start installing it right before your favorite show starts.
Other than that small hiccup, though, there's very little to dislike about the TiVo TCD849000V. It's certainly the leader of a modern generation of DVRs and anybody who loves streaming TV and wants a wireless device to store their favorite shows with the data transferred over the air instead of via countless cables should turn to this model.
Additional Info
---
TiVo TCD849000V
Tablo SPVR4-01-NA
Record Up To 4 Shows At Once
DVRs are not new, having been around for almost 20 years. While they have revolutionized the way that many people watch television, there have still been some small faults that could be improved, and that have remained a thorn in many a viewer's side. One of the biggest downsides to DVRs of the past was the fact that almost none of them were able to record more than one show at a time. This meant that for those who didn't want to miss their favorite show while something else was being watched or recorded, they were out of luck. However, recent advancements in DVRs have relegated this problem to the distant past.
The Tablo 4-Tuner Digital Video Recorder is one such device that supports recording more than one show simultaneously. With four built-in digital HDTV tuners, you are able to record up to 4 different shows at the same time. This DVR only supports OTA broadcasts, but even so, this means that you can record one show from each of the 4 major TV networks in the US at the same time, so you are sure to not miss airings of your favorite TV shows. The recorded content can then be watched at your leisure, with a suite of special functions such as the ability to skip through commercials and even pause or rewind live TV to enhance the experience.

Record Once, Watch From Anywhere
As is usual now with most high-function DVRs, this model comes with plenty of extra features that can make your TV viewing experience unlike anything you've had before. One of the best features of this model is the ability to stream content that you've recorded to almost anywhere. This is a great feature for those who travel a lot, which means that traveling no longer needs to take you away from watching your favorite shows. The Tablo App for iPhone, iPad, Android, and Kindle tablets allows you to watch your recorded shows from anywhere right on your phone or tablet.
As great as the streaming feature is, it is far from the only great feature of this DVR. Other features include the TabloConnect subscription service, which allows you to stream your local television news reports to you while you are traveling. You can also share content to tablets, laptops, Roku, AppleTV, FireTV, and many other devices that you may have in your home. The interface is quite simple, and makes it easy for you to discover new shows, manage your recording schedule, and access other functions of the device, all without having to read a complicated manual. Although it doesn't include internal storage, you can easily add your own external storage for saving recorded content. With all of these features added together, this DVR is an excellent value.
Additional Info
---
Tablo SPVR4-01-NA
SiliconDust HDTC-2US-M
Twice the Capture
Tired of paying for cable and want to cut the cord as well as the cost but don't want to lose that multitude of channels that's available to cable users? Oh, there's no need to worry about that as long as you have the SiliconDust HDTC-2US-M on your side!
Its video capture card with 2 tuners lets you record video streams from two channels at once so you don't have to choose between several shows. Heck, if you wanted to, you could get a few copies of this model and record pretty much every channel your TV gets. Well, it wouldn't be your TV getting it anymore though, right? The SiliconDust HDTC-2US-M uses Wi-Fi and Ethernet to stream video, opening up more channels to you than any cable provider ever could. That way you can record live TV with ease, including an important sports game, a TV show, or even commercials, if you're one of those weirdos who likes them. And since the two-stream recording is possible, you will likely want to immediately take advantage of it. Sadly, this may have to wait a bit as you'll wrestle with the admittedly complicated instructions. They're short on information, at least the useful kind, and offer very little to help a new user understand the device. Luckily, there are some good guides online and the double-stream is one of the few functions that actually requires any real explanation.
Stream to Any Device
Of course, one of the main draws of DVRs has always been the ability to record as many shows as you want so you can binge-watch whole seasons at once, whenever you feel like it. And, looking at the SiliconDust HDTC-2US-M's lack of internal hard drive, you might be worried. But there's no need to fret, the device converts all footage to H.264 AVC, which means equally good quality but faster streaming speed. For storage, you can connect the DVR to your PC, mobile phone, or external HDD, which is quite easy thanks to Wi-Fi capabilities.
You can control the recording and scheduling via the pre-installed HDHomeRun DVR, which is quite handy. We didn't see anything too special about it but a functioning piece of software isn't anything to scoff at either. Besides, it's fully compatible with your Android and iOS devices. As long as you have a TV antenna, you're good to go.
Although we've seen a few flaws here and there, we'd ultimately call the SiliconDust HDTC-2US-M a solid mid-range DVR that's going to be useful for any cord cutter out there, especially those who like streaming video to their phones.
Additional Info
---
SiliconDust HDTC-2US-M
Tablo SPVR2-02-EN
A Viable Alternative
Since cord cutters usually do it for the sake of convenience and budget reasons, it only makes that an alternative in the form of DVR should offer equal features. That's why we like the affordable and high-quality Tablo SPVR2-02-EN DUAL.
For one, this model works with both Wi-Fi and Ethernet and is compatible equally well with a flat LCD screen and an old antenna TV that picks up a channel or two. You can rest assured that this mini DVR will work with the devices in your home flawlessly. Now, we do recognize that it looks a bit simplistic and we agree. After all, the Tablo SPVR2-02-EN DUAL only has a USB 2.0 port when 3.0 is steadily becoming the new industry standard. But this is an older make and it lacks some of the new high-tech features but we believe it makes up for it with the deliciously low price.
Of course, the slight outdatedness is apparent not just in the design of the DVR's body but in some functionality as well. For example, the options menu here have quite a bit of adjustable points but several of them are overly complicated and tough to navigate. You could spend hours adjusting them when all you really want is some basic adjustments in terms of storage or streaming. Still, this isn't something you'll have to deal with too often and we would say it's just a minor issue.
Storage for Years
Now, you might be looking at the technical specs on the Tablo SPVR2-02-EN DUAL and wondering why it only has 64 GB of on-board storage. That's not that much, especially considering the HD recording quality. And yes, that will only be sufficient for a few weeks worth of recordings. However, what you don't see is that this model is compatible with storage devices up to 8 TB. Now that's the kind of storage that will last you for months if not years. You could probably record a whole run of a soap opera on this with some space left to save. Sure, buying a storage device is usually an added expense but these days most people have one in their home already.
And last but not least, we want to give some praise to the Tablo app, the software that keeps this DVR running. It's extremely fast, easy to use, and has a very convenient search system. If you have many channels on your TV, this app will help you navigate them quickly to get the program you want. And, of course, it can be set up to automatically record the stuff you want, the very reason why the DVR exists in the first place.
All in all, not too bad for a budget model, right? The Tablo SPVR2-02-EN DUAL might not be the cutting edge technology some people expect but if you want to spend your money in a smart way, this is a perfect choice.
Additional Info
---
Tablo SPVR2-02-EN
GooBang Doo HDVCB1
Professional Quality DVR
When most people think about DVRs, they think of a device that records your favorite TV shows, allowing someone to watch them at their own leisure. This, after all, has been the most popular use for DVRs, but in recent years there have been many more uses found for them, especially those that are flexible in what they can record. For instance, DVRs have become widely used in professional settings for a variety of purposes, including recording online conferences, surgical procedures, and various other business activities. They are even being used extensively for educational purposes.
The GooBang Doo 2018 Newest HDVCB1 Mini 1080p HD Video Capture Box is one such DVR recorder that can be used for a wide range of purposes, Although it is quite suitable for working as a traditional DVR, this one can also be easily used in a professional setting. This DVR can record video from any video source that has HDMI output, which includes cable and satellite boxes, streaming boxes, video game consoles, professional video conferencing cameras, digital camcorders, and many other devices. Virtually anything that can be displayed digitally can be recorded with this DVR, all in just a few simple steps.
Record Your Own Audio
Although the flexibility of this device matches what is available in many other DVRs on the market now, there is one particular capability that almost all other DVRs lack. This GooBang Doo DVR includes a microphone input, which allows you to record your own audio track at the same time that you are recording from video input. This one small feature opens up the device for many other useful purposes that simply aren't possible on many other DVRs. This has also made it quite popular with gamers who like to record their own commentary and reactions while playing the latest video games.
The device itself is pretty small and thin, and can fit easily even into an already crowded entertainment center. It comes complete with the video capture box, power adapter, user guide, and even two high-quality HDMI cables, which is something that many other devices don't bother to include. This means there should be no need to make another purchase just to be able to connect it to another device. The only small problem noted by users is that changing settings during the recording process may cause the video to stutter, but this is a small issue that can easily be avoided. With the ability to record your own audio alongside the video, this device is perfect for anyone who needs this capability.
---
GooBang Doo HDVCB1
What Is a DVR?
A DVR (short for Digital Video Recorder) is a device that allows you to record video from certain sources into a digital video format. They are most often used for recording television shows from broadcast or cable television to be watched later. These devices first appeared around the turn of the 21st century as standard video recorders meant to replace the recording capabilities of VCRs. However, in recent years many models have included a large number of extra capabilities, allowing them to be used in many different ways, such as like a set-top box, streaming media viewer, or program scheduler.
At their core, most DVRs are essentially small but powerful computers that contain much of the same technology that is often found in a PC or even a smartphone. Many include internal storage in the form of a hard drive or flash memory, and some allow you to connect different forms of additional storage for storing the recorded video. Often, some sort of program scheduler is included that allows you to easily set it to record certain television shows automatically on a recurring basis. Many even include the ability to record more than one show simultaneously, although such capabilities may require the use of extra hardware. Even now, with the advent of streaming, many people use them and still know a few brands such as TiVo and a Plex DVR.
What Features to Compare
The very first DVRs that appeared on the market almost 20 years ago were pretty limited in their capabilities, offering little else than the ability to record shows either manually or through a program scheduler. Some other included features, such as the ability to share video or automatically skipped commercials, were removed thanks to legal action by several media companies. However, more recent models have included many of these features again, as well as adding many more.
Finding the right DVR for your needs will come down to knowing which exact features you want in a device. Here are a few things to keep in mind while looking for the perfect DVR.
Recording Capabilities

All DVRs at their core function as video recorders. However, not all of them offer the exact same features when it comes to recording video. Some are simply made as "live recording" devices without any automated input, whereas others include numerous features that allow you to enhance the recording experience and even edit video that has been recorded. Others may even include the capability to record video from more than one source at a time. When buying a DVR, it is best to check the exact recording capabilities of the device to make sure that they match exactly what you want.
Internal Storage

Many DVRs come with some type of internal storage included. However, many recent low-cost models have appeared that do not, instead allowing you to connect your own external storage devices, such as external hard drives, SD card, and USB flash memory sticks. Even some models with internal storage may only supply a small amount, but also allow for external storage to be added. Basically, the more storage that is either included or that can be added, the better, but you should make sure that any DVR that you purchase includes some kind of internal storage if you don't already have or won't purchase your own to add.
Extra Apps

Ever since the explosion of smartphones onto the market about 10 years ago, many devices now allow the installation of apps, or include their own. Many DVR models include apps now that allow you to use online services such as Youtube, Netfilx, Hulu, and others. If this is a capability that you desire, it is best to make sure before purchasing a device that the model you wish to purchase supports these functions.
Other Features

With each passing year, DVRs have been released that have added more and more features to their standard feature set. Some more recent features include the ability to record from multiple sources simultaneously, included microphones that allow you to record your own commentary or other audio along with the recorded video, and many different sharing capabilities such as streaming recorded video. If you wish to use your DVR for purposes other than just recording the occasional television show, it's best to check the extra features that are included on the latest model to make sure they meet your expectations.
Did you know?
History of DVRs
DVRs have been around for a long time. Much longer than most people realize, in fact. The very first DVRs to hit the market were Microsoft's ReplayTV and the original TiVo model, both of which premiered in 1999. Back then, VCRs were still the most popular (and really the only) way to record anything broadcast on television. The DVR helped make the process of recording a television show quite simple, especially in comparison to a VCR. VCRs required a fair amount of manual programming to set up to record a show at a specific time, and this was often quite complicated and difficult to do as it all had to be done using the few buttons on the front of the device, with no on-screen menu to help with the process. DVRs, meanwhile, provided a simple on-screen menu which allowed you to not only record a show at a specific time, but browse through the listings, set an option to record each new episode of a particular television show, and overall a much easier to use and better experience. The only thing that kept them from being a staple in every person's living room at the time was the high price tag.
During the early days of the DVR, both ReplayTV and TiVo competed for the crown. While ReplayTV met with some moderate success. TiVo gained the most attention, becoming popular enough with DVR enthusiasts to help make the brand a well-known name. For many years after their introduction, to "TiVo" something meant to record a show on a DVR. However, the high price tag of the early models still kept them out of many people's living rooms.
Cable TV Providers Enter the Scene
While TiVo did meet with some success, they still were only in a small percentage of homes in the US. Their successes didn't go unnoticed by many of the big cable TV providers, who started working on DVR models of their own. TiVo also managed to attract the attention of many content providers, who didn't feel that it was legal for them to provide such features as commercial skipping, thus cutting into the revenue of many television networks. TiVo, along with several other DVR providers, soon removed such features in order to help appease the content providers, who were always vigilant about possible piracy.
Meanwhile, many of the cable TV providers started releasing their own custom DVRs, often including them with cable subscription packages. While many of these DVRs had similar features to TiVo, many of them also lacked the intuitive interface that made TiVo DVRs so easy and pleasant to use. Despite this, the market soon became watered down with custom DVR models, each with its own set of features.
Recent Years
TiVo, despite the setbacks they have suffered, are still around, and still provide excellent DVRs. However, there are many other DVRs on the market, many of which provide features that most TiVo or cable company provided boxes do not, such as recording from different video inputs, clip editing, separate audio track recording, and many others. There is even software for the standard PC that allows you to turn your computer into a DVR. With all of the healthy competition available on the market now, today is definitely the right time to purchase your own DVR.
FAQ:
Q: How do DVRs work?
A: DVRs are basically very similar in terms of hardware to a standard computer. They use many of the same technologies as computers, but instead of running an operating system like Windows or MacOS, they have their own custom software that focuses on providing the services and features common to the devices. A DVR records video by taking the video output from another source, such as a cable box or TV antenna, and then recording that video and storing it on some form of mass storage, most commonly a hard drive. The very basic function of this is similar to how VCRs used to work.
Q: Are DVRs difficult to use?
A: This mostly depends on the DVR in question. However, most recent DVRs are extremely simple to setup and use, with many of them featuring intuitive on-screen menus and guides that help you find and use the features offered by the device.
Q: Is it legal to record shows from television on a DVR?
A: This question has been hotly debated ever since the introduction of the first DVRs, with many broadcast television networks concerned about DVRs providing a way for people to watch shows while being able to easily skip commercials. Since advertising revenue has traditionally been the main source of revenue for any TV station or network, this was a legitimate cause for concern. However, in the present day, DVRs are perfectly legal to use to record broadcast television.
Q: Is it legal to use DVRs to record video from non-broadcast television, such as from DVD or Blu-Ray players, or online streaming boxes?
A: The terms for using a DVR to record video from other media sources has been a sticky issue. Many modern devices such as home media players include copy protection built-in, and the terms of service of their use often dictate that it is not legal to record video from their service. If you are using a DVR to record video from such services, it is best to keep this in mind.
Q: Are there any legal prohibitions regarding video content that I record with a DVR?
A: Legal prohibitions regarding recorded content can vary, depending on the content provider. In general, it is legal to record broadcast television, and there is also a legal gray area in regards to recording video content from other sources. However, in all cases, it is illegal to distribute copyrighted content that has been recorded for any purpose, including such actions as selling or giving away copies of such content. If you are unsure of the legality of your actions with a DVR, it is best to check with the provider of the content that you wish to record.
Q: How can I edit the video content that I have recorded with my DVR?
A: Some DVR models include features that allow for simple editing of recorded content, such as editing out commercials. However, for more full-featured editing, it is probably best to copy the content to a computer in order to edit with video editing software.
Q: What are some best practices for scheduling television shows to be recorded?
A: Many DVRs make it very simple to schedule recordings for television shows, with many making it a matter of simply selecting the show from a guide and pressing a button. However, some DVRs can have trouble with discerning a brand new episode of a television show from a rerun. If your DVR supports automatically checking for new episodes as opposed to reruns, you can simply select that option to make sure that you are recording the correct episode instead of one you have seen before.
Another good practice is to schedule your recordings to start a short time before and to finish a short time after the scheduled start of a program. Not doing so many results in the very beginning or ending of a show to be cut off.