If you are sick and tired of balancing on a chair in an effort to get something from the top shelf or need a ladder to
perform repair jobs, we readily provide 5 best step ladders to you for your consideration. So, "reach any peak" in your house while standing steadily on a ladder.
...
Read more
...Read less
Werner 6212
Keep All Gear at Hand
Using a step ladder can make many of our household tasks easier. In this respect, the Werner 6212 step ladder is one of the best choices. It's high enough to let users reach for the highest tops; it's also got a wide platform to let users place some other gear on it in a convenient way. Here you'll find a special holder for keeping such things as a screwdriver or electric screwdriver, drill bits, a hammer, etc. at hand. Researching the ladder, we also paid attention to its HolsterTop with a built-in magnet that secures metal things like nails or self-tapping screws preventing their falling down to the ground, and a special compartment where one can store paint pots, glue or anything else for painting works, for example. This isn't a full list of all useful features the Werner 6212 step ladder can provide users with. It's very likely when working on big-scale projects that you may need to have quite a lot of gear within your reach. For this purpose, it's possible to fix more utensils on it - job caddies, buckets, paint cups, etc. Impressive, isn't it? What else shouldn't go amiss is that the ladder itself is made of the material that's safe to work with electricity. We're more than convinced you'll like this step ladder and therefore, we readily recommend it for purchasing.
Additional Info
---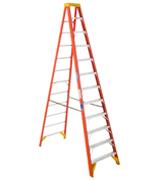 Werner 6212
Flip-N-Lite 15270-001
Use the Ladder Anywhere
The Flip-N-Lite step ladder by Little Giant company is a great portable model that you'd find extremely useful for any needs. At the weight of 14 pounds only, it offers mobility and portability; you'll have no problem carrying it from one location to another, which is an important feature for contractors and those, living in flats and doing repair works. With this ladder at hand, whatever chores you need to do can be done hustle-free and easily. Despite light weight and compactness, the aluminum frame makes the ladder quite durable and sturdy. Standing on it doesn't feel unsafe, that's for sure. Once you don't need the ladder, you can fold it with one hand movement and store away in a corner. All in all, if you need an inexpensive yet robust ladder to use for multiple tasks around the house, why not consider the Flip-N-Lite model and accomplish your tasks in a much more convenient way?
If you haven't got a good power screwdriver, you've missed a lot. A lot of repairs would be done in a much easier way with a good screwdriver set at hand. Choose one from our review and work with comfort.
Flip-N-Lite 15270-001
Louisville Ladder FXS1508
More Than Just a Step Ladder
Sometimes when doing repairs we need to use a ladder in tight places like corners, which is often inconvenient to do. Not anymore, if you get the ladder from Louisville. The beauty about this ladder is that it offers a 2-in-1 solution and can be transformed from a shelf ladder to a step ladder according to your needs. It's one of the few ladders that's been designed to fit different locations and provide users with comfort while reaching for high places and distant objects. The versatility of use of the Louisville FXS1508 is conditioned by a locking latch that secures the rear section and this way, enables its further transformation. When being locked, the V-shaped ladder can be placed close to a wall, pole, or in a corner whilst when being unlocked it serves as a conventional step ladder. Throughout the ladder, there are several magnets to which you can fix your other tools like for example screwdrivers, hammers, self-tapping screws or whatever gear you might need at hand during work. No need to climb up and down for all bits and pieces, keep them all within your reach.
Louisville Ladder FXS1508
Little Giant 22
Multi-use Ladder
Whether you are a building painter or an amateur contractor doing repairs occasionally, every now and then you need to use a ladder. Unfortunately, though, not all ladders are equally good and appropriate for use. If you need a functional and tall ladder to reach for lifted objects, you will surely get use out of the Little Giant Alta One step ladder. As of today, this is one of the most versatile and strong ladders for sale. The ladder is made of aerospace-grade aluminum and has wide-flared legs with rubber feet which both ensure that it will stand steadily and won't slip during use. Yet, what we like best about the Little Giant Alta One step ladder is that can be configured in the number of ways, allowing for its use in different locations. All you need is to pull the pin on the sides and choose the desired height or design by one-foot increments. The Little Giant Alta One step ladder can be used by two people at a once if the ladder's set to a 2 sided A-frame configuration. Drop one side down into 90-degree position and you can place the ladder close to a wall or in a corner and tackle any task being inclined to a vertical surface. If you need to fix something on a roof the given ladder will come in handy like no other model since the step ladder can be turned into the extension 22-foot ladder! Unlike standard ladders, the given model can be decompound so that you will get 2 separate scaffold trestles. And that's jaw-dropping! The only thing that has disappointed us is that Little Giant Alta One step ladder doesn't feature any platform for placing accessories or gear on it. However, this problem can be solved by attaching a working platform that should be bought separately. All in all, on buying Alta One ladder you will not only save your money but also space since the given model is designed to replace 5 separate ladders that serve different purposes.
Little Giant 22
VonHaus 15/107
Decorate a Christmas Tree With Ease
Having reviewed a number of step ladders and evaluated demand for them we've come to a conclusion that people go for step ladders not only for painting or repairing jobs but also for home decorating. You must admit that no one wants to sacrifice their beautiful chairs just to reach the extra high spot and that is why people consider purchasing step ladders. However, not every homeowner seeks a super high ladder but looks for some moderate-size model. Such ladders can be used to get something from a top shelf in your kitchen or reach for a box with Xmas lights and ornament balls. Moreover, those who have ever tried to keep balance on a wobbling chair while decorating a Christmas tree will agree that it is much easier to do this standing on a ladder. So, if you are on the lookout for a moderate-size model we'd like to present you the VonHaus Step Ladder. Owing to its relatively small dimensions it will easily fit into any closet, though it is not the main benefit of the given model. What we'd like to point out is that the step ladder is designed with pretty wide steps with gripped threads that prevent slipping. Thus, anyone who will be using the ladder could be positive about his/her safety. A lightweight yet durable construction made of steel withstands the max load of 300 pounds, thuswise it will hold you and your children while decorating a Christmas tree. We may safely say that the VonHaus Step Ladder is an essential tool for accomplishing your many different tasks.
VonHaus 15/107
What is a Step Ladder
Sometimes we all need to use a ladder - decorate a Christmas tree, pick something from a top shelf, unscrew/screw a bulb, etc. Agree quite often using a chair isn't enough, it's either too short to reach for distant objects or not reliable enough to stand on it firmly. Therefore, having the ladder is a must. After reviewing the market, we've come up with 5 most popular ladders that customers all over the world buy and find most convenient to use.
The repairs wouldn't be complete if not for brad nailers and miter saws, and if you haven't got these tools yet, make sure to read our recent reviews on the best tools available for purchase.