If you have an attic in your house, you certainly need a ladder to get there. Here are 5 best attic ladders to help you find the
one you need!
...
Read more
...Read less
Dimensions of Ceiling Opening
Floor-to-Ceiling Height Range
Louisville AA229GS
A Prominent Model in Its Class
Louisville Ladder is one of the leading manufacturers of home equipment, the products of which are recognized to be not only durable but also incredibly convenient-to-use. The AA229GS ceiling ladder is worth peculiar attention too. Let's see together what's so special about this ladder and why it's been given the Best Pick award by our team. Being a folding model the AA229GS won't take up a lot of space in your room, nor will it mismatch the house decor, due to the discreet installation. To open the door, you only need to pull the T-handle and the mechanism will unfold towards you smoothly. Thanks to the gas cylinders installed the door absorbs the shocks and doesn't open wide the moment you pull it. 
350 lbs of Reliability
What's about the safety? The given ladder is considered to be rigid yet lightweight due to aluminum construction. The load capacity of the ladder makes amazing 350 lbs, so it's suitable for use by a wide range of users of different weights. Speaking of the safety of the flooring, the  AA229GS attic ladder isn't going to damage it thanks to the capped feet that will only touch it but never scratch. To not let the cold get into the house through the attic, the door's been insulated with a weather strip and extruded foam. 
Conclusion
Considering the price and the features mentioned above, the AA229GS ladder is easily one of the best ladders on the market that offers safety, usability and convenience of use. The package contains all bits and parts required for its installation - an EZ hang strap, plywood shims, aluminum feet, a door, nails, and a detailed manual with step-by-step assembly procedure, and there's no need to shop for anything else additionaly. 
Additional Info
---
Louisville AA229GS
FAKRO 66875
The Elegant Engineering
Pull-down ladders, just like the FAKRO LST 66875, gained immense popularity among customers thanks to their usability features and trendy look. Such ladders work best for confined places where there's not a lot of free space and where there's no option to keep it permanently. Hidden behind the attic door when not in use it doesn't take any extra inch of your living space yet provides a convenient way of accessing the loft. 
Stylish Design and Practical Options
There are many things that people like about this ladder. The first what atttacts attention is unique ladder's design. The S-shaped side elements that here serve as handrails add style to the whole construction, setting it apart from many of its counterparts. The ladder stairs alongside the rails are made of rust-resistant stainless steel, while the door and the frame are wooden. The maximum load capacity of the ladder here is equal to 300 lbs and this makes it a universal product. 
Maximum Safety
Let's say a few words about the safety features of this ceiling ladder. To keep the warmth and prevent the cold air from getting inside your place, the door has been fitted with insulated panels. When watching the folding mechanism work, we liked that it didn't lag and opened smoothly on a pull. The lock enables at the moment when the door goes back to the initial position, so it's not going to fall back on you. We also liked that the steps here are grooved and non-skid. If you've got kids who love to play around climbing up and down the stairs, you won't need to worry if you use the FAKRO.

Additional Info
---
FAKRO 66875
Louisville S254P
Wood is Always in Trend
The Lousville S254P is a medium-priced but truly worthy attic ladder. A lot of people opt for wooden products as they are often much more versatile than metal ones. Speaking of ladders, wooden ladders look much more elegant, and you can always color them to match the renovated interior of your room. 
The Lousville S254P offers compact and discreet installation (just like the majority of folding ladders). What may disclose the presence of the loft in your house though, are the door on the ceiling and the T-shaped handgrip on it that you need to pull. 
Made With Safety in Mind
This ladder has been produced in America and this only fact already speaks about its quality. You will definitely like it once you step on it. The heavy-duty hinges open smoothly and securely hold the sections of the ladder. The handrail on the ladder facilitates its climbing up and down. To ensure your more comfortable use, the steps here are made to be furrowed so that you feet didn't slip and you could climb them up more confidently. Meanwhile, to make them durable and long-lasting, the manufacturer used a wire rod for each of the steps. 
The Story of Ladders
Most things around us have their own history. Ladders aren't an exception. The first mentioning of ladders is found in the writings of ancient Egyptians and goes back to the 4th millennium B.C. After all, even the great pyramids look like ladders! The structures of ladders were also found in Assyria. Built more than 5,000 years ago, the palace of Darius the Great had stairs with carved pictures of people and animals. During the Renaissance, ladders were amply decorated to fit the posh interiors of that time. The craftsmen designed unmatched ladders and adorned them with columns and forged handrails.
Additional Info
---
Louisville S254P
Werner AA10
If Your House is Small
This telescoping attic ladder from Werner boasts the advantages of sliding models. Such ladders need little space and are fit for narrow areas. Hence, this model is suitable for rooms stuffed with furniture and lacking space for a stationary ladder. The Werner AA10 is designed for 22" x 22" openings. This ceiling ladder consists of several sections that slide out one after another. A couple of effortless movements and the stairs are ready to use. When collapsed, the ladder is hidden behind the door in the ceiling.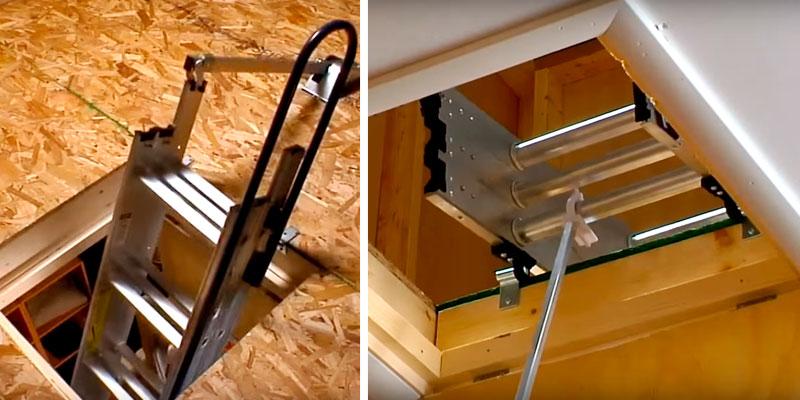 Durable and Strong
Speaking of the features of this ceiling ladder, we should first of all say that it's more suitable for rooms with a high ceiling. You will also notice right away that this ladder has quite wide steps (21-7/8" wide). Designed to be durable, the ladder will serve for years no matter how often you will unfold and fold it up. Besides, the ladder is absolutely safe for the flooring owing to its non-marring feet. 
In the end
Werner is one of the most prominent manufacturers of climbing equipment and its products are widely used at construction sites. This ceiling ladder is surely a worthy investment! The installation of the ladder is also simple and can be done by any regular use, seeing that he/she follows the instructions from the manual (included). The only thing you might need to look for additionally is the door.
---
Werner AA10
FAKRO 66809
Live in a Room With a High Ceiling? Pick This Ladder!
People who adore wooden hardware will surely appreciate this 66809 ceiling ladder from FAKRO. Although metal attic stairs are regarded to be sturdier, this model is nearly as good as they are. After all, it looks fabulous in any interior. We believe, not every aluminum ladder can boast such a trendy look. Generally, this ladder is designed for rooms with the ceilings as high as 10'8". Let's note that the FAKRO 66809 belongs to foldable models and is incredibly easy to collapse and retract. The ladder's door is perfectly balanced and opens smoothly.

Made for Convenience
These attic stairs are made of high-quality pine wood, hence they look great, particularly if you live in a wooden house. The manufacturer assures that the model meets all technical requirements and safety regulations for such ladders. The grooved steps provide a good grip for your feet, thus you won't slip or fall off it even if you wear slippers. In addition, the package includes a red handrail that you should install for safety purposes. By the way, you can mount it on either side of the ladder.

Benefits of Wood
As we have mentioned before, this attic ladder is suitable for people who like wood. It is not for nothing since wood has some real benefits. It provides a wonderful sound insulation and retains heat well thanks to a low thermal conductivity. This ladder has a rubber insulating pad on the door, protecting your house against drafts. The model's weight capacity is 300 lbs and it's a great result for a wooden attic ladder. It means that it's safe for even fairly big and plump users to climb up and down this attic ladder without any troubles. Amazing and stylish choice!
Additional Info
---
FAKRO 66809
What is an Attic Ladder
Living in a big detached house is not only a pleasure but also a luxury, for, besides a spacious living environment, a house owner has a lot of options where to store different household things. An attic is a popular choice. If you've got the attic too, you'll need to have a ladder to access the loft. For those consumers who don't like an idea to store a ladder in the shed and would prefer to have it attached to the opening, we've picked 5 most popular models available on the market, among which you can choose the option that you like better. Here on the shortlist you will find the models of different designs and with different folding mechanisms.
You could use a regular ladder, too, if the loft in your place doesn't serve as a main storage and you climb up there once in a while. We'd like to offer you to read our reviews on extension ladders and step ladders, and consider different options before making a purchase.
What Features to Compare
Type
You should know some aspects before choosing an attic ladder. The ladders vary in design and there are 3 major types of them: folding, pull-down, and telescoping. 
Folding ladders consist of three or four sections that fold up into a compact block stored under the ceiling. Folding ladders can be made of wood or aluminum. 
Pull-down ladders have a multi-lever design which unfolds once the ladder's been dragged down. Pull-down ladders are produced only from metal.

Telescoping ladders, just like the name says, have a construction similar to a spyglass. They usually consist of several sections that slide into one another and are made of aluminum to be lightweight.
Load Capacity and Material
Next, pay attention to the load capacity and what material the attic ladder is made of. These parameters are very important since they can tell you how safe the ladder will be and whether all your family members will be able to use it. Most users tend to opt for ladders with the maximum load bearing capacity, which is a good idea, seeing that you will often need to move bulky things to the loft. Alumimum ladders are a popular choice as they are quite lightweight, yet rigid and corrosion-resistant. Wooden ladders are another alternative that besides sturdiness offer a more elegant look.
Size
Finally, you should consider the dimensions of the chosen ladder. Measure the opening in your ceiling and check whether the model will fit it. If you're only about to have the opening done, you should decide on its location and size before buying a ladder, not other way round. You'd also need to measure the height between the ceiling and the floor to be able to pick the ladder of the right length. The dimensions are always specified by manufacturers, so, it shouldn't be a difficult task to choose the one you need. We'd also recommend you to consider buying a ladder with wider steps.