What's the best way to cool a refreshing beverage down on a sweltering hot day? How to preserve food for many months? The answer
is simple: an upright freezer! This appliance looks like a fridge but freezes food at really low temperatures. Check 5 best upright freezers and get the one you need!
...
Read more
...Read less
Danby 8.5 Cu.Ft. (DUFM085A2WDD1)
Capacity and Dimensions
The capacity of this freezer is 8.5 cu.ft. This kind of freezer is an excellent choice for freezing and prolonging the shelf life of food, such as berries, vegetables, fruit, meat, and semi-finished food for a small family of 3-4 members in winter and summer. Also, you can utilize the upright freezer to preserve food for commercial purposes, for example, in a small cafe. The dimensions of Danby DUFM085A2WDD1 are nearly similar to the size of a conventional single-chamber fridge, so it might not fit in a small kitchen or chamber. Thus, some owners put this upright freezer in a separate place: for example in a basement or closet. Danby Freezer is offered in several capacity options, so consider them all before making your choice.
Energy Efficiency
Danby upright freezer boasts a high energy efficiency - it consumes up to 247 kWh/year, which is a good result for such a big freezer. Its optimum temperature range is from -13° to 10.4°F, so it's possible to store different perishable food for a longer time in the freezer. It will freeze your favorite berries and fruit, allowing you to enjoy delicious desserts in winter. Enjoying a tasty dessert, you will recall hot summer days!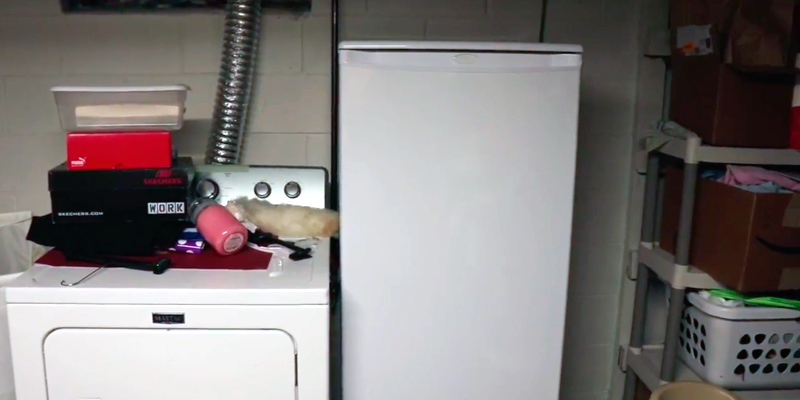 Features and Ease of Use
This model features 4 compartments for food storage inside the freezer and 4 food storage compartments on the door where you can keep additional food such as semi-finished items like ice creams, etc. Danby has 3 adjustable shelves and one bottom tray for food storage and collection of water during a defrosting. The mechanical thermostat feature allows for suitable thermal regulation, which can be found at the top corner of the freezer. Danby's door can be hung on either side of the freezer, so you have the opportunity to choose your convenient side of opening the door.
---
What customers say about this product
A+++ product. As described and shown in photo. Bravo.
I can now cook all sorts of goodies and not have to worry about throwing excess away. Loving my new freezer!
Got here fast, light weight and good quality. Exactly what I was looking for.
The freezer is keeping all the food in a deep freeze. This may be due in part to how the door works; each time it is closed, there is a hiss, as though the door is being sealed shut.
This is a fine machine. We were concerned about buying a non-defrost freezer, but after several months there is little to no frost forming on the coils.
Danby 8.5 Cu.Ft. (DUFM085A2WDD1)
EdgeStar CMF151L-1
Capacity and Dimensions
This model of EdgeStar Medical Freezer has the capacity of 1.1 cu.ft., and compact dimensions (17.75 x 18.5 x 19.25 inches), which will allow you to place the freezer even in a small kitchen. For those in the medical field, this upright freezer is a perfect solution for storing some important medicines that require being kept at sub-zero temperatures. Also, this medical freezer is absolutely indispensable at laboratories (where blood samples must be properly preserved, for example). No need to say, this appliance makes a great upright freezer for food storage as well.
Energy Efficiency
EdgeStar Medical Freezer has the lowest energy consumption rate in our review. It consumes up to 215 kWh per year, which is no wonder since the appliance is very small. The maintained temperature varies from -4° to 0°F, which allows you to preserve all kinds of medicines. It's self-evident, this freezer is capable of freezing vegetables and fruit so that they retain all their nutrients and vitamins.
Features and Ease of Use
The interior space of this medical freezer is divided into two compartments by the only removable horizontal shelf it possesses, and the door has a long comfortable handle with a security lock. The door of the freezer can be closed from outside and locked to protect the contents inside. The mechanical thermostat (for setting the temperature) is located inside the freezer. Just like most other upright freezers, this appliance requires manual defrosting.
---
VIDEO
EdgeStar 1.1 Cu. Ft. Medical Freezer with Lock- CMF151L
What customers say about this product
Medical grade Goes down to -40'C for storage of biological samples Lockable Use with a thermometer to monitor daily temperature
Shipped on time and works great. It freezes food perfectly and adds freezer capacity to our household.
The quality of its construction is hugely better than the unit it replaces. Only time will reveal its longevity factor but it is looking good at this early stage.
The internal area has a removable metal rack dividing the space in two. If you have a large item, you can easily remove the divider.
I purchased this to replace a super-noisy Haier which threw craps after 8 months. This thing is so quiet I thought at first there was something wrong with it.
EdgeStar CMF151L-1
Midea 3.0 Cu.Ft.
Capacity and Dimensions
WHS-109F Midea upright freezer has an internal capacity of 3 cu.ft. and the dimensions of 19.7 x 21.3 x 33.9 inches that will allow you to place the freezer in the kitchen, pantry, or even in the garage. In this chamber, you will easily be able to store large foods, such as an entire turkey. The freezer is spacious enough to freeze berries and vegetables for a small family up to 4 people. Color, size, and capacity of Midea upright freezer may be different, consider this when choosing.
Energy Efficiency
Midea compact upright freezer shows rather a high energy efficiency rate. The energy consumption of this model is only 237 kWh per year, which can not fail to satisfy any customer. The temperature ranges from 8.6° to 11.2°F, so you can store food for several months. However, this upright freezer isn't suitable for storing food for a year or more, since the temperature of -10°F is required. However, Midea upright freezer is great for preserving processed food, veggies, and so on.
Features and Ease of Use
This freezer has 2 removable shelves that, if necessary, you can remove to put large food items in. There's a mesh basket in the bottom part of the freezer; it is convenient for storing small, portioned foods, such as herbs, berries, sliced ​​vegetables. You can hang the door to the other side of the upright freezer if you find it necessary. The only drawback of this appliance is the mechanical thermostat located on the back panel, right near the compressor. So, when you want to change the temperature, you have to tilt the freezer forward or move it to get to the thermostat.
---
What customers say about this product
For the price, this a a very good freezer. The 3.0 cubic feet of space it offers fits my needs very well.
The unit itself runs great so far. It's virtually silent and is cooling to -20dC. Has a nice air-tight seal, and you can feel the lowered pressure from the cold air trying to hold the door closed when you open it.
The door seals tight, as evidenced by the sound made closing it after getting something out. You know that it is sealed and little loss of "cold". A wonderful freezer!
Thermometer I bought with this reads -20 degrees at coldest setting. Just great for storing "double made" casseroles. It's nice to have something like an extra casserole in a freezer that's ready to thaw.
The cord is a little shorter than I would like. An item like this is obviously an ancillary item for your kitchen so it seems like they should make the cord a little longer. That said... This is awesome.
Midea 3.0 Cu.Ft.
SPT 3.0 Cu.Ft. UF-304SS
Capacity and Dimensions
The dimensions of the SPT upright freezer are as follows: 21.1 x 19.4 x 33.8 inches. The capacity of the freezer is 3 cu.ft. This is the optimal volume for a freezer in a small kitchen. Also, this is a superb appliance for a small family up to 3 people. Thanks to the height of 33.8 inches, this freezer can perfectly fit your kitchen furniture. The SPT upright freezer is produced in several other versions that differ in capacity.
Energy Efficiency
SPT UF-304SS Energy Star upright freezer is operated at a temperature ranging from 5° to 11°F, which allows you store your food items for up to three months. While the average energy consumption of this freezer is only 240 kWh per year. You can use this freezer not only at home or office but also for commercial purposes. For example, this appliance can be used in a small cafe. Many students pick this model to set it in their dorms, too.
Features and Ease of Use
SPT UF-304SS has three retractable grocery baskets in which you will be able to put different food items. Some owners say they don't like one thing about this upright freezer: its mechanical thermostat control is located on the back panel. This is an inconvenience if you need to change the temperature mode. The door can be hung on either side of the upright freezer, so you have the opportunity to choose your convenient side of the door opening. Also, in case you want to restrict access to your food, you can close the door and lock the freezer.
---
VIDEO
SPT UF 304SS Energy Star Upright Freezer Review
What customers say about this product
I switched from a full size freezer to this smaller one because I don't need as much freezer space anymore. This is very nice.
It's an energy saver, the tag says it should only cost $29 a year to run.
We are testing the unit today with a couple of containers of water, just to ensure that the unit is working properly. So far, in this morning's check of the containers, the water is one block of ice. So far, so good.
When I did plug it in I thought it wasn't working. I heard the click of the thermostat but couldn't hear the compressor running unless I put my ear right down next to the freezer!
Quiet, effective, just great. This week, a power outage had us down for 40 hours. The contents of the freezer were still very solidly frozen after all that time without power.
SPT 3.0 Cu.Ft. UF-304SS
Whynter 1.1 Cu.Ft. CUF-110B
Capacity and Dimensions
The dimensions of Whynter CUF-110B are 17.8 x 18.8 x 19.5 inches, and this will allow you to comfortably position the mini freezer in any empty corner, or at least under a table or desk. The capacity of this freezer is just 1.1 cu.ft. The internal volume will allow you to keep a small amount of different food, such as several packs of pre-processed food, a bit of meat, vegetables, and fruit. Thanks to the compact size, you can even transport this freezer to your country house.
Energy Efficiency
Whynter CUF-110B has the following temperature range: from -10° to 2°F, thanks to which you can keep your food in the freezer up to one year. The energy consumption of this compact freezer is 251 kWh/year. This number is rather mediocre, considering its small size and low temperature of the freezer. In all, you will get fresh fruit and vegetables in winter and save a considerable amount of money instead of buying fresh food.
Features and Ease of Use
This model features only one removable grate shelf, which divides the freezer into 2 separate compartments. This freezer has a mechanical control. The thermal regulator is located inside the freezer. If necessary, you can swing the door from left to right side. This freezer has a manual defrost system. Therefore, you may have to disconnect it from the power outlet for defrosting and cleaning. Since the appliance is equipped with a door lock, you can also use it for commercial purposes. For example, a locked freezer is a must-have for any drugstore.
---
What customers say about this product
I bought this for our Motor home and wasn't certain if it would be big enough and considered the 2.1 cu ft model. It holds more than I thought. I'm glad we purchased this one.
I have a traceable thermometer installed in the freezer and over the 1 week I have had this freezer the temp on the max cold setting has barely moved (-16 to -17 F).
You'll think of great uses for it, especially for foods you can microwave. I haven't defrosted it yet but the smooth, metal free, interior seems like it would melt effortlessly.
its a -10*F freezer and its been working like a champ for almost 6 months at this point. When I transfer stuff into the fancy freezer it usually reads less than zero right away which leads me to believe its max setting is indeed around the -10F mark.
I ditched my large refrigerator and now use this and a small regular refrigerator and i'm saving on electric and keep fresher food in the house.
Whynter 1.1 Cu.Ft. CUF-110B
What is an Upright Freezer
Today it is hard to imagine a refrigerator without a freezer that preserves food for a long period of time. Essentially, all household refrigerators are equipped with a freezer compartment, where foods are preserved much longer than in the refrigerated compartment. But what if you only need to freeze food? We recommend considering a separate freezer. A freezer is a household appliance used for the freezing and storing food items at sub-zero temperatures for many months. Domestic freezers are of two types, vertical and horizontal or, as they are also called, upright and chest freezers. Upright freezers look similar to conventional kitchen fridges but only have sub-zero temperature settings. Inside, there are several compartments in the form of drawers or shelves for storing food. Upright freezers may be of different sizes and capacities, according to the different storage needs. In this review, we will consider small-sized vertical freezers for storing a small amount of food. This type of freezers is excellent for a small kitchen, office or cafe.
We also recommend you to read our recent review on chest freezers.
What Features to Compare
Capacity and Dimensions
The first things you need to consider are the amount of food items and the freezer size, that is the capacity and dimensions. The more food you want to preserve, the greater the freezer capacity must be. If you only need to store a small amount of food for one or two people (for example, ice cream or prepared food for a few days), then you will only need a freezer with the capacity of 1.1 cu.ft. It goes without saying, the freezers with a smaller internal capacity have compact dimensions, allowing you to easily place the appliance even in a small kitchen or under your desk at work. For people who prefer buying a large number of food items, perhaps once a week, it is necessary to select a freezer with the capacity of 3 cu.ft. to 8.5 cu.ft. In such freezers, you can freeze food for the winter, for instance.
Energy Efficiency
A freezer is an electrical appliance that is usually permanently connected to the electricity, so it is important to consider the energy efficiency of a freezer. This is a very important choice. Check out the power consumption per year and operating temperature conditions under which you will store your food. The energy consumption is measured in kilowatt-hours per year. This value can be divided into 12 so that you can guess what your monthly electricity bill will be. The correct temperature setting of the freezing compartment impacts the preservation of the nutritional value of the food, the storage period, and the electricity consumption. For example, the temperature of 11°F allows you to keep food for up to 1 month. At 2°F, you can store food for up to 3 months. And if you need to store some food for a year - set the temperature of -10°F.
Features and Ease of Use
The next points that we recommend you to carefully consider are features and ease of use. Freezers and refrigerators have sections and shelves for easy placement of food, so pay attention to the number of shelves in the freezer. If a freezer shelf is removable, you will be able to conveniently to take the food out of it; also, it makes washing the interior of the freezer very simple. It is also convenient if you need to place large food items in the freezer. For example, in order to freeze the whole turkey, you will need to remove the top shelf. In the freezer, you can store not only the foods on the shelves or in baskets, but there are compartments on the interior side of the door. It will be useful for storing small food items that you will take frequently. The refrigerator doors usually store soda cans and sauces, and the door of a freezer can store your favorite ice cream, for example.
Each upright freezer should be washed once a year, and to do this you will need to defrost it. So, pay attention to the type of defrosting. Most freezers require manual defrosting. This means that after a certain period of time, you have to disconnect the appliance from the mains and defrost it manually, freeing it from the frost and snow that has accumulated inside. The freezer will need to be washed and cleaned, and the water collected and removed. Such kind of technology is most common in small freezers. Large freezers usually have a 'No Frost' system; it does not require the annual defrosting of the freezer, but such freezers also need to be washed at least once a year to prevent unpleasant odors.
Thermal management in the freezer can be done mechanically, with the help of a convenient and easy-to-use thermostat, or electronically by means of a digital control panel, but the cost of a freezer with the latter is usually rather high. Please note that the way the freezer door opens can be changed by attaching the door to the other side; so, you should decide which way is the most comfortable for you. Well, if you do not want other people to open the freezer that stores your food, for example in the office or cafe, it is recommended to choose the model with a door lock, which is opened and closed by an individual key. It's self-evident, upright freezers with locks are insidpensable for drugstores.