What is the best way to eat fresh and vitamin-rich food in winter? Freeze it! Frozen food remains edible for months and the best
way to store a lot of it is a chest freezer. It takes little place and offers immense capacity. Check our chest freezer review and make your pick!
...
Read more
...Read less
X
This site is a free online resource that strives to offer helpful content and comparison features to its visitors. Please be advised that the operator of this site accepts advertising compensation from certain companies that appear on the site, and such compensation impacts the location and order in which the companies (and/or their products) are presented, and in some cases may also impact the scoring that is assigned to them. The scoring that appears on this site is determined by the site operator in its sole discretion, and should NOT be relied upon for accuracy purposes. In fact, Company/product listings on this page DO NOT imply endorsement by the site operator. Except as expressly set forth in our Terms of Use, all representations and warranties regarding the information presented on this page are disclaimed. The information which appears on this site is subject to change at any time. More info
EdgeStar 1.4 Cu. Ft. Portable Compact
Volume and Size
EdgeStar small chest freezer is a 2-in-1 appliance that is really versatile. It can work as both a chest freezer and a fridge. This is a portable unit that has the following dimensions: 20.8 x 24.7 x 17.7 inches. So, EdgeStar requires little space in your kitchen and perfectly serves as an addition to the freezer of your fridge. However, this appliance has another advantage: it's portable and that's why it's very often used by people who like traveling. You can install the EdgeStar in your car and drive to your bungalow by the lake without worrying about quick spoilage of food! The smallest volume (the one we have tested) is just 1.2 cubic feet, though bigger options are also available: 2.1 and 2.7 cubic feet.
Temperature and Energy Efficiency
This chest freezer/fridge has a thermostat with digital controls and a small screen that displays the current temperature setting. The range this chest freezer supports is a matter of envy for its counterparts: from -8 to 50°F. Choosing the lowest temperature setting, you can store food for many months and it won't perish. If you plan to drive somewhere and need to use the appliance as a fridge, just set the appropriate temperature. As for energy efficiency, this chest freezer is pretty good - it consumes around 190 kWh per year.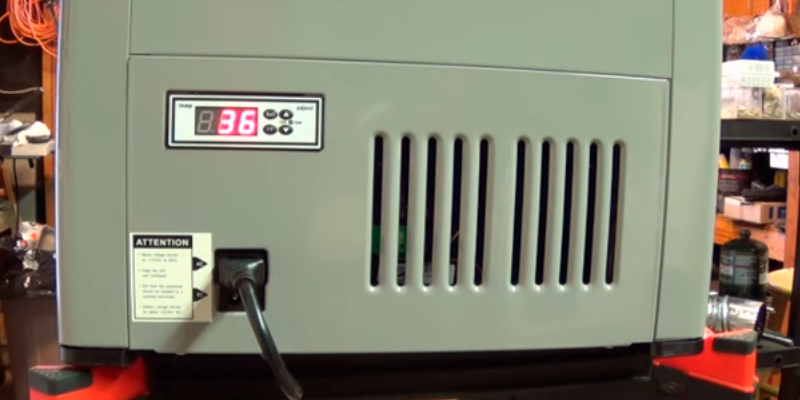 Convenience
EdgeStar chest freezer is certainly a highly convenient appliance. First of all, it has a Flash Freeze function which cools the freezer compartment to the minimum temperature (-8°F) within minutes. Next, the unit has a 12/24V cable for cars (6 feet long) that you can use to connect the appliance to the car socket. Thus, you can drive for many hours till you reach your destination, and the chest freezer will work perfectly. If you own a caravan and travel across the country - EdgeStar is a must-have! The lid has a secure lock, so the lid won't open. For users' convenience, this small chest freezer has 2 removable baskets of a different size. A portable chest freezer is supposed to be carried quite often; that's why this appliance has a couple of comfortable handles (1 per each side). Adjusting the thermostat is as easy as possible - just a few clicks and that's all!
Last updated price

$

469.00

Stock
In stock
ASIN

B0012EGZ9S
---
What customers say about this product
I have had this for almost three years in the back of a heavy truck and equipment service truck. I keep it set at 35. This thing works great. I've been out in 100+deg and my lunch and drinks are still 35.
It's quiet, small enough for the boat, and it worked.
The dc cord was not long enough to reach the 12 volt outlet. I highly recommend this product.
We had the freezer full with T-bone steaks, NY strip steaks. hot dogs, hamburgers and frozen vegetables. Everything stayed nice and frozen. I would highly recommend this unit. It is definitely well built.
Liked the fact that after a 6 1/2 hour trip, I only had lost a 4 degree increase in temp so everything arrived still frozen.
EdgeStar 1.4 Cu. Ft. Portable Compact
Midea 7.0 Cu.Ft.
Volume and Size
That's one of the most spacious chest freezers on our shortlist - 7 cubic feet. Needless to say, such volume means that the unit is really big: 37.2 x 33.46 x 20.59 inches. This chest freezer has a traditional design and that's why this large appliance is very often seen in kitchens of restaurants, cafes, cafeterias, etc. If you grow fruits and vegetables, this large chest freezer will be extremely useful, too. But if you are not keen on gardening, that's not a problem at all! You can buy food in bulk and save up a lot of money. There are some smaller models of this chest freezer: 2.1, 3.5, and 5.0 cubic feet.
Temperature and Energy Efficiency
Though it's the biggest chest freezer on our shortlist, it's rather quiet during operation. We would like to stress that this appliance is fairly energy efficient - the annual power consumption is around 250 kWh, which means you won't be shocked when you receive electricity bills. As for the temperature range, this chest freezer can maintain the temperature from 0° to 10°F. The lowest setting allows you to store food for 6-12 months. So, you can freeze fresh berries, mushrooms, fruit, vegetables, meat, and cook the most delicious treats and dishes in winter.
Convenience
The mechanical adjustable thermostat is on the front panel of this chest freezer. You can set the temperature by turning the knob. It's simple and very reliable. This model has no frost-free function, which means you need to defrost it manually - a special hole will let water out. Of course, the defrosting must be performed after you take all food out! Midea comes with a removable wire basket for storing the most frequently used foodstuff.
Last updated price

$

599.00

Stock
In stock
ASIN

B00MVVITCC
---
What customers say about this product
SUPER cold performer. Took less than 4 hours from unpackaging to reach -10C and about 6 hours to drop to -25C.
Just the right size. At the right price. Got to below freezing very quickly. Sure we will use it for many years.
I've had this freezer for almost two years now, and it works great. It did arrive with a good size dent near the control knob in front, but that doesn't seem to have any effect on performance.
I have had an opportunity to use this item and so far I'm very pleased with this purchase.
Product was delivered without a cover plate for the lower rear machinery/power access port. Without a cover it makes the freezer machinery vulnerable to mice/rats etc. I'm sure a lot of people keep their freezer in the garage which is open a lot of the time.
Midea 7.0 Cu.Ft.
Danby 3.8 Cu.Ft.
Volume and Size
Danby is one of the most popular manufacturers of kitchen appliances and Danby chest freezers are truly high-tech. This freezer has the capacity of 3.8 cubic feet, though there are bigger models - 5.5 and 7.2 cubic feet. The smallest one has the dimensions of 33.06 x 24.94 x 22.19 inches. Thus, you can place this appliance in your kitchen or, if there is no free space, in any other room. The volume of 3.8 cubic feet is sufficient for a family of 2-3 members. If you are looking for a chest freezer for a commercial use, purchase a bigger model.
Temperature and Energy Efficiency
A mechanical adjustable thermostat is on the front panel of Danby chest freezer. There's a power indicator (green light) next to it. Thus, you always know if the appliance is working or not. As for the temperature range, Danby chest freezer can maintain the temperature from -11.2° to 10.4°F. The minimum level allows storing food as long as the whole year! So, if you store a lot of meat or fish - Danby is the right choice. Concerning energy efficiency, Danby is among the leaders: annual power consumption is below 200 kWh.
Convenience
Danby chest freezer has a flat back panel, which means you can place it against a wall in your kitchen (or another room). The appliance is quite compact and comes with a single removable wire basket for storing food. The legs the unit stands on are adjustable, so even if the floor isn't 100% even, you can still place this chest freezer properly (so that it doesn't vibrate and make too much noise). The defrosting is manual: remove all food, turn the appliance off and wait till all ice melts down, then open a water release hole. However, defrosting must be carried out rather seldom, so it's not a problem at all.
Last updated price

$

384.04

Stock
May be out of stock
ASIN

B00O2N4GRE
---
VIDEO
Danby DCF038A1WDB1 Chest Freezer, 3.8 Cubic Feet, White
What customers say about this product
We always have overflow in our refridgerator freezer, and this was perfect size freezer to store our steak, hamburger, chicken and bulk items in.
This freezer is still working fantastic, motor is very quiet, very little to no ice buildup on interior (we do not open often,maybe 1 time per day) We are still 100% happy with this freezer.
I've had this freezer over a month now and have been so happy with it. It is just the perfect size for a single person or a small little family. It allows me to nicely organize my indoor freezer so things are easy to access.
I love the basket included in this and the amount of volume. Easy to get started, directions were straight forward and everything has been frozen solid for the past month
It's a great investment! Exceptional freezing power... Freezes meat in less than an hour!
Danby 3.8 Cu.Ft.
Haier HF50CM23NW 5 Cu. Ft.
Volume and Size
Haier chest freezer is a classic appliance of its kind. The model we have tested has the volume of 5 cubic feet, which is an optimal choice for a family of 2 or 3 people. The freezing compartment is big enough to store lots of meat, veggies, fruit, etc. Many owners say this chest freezer is unexpectedly compact in size: 33.25 x 28.38 x 21.63 inches. Thus, finding a place for this unit isn't a problem. Note that Haier chest freezer is available in a single size. Needless to mention, this chest freezer is suitable for commercial use and many cafes use it without complaints about the quality.
Temperature and Energy Efficiency
This chest freezer can keep food for many months in a row thanks to its mechanical thermostat, capable of supporting the temperature below -8°F. This level of temperature is optimal for meat and vegetables. If the food in your freezer doesn't lie for so long, set the temperature of 0°F - it's enough to preserve various produce for up to 3 months. Annual power consumption by Haier chest freezer is around 250 kWh - quite a good result of a relatively big appliance.
Convenience
Haier chest freezer is very convenient in use. First of all, the appliance boasts a space-saving design - the back panel is totally flat. Next, there's a power-on indicator, so you always know when the unit is plugged into the mains. The thermostat is adjusted mechanically with the help of a round dial. You can pick one of 7 settings or switch the chest freezer off. Just like most other freezers, this one must be defrosted manually. Do it once or twice a year if you want Haier chest freezer to work properly and serve you for many years. Remove all food, then drain water through a special drain hole. Haier comes with a removable wire rack, which is very convenient for the foodstuff you need very often (frozen veggies, ice cream, etc.).
Last updated price

$

0.00

Stock
May be out of stock
ASIN

B0198ZXHEI
---
VIDEO
Haier HF50CM23NW Chest Freezer REVIEW! (August 2017)
What customers say about this product
This freezer is just what I was looking for. The size is perfect since I am the only one at my residence. The outside is nice and smooth and easy to keep clean.
This chest cools quickly and seems to maintain a consistent temperature. It could use another rack for organization, but otherwise a seemingly well built freezer for the garage or basement.
I noticed a spike in my electrical consumption on the day I plugged it in, but now it's down to nearly nothing. I am very pleased.
Freezer works great.runs very quite and maintains 0 degrees at half power. Remember, new freezers do not work in temperatures below 50.
I've only had this a few months and so far I love it. It will hold A LOT of food! So far, there is very little, if any, frost inside.
Haier HF50CM23NW 5 Cu. Ft.
Della 048-GM-48303
Great Choice for Limited Areas
If you live in a small house where the closet areas are rather limited and there's no basement, choosing a freezer that would fit it might become an issue, especially given that most modern freezers are rather bulky in size. If this description fits you, you'll be hard-pressed to find a better option than the 048-GM-48303 Chest Freezer. With 32.75" x 22.5" x 21.5" of external dimensions, this model is larger than portable low-capacity chest freezers, yet more compact than any commercial-grade units, and will go perfectly in any space. It features a flat back panel and has no grills that would impede its installation so you can place it easily virtually anywhere, including patios, terraces, and garden arbors for when you'd like to have some ice cream or frozen drinks or desserts at hand. The 048-GM-48303 Chest Freeze is so sleek you could certainly find place for it even in your kitchen. Honestly, among the models we've stumbled upon so far, we haven't seen a more space-wise solution.
Capacious and Energy Efficient
Despite its seeming compact size, Della's freezer offers a capacious inner compartment of 3.5 cu.ft which is enough for an average family of 2-3 people. Besides, this space is cleverly organized so you can put inside all kinds of drinks and food. Larger store-bought packs can be conveniently stacked in the main compartment, while smaller portion-size packs can go into a basket so they remain within your easy reach. 
One of the main reasons behind the popularity of chest freezers, besides their small size, of course, is that they consume very little energy. The Della 048-GM-48303 chest freezer isn't an exception. On average, it consumes about 193 kWt, which is a very good result compared with similarly sized freezers. 
Convenience Options
The features that make this freezer more convenient to use include a mechanical thermostat that's placed on the exterior panel so you can easily adjust a temperature choosing from 7 available levels, and two lights that indicate whether or not the freezer is working properly. Though the Della 048-GM-48303 doesn't have a self-defrost function, this process isn't too effort-taking and you should be able to complete it quickly enough. There's a special drain plug on the bottom which will allow you to remove all defrost water easily and help prevent condensate build-up. The storage basket is removable and easily slides out so you can reach food items underneath it.
Additional Info
Last updated price

$

0.00

Stock
May be out of stock
ASIN

B01N1Q8K3L
---
Della 048-GM-48303
What Is a Chest Freezer?
If a freezer of your fridge is too small for you and you can't store all frozen foodstuff you need, getting a freezer is certainly a way out. There are 2 major types of freezers: chest freezers and upright freezers. They are different in types of doors and this review is about chest freezers. Many people think that these appliances are for commercial use only, i.e. for cafes, restaurants, etc. But this opinion isn't correct. Chest freezers are used by common people who need to store up a lot of produce. Needless to say, it's reasonable to buy food in bulk and chest freezers can help you preserve it. Moreover, fresh fruit and vegetables are rather expensive in winter but you can enjoy frozen food full of vitamins all year round if it's stored in a freezer. Some small chest freezers can even be installed in cars, so you can transport frozen food to the place you need. And a chest freezer is certainly a must-have if you grow fruit and veggies yourself - you will be able to store away all your harvest!
If chest freezers seem inconvenient for you, we recommend you to check out our shortlist on the best upright freezers and standard freezers. We hope you will find there your best freezer!
What Features to Compare
Chest freezers seem to be quite simple appliances, yet making the right choice is still rather difficult. However, we have compared the 5 best chest freezers on our shortlist by their most important features any customer should know about.
Volume and Size
The first thing to consider is the volume (i.e. capacity) of a chest freezer. The right choice depends on what you need this appliance for. If you need one for home use (for storing food for your family), the required volume depends on the number of family members. It's self-evident, the more spacious the chest freezer is, the more food it can store. Thus, you can buy fruit, vegetables, and meat in bulk at a real bargain and then keep them all in a freezer. There's one thing you should always remember: a chest freezer requires space, so you should decide where to place it beforehand. In general, chest freezers with the volume from 1.2 to 3.8 cubic feet are excellent additions to home fridges. Larger chest freezers, from 5 to 7 cubic feet, are ideal for storing lots of food. Restaurants, of course, should purchase larger models.
Temperature and Energy Efficiency
Freezers are different in terms of temperature they can maintain. If you need to store frozen food for a short length of time, a chest freezer capable of maintaining the temperature of 15-20°F will be sufficient since some food stuff shouldn't be frozen too long. And if you need to store away food for months, a chest freezer must keep lower temperatures - as low as -11°F. Since any freezer runs on electric power, you should pay attention to its energy efficiency. An energy star chest freezer will help you save up on electricity bills. However, don't forget that larger freezers consume more energy than smaller ones.
Convenience
A chest freezer is supposed to be convenient to use. Therefore, pay attention to some small features that at first seem unimportant, but can make a chest freezer really useful. For example, the best appliances have a fast freezing function that allows quick freezing of vegetables and fruit while they are still fresh. Moreover, the fast freezing preserves far more vitamins and nutrients than a usual freezing. And if you think canning is also a nice way to preserve food, you are not quite right. Canning is OK but most vitamins perish during this process, so freezing is a much better option. Next, chest freezers look like deep metal boxes and retrieving food from the bottom might be uncomfortable. That's why the most frequently used food should be stored in metal baskets. Find out how many wire baskets come with each chest freezer. The temperature control also differs. For example, some chest freezers have handy digital controls - you just make several clicks to set the temperature and it is maintained. The best chest freezers can be used not only as freezers but as fridges as well. However, the majority of chest freezers have adjustable mechanical thermostats - they are less convenient than digital ones but quite durable and simple in use. Another major point is defrosting - any freezer should be defrosted from time to time and most of these appliances require manual defrosting. They have a small hole for letting water out. If you don't want to bother with defrosting, get a frost-free chest freezer, though this one will cost more. Finally, some compact chest freezers can be powered from a car outlet and come with a special cable.