If you're engaged in scrollwork and need to process delicate wood, metal or plastic, there's hardly a better tool for
this job than a scroll saw. We've researched the market of the popular tools and come up with 5 best scroll saws for you to choose.
...
Read more
...Read less
DEWALT DW788
Thought Out to a Tiny Detail
What all consumers seek for in the tools they buy is usability. Handling a tool that's either too heavy or isn't convenient to use won't bring the expected results. With that in mind, we've researched the market to find only the best and high-performance tools among which is this DEWALT DW788 scroll saw. What we liked right away is that this saw comes all entirely preassembled and ready-to-use. The only thing you need to do is to bolt up a table to the saw and off you go. For more stability on a surface, it's possible to use the saw with a stand (should be bought separately), yet, it's quite solid like it is and can be easily used without a bed at all. The DW788 scroll saw boasts intuitive and user-friendly controls; a large on/off rocker switch is located right above the blade which you can reach easily in case of emergency. Owing to unique tensioning mechanism the saw tuning can be done with one hand movement. The DeWalt scroll saw features a variable operation speed that can be tuned within the range of 400 to 1750 strokes per minute according to the materials used. With regards to operation, this scroll saw pleased us a lot with its quiet work even at high speeds. The only thing we found missing here is an on-board light, therefore, if you need to illuminate your working area, get one optionally and surround your place in comfort.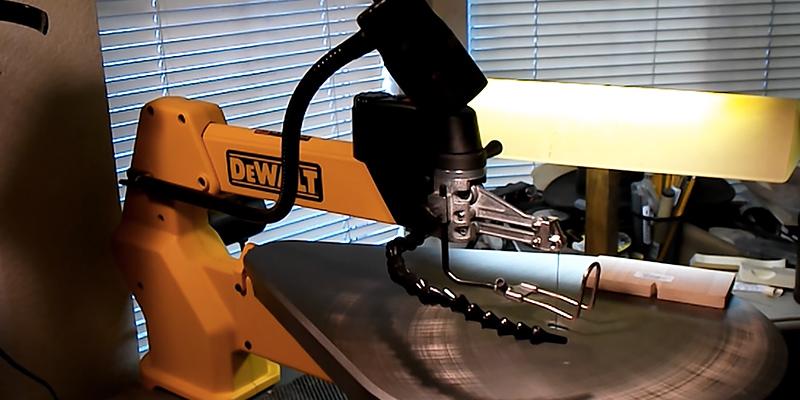 Additional Info
---
VIDEO
DeWalt DW788 Scroll Saw Review
DEWALT DW788
Delta 40-694
Untrilled Scroll Saw
The biggest issue for precision tools is vibration that may deteriorate the end result. However, with the Delta 40-694 scroll saw, you'll never encounter this type of problem. To achieve unrivaled performance and stability during operation the manufacturer implemented top-grade components and modern technologies, reducing the slightest vibrations to none. Let's take a closer look at how the scroll saw's been designed. The whole construction is made of quality and sturdy cast iron to ensure stability and firm positioning of the saw when cutting. The ergonomics is also fantastic; the table here is big enough and has rounded edges for user's safety of use. A built-in light, adjustable air blower and the length of the saw itself speak in favor of high usability too, making the cutting process much more convenient. Here you'll also find a storage compartment for keeping spare blades, so when you need one, it's always there at hand. What's also great about the Delta 40-694 scroll saw is the depth-of-cut making whole 20 inches. With the depth-of-cut like that it'd be easier to cut quite big work pieces and save the sharpness of the blade for much longer.
---
VIDEO
Delta 40-694 Scroll Saw Assembly
Delta 40-694
Dremel MS20-01
Handheld or Stationary Unit?
After reviewing a great number of different scroll saws, we can easily say that most of the models are suitable for crafting intricate things. Yet, a challenge is possible if one needs to carve in wood or metal fixed firm to some surface. For this purpose, using a scroll saw with a base wouldn't be appropriate. What you could do, though, is to get this Dremel MS20-01 scroll saw and benefit of handheld and stationary cutting capabilities. Unlike the majority of bulky scroll saws, this one can be used as both, depending on the tasks you need to perform. If secured to the base, the Dremel MS20-01 scroll saw can be used as a stationary unit and without one - like a portable tool. If you're looking for such flexibility of options, you wouldn't find a better scroll saw than this one. It's also pretty easy in maintenance. To replace the blades, it's enough to push a quick change lever once and the blade will be at your disposal. Comparing to more expensive models, the Dremel MS20-01 scroll saw is also a much budget-friendly tool with sensible replacement costs. The saw is compatible with a variety of blades from different brands and you don't need to look for a specific type. Summing it all up, the Dremel MS20-01 scroll saw can be a great choice for both amateurs and professional woodworkers who need a tool to work with delicate materials and carve beautiful curves and patterns in them.
Additional Info
---
VIDEO
DREMEL® Moto-Saw (MS20-1 5) - Dremel
Dremel MS20-01
WEN 3920
Start on the Right Foot
If you are learning the ropes of woodworking and need a scroll saw at an affordable price we'd recommend you to consider the one from WEN company. The manufacturer strived to combine high productivity and accuracy in one tool that wouldn't cost a fortune and did it! The WEN 3920 scroll saw features a low vibration level and it means that you can perform some delicate workmanship without any misgivings while a variable speed control ensures comfortable work with different materials. Moreover, the blade holder accepts both pin-end and pinless blades and a user doesn't have to tighten a pin-end blade manually since the blade tension mechanism will keep it in place. Such hassle-free procedure of a pin-blade replacement has made our brains reel since we've seen a lot of tools and almost all of them required some sophisticated maintenance. So, it is another argument that proves that the scroll saw is really perfect for beginners and hobbyists. We'd like to recommend entry-level woodworkers to use the WEN scroll saw paired with a foot pedal for safe performance. The foot pedal will let you stop the tool on-the-spot if the situation requires so.
Additional Info
---
VIDEO
Wen 3920 Scroll Saw Review
WEN 3920
Shop Fox W1713
Safety Has Priority
Having reviewed the number of tools manufactured by Shop Fox, we couldn't but give justice to the safety and ease of use of their tools. The current saw isn't an exception and worth your attention for sure. The whole construction of the saw but a blade guard is made of steel, cast iron and aluminum. Within such a price tag, there are few tools that can boast the same robustness and quality build. The plastic blade guard in turn protects an operator's hands from possible injuries as well as prevents the thinnings and other wooden fragments from getting into eyes during work. Another distinguishing feature of the Shop Fox scroll saw is that it comes with blade adapters and therefore, can be used with the plain end blades. During operation the saw is pretty quiet too, which is surely another advantage of this saw. What we didn't like, though, is that due to rigid fixation of a dust blower, not all wood-flakes can be cleared away from a working surface. To keep your place clean of thinnings, you can use a vacuum cleaner additionally. Rather than that, the Shop Fox scroll saw is the right choice for home use and for all those, dreaming about carving in wood, plastic, etc.
Additional Info
---
VIDEO
Spec Review: Shop Fox W1713 16-Inch Variable Speed Scroll Saw
Shop Fox W1713
What is a Scroll Saw
When passing by display windows we often see beautiful things of different shapes and with intricate curves carved in wood, metal or any other material. If that's the type of hobby you're devoted to, purchasing a scroll saw would be the right thing to do. A scroll saw features the type of a blade that suits best for cutting delicate wood, metal, etc. and it's also much easier to operate too comparing to other home improvement tools. With the scroll saw, you will be able to cut all sorts of patterns and intricate curves in wood, plastic, metal, etc.
If you work with wood items on a permanent basis, consider buying one of the orbital sanders for finishing surfaces and removing minor rubs. If you'd like to make the process of nail driving easier and faster, you should definitely opt for finish nailers.