Getting over muscle aches and body pain may be quite difficult. The good news is a therapeutic treatment approach has been developed
and introduced to a new way of soothing physical pain - that is a moist heating pad. All you're left to do is decide on one of the five best pads for quick pain relief we've selected for you.
...
Read more
...Read less
Chattanooga Theratherm
No More Pain
If you are looking for a heating pad big enough to cover your back, shoulders, wrists, stomach, knees or feet, this Chattanooga Theratherm Digital Moist Heating Pad may be the right option for you. Being as large as 14 x 27 inches, it's just of the right size to treat almost all body parts.
The pad is extremely effective and ensures a quick pain relief by drawing moisture from the air and directing it right into your skin. And what is notable, the pad doesn't require adding water and its operating principle is based totally on the air humidity.
For a user's convenience of use, the Chattanooga Theratherm Digital Moist Heating Pad comes with an easy-to-use digital hand control with the help of which you can comfortably control and vary the heating temperature and the longevity of treatment. The heat settings range from 88 to 166 degrees Fahrenheit, while the treatment duration can be set from 1 to 60 minutes. That's a fairly wide range of settings, making the pad very versatile. For sure, people with different conditions and needs will be able to easily customize it for the ultimate comfort.
---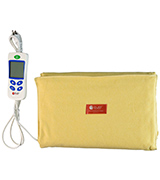 Chattanooga Theratherm
Thermophore MaxHeat
Quick First Aid
Alleviating pain in muscles quickly is possible with the help of the Thermophore Moist Heat Pack Unit. It is an affordable and simple-to-use pad designed for delivering almost instant pain relief even for big groups of muscles.
The Thermophore Moist Heat Pack comes wrapped in a fleece blend cover that draws humidity out of the air and traps it inside to use it further on sore areas. The pad has a large size and can easily cover the spinal area, stomach, one thigh, and even both shoulders. It is an effective remedy for those who suffer from arthritis or rheumatism, often have chronic back or neck pain, fibromyalgia, muscle spasms, strains or ligament, or overcome sports injuries. Also, it can be used to treat colds with congestion and sinus conditions.
This versatile moist heat pack is also fairly convenient to use. It has a switch with 3 temperature settings and features an automatic shut-off function that turns the pad off after approximately 20 minutes of use. The temperature range goes up to a maximum of 180 degrees Fahrenheit, which allows users with different problems to find the amount of heat that feels comfortable and works best for them.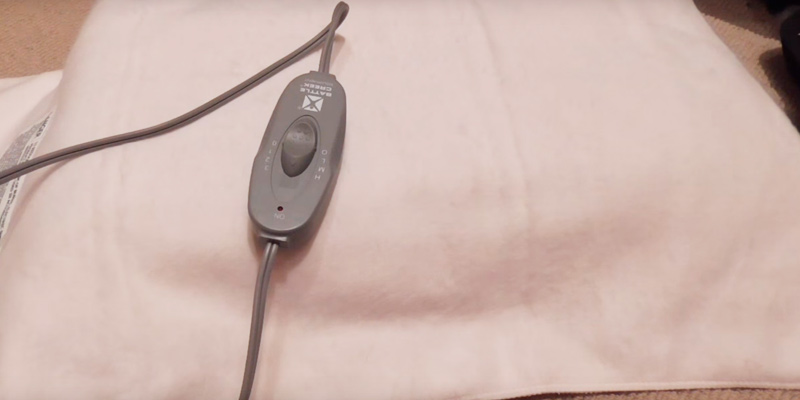 ---
Thermophore MaxHeat
Sunbeam 12'' X 15''
Enjoy the Ultraheat
The Sunbeam Moist / Dry Heating Pad may become a great alternative to more expensive electric heating pads. That's because it costs just a fraction of other big names but delivers almost the same powerful heat to aching areas. It can easily allay arthritic pain and relieve discomfort in muscles. And let's check how.
As you've probably guessed from its name, it's a very versatile product that can deliver both dry and moist heat to your body parts. Primarily, it's a dry heat pad but you can always put inside a sponge insert for moist heat. It'll soothe muscle soreness and stiffness much quicker than dry heat alone. And we dare say "unbelievably faster"! The thing is that it uses the UltraHeat technology and is ready to relieve body aches in just 30 seconds after switching on. During that incredibly short time, it reaches the Low heat setting. Medium and High heat modes naturally take a bit longer. The temperature adjustments can be done with an easy-slide controller that is specifically designed for arthritis sufferers.
All things considered, if you're not sure what type of heat therapy (dry or moist) will work best for you, this fast-acting pad is a good opportunity to check that. Made with arthritis sufferers in mind, it's very ergonomic.
Additional Info
---
Sunbeam 12'' X 15''
Pure Enrichment XL
Extremely Versatile
If you do not want to put up with pain anymore, the Pure Enrichment heating pad is your must-have. Having this pad at hand, you will be able not only to relieve discomfort and pain in your body but also brush off tiredness and relax sore muscles after a busy day at work or intense workouts in the gym.
At 12" x 24", the pad is large enough to cover big areas of your body and flexible enough to wrap your arms and legs. Made of soft and pleasant-to-touch microplush material, the pad feels comfortable even when it's being applied to the naked body. To ensure greater convenience, the folks from Pure Enrichment fitted the pad with a long 9-foot power cord, making it easy for you to use it in bed without having to sit strictly right next to the power outlet. And a handy controller with buttons and a small LCD display are there on the cord. Depending on your needs and sensitivity of your skin, you can choose one of the 6 temperature settings - Warm, Low, Medium-low, Medium, Medium-high, and High.
One more thing that adds appeal to this heating pad is a storage bag that comes included in the package. With it, storing and transporting the pad will be an easy thing.

Choose the Pure Enrichment XL King Size Heating Pad if you're looking for a large, cozy, and safe-to-use heating pad to relieve different kinds of pain as well as relax after a long working day.

Additional Info
---
Pure Enrichment XL
Thermalon 24002
Portable Pad to Take with You
If you have arthritis and/or often experience muscles aches, tension and stress, it's time that you start dealing with this problem, which is best to do with the THERMALON Moist Heat Pad. It's quite affordable and easy to use. It has no wires and just requires pre-heating in a microwave. It's enough to microwave it for a couple of minutes and the treatment session can be started. It is convenient to use it in bed before sleep, as it doesn't have cords, nor does it use electricity.
Another advantage of this pad over many other units is that you can wear it on you, tucked under your clothes, while walking around your house or being at the office. One more benefit of this model is that it features a pocket in which you can warm your hands or feet. As for the size of the pad, it isn't big, but it's still good for treating most of the body parts.
All in all, if you've been looking for a portable moist heating pad, the Thermalon 24002 wireless microwavable pad is your best option. The advantage of using this particular pad is that you won't be limited to your home and will be able to take it with you anywhere you go. It will help you alleviate unpleasant muscle cramps and aches wherever you are.
---
Thermalon 24002
What Is a Moist Heating Pad?
Heat therapy can deliver a lot of benefits if used correctly. Heat therapy can take a lot of forms, from very simple, like hot bottles, to more sophisticated electric devices. Most products designed for heat therapy now are divided into electric, chemical, microwavable units and can further be classified into disposable and reusable types. When selecting a heating pad for home use, the first thing you should pay attention to is whether the heat it produces is dry or moist. Some people opt for dry heat therapy products as they find them easier and more convenient to use. However, if your skin is sensitive or dry, applying dry heat to it may cause its dehydration. If this is the case, we strongly recommend you to consider heating pads that produce moist heat. Unlike dry ones, moist heating pads penetrate into the skin more deeply, and, as a result, they not only speed up the recovery process but also improve blood circulation. Moist heat is also used as a treatment for chronic conditions, muscle aches, and stiffness. If used in combination with a body massager, moist heating pads may alleviate many unpleasant symptoms and deliver beneficial effect on all body parts. However, if you're still not sure which type of therapy is right for you, it's advised to talk to your doctor first.