Getting over muscle aches and body pain may be quite difficult. The good news is a therapeutic treatment approach has been developed
and introduced to a new way of soothing physical pain - that is a moist heating pad. All you're left to do is decide on one of the five best pads for quick pain relief we've selected for you.
...
Read more
...Read less
X
This site is a free online resource that strives to offer helpful content and comparison features to its visitors. Please be advised that the operator of this site accepts advertising compensation from certain companies that appear on the site, and such compensation impacts the location and order in which the companies (and/or their products) are presented, and in some cases may also impact the scoring that is assigned to them. The scoring that appears on this site is determined by the site operator in its sole discretion, and should NOT be relied upon for accuracy purposes. In fact, Company/product listings on this page DO NOT imply endorsement by the site operator. Except as expressly set forth in our Terms of Use, all representations and warranties regarding the information presented on this page are disclaimed. The information which appears on this site is subject to change at any time. More info
Thermophore MaxHeat
Quick First Aid
Alleviating pain in muscles quickly and effectively can become possible with the help of the Thermophore Moist Heat Pack Unit. It is an affordable and simple-to-use product designed for delivering almost instant pain relief even for big groups of muscles. What's the secret?
The Thermophore Moist Heat Pack comes wrapped in a fleece blend cover that draws humidity out of the air and traps it inside to use it further on sore areas. The pad has a large size and can easily cover the spinal area, stomach, one thigh, and even both shoulders. It is an effective remedy for those who suffer from arthritis or rheumatism, often have chronic back or neck pain, fibromyalgia, muscle spasms, strains or ligament, or overcome sports injuries. Also, it can be used to treat colds with congestion and sinus conditions.
This versatile moist heat pack is also fairly convenient to use. It has a switch with 3 temperature settings and features an automatic shut-off function that turns the pad off after approximately 20 minutes of use. The temperature range goes up to a maximum of 180 degrees Fahrenheit, which allows users with different problems to find the amount of heat that feels comfortable and works best for them. Versatile and effective, this model is surely worth your closer attention.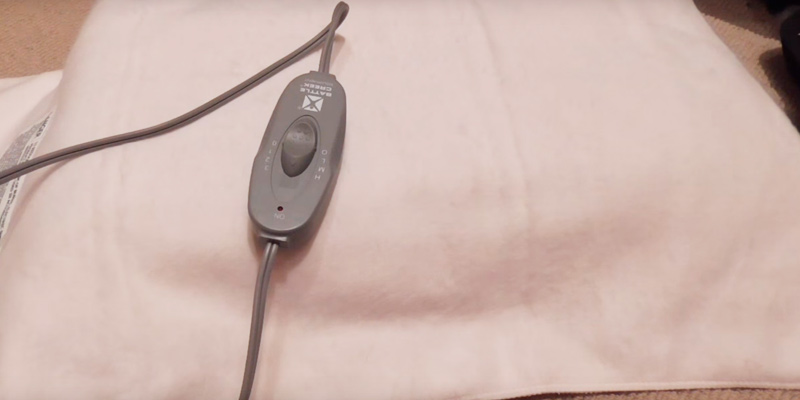 Last updated price

$

63.69

Stock
In stock
ASIN

B000ZHJS0G
---
Thermophore MaxHeat
Pure Enrichment XL
Versatile Pad
If you do not want to put up with pain anymore, the Pure Enrichment heating pad is a must-have for you. Having this pad at hand, you will be able not only to relieve discomfort and pain in your body but also brush off tiredness and relax sore muscles after a busy day at work or intense workouts in the gym.
At 12" x 24", the pad is large enough to cover big areas of your body and flexible enough to wrap your arms and legs. Made of soft and pleasant-to-touch microplush material, the pad feels comfortable even when it's being applied to the naked body. To ensure greater convenience, the folks from Pure Enrichment fitted the pad with a long 9-foot power cord, making it easy for you to use it in bed without having to sit strictly right next to the power outlet. And a handy controller with buttons and a small LCD display are there on the cord. Depending on your needs and sensitivity of your skin, you can choose one of the 6 temperature settings - Warm, Low, Medium-low, Medium, Medium-high, and High.
One more thing that adds appeal to this heating pad is a storage bag that comes included in the package. With it, storing and transporting the pad will be easy and convenient.

Choose the Pure Enrichment XL King Size Heating Pad if you're looking for a large, cozy, and safe-to-use heating pad to relieve different kinds of pain as well as relax after a long working day.

Additional Info
Last updated price

$

34.99

Stock
In stock
ASIN

B01KVYTV86
---
Pure Enrichment XL
MIGHTY BLISS 12"x24"
Extra Plush
Want to wrap yourself in ultimate comfort? Then you should definitely consider the MIGHTY BLISS™ Heating Pad. It's an ultra thick and ultra plush solution for quick pain relief. Made with soft microplush fibers that are typically used in the most luxurious and comfiest winter pajamas, the pad delivers extremely cozy feeling to its users.
With that, you don't need to worry that the thick fibers can become too hot. This pad gives just the right amount of heat to penetrate your hurting muscles and cramps without bringing any discomfort to your skin. With the MIGHTY BLISS™ Heating Pad, muscle pain will no longer ruin your day.
The pad is available in XL size (12"x24") enabling you to treat back, breast, neck, legs, stomach, or any other body part that hurts. You can wrap this around a shoulder, arm, or foot and feel so pampered. The pad offers 3 variable heat levels (Low, Medium, High) that can be switched on via an ergonomic LCD controller. If you'd like to wash the pad, you can simply unplug the cord with controller and throw the pad into a washing machine (gentle cycle).

All in all, the MIGHTY BLISS™ Heating Pad is one of the coziest products you can find on the market. The ultra plush material takes the pad way ahead of its competitors.
Last updated price

$

26.97

Stock
May be out of stock
ASIN

B07G2M1LBW
---
MIGHTY BLISS 12"x24"
GENIANI PADOSH1
Guaranteed FSA/HSA Eligible
Without further ado, what sets the GENIANI PADOSH1 apart from the competition is that it's guaranteed FSA/HSA eligible, meaning it can be bought online with an HSA or FSA card, which is mostly rare with other heating pads. However, this is not the only advantage of the GENIANI PADOSH1. What we have on hands is an incredible electric heating pad that can provide almost instant relief to those who suffer from arthritis, injuries, workout-related muscle strains and unbearable cramps, making it a must-have in just about any household.
To start off, the GENIANI PADOSH1 offers three heat settings (low, medium, and high), so you can choose the most comfortable temperature for your needs. It heats up pretty quickly, maintains the warmth perfectly, and then shuts off in about half an hour or so. Thanks to that, many people use it as an electric blanket in the winter to quickly get warm.
The pad itself has a very nice texture, made of a very soft plush, which, unlike cheep heating pads, smooths out well after use. It is also washable, so you can safely clean it in a washing machine to keep it looking its best. Besides, the pad has a king-size 12"x 24" XL. Thanks to this, it works miracles, managing heat across a large area of your body, which allows it to be applied to large body parts, such as your back, legs, and the area across the shoulders.
Also of note is a long cord that saves you from the ties of needing to sit right next to an outlet. Add to this the fact that all the instructions are written on the pad itself, and you can see why this model is so popular with thousands of users.
Last updated price

$

0.00

Stock
In stock
ASIN

B08MV3Z3GK
---
GENIANI PADOSH1
Sunbeam 12'' X 15''
Enjoy the Ultraheat
The Sunbeam Moist / Dry Heating Pad may become a great alternative to more expensive electric heating pads. That's because it costs just a fraction of other big names but delivers almost the same powerful heat to aching areas. It can easily allay arthritic pain and relieve discomfort in muscles. And let's check how.
As you've probably guessed from its name, it's a very versatile product that can deliver both dry and moist heat to your body parts. Primarily, it's a dry heat pad but you can always put inside a sponge insert for moist heat. It'll soothe muscle soreness and stiffness much quicker than dry heat alone. And we dare say "unbelievably faster"! The thing is that it uses the UltraHeat technology and is ready to relieve body aches in just 30 seconds after switching on. During that incredibly short time, it reaches the Low heat setting. Medium and High heat modes naturally take a bit longer. The temperature adjustments can be done with an easy-slide controller that is specifically designed for arthritis sufferers.
All things considered, if you're not sure what type of heat therapy (dry or moist) will work best for you, this fast-acting pad is a good opportunity to check that. Made with arthritis sufferers in mind, it's very ergonomic.
Additional Info
Last updated price

$

13.98

Stock
May be out of stock
ASIN

B00075M1T6
---
Sunbeam 12'' X 15''
What Is a Moist Heating Pad?
Heat therapy can deliver a lot of benefits if used correctly. Heat therapy can take a lot of forms, from very simple, like hot bottles, to more sophisticated electric devices. Most products designed for heat therapy now are divided into electric, chemical, microwavable units and can further be classified into disposable and reusable types. When selecting a heating pad for home use, the first thing you should pay attention to is whether the heat it produces is dry or moist. Some people opt for dry heat therapy products as they find them easier and more convenient to use. However, if your skin is sensitive or dry, applying dry heat to it may cause its dehydration. If this is the case, we strongly recommend you to consider heating pads that produce moist heat. Unlike dry ones, moist heating pads penetrate into the skin more deeply, and, as a result, they not only speed up the recovery process but also improve blood circulation. Moist heat is also used as a treatment for chronic conditions, muscle aches, and stiffness. If used in combination with a body massager, moist heating pads may alleviate many unpleasant symptoms and deliver beneficial effect on all body parts. However, if you're still not sure which type of therapy is right for you, it's advised to talk to your doctor first.