Getting over muscle aches and body pain may be quite difficult. The good news is a therapeutic treatment approach has been developed
and introduced to a new way of soothing physical pain - that is a moist heating pad. All you're left to do is decide on one of the five best pads for quick pain relief we've selected for you.
...
Read more
...Read less
Chattanooga Theratherm
NO MORE PAIN
If you are looking for a heating pad big enough to cover your back, shoulders, wrists, stomach, knees or feet, this Chattanooga Theratherm Digital Moist Heating Pad may be the right option for you. It has just the right size to treat almost all body parts and it ensures a quick pain relief by drawing moisture from the air and directing it right into the skin. The pad doesn't require adding water and its operating principle is based totally on the air humidity. For a user's convenience of use, the Chattanooga Theratherm Digital Moist Heating Pad comes with an easy-to-use digital hand control with the help of which one can comfortably control and vary the heating temperature and duration of treatment. The heat settings range from 88 to 166 degrees Fahrenheit (31 and 74 degrees Celsius) while the treatment duration can be set from 1 to 60 minutes.
Pros:
Has an easy-to-clean and maintain removable cover;
Only a small amount of moist is needed.

---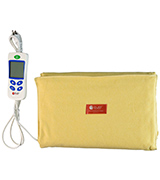 Chattanooga Theratherm
Thermophore MaxHeat
YOUR QUICK FIRST AID
Alleviating pain in muscles quickly is possible with the help of the Thermophore Moist Heat Pack Unit. It is an affordable and simple-to-use pad designed for delivering almost instant pain relief even in big groups of muscles. The Thermophore Moist Heat Pack comes wrapped in a fleece blend cover that draws humidity out of the air and traps it inside to use it further on sore areas. The pad has a large size and can easily cover the spinal area, stomach, one thigh, and even both shoulders. It is an effective remedy for those who suffer from arthritis or rheumatism, often have chronic back or neck pain, fibromyalgia, muscle spasms, strains or ligament, or overcome sports injuries. The Thermophore Moist Heat Pack Unit is also convenient to use. It has a switch with 3 temperature settings and features an automatic shut-off function that turns the pad off after approximately 20 minutes of use. The temperature range goes up to a maximum 180 degrees Fahrenheit, which allows users with different problems find the amount of heat that feels comfortable and works best for them.
Pros:
Can be used to treat colds with congestion and sinus

conditions;
Features an

automatic switch with a built-in 20-minute timer for a user's safety of use

.



---
Thermophore MaxHeat
Sunbeam SoftTouch 732-500
DRY OR MOIST, YOU DECIDE
With this king-sized heating pad producing both dry and moist heat, you can quickly achieve a temporary pain relief brushing off stiffness and pain in muscles, joints, and other body parts. It uses the UltraHeat™ technology that enables it to quickly penetrate aching areas and produce the desired effect. The pad itself is very easy to use. All you need to do is put a wet sponge inside its heating cover. For easy care, the cover of the pad is washable and dryer-safe. If you've had problems using an electric pad in the past, with the SoftTouch 732-500 you're very unlikely to come across any difficulties. It features a new, easy-to-use slide controller that allows users to adjust heat settings comfortably. You will only need to select the setting that is right for you and the pad will produce continuous heat until you switch it off.
Pros:
It heats pretty quickly;
A 9-foot power cord adds flexibility to the device and makes it more convenient for use.
---
Sunbeam SoftTouch 732-500
BodyMed ZZHP1427
SMART PAIN RELIEVER
If you've always dreamed about having your private therapist, you should take advantage of this BodyMed White Digital Electric Moist Heating Pad, designed for home use. This pad boasts large dimensions, enough to cover pretty big areas of the body, and is effective for helping muscle strains, sprains, inflammation and many other conditions that require heat therapy. The pad doesn't use water; it draws humidity from the air to generate the heat. It comes with a digital easy-to-read LCD screen that allows users to monitor the heating temperature and the length of each treatment, as well as boasts of a lockout feature that guards against unintended touching of the controls during treatment and an auto shut-off mode, which activates after 15 minutes of use. The timer can be set in one-minute increment up to one hour.
Pros:
Has rubber texture inside that keeps the pad firmly in place during use;
The temperature is constant without fluctuating.

---
BodyMed ZZHP1427
Thermalon 24002
PORTABLE PAD TO TAKE TO GO
If you have arthritis and/or often experience muscles aches, tension and stress, we recommend you to start to deal with this problem using this THERMALON Moist Heat Pad. This pad may become a great alternative to more expensive electric heating pads. Once you microwave it for about 2 minutes, it is ready for use. The advantage of this pad over many other units is that you can wear it on you, tucked under your clothes, while walking around your house or being at the office. One more benefit of this model is that it features a pocket in which you can warm your hands or feet. As for the size of the pad, it isn't big, but it's still good for treating most of the body parts.
Pros:
Great size for small aching areas;
Stays firmly in place due to its considerable weight.
---
Thermalon 24002
What is a Moist Heating Pad?
Heat therapy can deliver a lot of benefits if used correctly. Heat therapy can take a lot of forms, from very simple, like hot bottles, to more sophisticated electric devices. Most products designed for heat therapy now are divided into electric, chemical, microwavable units and can further be classified into disposable and reusable types. When selecting a heating pad for home use, the first thing you should pay attention to is whether the heat it produces is dry or moist. Some people opt for dry heat therapy products as they find them easier and more convenient to use. However, if your skin is sensitive or dry, applying dry heat to it may cause its dehydration. If this is the case, we strongly recommend you to consider heating pads that produce moist heat. Unlike dry ones, moist heating pads more deeply penetrate into the skin, and, as a result, they not only speed up the recovery process but also improve blood circulation. Moist heat is also used as a treatment for chronic conditions, muscle aches and stiffness. If used in combination with a body massager, moist heating pads may alleviate many unpleasant symptoms and deliver beneficial effect on all body parts. However, if you're still not sure which type of therapy is right for you, it's advised to talk to your doctor first.