Camera & Photo
Sony Alpha a6500 vs Fujifilm X-T20
Product Comparison: Sony Alpha a6500 vs Fujifilm X-T20
X
This site is a free online resource that strives to offer helpful content and comparison features to its visitors. Please be advised that the operator of this site accepts advertising compensation from certain companies that appear on the site, and such compensation impacts the location and order in which the companies (and/or their products) are presented, and in some cases may also impact the scoring that is assigned to them. The scoring that appears on this site is determined by the site operator in its sole discretion, and should NOT be relied upon for accuracy purposes. In fact, Company/product listings on this page DO NOT imply endorsement by the site operator. Except as expressly set forth in our Terms of Use, all representations and warranties regarding the information presented on this page are disclaimed. The information which appears on this site is subject to change at any time. More info
About the Product
Get a perfect shot with every shutter click on this Sony a6500 camera body with in-body image stabilization for clearer pictures. Touch focus lets you pinpoint your subject with a fingertip, and lock-on autofocus easily tracks movement without blurring. This Sony a6500 camera body takes 4K video, making it an ideal option for vlogging.
The X-T20 offers a full Manual Mode for creative control and a handy Auto Mode that makes it simple to capture a wide range of scenes. These two modes combine with the tilting LCD monitor and touch screen operation for intuitive shooting.
Sensor Type
APS-C, "Exmor®" CMOS
APS-C, X-Trans CMOS III
Lens
Body
XF18-55mm F2.8-4.0 R LM OIS
Viewfinder
Electronic XGA OLED, 1.0 cm (0.39 type)
0.39", 2,360K-dot OLED color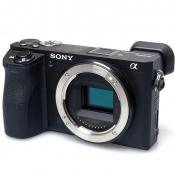 Sony Alpha a6500
Fujifilm X-T20
What customers say about "Size & Weight"
Sony Alpha a6500 Mirrorless Digital Camera (Body Only)
I really like how small and light weight this camera is compared to a dslr.
The weight is manageable for long periods of shooting and it is nicely balances with the Sony Zeiss SEL1670Z lens.
The a6500 fits perfectly in the hand, has the right weight and balance.
It's compact size makes carrying it about a joy, not a chore.
While still small and compact, the a6500 feels more durable.
Fujifilm X-T20 Mirrorless Digital Camera w/XF18-55mmF2.8-4.0 R LM OIS Lens
It's smaller, less expensive little brother to fujifilm x-t2. Great quality and easy to use.
I traded in my dslr Nikon for something a bit lighter and smaller. This camera fit the bill perfectly and takes amazing shots
I had a big camera before a DSLR and now I love the size of this one and the technology ! Love it
I love the small size and image quality, although it is easy to over sharpen in camera raw.
Great camera but too small for my average sized hands (glove size 8).
ISO Settings
100-25600, Extended Mode: 51200
200-12800, Extended Mode: 100-51200
Low Light/High Sensitivity
Image File Format(s)
JPEG, RAW
JPEG, RAW, RAW+JPEG, MOV
What customers say about "Imaging"
Sony Alpha a6500 Mirrorless Digital Camera (Body Only)
Low Light. Next to the full frame a7Sii, I can't think of a camera that delivers better low light, low noise video and stills like the a6500 does. I would place this at the top of the list of features.
IBIS - The in-body stabilization is very good, and much needed update from the a6300. This makes for smoother video and more opportunity for hand-holding, run-and-gun style shooting without jarring movement.
Focus Tracking. Again, another area that Sony, and this camera does really well. The focus tracking in video is terrific, and a close second to canon's dual pixel tech.
Burst shooting on hi+ is outstanding. On the A6000, it would start to stutter and choke after 3-4 seconds of continuous shooting while it tried to write to the memory card.
Rolling shutter distortion is still an issue. This was supposed to be improved from the a6300, but I do not see it. It is very easy to get the rolling shutter 'jello' effect with all but the smoothest panning.
1080p video quality is not very great.. a bit soft compared to other 4K cameras.
Fujifilm X-T20 Mirrorless Digital Camera w/XF18-55mmF2.8-4.0 R LM OIS Lens
Excellent build quality, image quality, ISO performance, customer service and most importantly, those Fuji colors can't be beat!
This camera has been everything I'm come to expect from the Fuji mirrorless camera system. I still haven't bought a lends other the one kit lense to really enjoy the clarity and sharpness, but all I can say is wow what a phenomenal product.
Same image quality as the X-t2 in a smaller body. The lens is great for both video and photos. You save a lot by buying both camera and lens as a kit
Amazing little camera, the image quality is spectacular, if you have big hands it will take some adjustment getting used to the smallness of the camera and the controls.
Image quality with the kit 18/55 is not disappointing, the image stabilization works very well, most of the images are nice and sharp and with that Fuji look.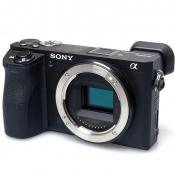 Sony Alpha a6500
Fujifilm X-T20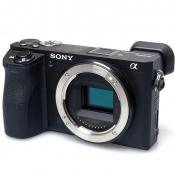 Sony Alpha a6500
Fujifilm X-T20
What customers say about "Display"
Sony Alpha a6500 Mirrorless Digital Camera (Body Only)
Touch focusing via the display panel is also a neat feature that works quite well.
Touchscreen. Finally. Being able to quickly set focus point via touch is a welcome improvement.
The touch screen is a plus saves me the time of changing my focus point.
The display (not flip out, but that's a given) gets VERY dim while shooting 4K video. While shooting outside it is virtually unusable in this mode.
Touch screen is only available for AF point selection. I am not sure why they didn't expand to using the menu.
Fujifilm X-T20 Mirrorless Digital Camera w/XF18-55mmF2.8-4.0 R LM OIS Lens
I didn't think I'd care about a touch screen, but touch focusing on a point on the fly is an incredible experience, and one that I don't know if I could give up now.
Great focus, touch screen is a nice plus.
The adjustable screen is a huge bonus as well as the touch-screen capability.
The screen would sometimes lag between live view, and the viewfinder.
The viewfinder is a little small. The rear screen is so good I didn't use the viewfinder hardly at all. It didn't lag shooting anyway.
Shooting Modes
Auto, iAUTO, Programmed AE, Aperture Priority, Shutter Priority, Manual, Sweep Panorama, Scene Selection
Programmed Auto, Aperture Priority, Shutter Priority, Manual exposure
White Balance Modes
Auto, Daylight, Shade, Cloudy, Incandescent, Fluorescent (Warm White, Cool White, Day White, Daylight), Underwater/ Color Temperature (2500 to 9900K), Flash
Automatic Scene Recognition, Color Temperature, Custom, Daylight, Fluorescent (Cool White), Fluorescent (Daylight), Fluorescent (Warm White), Incandescent, Shade, Underwater
What customers say about "Features"
Sony Alpha a6500 Mirrorless Digital Camera (Body Only)
IQ. The sensor is a beast with image quality superior to any other APS-C camera I have seen. (I have other APS-C and full frames from Canon and Nikon, as well as Panasonic m43).
They've managed to stuff in-body 5-axis image stabilization into the a6x00 body without adding much more bulk. Awesome. Now any lens is stabilized, even those old Canon FD film lenses.
The grip is slightly larger, and feels better in the hand than the A6000. They've managed to make it feel substantial without adding excessive bulk.
The level is back! It was puzzling that it was missing from the A6000.
Battery life is poor. This camera burns through batteries extremely quickly. Even the kit battery and two spares is barely enough for several hours of shooting video.
I found the EVF a bit unpleasant looking at times; somewhat less contrasty than others, and also a bit laggy when zooming in/out.
Fujifilm X-T20 Mirrorless Digital Camera w/XF18-55mmF2.8-4.0 R LM OIS Lens
Great camera, still learning how to use it, but am excited for all of the great features.
The menu is mostly intuitive, but there were some options that felt a little hidden or tricky to find, such as the "shoot without lens" feature.
It has a full set of features, the 'AUTO' works really well, the white balance handles fluorescent lighting (as well as other tough situations), the exposure preview is the best, the JPEG output has excellent++ coloration and saturation, and the list goes on.
Beautiful camera with equally beautiful picture quality. Great features and customizable buttons. JPEG compression is the best I have ever seen.
The Auto mode is very weak, the worst so far that I have encountered. In short, my experience was not good overall.
Output(s)
microHDMI (Type-D), Micro-USB
2.5mm Sub-mini (2-Ring), HDMI D (Micro), USB 2.0 Micro-B, USB 2.0
Number Of Memory Card Slots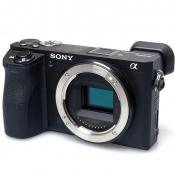 Sony Alpha a6500
Fujifilm X-T20
What customers say about "Connectivity"
Sony Alpha a6500 Mirrorless Digital Camera (Body Only)
It has connectivity via wifi and bluetooth, and if you use the sony play memories app, it can tag your photos with GPS if you are on travel and want to save location information.
The WiFi como ability to send the pictures to my smart phone let's me show the clients there pictures on the go !
Headphone jack would have been very useful for a feature-packed camera like this one.
The micro-USB cable that came with the camera as well as other USB cables only plug in about half way. None of my other micro USB devices operate like this.
Fujifilm X-T20 Mirrorless Digital Camera w/XF18-55mmF2.8-4.0 R LM OIS Lens
I love the wifi feature and ease of transferring photos to my phone for sharing. I no longer have to connect to a laptop to access and save my pictures.
Do not buy if the wireless connectivity is an important feature for you. It's pretty worthless honestly. Frequently just disconnects, and then there's no way to reconnect without going back to the camera and putting it back into wireless communication mode.
One note of caution is that the Wi-Fi photo transfer really doesn't work at all.
I was tempted to give it a 1 star, just because of my frustration with the Wi-Fi. I honestly am thinking of selling it and getting something that has decent wireless capability and a sensible app.
Battery Model
Rechargeable battery pack NP-FW50
NP-W126S Li-ion battery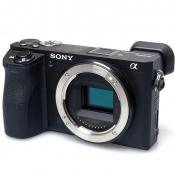 Sony Alpha a6500
Fujifilm X-T20
Warranty / Certifications