The best devices for your educational and personal needs, document cameras combine simplicity and versatility. Appropriate for use
in low light condition. Portable and compact. An acquisition you'll never regret.
...
Read more
...Read less
X
This site is a free online resource that strives to offer helpful content and comparison features to its visitors. Please be advised that the operator of this site accepts advertising compensation from certain companies that appear on the site, and such compensation impacts the location and order in which the companies (and/or their products) are presented, and in some cases may also impact the scoring that is assigned to them. The scoring that appears on this site is determined by the site operator in its sole discretion, and should NOT be relied upon for accuracy purposes. In fact, Company/product listings on this page DO NOT imply endorsement by the site operator. Except as expressly set forth in our Terms of Use, all representations and warranties regarding the information presented on this page are disclaimed. The information which appears on this site is subject to change at any time. More info
Ipevo V4K
Premier Presentation Tool
The Ipevo V4K USB Document Camera has been described by the people behind the device as a premier presentation tool. From where we're standing, they're not wrong.
To start with, the camera comes equipped with an 8MP sensor, capturing UHD (3264 x 2448p) pictures and letting you scan books, magazines, old photos, documents, even QR codes, as well as OCR text. Using a Sony sensor, this device excels at reducing noise and producing accurate colors even with practically nonexistent ambient light. Even when you're working with darkened classrooms and poorly-lit conference rooms, the camera will make sure that the colors are not distorted and the images are not pixelated. To add more, the model enables latency-free live streaming, with 15 fps at the aforementioned resolution and 30 fps at Full HD (1920 x 1080p).
Of course, we're not working with anything especially unique so far. But we cannot say the same about the camera's fast focusing speed that can minimize interruptions when switching between varying materials at a high resolution. In other words, you can move between distinct materials and the camera will follow without interrupting. Furthermore, the model lets you use both manual and automatic focusing, with the second option including single and continuous settings. The Single (S) setting will let you capture static objects, while the Continuous (C) mode will work wonders with moving subjects. Using the exposure toggle, you can easily customize the exposure levels. 
While these settings are pretty great, the proprietary software that drives them is clunky, bloated, and buddy, which is unfortunate considering that everything else about this product varies between satisfying and surprisingly impressive.
Additional Separate Bolts
When you remove the tech from the equation, this model becomes about as good as most middle-of-the-pack document cameras. Its recording area measures 13.46 x 10.04 inches, a little less than usual but nothing that will make a huge difference. The base is weighted, the model works with Windows, macOS, and Chrome OS.
The multi-jointed stand has been improved though. Capturing different materials at different heights/angles, the joint usually becomes loose, especially when we're talking about consistent daily use. Adding separate bolts to the connecting joints, this camera lets you tighten them by turning the respective bolt clockwise using nothing but a coin.
Long story short, the Ipevo V4K USB Document Camera will make live presentations shine with new light, a light that's both bright and seamless.
Additional Info
Last updated price

$

99.59

Stock
In stock
ASIN

B079DLTG9F
---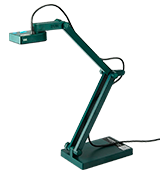 Ipevo V4K
iCODIS X3
Superb Automatic Correction Tech
The MegaScan Pro X3 from iCODIS is an interesting specimen. On the one hand, the model is incompatible with Chrome OS and even Macs, an interesting and somewhat upsetting turn considering that even much more affordable document cameras these days can usually work with multiple platforms besides Windows. On the other hand, the tech that this camera is packing is pretty superb.
To name one, the model automatically fills the scanned files' edges, making them look presentable without requiring manual tinkering. To name two, the proprietary software lets you easily crop out fingers from the final scan, so you can hold the document without worrying about the fingers ruining the scan.
What's more, you can synthesize scanned images, something that even high-end models are not always offering. The automatic correction feature here is quite thorough, which is also not the sentiment that more than a few models nowadays share.
But the automatic image segmentation tech has to take the cake, automatically merging both sides (even when you're scanning ID photos) and erasing excess parts. Having said that, while the background purification feature is not as impressive, everyday users will find this feature even more beneficial than the crowned jewel that is automatic image segmentation.
Intelligent Continuous Scanning
Document cameras without an optical character recognition (OCR) module are almost nonexistent nowadays, even including the budget segment. But not all OCR modules are cut from the same cloth. While most modules can turn scanned pages into editable documents (including Word, PDF, and JPG), they can seldom recognize multiple languages.
As impressive as the model's tech is though, the product does not put all of its eggs into the technical basket. Sure, everything is not sunshine and rainbows in the compatibility department since this device can only work with Windows but, on the proverbial bright side, this camera will even let you scan A3 documents, including exam papers, large magazines, different blueprints, catalogs, you name them.
Now, going back to the tech one last time, the Intelligent continuous scanning feature is an interesting one, letting you scan multiple documents in one go without interrupting the real-time projection.
To summarize, the iCODIS MegaScan Pro X3 earns the "pro" part more than most document cameras that make the "professional" claim but can rarely back up that claim. The model will ensure that the scans will always look good without you doing much at all.
Additional Info
Last updated price

$

149.00

Stock
In stock
ASIN

B07PFC3LCQ
---
iCODIS X3
INSWAN INS-1
The Attractive One
The INSWAN INS-1 can easily hang with the most attractive document cameras without looking like the odd one out. Needless to say, while these devices are still cameras, meaning that the tech is still king, they're not the cameras that you use and hide, they're the cameras that sit on a table day and night. So, because you seldom store them elsewhere, we can appreciate a good-looking model, maybe even more than we should.
With this one, the "good-looking" part comes from the slim footprint, the tiny base (that also frees out desktop space), and its white housing. But, relying upon that second part, the model plays a somewhat dangerous game since the white housing is, as always, easily soiled, meaning that the above-mentioned attractive appearance requires semi-frequent upkeep.
While the construction is compact and space-saving, the overall package is anything but. To go with the camera (including its multi-jointed stand and weighted base), the company ships you an anti-glare sheet and multiple microscope adapters. We're not sure that most people will benefit that much from these adapters but the anti-glare sheet is an excellent addition to everyday users' arsenal, eliminating exposure problems and letting you capture images even when the lighting conditions are extreme. Solving the opposite problem, the integrated LED light will enable decent shooting with insufficient ambient lighting. And, mirroring more expensive models, this camera will also let you work with both 2D and 3D objects owing to the multi-jointed stand.
Instantly Shifting Focus Between Objects
Shifting gears, as much as the overall package and the camera's construction sell this product, these parts would have been practically worthless without matching tech covering the model's six. Borrowing a CMOS sensor from Sony, this camera can not just take great-looking photos but also record and even stream 3264 x 2448p footage at 30 fps. Matching the sensor's efforts, the auto-focusing lens will be able to shift focus between objects without delay (the minimum distance between these objects can be as short as 10 centimeters (4 inches)).
Last but not least, document cameras seldom incorporate decent microphones but the one here is pretty good, especially at canceling background noise.
In short, when you're working with limited desktop space and want something compact, effective, and even attractive, there are very few models that can compete with the INSWAN INS-1.
Additional Info
Last updated price

$

94.00

Stock
In stock
ASIN

B07PQJZK66
---
INSWAN INS-1
JOYUSING V500-S
2 Arms and 5 Joints
The JOYUSING V500-S primarily covers the basics. We're not saying that this is some basic, no-frills, entry-level device but we're also not saying the opposite. As far as we're concerned, the most interesting part here is the stand's flexible construction.
For starters, you can rotate the head 90 degrees, the bottom 180 degrees, and also tilt the stand 180 degrees. Between its 2 arms and 5 joints, the camera covers every angle without introducing blind spots. With this flexible construction, the model lets you capture not just documents and textbooks but also different objects, all without requiring ample space on the desk. You can also fold the whole thing and easily fit the camera into an average briefcase or backpack.
As always, the base is weighted, so you can rotate, twist, and tilt the arms and the stand as much as you want without worrying that the device might collapse. While we're on the "always" subject, the model employs an embedded LED light as well, something that more and more document cameras are integrating these days, which is great since, even with a modest light, you can snap decent pics and record alright-looking footage in dark environments.
On the construction side, we have but one complaint - the USB cable that this model is using is pretty short, keeping you somewhat tied to the USB-enabled device you're drawing power from. Sure, when that device is a power bank or a laptop, this is not an issue, but when you're working with a USB AC adapter, the short cable leaves you tied to the nearby socket, a small issue but, at times, noticeable issue.
Removing Noise While Preserving Details
Performance-wise, the model is not setting records but also not scoring last. The 8MP camera enables acceptable macro shooting, while the automatic focus will let you snap pictures without wasting precious seconds focusing on the desired object/subject. The auto-focus here is pretty good at removing noise without distorting the details. You can take UHD 3264 x 2448p pictures and record video with the same resolution, keeping the framerate at 15 frames per second, which's alright considering the price bracket. Doubling as a scanner, this camera can adjust from a small coin to an A4 document without noticeable detail loss.
All things considered, the JOYUSING V500-S is an affordable document camera with adequate performance and intuitive firmware that even complete beginners will be able to navigate with relative ease.
Additional Info
Last updated price

$

109.00

Stock
In stock
ASIN

B07D58LBKV
---
JOYUSING V500-S
THUSTAND HD
Real-Time Streaming Without Delay
While most document cameras are used more as document and object scanners than cameras, this model from THUSTAND tries something a little different. Instead, this device banks on the 'camera' part. To some extent, that means increasing the image quality, with this affordable model easily capturing and recording UHD (3264 x 2448p) photos and videos.
We're not suggesting that this is something new or even necessarily impressive without context but the content is everything here. Sure, there are countless document cameras that boast the same specs but these cameras usually cost above or, at the very least, around 150 bucks, while this one will cost you ~90. Along the same line, the model enables real-time streaming without delay, with Full HD content at 30 fps and UHD at 15 fps, not unlike more expensive cameras.
Besides that, this device boasts an automatic focusing with an above-average focusing speed and minimal interference when you start switching between materials. The lens here is not terrible at reducing noise working with low-light conditions and the sensor's quite good at eliminating distortions. Almost matching the camera is an integrated mic, reducing noise and picking up voices with decent clarity even from 10+ feet.
Sizable Recording Area
Despite highlighting the tech inside the camera, we're not saying that there's anything wrong with what's outside here. Quite the opposite, we can easily get behind the huge recording area measuring ~19 x 10.5 inches. Yes, that also makes the model quite large, but we're fine with the trade-off since a few inches on an average desk is not the same as a few recording space inches.
That said, the more attractive part is the construction part, specifically the aluminum base plate and the all-metal bracket that ensure the camera does not shake during use. The multiple joints enable you to easily adjust the bracket. Plus, the hexagon bolt even lets you adjust the bracket's height without using separate tools. As usual, the base that holds these joints and the bracket is weighted, so you can play with different angles and rotate the bracket as much as you want, the camera will not collapse.
Finally, since the model works equally fine with Windows, macOS, and Chrome OS, this document camera will be able to accommodate most customers, facilitating online teaching as well as enabling live streaming, video conferences, scanning objects, making time-lapse and freeze-frame content, and more.
Last updated price

$

35.04

Stock
In stock
ASIN

B0868H9NN8
---
THUSTAND HD
What Is a Document Camera?
Often during a teaching process or at presentations, we face a problem when it is necessary to demonstrate a small object live for a large audience. Today, you can solve this problem by purchasing a special document camera. This digital device is a camcorder on a movable stand, which can demonstrate (scan) different files, documents, 3D-objects, processes, and movements in real-time on a monitor, a TV set, an interactive board, or a widescreen using a projector. In this review, we'll focus on the best document cameras presented on the market today. Besides what we've addressed below, it is necessary to take into account the sensor resolution usually indicated by manufacturers in megapixels. The image resolution (zoom) depends on the number of these pixels. Top models can have an 8-megapixel camera, which can provide an image with a resolution of up to 3264 x 2448 pixels.
If you need a device exclusively to scan printed paper documents, we recommend you to read our review on the best document scanners, and if you need a device for precise scanning of visiting cards, we'll recommend you to use a business card scanner.
What Features to Compare
Image Quality
When selecting a document camera, take into account the quality of the image displayed on a screen. To a large extent, this parameter will depend on the installed sensor, specifically its size and resolution. Usually, document camera manufacturers equip their models with CMOS sensors with low power consumption, and rapid reading and light processing. It is essential to pay attention to the sensor size, the larger it is the more light can ingress there, and that will subsequently affect the image quality. A good sensor is considered to be the size of 1/3'' - 1/3.2''. Of no less importance is the frame rate per 1 second. The higher the frame rate is (30 fps and above), the more correct the video will be, with a smoother move and without blur.
Lens Parameters
The next important thing that should be considered while purchasing a camera is the lens parameters. It is very important to check the document camera optical zoom. The optical zoom is what allows you to get closer to the object visually, to achieve a high-quality image with high detail of its enlarged portion. The digital zoom can only change a display scale but doesn't add visible details, so this value is of less importance. An important parameter of the lens is its focusing. A good document camera should have a capacity of automatic or manual focusing for prompt adjusting of image clarity and sharpness. Generally, the focus length is marked with a letter F, and it shows the distance from the front principal point to the front focus. The light amount in which the lens ingresses can be controlled with a diaphragm. It is also important to note the exposure adjustment that characterizes the light amount per unit of surface and to take into account the white balance and its control: you can adjust colors and image brightness with it. One more important lenses feature is the captured area, that means how big the part of the image the lens is capable of displaying on a screen. The higher this parameter is the larger area the camera lens is capable of capturing and reflecting.
Interface and Compatibility
Having determined the lenses and image quality, we can move to such parameters as interfaces and compatibility of the document camera with other devices and operating systems. Cameras can be equipped with different connectors that allow them to be connected to a computer, a TV set, a projector, a microscope, an outer lighting, and other digital devices. Extensive connectivity implies the presence of USB, HDMI, VGA, and RGB analog outputs, and a slot for an SD memory card. A great advantage is a Wi-Fi connection through which you can transfer information to other compatible mobile devices without cables, and the presence of an RJ-45 connector allows connecting to an Internet cable. Having chosen the camera model, please, pay attention to its compatibility. For comfortable work with most computers, the document camera should have support of Mac OS, Windows, and Chrome OS. For compatibility with mobile devices, the OC Android and iOS support are necessary.
Features
And lastly, we should mention the device peculiarities. Among the peculiarities, it is worth noting a built-in microphone that allows you to hold web conferences. Also, pay attention to built-in lighting, which allows you to use the camera without regular light. The 3D module will enable you to view objects with 360° swivel provided you have 3D content. You will probably find it useful to move an image horizontally and vertically as well as the possibility to swivel and fold a stand if you plan to transport the device. Many models are equipped with special control buttons, for example, a "Pause" button to stop an image. Another useful peculiarity for the document cameras is a video recording onto the PC memory which helps discover many other possibilities.
Using a Document Camera in a Classroom
Document cameras are versatile devices that can snap pictures, record video, scan objects, and more. Because they're so versatile, these cameras can fit and accommodate almost countless projects. But the people who benefit the most from these cameras are teachers, especially during these trying times. So, what can teachers do with document cameras for schools and what should teachers want from these cameras?
Well, first, though it seems like you'll be using them from home for quite some time, the camera will find its way home (home here being the classroom) sooner or later, so you want something with a remote. With a remote, you'll be able to move around the 'room, observing the students at work while using the camera. Plus, passing the remote between students also becomes an option, letting them enhance map details or study butterfly wings, for example.

Second, something with a split-screen feature, and we cannot emphasize this part enough. Using cameras that support split-screen, you can project 2 pictures side by side, projecting, say, both exam questions and sample answers.
Third, scanning, scanning, and, once more, scanning. While 9/10 document cameras can scan objects, even as scanners, they're not made the same. To start with, you want something that can freeze, focus, and zoom. The best models for teachers also have a sizable recording area (at least ~15 x 10 inches), so you can work with large documents, books, A3 papers, maybe even posters. The cameras that have an optical zoom let you zero in on small print and illustrations. There are also models for classrooms that come with microscope attachments. With these models, sprouting seeds or cheerful pollywogs can receive the big-screen debut they deserve.
Moving on, science classes are the ones that can benefit wonders from document cameras. To give you but a few examples, you can use these cameras to demonstrate different experiments, guiding students through the entire process step by step. Sharing close-ups, these devices allow you to help students document each step. As an example, you can show series that demonstrate a butterfly bursting from its cocoon. While recording data is usually quite tedious, there's nothing tedious about projecting data-recording forms and reviewing them with the class using sample data. Needless to say, the cameras that we're discussing here also let teachers display label diagrams, showing, say, a human skeleton and tasking the students with identifying and labeling its parts.
Once again, these cameras are usually scanners almost as much as they are cameras, meaning that the more expensive models might even include optical character recognition, automatic correction, background purification, and more. The best document cameras even deliver automatic image segmentation, merging two sides and removing excess parts without your involvement. As you can imagine, teachers can benefit wonders from these features, reviewing handwritten projects using digital tools.