If you store a lot of information on memory cards, there's something you'd definitely need to have to access these files
more comfortably and with no fuss - a memory card reader. Capable of reading different types of cards, it'll become your lending hand in many situations.
...
Read more
...Read less
X
This site is a free online resource that strives to offer helpful content and comparison features to its visitors. Please be advised that the operator of this site accepts advertising compensation from certain companies that appear on the site, and such compensation impacts the location and order in which the companies (and/or their products) are presented, and in some cases may also impact the scoring that is assigned to them. The scoring that appears on this site is determined by the site operator in its sole discretion, and should NOT be relied upon for accuracy purposes. In fact, Company/product listings on this page DO NOT imply endorsement by the site operator. Except as expressly set forth in our Terms of Use, all representations and warranties regarding the information presented on this page are disclaimed. The information which appears on this site is subject to change at any time. More info
RAVPower RP-WD03
Maximum Capacity
RAVPower FileHub Reader supports all major memory card formats including SD, SDHC, SDXC. So, you can transfer data from/to your smartphone, tablet, camera or video camera in no time. Though this reader allows you to work with only one memory card at a time (as it is a single-slot model), it perfectly supports up to 4TB external hard drives and up to 256GB memory cards, enabling smooth and fast data transfer. The transferring speed is about 7 MB/sec, which is really impressive.
Unlimited Capabilities
Having an expanded number of features, this card reader has the widest functionality. Its most distinctive feature is the ability to convert a wire Internet signal into a Wi-Fi signal. Thereby the card reader serves as a router, plus it supports the PPPoE standard, static and dynamic IP. The card reader can also serve as an additional access point that can help you extend your wireless network range. One more important feature is its 6000mAh 5V 1Amp built-in power bank. Besides that, the device is able to transfer digital content to a TV screen wirelessly through the official app - Filehub Plus from the manufacturer, which is available for download and installation on Android and iOS platforms. In addition, you can exchange information between external storage devices by connecting them via a USB port. Please note: due to the limitation of the Apple iOS system, you can ONLY access the Photos folder on your iPad / iPhone, Filehub is currently unable to sync with media files stored in iTunes to USB storage devices due to digital rights management (DRM).
Useful Tip
For faster and more stable performance, a software update is highly recommended. This can be done as follows:
1. Download the firmware from the official RAVPower website.
2. Unzip it.
3. Insert the FileHub USB storage device (such as an external HardDisk or a USB flash drive).
4. Connect to the FileHub through a wireless network.
5. Open a browser and enter the following numbers 10.10.10.2546.
6. Then follow these steps: Settings → System Settings → Firmware Update → Review, Browse and select the exact file from paragraph 3.
7. Click Firmware Update. It'll only take you about 5 minutes to download the needed update.
More Products to Consider
Komputerbay 64GB SDXC is an excellent memory card with the amazing 90 MB/s speed and 64GB capacity.
Additional Info
Last updated price

$

0.00

Stock
May be out of stock
ASIN

B00T5XQE3U
---
VIDEO
The Best Review Device I've Ever Gotten: Ravpower Filehub WD03 Review
What customers say about this product
You are not forced to install any software to access files from a usb drive or sd cards plugged into it.
The small size and portability allows me to hide it from the wandering eyes of my 15 mo godson.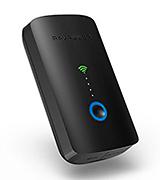 RAVPower RP-WD03
HooToo HT-UC002
The Next Best Thing
After having a close look at this reader, we have defined an important feature that distinguishes this model from its competitors. It is a built-in 4K video display adapter which transmits video through an HDMI connection to another monitor with the highest Ultra HD or Full HD (1080p) resolution. This feature is particularly relevant for people whose profession is associated with web design, programming, etc. With this video adapter, you can reflect/mirror or extend your computer screen, streaming the highest quality video content directly to projectors, monitors and TVs with HDTV. The card reader can be linked to a computer (Apple, Mac OS and others) via a special USB-C connector Complement. Apart from that, the card reader is equipped with a built-in USB hub with three high-speed USB 3.0 connectors through which you can transfer data at a speed of up to 5 Gbps from external hard drives and flash drives. Plus! Via these connectors, a computer can be connected to external peripherals such as a keyboard, a mouse, etc.
Nonstandard Use
Did you know that this device can be used in a non-standard way? The fact is that today users of most modern computers, desktop and laptop alike, haven't been using built-in drives for quite a long time. Most of the time now, to do any installation operation people tend to use external flash drives connected to the computer via a USB connector. But what if you do not have a USB flash drive at hand? You have an alternative to OS installation: you can use a memory card and an external card reader in case your device hasn't been equipped with a built-in one. All you need is a 4 GB (or more) memory card and an operating system image. Next, you need to burn the image directly onto the memory card itself using either the original Windows service or a utility such as Ultra ISO. Tip! When you install the system from the drive, do not forget to change the First Boot Device setting in BIOS.
More Products to Consider
HCcolo wireless portable speaker is a portable wireless speaker with a built-in microphone, TF card port, and with 3W audio output power. It can be used with iPad, iPhone, Samsung, Huawei and other music players.
Additional Info
Last updated price

$

0.00

Stock
May be out of stock
ASIN

B06Y3Q8B17
---
VIDEO
HooToo Shuttle USB-C Dock Review for 12-inch MacBook
What customers say about this product
You can Mirror or extend your screen with the HDMI port and directly stream 4K UHD or Full HD (1080p) video to a second HDTV, monitor or project.
HooToo HT-UC002
Kingston FCR-HS4
Multi-support
Kingston FCR-HS4 is an extremely versatile device for different shapes and types of memory cards. This model supports a variety of popular memory card formats including:
Compact Flash - CF Type I & II (UDMA 0-7);
Secure Digital: SD / SDHC UHS I-II / SDXC UHS I-II;
MicroSD/microSDHC UHS-I / microSDXC UHS-I;
Memory Stick: Memory Stick PRO / Duo / PRO Duo / PRO-HG Duo.
This model has four slots hooking up to several different types of memory cards, thereby increasing data reading and transfer capabilities. The maximum memory of the card you can hook your card reader up to should not exceed 256GB, which is far enough to enjoy a large number of photos, music and videos. So, if you are a photographer, a videographer, a design or printing studio office worker, don't think twice. Besides that, the data rate (up to 5 Gbps) allows you to transmit loads of information hilariously fast. Connect Kingston FCR-HS4 to your computer via a USB 3.0 and benefit from its 10 times faster performance compared to the conventional USB 2.0 connection.
First Forever
Did you know that the Kingston company was founded on the 17th of October in 1987 by two Taiwanese immigrants, John Tu and David Sun? Back then in 1989, Kingston started taking a leading position on the market after doing a complete testing of their products, which resulted in high quality of all their inventions. Today, the company is the largest independent manufacturer of DRAM memory modules and owns 46% of the world market. The Kingston company is the second largest flash memory, the first USB-drive and the third memory card producer. In August, in "The Top 100 Inc. 5000 Companies", the Inc.com rated Kingston as the 6th in the revenue and the 1st in the computer hardware categories. In November, the Forbes Magazine rated Kingston as the 77th on its list of "The 500 Largest Private Companies in the US". Currently, Kingston is an international network of distributors, resellers, retailers and OEM-customers on six continents.
More Products to Consider
SanDisk extreme PRO 32GB flash memory card is a high-speed card reader with up to 90 MB/s reading speed and up to 95 MB/s writing speed. It supports 4K Ultra HD (3840 x 2160p) and Full HD (1920 x 1080) video resolutions.
Additional Info
Last updated price

$

25.50

Stock
In stock
ASIN

B00VAGX6MW
---
VIDEO
Kingston HS4 USB 3.0 High-Speed Media Reader
What customers say about this product
More flexible, in that it's easier to shuffle cards into a reader than shuffle cards into a camera. This might not matter to you, depending on your card storage capacity, and how much you need to transfer.
Very easy to use. Good size and weight.
Kingston FCR-HS4
Lexar LRW400CRBNA
Innovative Design
This card reader enables concurrent and card-to-card file transfers and simultaneously supports two cards of the following formats: Compact Flash, SD, SDHC, SDXC, SD UHS. Two conveniently located slots provide one more beneficial feature - a simultaneous file transfer from one card to another. The reader has a specially designed innovative, pop-up mechanism that protects card slots from debris, dust, and dirt when your card is not in use. This once again proves that it is not only a compact and take-on-the-go model but also well-protected, thus, you can take the reader anywhere you go. Besides, the reader is equipped with a LED activity light to let you know when your file transfer is complete.
Tested by Professionals
This Lexar card reader is indeed one of the most durable and reliable in its kind. As it was stated by the Lexar Quality Labs, all their devices, including Lexar Professional Dual-Slot Reader itself, are subjected to rigorous research and testing for performance, quality, compatibility and reliability. This fact gives users more confidence in all Lexar products. Among more than 800 digital products that have been tested by 15 full-time laboratory professionals you'll find the following products lines:
• SLR cameras and digital portable cameras;
• Video cameras and mobile phones;
• Desktop computers, laptops, netbooks and tablets;
• Card readers;
• Digital photo frames and printers;
• All popular game consoles.
Lexar digital products are also put through high vibrations, temperature shift, electric shock and even high pressure testing. High quality and reliability are the things that Lexar users have always enjoyed.
More Products to Consider
Lexar professional card reader is a portable, professional, and high-speed card reader, designed to transmit data from a micro SD UHS-II memory card to a computer. The device can read high-quality photos, 1080p full-HD/4K video, and 3D.
Last updated price

$

52.99

Stock
In stock
ASIN

B00WBK03OU
---
VIDEO
Lexar Dual Slot USB 3.0 Reader Professional Unboxing and First Look
What customers say about this product
I've had a chance to use this for a couple of high capacity film cards and I'm very impressed with the transfer rate and reliability of the this reader.
Lexar LRW400CRBNA
Rocketek RT-CR7
Versatile Performer
The Rocketek reader is a universal device with support of most popular formats - CF, CF (UDMA), SD, SDXC, SDHC, Micro SD / SDXC / SDHC, MS, M2, and xD. Actually, it's compatible virtually with all existing card types and so if you get one, you'll never fail to read any card. The interface features 8 slots to enable reading from several cards at a time, which is really a lot. According to our own research, you can comfortably connect up to 5 cards on it and they will interact perfectly well with each other. Still, there's more to come. The 2TB and 5 Gbps numbers put it far before in the row leaving most rivals tail behind.
External vs Built-in
Why buy an external card reader if you've already got a built-in one? Let's make a short overview of pros and cons of these two types.
Built-in Card Reader
Pros: no need to buy it (since it is already integrated), difficult to lose or damage.
Cons: supports just 1 or 2 types of cards (as a rule), low speed, difficult to replace in case of failure, lack of mobility.
External Card Reader
Pros: high mobility and convenience, high speed, multiple card concurrent support, any card compatibility.
Cons: a greater risk of damage, quick deterioration of the connectors.
In sum, this short pros-and-cons list just proves to show that an external card reader is a great option for all those people who value ease of use, versatility and convenience.
More Products to Consider
Kora professional water-resistant anti-shock holder is a waterproof case specially designed for a safe transportation and storage of up to 12 SD SDHC SDXC TF cards.

Last updated price

$

14.99

Stock
In stock
ASIN

B012VYJFPS
---
What customers say about this product
This let's you hook up the high-capacity, high-speed SD and microSD cards currently being sold to a USB 3.0 port so you can get the highest possible transfer rates.
Rocketek RT-CR7
What is a Memory Card Reader?
A good many of us often face difficulties while transferring data to a memory card. So, why not buy a special device for reading memory cards? Having a "horde" of electronic devices, you'd live a happy person life having a single card reader compatible with any memory card. Card readers can transfer files from/to any of your memory cards several times faster than you'd do via a USB cord. They don't require installation of any drivers and recognized by PC as a separate disk. So, really, there are many of perks you can benefit from, of which we're going to tell you about further on in the review.
Interested in a device performing a CD / DVD or USB flash drive reading? Have a closer look at the best external CD/DVD drives and USB hubs. They may happen to be just what you've been longing for for so long!
What Features to Compare
Functionality
First, you need to pay attention to the functional features of a card reader. You need to know what memory card formats your card reader is able to support and whether they are what you need. The models that support Compact Flash, SD, SDHC, SDXC, micro SD, T-Flash, MMC, mini SD, MS, XD are the most versatile. Depending on a model, a reader may have up to 8 slots for connecting all types of memory cards. Here you need to decide how many devices you would need to connect in the future, for, as a rule, the more slots there are in a unit, the bulkier and heavier it usually is. In this regard, single-slot card readers are much more compact and ergonomic to carry around. You also need to check reading capabilities of the chosen device and the maximum amount of files it can process/transfer over a certain period of time. The higher it is the faster information reading will be. Today, memory card readers with 5 Gbps speed are considered the best.
Interface and Compatibility
The next thing to consider is interface and compatibility. As for the interface connectivity, there are two types: external and internal. The external interface displays the link-up type the card reader has. It can be USB 2.0, 3.0, or HDMI. The processing speed depends on the external interface, so USB 3.0 output has a considerable advantage over all the others. The internal interface is an input through which a card reader can be connected to different drives and gadgets. The more slots there are on the internal interface is, the bigger number of external devices you'd be able to link up. Operating system compatibility is another aspect which shouldn't be neglected for it often specifies card reader's functionality. The best readers are cross-compatible with Windows, Mac OS, Linux and Chrome.
Extras
Today, a card reader is so much more than a basic device for reading memory cards. Most present-day models are equipped with additional features and functions to provide enhanced comfort during use. One of the features that's often found on card readers is a USB hub, using which one can connect to external hard drives or Flash drives. Some readers can perform as portable wireless routers transforming wired network into a wireless-enabled PPPoE protocol. That's handy, isn't it? Card readers can be equipped with integrated power bank to enable charging of multiple gadgets without connecting to a power outlet. The models that can be linked up to Google Chromecast can actually let you stream music or video or display images on a big screen provided that you've connected it to a USB-driven device. The list of extras may differ from one manufacturer to the other, so you need to decide which of the functions are more wanted by you personally.