Looking like a power drill, a massage gun can aid muscle recovery, decrease soreness, and increase your range of motion by pleasantly
beating your muscles into submission. The benefits it brings include everything from decreased pain and tissue tension to enhanced recovery and blood circulation. For this review, we've selected only the best massage guns, so if you'd like to give your body the premium treatment, you're in the right place.
...
Read more
...Read less
X
This site is a free online resource that strives to offer helpful content and comparison features to its visitors. Please be advised that the operator of this site accepts advertising compensation from certain companies that appear on the site, and such compensation impacts the location and order in which the companies (and/or their products) are presented, and in some cases may also impact the scoring that is assigned to them. The scoring that appears on this site is determined by the site operator in its sole discretion, and should NOT be relied upon for accuracy purposes. In fact, Company/product listings on this page DO NOT imply endorsement by the site operator. Except as expressly set forth in our Terms of Use, all representations and warranties regarding the information presented on this page are disclaimed. The information which appears on this site is subject to change at any time. More info
Theragun Prime
Professionals' Choice
This efficient massage therapy machine is just what you need to soothe muscle discomfort and promote faster recovery. No wonder this percussive therapy device is highly appreciated by athletes, trainers, physical therapists, and other professionals. Well-thought-out to the tiniest detail, the machine combines ergonomic design with outstanding performance and durability.
First of all, to maximize therapeutic benefits, the device provides a targeted, scientifically based impact and gets to the root of your discomfort. Delivering deep amplitude and up to 30lbs of force, it provides a powerful dose for enhanced circulation and better tension release. This physical therapy device can help you to activate your body before the workout or to release tension and stress after a long day at work.
We would also like to point out that instead of hard plastic attachments that could harm your body, the item uses non-porous closed-cell foam attachments that can be easily cleaned after use. You will get interchangeable head attachments, allowing you to adjust the impact level depending on your target area and your individual needs.
For example, a Dampener attachment that offers a 3/10 impact level, is recommended for tender or bony areas; a Standard Ball attachment with a 5/10 impact level is ideal for overall use. A Thumb attachment (7/10 impact level) can be used for the lower back, and a Cone attachment (10/10) is recommended for pinpoint muscle treatment.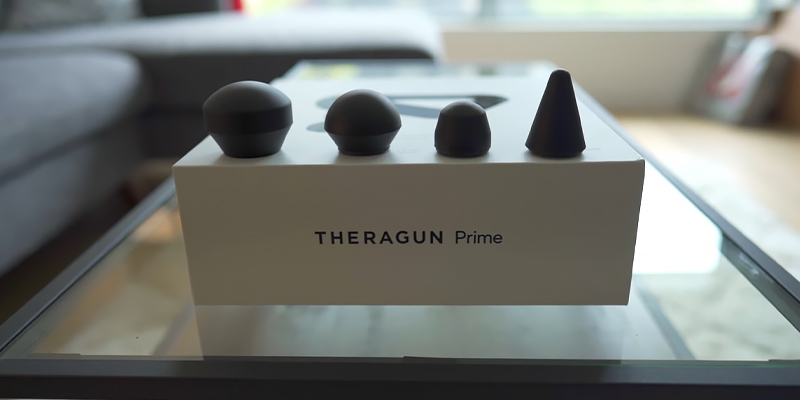 Powerful and Innovative
The Theragun Prime is powered by a QX65 brushless motor, efficient in performance and quiet in operation. Hence, the machine delivers deeper muscle treatment with less noise produced. Meanwhile, its lithium-ion battery can provide up to two hours of continuous operation.
This innovative machine is compatible with the Therabody app that you can use for monitoring its performance and personalizing your wellness routine. Easy to hold in hand, the appliance boasts intuitive operation. The unit has ergonomic LED speed indicators (there are five speeds available).
To sum it all up, the Theragun massage gun is a state-of-the-art device that can be recommended for both professional athletes and fitness enthusiasts.
Additional Info
Last updated price

$

0.00

Stock
In stock
ASIN

B086Z6V3S6
---
Theragun Prime
RENPHO Powerful Portable
Smart Design for Comfortable Use
This versatile device by RENPHO comes with 5 massage heads and offers 5 operating speeds (from 1800 to 3200rpm). You will be able to select the muscle group to work on and get the best treatment results with minimum time and effort and adjust the unit's operation to suit your individual needs. Allowing you to improve muscle recovery and reduce tension, this massage gun can also help to enhance coordination and flexibility. Providing deep tissue massage, it will allow you to break up knots and relax tight muscles in no time at all.
Powerful as it is, the appliance is quiet in operation. Thanks to its special heat dissipation design (the unit has side and top vents), the machine can operate for a long time without overheating. Such a design will also help to prolong the unit's service life. To ensure safe use, the device has a 10-minute auto-off feature.

Equipped with a 2500mAh rechargeable battery and a high-power brushless motor, the machine can run for about 2.5 hours on one charge. We would also like to add that the unit has a USB port and comes with a USB cable, so it can be charged from your power bank. It can also be charged with a 5V/2A adapter, which is not included, though.
Your Perfect Gym Companion
Boasting a compact design and comfy grip, the RENPHO massage gun is super simple to use, just choose the attachment you need and select the desired speed. As we have mentioned, there are 5 massage heads to choose from, and you will be able to target various muscle groups for the best therapy and muscle shaping results.
The massager has a high-quality metal housing, and it comes with a super comfortable storage case large enough to hold all the included accessories and compact enough to put it in your backpack or gym bag. The case has a handle, so you can carry it on its own, too.
All in all, this portable gun massager is an excellent choice for both home and office use. Whether you are working at your computer, doing your chores, or resting after a workout, it will help to relieve muscle pain and soreness, relax and restore your energy levels. Featuring a compact size, low weight, and supplied with a storage case, this massage therapy device will become your perfect companion wherever you go.
Additional Info
Last updated price

$

0.00

Stock
In stock
ASIN

B085NTR26K
---
RENPHO Powerful Portable
LifePro LP/SonicGun
For Quick Muscle Recovery
The Lifepro company has released the SoarFX Collection for dedicated athletes who set challenges and tackle their goals at whatever price. And if you're one of those who are driven and determined to succeed, the SoarFX Percussion Massage Gun may be a real boon for you. It can effectively repair your body after intensive workouts, activating its latent powers to promote faster recovery rates. This is an amazing device to help you achieve better fitness results yet reduce time on stretching, costly massages, and ineffective foam rolling.
This electric massager works wonders by rejuvenating sore tissue and aching muscles. With a wide frequency range (from 20Hz to 45Hz), it's powerful enough to penetrate deeply into the muscle tissues and send waves of relaxation throughout your whole body.
The gun comes with multiple heads that target all the spots that are usually affected by muscle soreness. In other words, each attachment can be used for different parts of the body. For example, the Fork nozzle does amazingly well along the spine, while the Ball head is great for neck and other sensitive areas. And owing to 5 different levels of RPM (1,200 - 2,800), you can select the most appropriate one according to your pain threshold.
The heavy-duty construction will keep the device stable at all speeds. And even at the maximum setting, this massage gun stays reasonably quiet with the 75dB noise level.
Long Lasting
Even if you're going to use this type of massage equipment for the first time, we bet you won't have problems with it. The package includes an Easy-Start guide that can help you set up the unit and run it within a few minutes. Plus, you'll be provided with the Video Library + Guiding Angels after registration. By the way, you'll also get live support and an exceptional 100% lifetime warranty on the device. Agree, this speaks quite a lot about the premium quality of this product.
The massager is very long-lasting in terms of battery life as well. It can run up to 6 hours continuously after a full charge, which means you'll need to charge it once per two weeks with moderate daily use.
In all, we believe the Soar FX Sonic is a pretty solid massager that is easy to operate, reliable, and penetrating. It can be used for pre-workout warm-ups or for a post-workout recovery routine since it provides quick joint pain relief and myofascial release.
Last updated price

$

99.99

Stock
In stock
ASIN

B07QTBVYJ1
---
LifePro LP/SonicGun
VYBE Pro
Super Precision
In case you're in the market for a super-precise percussion massage gun, the VYBE Pro model can be right up your alley. Unlike the previous model, it's way quieter (60 decibels maximum) and more adaptable. With the maximum force of 33 lbs, the VYBE Pro machine offers you as many as 9 different speeds and a powerful percussion vibration.
Depending on the speed you select, you can get from 1,800 up to 3,400 strokes per minute. That is to say, the gun can get down to really deep, tight, painful spots and nuke them. And whereas similar massagers feel like they are vibrating, this one feels like real percussion.
Actually, there are lots of different ways how to use the VYBE Pro massager. It's perfect for muscle recovery, aches, and pains. It can increase your range of motion and bring life back into your muscles so that you can return to your favorite sports activities faster.
For your convenience, the gun has a non-slip silicone handle and premium silver finish. It sits ultimately comfortable in your hand no matter whether you're giving yourself a massage or using it on another person. And there's no need to hold a trigger.
Targets Any Spot
This massager comes with as many as 8 different attachments to target each specific area and relieve all your problem areas.
The Large Ball attachment is designed to treat large muscle groups like the glutes, hamstrings, and quads. It's also suitable for chest and shoulders.
The 2-pronged Fork attachment is best for trapezoid muscles that start from the upper neck area and go up to your shoulders. It can also be used across the Achilles (never run it on the Achilles itself) as well as for massaging your calf muscles, ankles, traps, and quads.

The Flat head works great on smaller areas like feet. It glides perfectly and gives instant relief.
The Wedge attachment encourages blood flow and releases tension stored in such areas as shoulders.

The Bullet one is for joints, knots and tight areas. It targets trigger points and reduces pain levels. As a result, you'll get an improved range of motion.

All of the aforementioned attachments are made from soft rubber, not hard plastic, so they are both durable and gentle. Besides them, the set includes three metal heads for getting deeper into the muscle tissue. They deliver almost instant relief (after only a few minutes of use) and are ideal for serious athletes.

So, if you're looking for a very useful massager gun for getting to the specific and hard-to-reach places, this model with a plethora of attachments ticks all the right boxes.
Last updated price

$

199.99

Stock
In stock
ASIN

B07L6PWGQM
---
VYBE Pro
TOLOCO Upgrade
Variable Speed Control
If you are looking for a device that can be easily adjusted to suit your individual needs, opt for the TOLOCO percussion massage gun. This functional unit offers as many as 20 operating speeds and has an ergonomic speed/power level display. Levels 1-4 are recommended for warm-up, 5-8 for fascia relaxation, 9-12 for lactic acid decomposition, 13-16 for deep massage, and levels 17-20 for professional use. An innovative LCD touch screen will ensure quick and easy intensity adjustment.
In addition to multiple speed settings, this functional unit comes with a set of 10 interchangeable attachments for the most personalized treatment. With these accessories, you will be able to perform neck, arms, legs, back, and targeted muscle massage. Providing high-frequency vibration stimulation, the machine will help to relieve stiff muscles, eliminate fatigue, relax soft tissues, and promote good physical condition.
Let's have a closer look at the attachments. The set comprises a Round Head for massaging calves, thighs, and back, a Y-shaped Head for arm and leg muscles, and a Fork Head for the Achilles tendon, neck, and spine. Next, there is a Convex Head recommended for gluteal and quads muscles, a Crescent Head for shoulders and legs, a Bullet Head for local pain points, and a Flat Head that can be used on all body parts. Finally, there is a Wedge Head perfect for larger muscles around your chest, back, and legs, a Shovel Head recommended for low back and abdominal muscles, and an Elbow Head suitable for sole and palm massage.
For a Whole Body Massage
To minimize noise pollution, the item is equipped with a 24 V brushless motor, so it operates at 40-50 dB, and you won't disturb anyone while using the massager at home or in the gym. Equipped with an anti-slip silicone handle, the unit is easy to hold in hand during the massage session. Functional and powerful, this user-friendly device can operate for up to 4 hours on one charge. Weighing only 2.1 pounds, the item is easy to carry around. An ergonomic gift carrying case is included in the box.
To wrap it all up, the TOLOCO massage gun is a super-functional device that comes with 10 interchangeable attachments and a comfy carrying box. It will allow you to perform whole-body massage when you need it most.
Additional Info
Last updated price

$

0.00

Stock
In stock
ASIN

B083L8RNJR
---
TOLOCO Upgrade
What Is a Massage Gun?
No matter whether you're a runner, avid hiker, gym-goer, pro athlete, or just someone who values being fit, a massage gun can become a very useful addition to your fitness arsenal. It's a high-tech recovery tool that can up the care level to a new extreme. It offers one of the best ways to minimize muscle soreness, stimulate blood flood, and work out knots. Just anyone, from professional athletes to individuals with chronic back pain, will love a massage gun, which can be used from the comforts of your own home.
The deep-tissue massage with this magic device promotes faster muscle recovery by releasing lactic acid and flushing out metabolic waste. In addition, it increases blood flow, delivering oxygen and nutrients to muscles so that they recover faster.
Penetrating deeply into the tissues, the massage guns also stretch the muscles slightly, resulting in improved range of motion. This way, by using the massage gun before a workout, you can boost your performance, improve your mobility, and prevent injury. All this makes a massage gun one of the best devices for a pre-workout warm-up and post-workout recovery.

Would you like to make your visits to the gym even more effective? If so, make sure to get some of the best creatine supplements and weight gainers.
What Features to Compare
Type
First of all, you should decide what type of massage guns suits you better. Basically, they can be categorized into 2 types: Percussion and Vibration models. They both work effectively and it's up to you which type is most suitable for your needs. It's considered that percussion devices go better for athletes, while vibration massagers are more preferable for regular users. Broadly speaking, the major difference between these types lies in the amplitude of the device.
Amplitude is actually the maximum level of vibration or oscillation. And the higher the amplitude, the deeper the gun hits. Percussion devices usually have a higher amplitude and feel a bit punchier than vibration massagers. That is to say, devices with higher amplitudes feel more intensive even at lower speeds.
Speaking of which, massage guns usually have variable speed and power settings. And, naturally, units with multiple speed/power options are more adaptable to your body. Everyone's pain tolerance differs but everyone can benefit from a massager with at least three settings.
RPM

RPM (revolutions per minute) stands for how many times a massage gun hits you per one minute. The vast majority of massage guns have a speed range of 2,000 - 3,200 RPM. Lower speeds are good for warming up your muscles or providing relief to very sore muscles. Higher speeds, on the other hand, are better for stiff muscles and deep tight knots. Naturally, any massager generates more noise at the highest speeds. However, you can still find fairly quiet models. So, consider the noise level as well if you're going to use a gun in an enclosed room or gym.
Battery Life

Battery life is important for any device, and a handheld massage gun is not an exception. If you're not a therapist treating your clients throughout the whole day, you don't need to overpay for long-lasting devices. Generally, the runtime varies from 40 minutes to a couple of hours.
Take note that some manufacturers provide more than one battery pack with their guns, allowing you to constantly switch out batteries for use. In other words, you'll be able to use one battery while charging the other one.

Attachment Heads
Prior to purchase, you need to decide where on your body, you're going to use a massage gun. If you're planning to use a massager only for large muscles, you shouldn't look for many attachments. But if you intend to use a gun on specific areas and trigger points, you'll definitely benefit from a model with a wide assortment of smaller attachments.
General Recommendations
How to Use a Massage Gun
A massage gun is extremely easy to use. Actually, you just need to point at a targeted area, press the trigger, and let the gun do its work. But to get the most out of your massage session, you'll need to bear some basics in mind.
Before you start, turn the unit on without putting it on your body. Only when the massaging head begins to pulsate, float the massage gun along the desired muscle. This minor thing is important for better control, since resting the gun on your muscle and then switching it on can be a little jarring.

Don't press too hard with your massage gun. Just let it float and the pulses do their job.

Glide the device along the muscle in a slow manner —about an inch per second, or even slower.

When you find a knot or trigger point, linger on that spot without adding extra pressure.

Breathe with long inhales and exhales. Feel the relief and enjoy your massage.
Use Before Workout
Although massage guns are primarily considered as "recovery" tools in fitness culture, you can use the device before workouts to activate your muscles. Float the unit along the muscles you're going to train for 30 seconds. Simply put, if you're going to bench press, hit your pecs or if you're going to do rows, hit your lats. Intaking pre workout supplements will also work well for boosting your muscle performance.

You can also use the massager during your workout to speed up recovery and increase blood flow before doing the next rep. For instance, when doing squats, you can take breaks between the sets and use the massager on your glutes for 15 to 30 seconds to keep those muscles active. This will help increase blood circulation and excite your muscles for the rest of your workout. Additionally, BCAA supplements will be very helpful for keeping your muscles at their peak performance during workouts.
Post Workout
It's better to give your body a massage therapy as soon as you complete your workout. The sooner you will calm down your parasympathetic nervous system, the sooner your body will go into recovery mode. We recommend using a muscle gun for at least 3 minutes on those muscle groups you think will be sore. Once you're done with them, you can spot treat other muscle groups for 30-60 seconds. Move up and down slowly.
For a "pro-level recovery", you can add post workout supplements to your regimen.
For General Tension and Stress Relief
According to some studies, a massage gun can be helpful for reducing general tension and stress. Also, it can help you sleep better by "calming down the nervous system". That's why specialists recommend using the massage device for 2 minutes on each large muscle group before going to bed. This will help you feel peaceful and relaxed.
Yet, we would like to warn you that there are some conditions when massage guns should be used with caution.