Audio & Video
VIZIO D-series (D24hn-D1) vs Samsung UN24H4000
Product Comparison: VIZIO D-series (D24hn-D1) vs Samsung UN24H4000
Model
D-series (D24hn-D1)
UN24H4000
About the Product
The all-new D-Series TV has arrived. Featuring a new modern design, and brilliant picture quality, VIZIO's D-Series brings you HD entertainment at an incredible value.
With Wide Color Enhancer Plus, you'll witness a wider spectrum of hues on your Samsung UN24H4000AFXZA 720p Slim LED HDTV, just like the director intended. You'll enjoy enriched colors while watching your favorite movies and shows, even if it's older, non-HD content. Experience an outstanding picture with this Samsung LED HDTV. You can catch all the details of your favorite films and games.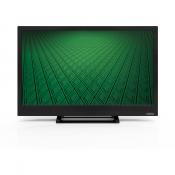 VIZIO D-series (D24hn-D1)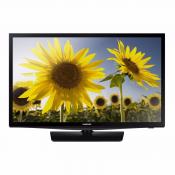 Samsung UN24H4000
What customers say about "Key Specs"
Samsung UN24H4000 24-Inch 720p LED TV
Excellent picture, excellent resolution, good sound, outstanding price. It's an all out win in my book.
Picture quality is very good considering the resolution of the tv
The built in tv tuner works great. Very happy with it.
Samsung TV's are very good. This is sold at a bargain price due to being older model. For those using it for over-the-air - ATSC reception is excellent.
Great picture. Unfortunately, it doesn't work well with Directv. I have to use the TV control to turn the TV off. I have three other Samsungs and they all work appropriately using the Directv remote alone.
Specific Manufacturer Technologies
Edge Lit LED Backlight
Wide Color Enhancer Plus
What customers say about "Audio"
Samsung UN24H4000 24-Inch 720p LED TV
Sound is good enough for the kitchen.
The sound quality isn't great but for the price I'm very happy
I bought this Samsung mostly for the bigger screen but was pleasantly surprised by the built in speakers' stereo sound.
The only complaint I have is the sound - needs much improvement
Sound volume is very low even set to max.
The only negative is the sound. It is thin and tinny compared to my old JVC.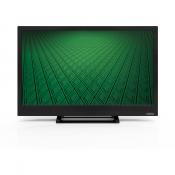 VIZIO D-series (D24hn-D1)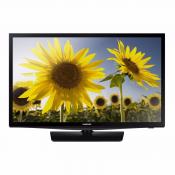 Samsung UN24H4000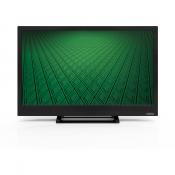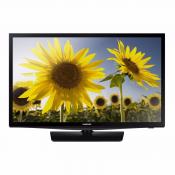 What customers say about "Interfaces"
Samsung UN24H4000 24-Inch 720p LED TV
It has an HDMI/DVI port, an HDMI input port, and a USB input port to view video files. It has a digital (optical) audio output port for external sound systems. It also has composite and component video/sound input for older systems
Two HDMI ports make it perfect for a cable box and Fire TV box
The USB port plays videos stored on a thumb drive.
Ports on the side which is a big advantage when mounting on the wall
The only drawback for me is that it only has two HDMI ports.
The only problem is it has no AUX audio cable port, meaning you can't plug headphones into it.
Warranty / Certifications
What customers say about "Supported Formats"
Samsung UN24H4000 24-Inch 720p LED TV
Can play video files certain video files from the USB port.
We really love the built-in ability to connect a thumb/hard drive via the USB port, and play every imaginable music, picture, and/or video file formats.
You can plug in a USB drive and play various types of files like MP4, AVI, MKV, MP3, JPEG
It supports video playback from a USB device with many different formats, including MKV.