Audio & Video
Proscan PLEDV1520 vs VIZIO D-series (D24hn-D1)
Product Comparison: Proscan PLEDV1520 vs VIZIO D-series (D24hn-D1)
Model
PLEDV1520
D-series (D24hn-D1)
About the Product
Proscan's latest TV with Built in DVD Player is the perfect accompaniment to any room. This TV is super versatile. You can watch all your favorite over the air broadcasts in crystal quality via the built in Digital ATSC tuner.
The all-new D-Series TV has arrived. Featuring a new modern design, and brilliant picture quality, VIZIO's D-Series brings you HD entertainment at an incredible value.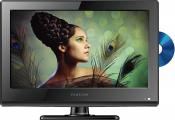 Proscan PLEDV1520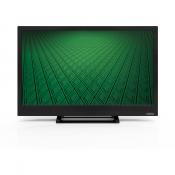 VIZIO D-series (D24hn-D1)
What customers say about "Key Specs"
Proscan PLEDV1520 LED TV-DVD Combo
This LED TV took up less space, has very sharp resolution on the HD channels
Really quite impressed with the resolution and not disappointed with the sound either
The ATSC tuner is very good and picks up all our local stations with no pixelazation.
The picture is excellent, the DVD player works perfectly. I'm happy!
Picture is good,But I really Dont like that you can't position the screen up and down for better viewing
Not real great resolution
What customers say about "Audio"
Proscan PLEDV1520 LED TV-DVD Combo
The sound is just OK, but what can you expect from a small package? It is what it is. If I want better sound I will attach an external speaker unit.
It's not stereo sound but certainly adequate.
As mentioned in other reviews, the sound quality is disappointing, with a tinny sound at high frequencies. Some adjustment can be made but it is still a hollow sound.
Sound is very tinny with no stereo sound.
Speakers are on the back of the tv it seems and once mounted on the wall it has to be turned up quite a bit to hear. And as such we can hear it from across the room Bc of its placement near a door.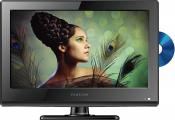 Proscan PLEDV1520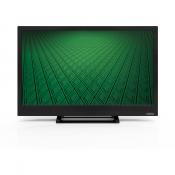 VIZIO D-series (D24hn-D1)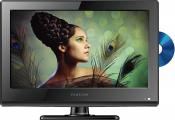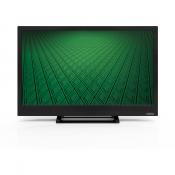 What customers say about "Interfaces"
Proscan PLEDV1520 LED TV-DVD Combo
Inputs include HDMI, PC, AV and more. DVD player works like a charm. It's perfect for my kids bedroom.
The feeds include 1 each: coax audio, service, HDMI, VGA, PC audio in, RCA, antenna coax, and a headphone jack. Overall great price for a compact TV/DVD player easily installed and setup. Speakers are constrained, and picture is adequate.
No USB port,was dissapointing
There is only one HDMI port.
No USB port. Found it odd that a new TV didn't have one and I like to use that feature to play photos and music at the same time. Oh well can make a home movie DVD.
Video
AVI, MP4, CD/DVD, MPEG 1/2
What customers say about "Supported Formats"
Proscan PLEDV1520 LED TV-DVD Combo
The DVD player is outstanding and very easy to use
DVD player easy to operate
Specific Manufacturer Technologies
Warranty / Certifications