Audio & Video
VIZIO D-series (D24hn-D1) vs LG 24LF4520-WU
Product Comparison: VIZIO D-series (D24hn-D1) vs LG 24LF4520-WU
Model
D-series (D24hn-D1)
24LF4520-WU
About the Product
The all-new D-Series TV has arrived. Featuring a new modern design, and brilliant picture quality, VIZIO's D-Series brings you HD entertainment at an incredible value.
LG LF4520 Series 24" 720p LED TV with high definition resolution and Energy Star® qualified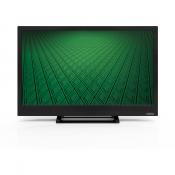 VIZIO D-series (D24hn-D1)
LG 24LF4520-WU
What customers say about "Key Specs"
LG 24LF4520-WU LED TV
So simple to set up! This small TV has a very sharp resolution and vivid colors. It's also lightweight and easy to move.
Also includes an integrated ATSC off Air tuner, HDMI and RCA inputs.
Excellent quality and picture.
The picture is great for a tv this size
Very nice, but I don't like the skinny cord, that is NOT a normal plug u find on a normal tv.
Specific Manufacturer Technologies
Edge Lit LED Backlight
High Definition Resolution, Real Cinema 24p, Triple XD™ Engine
What customers say about "Audio"
LG 24LF4520-WU LED TV
Only complaint is with the sound level. Will not deliver high enough volume.
I like the small form factor and the panel quality, but the sound output is weak and tinny.
The TV picture is A1..the sound sucks..it is the "tinny" quality..I am exploring buying speakers to combat this.
The sound quality on this set is also poor...it sounds as though you are listening through a tin can and there is no audio output.
Expect a great picture, but sound that is totally lacking in bass.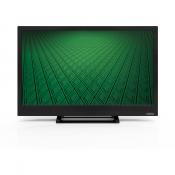 VIZIO D-series (D24hn-D1)
LG 24LF4520-WU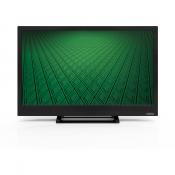 What customers say about "Interfaces"
LG 24LF4520-WU LED TV
It has HDMI, rca, USB and coaxial.
One HDMI input, 1 set of video and audio RCA inputs for DVD player.
I love all the ports it has HDMI, RGB PC, Component/Composite, USB. This was the perfect tv for everything I wanted to use it for.
It has a nice picture and good sound, but it has no headphone jack.
It has only 1 HDMI port
Warranty / Certifications
Audio
MP3, AAC, MP2, OGG, WMA, PCM
What customers say about "Supported Formats"
LG 24LF4520-WU LED TV
It plays multiple video formats including AVI and MP4. It also plays music, pictures and texts.
It doesn't support some video formats.