Do you need to measure the temperature of electrical or mechanical equipment? Use a cutting-edge infrared thermometer! This small
tool is the simplest way to monitor temperature without even contacting the object. We have selected 5 most advanced IR thermometers to make your choice a cakewalk!
...
Read more
...Read less
Fluke 62 Max Plus
Durable and Accurate
A couple of characteristics that are important to look at in terms of infrared thermometers are their durability and accuracy. The accuracy, of course, is pretty much a given, as any kind of thermometer that isn't accurate isn't of much use, but durability may come as a surprise to some. It really shouldn't, though, as the types of places where they are often needed are places that may pose a danger to an unprotected device. If you find yourself needing an infrared thermometer with both of these characteristics, then you should take a look at the Fluke 62 Max Plus IR Thermometer.
This thermometer has good accuracy for a device of its kind. Although it's not the most accurate one on the market, the accuracy is still good enough to suit most people's needs. Furthermore, the dual lasers rotate to help pinpoint the edges of the area that is being measured, thus allowing the thermometer to measure a full area instead of just a specific spot, which can be most useful. As for its durability, the device has a hard outer shell that protects it from bumps or drops, and the IP54 waterproofing ensures that it remains fully operational even in very wet areas. Overall, this infrared thermometer is designed to work well in virtually any types of conditions, so you won't be limited in its use.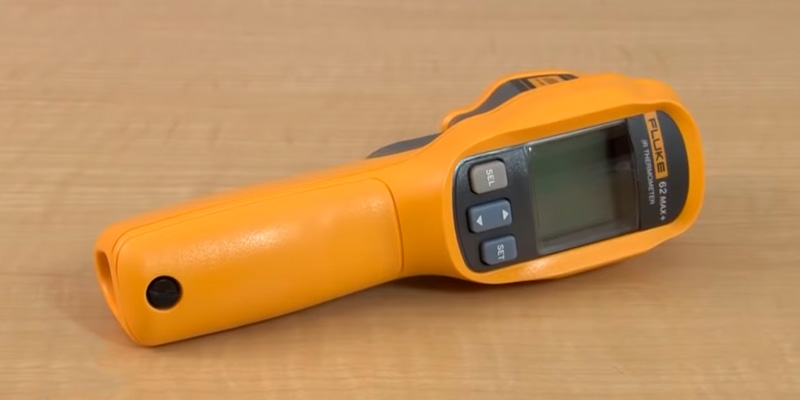 Dual Laser Measuring
As mentioned before, the dual laser setup of this infrared thermometer can give you accurate measurements of a full area rather than just of a specific spot. To give you more details about how this works, the two lasers will rotate while pinpointing the extreme ends of an area, measuring the temperatures at both spots. The device will then display the minimum and maximum temperatures, as well as give you the difference between them, while also showing the average temperature. This works great for allowing the device to give you values that you would otherwise have to calculate yourself, making this model more convenient than many others.
All of the values collected by the thermometer are shown on the large LCD display, which will give you all readings in large characters, making them easy to read without having to bring the thermometer closer to your face. Despite its rugged exterior, the device is rather light and very easy to hold in your hand for extended periods without causing hand fatigue. There is even a belt loop on the bottom of the handle for easy storage of the device, letting you keep it on you or hang it somewhere else when it's not needed. All in all, this dual laser infrared thermometer will be exactly what is needed by those who need to check the temperature of a full area.
Additional Info
---
Fluke 62 Max Plus
Kizen LaserPro LP300
A Practical Thermometer
There is nothing quite like having a tool or device that does exactly what you need it to do, without fuss and without problems, letting you easily and quickly use it for its intended purpose with it giving you instant and accurate results. This is exactly what you get with the Kizen LaserPro LP300 Infrared Thermometer, an easy to use and lightweight thermometer that lets you take accurate reading measurements quickly and easily. The lightweight design of this thermometer makes it easy to hold and to use, letting you point it accurately at any spot that you need to measure, and it won't start feeling heavy even after prolonged use.
At the same time, the rugged design has a UV paint coating that helps protect the device from physical damage as well as from overall wear and tear, ensuring that it stays in top working order for a long time. As far as operating the device goes, it is quite easy, requiring little more than the press of the trigger, with accurate measurements showing up instantly, without any wait time. The readings are displayed on the large LCD display in large numbers, although users will want to keep in mind that the display has a small viewing angle, so it will be readable only with the screen directly facing you.
Adjustable Emissivity
One of the great features of this infrared thermometer is in the ability to adjust the emissivity of the readings. As different types of surfaces will radiate heat in different ways, being able to adjust the emissivity of the readings will let you get much more accurate readings with less variation, ensuring that you get the readings you need with as few measurements as possible. The emissivity can be adjusted from 0.1 to 1.0, giving you the full range in order to deal with almost any type of surface and situation. Of further note is the distance to spot ratio of 12:1, which lets you take readings from further away that many other thermometers, making it great for those whose safety might be compromised by being closer to an extremely hot surface.
Plenty of other features are included in this model that help make the user's life easier. Included is the ability to automatically switch between readings in Celcius and Fahrenheit, a power-saving mode that automatically turns off the device after a period of non-use, and even a backlight for the LCD display, letting you use the device in dark areas. At the end of the day, this infrared thermometer provides users with an extremely flexible device that will serve them well for a long time.
---
Kizen LaserPro LP300
Etekcity Lasergrip 1080
Device for Appealing Price
The Etekcity 1080 non-contact infrared thermometer is an excellent choice for people who need to use a reliable device for a reasonable price. Though having just a few additional functions, this laser thermometer is suitable for a variety of household tasks, such as repair works, cooking, or checking the temperature of the water for a baby bath. Despite being fairly affordable, this non-contact laser thermometer works really well. This device has a built-in laser to help you direct heat sensor right at the spot you need. Unlike its wallet-friendly counterparts, this temperature gun has quite a high distance-to-spot ratio, 12:1. Therefore, the distance to the object can be quite long.
Among the usability features of the Etekcity 1080, we'd like to note its wide temperature range that varies within -58°F to 1022°F, an impressive result which is more typical of pricier models. The other features include a data hold function that allows fixating readings for their further comparison and analysis, and auto shut-off that switches the device off after it's been idle for a certain length of time. Like on most infrared thermometers here you will find a backlighting that can be enabled and disabled manually, depending on the surrounding lighting conditions. The low-battery indicator will let you know about the battery charge status so that you can timely recharge it for the next use.

The Features You Will Like
Let's say a few words about the casing. Partially rubberized, it feels durable, rigid, and comfortable to hold. Gripping on its handle, you're unlikely to ever drop it; even if this happened, though, the Etekcity 1080 wouldn't break (unless you drop it from the height of 100 feet, of course!).

Just like the majority of IR thermometers, the Etekcity 1080 is suitable for taking temperature of objects only. Any attempt to take a body temperature would lead to erratic values.
Additional Info
---
VIDEO
Etekcity Lasergrip 1080 Non contact Digital Laser IR Infrared Thermometer Temperature Gun Review
What customers say about this product
It is light weight yet feels very sturdy. It seems to be very well constructed
Reads temperatures at a great distance and very accurate.
It came with a battery and it was easy to install. The temperature reading is accurate and instant.
Etekcity Lasergrip 1080
Etekcity Lasergrip 630
High Range Thermometer
Although infrared thermometers give us some advantages in regard to measuring temperatures of objects that would be otherwise nearly impossible to measure, there still tend to be a lot of limitations with these devices. For one, many of them tend to have a limited temperature range, but more importantly, many also have a very limited distance range. This can make getting the temperature of certain objects quite difficult even with some of the higher-end infrared thermometers. In these instances, the benefits of an infrared thermometer seem to be negated by the challenges they face.
The Etekcity Lasergrip 630 Dual Laser Digital Infrared Thermometer is one model that is made to work well in situations where most other infrared thermometers fail. The ratio of the distance to the object to the measurement spot is 16: 1, which allows you to measure the temperature of objects that are far enough from the instrument, for example, the air temperature created by a wall-mounted air conditioner. This is well beyond what most other models offer in regard to the distance range. Even the temperature range of -58 °F to 1076 °F is higher than any other model that we review here, making this model the best choice where others will have difficulty with measuring.
Highly Versatile
This practical device allows you to accurately measure the temperature of a wide range of objects that normal thermometers would have difficulties with, such as the body, air, food, and even the internal components of the car during maintenance. This versatility gives you a huge range of use that goes far beyond what normal thermometers can do, and the above stated benefits of this model show its superiority to many other competing models.
There are plenty of extra features packed into this device that help extend its functionality. The thermometer is equipped with dual laser guidance which gives you high accuracy of both the object measured and of its temperature, a convenient and well-readable backlit LCD screen that is easy to read in any lighting conditions, and a fast response time of ≤500ms, giving you instant temperature measurements. The casing of the monitor includes a pistol grip that is easy to hold, letting you point the thermometer with pinpoint accuracy, and the body of the device is lightweight, meaning that your hand won't tire while using it for extended periods of time. All in all, this infrared thermometer is simply one of the best devices of its kind on the market.
Additional Info
---
Etekcity Lasergrip 630
Helect H1020
Useful Anywhere
Many people will think of a device such as an infrared thermometer as being mainly used in some kind of industrial or other types of professional settings. While these devices certainly are useful in such settings, their use isn't limited to just that. In fact, there are a large number of ways in which a nice, low-cost infrared thermometer can be useful at home. And for such cases, the Helect H1020 Infrared Thermometer is a great choice. This low-cost thermometer is able to measure the temperature of various surfaces without any contact required, giving you accurate readings from far away, thanks to its 12:1 distance to spot ratio.
Despite the fact that it can be easily used at home, that doesn't mean it doesn't have its usefulness in professional settings. Far from it, in fact. This device has all of the functionality to make it a very useful device in a large number of professional settings, while remaining lightweight and easy to use. The device has a rather small footprint that makes it easy to hold in your hand and to use, while also making it quite easy to store away when not in use. In fact, its size makes it easy to stow away in a toolbag or drawer without taking up much space or adding much weight, so it is quite easily transportable.
Feature-Packed
As mentioned before, this device has plenty of features that make it useful anywhere. For one, all measurements can be easily and instantly converted between Celcius and Fahrenheit, while also holding the data for the most recent measurement, useful when you need to keep this value stored. The measurements of this device are fairly accurate, although it should be noted that in some small cases, you may get wild fluctuations in its accuracy, so it is probably best to take multiple measurements when the results are in doubt. The readings on the LCD display are quite clear, though, and the display even includes a backlight for times when the device will be used in dark areas.
This thermometer is powered by a single 9V battery, which actually gives you quite a long time of battery life before the battery needs to be changed. In fact, most users are pleasantly surprised with how long it can be used on a single battery. Whenever the battery does get low, though, there is a low battery power indicator that lets you know its time to change it out. The device even comes with a battery included, so you won't need to have any on-hand before you can start using it. All told, this highly regarded infrared thermometer packs in a lot of features for a very low price.
---
Helect H1020
Infographics
---
What Is an Infrared Thermometer?
There are many situations, where a regular thermometer can't be used, such as when you need to measure the temperature of moving objects, electrical circuits, mechanical equipment, and other things that cannot be touched by hand. While you could definitely resort to using some other methods of measuring the temperature of these surfaces, a more convenient and - more importantly - more accurate way would be to use an infrared (or laser) thermometer.

IR thermometers will come in handy not only when you work on mechanical equipment or vehicles but also anywhere else in your home for measuring temperature from a distance.

Using an infrared thermometer is as easy as anything. All you need to do is direct it at an object you're working on and the tool will do the trick. And if it has an auto shut-off feature as well, you will be able to use it with little to none supervision at all.

If you want to get yourself only the best infrared thermometer rather than waste money on cheap knock-offs, this review is tailored specially for you. We offer you the selection of the best-selling IR thermometers along with the key specs to consider before making a choice. We hope our guide will help point you in the right direction.

Another device that will come in handy in different industries and work environments is a moisture meter. If you don't have one yet, make sure to check out this review too.

Best Infrared Thermometers
What Features to Compare
Temperature Range
There are several important features to consider when choosing a decent infrared thermometer. And the temperature range is among the most important ones since it determines the scope of application of the thermometer. The IR thermometers with a relatively narrow range are suitable for household use; you can use them to detect a draft or check how well the doors and windows are insulated. These temperature guns are also widely used in cooking. The laser thermometers with a wide temperature range are suitable for use by professionals; they are common at construction and industrial sites.
Distance-to-spot Ratio & Accuracy
The next important tech spec to consider is a distance-to-spot ratio. This ratio means the size of the spot on the object compared to the distance to it. If you mostly measure the temperature from small distances, you can opt for a device with a small ratio. And vice versa, the farther the object is, the higher the ratio a gun should have. As far as accuracy is concerned, if you need an infrared thermometer to use at worksites, opt for accurate non-contact thermometers.
Conveniences
Finally, consider whether the chosen thermometer is convenient to use. Some of the features just cannot go underestimated. Most IR thermometers, for example, can retain the maximum reading taken during measurements, so you can compare several readings further in use, knowing the highest temperature detected. Other thermometers feature a memory option, allowing you to check several readings taken during a different period of time. Also, we'd recommend you to consider what type of material the case of the gun is made of. This can be really important, especially if you work in quite dusty and humid environments. Opt for a dust-proof and water-resistant infrared thermometer with a rubberized grip.
FAQ:
Q: How does an infrared thermometer work?
A: Each infrared thermometer has a special sensor called a thermopile. This sensor detects infrared radiation reflected from an object, turns it into the heat which then transforms into electricity. The more electricity, the higher the temperature of the object is.
Q: What does 'infrared' mean?
A: Infrared radiation is a part of electromagnetic spectrum. This kind of radiation is, actually, the heat that our skin feels. Though infrared radiation is generally invisible, it might emit light at really high temperatures.
Q: What are infrared thermometers used for?
A: IR thermometers allow measuring a temperature of distant objects with the help of a special heat sensor. It means there is no need to contact the object; instead, just direct the laser beam onto it, and the device will show you the temperature. For example, laser thermometers are used to measure the temperature of air vent ducts, engines, machinery parts, and even kitchenware.
Q: The manual has a confusing spec called 'distance-to-spot' ratio. What does it mean?
A: In a nutshell, it means the size of the spot on the object being measured from a certain distance. For example, if a non-contact thermometer has a distance-to-spot ratio of 12:1, it means you will get a 1'' wide spot at the distance of 12''.
Q: What is the temperature range most IR thermometers support
A: Laser thermometers are used for a large scope of industrial and construction jobs, so most of them offer quite a wide range. The minimum temperature is usually around -60 degrees F, whereas the maximum amounts to around 1,600 degrees F.
Q: What does 'emissivity' mean?
A: Without going deep into technical details, emissivity is the ability of a certain material to emit infrared radiation. It's measured from 0.00 to 1.00. The higher the emissivity of the material is, the more accurate the readings of the laser temperature gun will be. Most devices come with a useful table with the emissivity of different materials; you should use it to get accurate readings for low-emissivity materials (such as aluminum, for example).
Q: Can I use a laser thermometer to check the doneness of food?
A: No. IR thermometers can measure the surface temperature only. If you need to know the internal temperature of solid foods, a probe thermometer must be used.
Q: Is it necessary to calibrate non-contact thermometers?
A: Yes. The frequency of calibration is usually specified in manuals. As usual, laser temperature guns are sent back to manufacturer and put into calibration in appropriate conditions.
Q: How do I know when it's time to calibrate an IR thermometer?
A: Most non-contact temperature guns perform a check-up of all functions when they are switched on. If calibration is required, an error message is displayed to a user.
Q: Can I use an IR thermometer to measure the temperature of baby formula?
A: Yes. However, you should stir it well before taking the measurement so that the formula has the same temperature as a bottle or a bowl. The same approach is applied to measuring water temperature in a baby bath.