When there are just too many fasteners to tighten, there is only one real tool that can make this process an easy task - a socket
wrench. With a big number of bit sizes, a complete socket kit is a must-have for any household or repair shop that deals with car repairs. Since there are a lot of different options on the market, we've picked the top models available to help you find the one set that fits all your needs.
...
Read more
...Read less
X
This site is a free online resource that strives to offer helpful content and comparison features to its visitors. Please be advised that the operator of this site accepts advertising compensation from certain companies that appear on the site, and such compensation impacts the location and order in which the companies (and/or their products) are presented, and in some cases may also impact the scoring that is assigned to them. The scoring that appears on this site is determined by the site operator in its sole discretion, and should NOT be relied upon for accuracy purposes. In fact, Company/product listings on this page DO NOT imply endorsement by the site operator. Except as expressly set forth in our Terms of Use, all representations and warranties regarding the information presented on this page are disclaimed. The information which appears on this site is subject to change at any time. More info
Tekton 13101
Impressive Set at Affordable Price
The 45-piece kit from Tekton features all the socket sizes you may need and, fortunately, they come in both metric and imperial sets. A convenient plastic case separates every set and piece from each other and holds them firmly enough so they won't fall out of their sockets even if you accidentally drop the case.
Unlike many other similar kit models, this one has a universal joint and a 6-inch extender that makes it easier to reach tough spots. As for the sockets themselves, the imperial bits are presented in sizes from 5/16- to ¾-inch, while metric ones have all the standard sizes intact from 8mm to 19mm, respectively. Each size is presented in shallow (low profile) and deep forms to simplify the wrenching process.
All pieces feature laser-engraved markings that are easy to read, which will be important for performing complex jobs on the spot, without the need for double-checking the right socket size. Besides, since the set has tools for practically any task, you'll always deal with the job on the spot.
This beautifully packed case has a neat design and even cooler red body that is reinforced with two locking brackets and plastic hinges that have metal rods. Hence, even if transported, the case will be less likely to open and spill its contents.
To sum up, this ratchet and socket set from Tekton has one of the best price-to-quality ratios on the market, which makes it a prime pick for both amateurs and professionals.
Last updated price

$

134.99

Stock
In stock
ASIN

B00RCYX4WI
---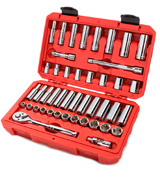 Tekton 13101
EPAuto ST-004-3
A Balanced Set of Sockets
The EPAuto ST-004-3 features 45 pieces and is designed for both small and big fasteners. In combination with a universal wrench, this kit is one of the top picks for both DIYers and advanced mechanics.
Although it is a good quality set, there is one minor flaw that may discourage some customers. The case sockets for pieces here hold them too loosely, which might end up being a problem during transportation as the pieces could get dislodged and potentially lost. If you don't want to check all the pieces each time you close the plastic case, we recommend purchasing a carry case of a better quality.
Despite that, the pieces themselves are of remarkably good quality. Made of chromium-vanadium steel, they are quite durable and hard, which ensures a long service life and resistance to wearing off over time. Plus, with this kit, you can say goodbye to sore fingers! The rigidness, in this case, doesn't necessarily means that pieces are hard to connect and disconnect from the universal wrench itself. On the contrary, the high-quality threads of the wrench connector offer smooth turning, and, as a result, make piece-swapping easy and comfortable.
The set consists of two types of socket adapters that are presented in both metric and imperial sizes which will come in handy for both standard and non-standard socket variants. In the end, this variety and excellent quality of the bits make this a worthy choice as long as you don't mind spending extra on a better carry case.
Last updated price

$

39.87

Stock
In stock
ASIN

B078YZMBXN
---
EPAuto ST-004-3
Crescent CX6PT20
An Exclusive Technology
Unlike other similar sets available on the market today, the Crescent CX6PT20 doesn't come with a case, which is a bummer, but only until you see the high-quality pieces in action. The patented X6 design of each piece allows you to firmly grip 6 various types of fasteners, which makes this one single wrench with 20 pieces a truly universal kit for any occasion when you need to tighten or loosen a fastener.
With just one ratchet-type wrench you will be able to work with and on the square, hex, 12-point, spline, partially rounded, and external Torx™ fastener types. As for the bits, each one of the 20 Pass-Thru™ sockets counts as two, since every single piece can be used with fasteners of both low and high profile (deep and standard).
Each one of the pass through pieces, as well as the extended wrench, is made out of chromium-vanadium steel with a corrosion-resistant finish that will ensure a maximum torque with the surface of the fastener even after quite some time. The surface is highly polished, which gives each piece a stunning reflective look.
Since there is no means of storing the ratchet and sockets, we encourage you to take a look at some of the good-quality storing cases and purchasing one beforehand if you don't own one already.
Finally, the Crescent CX6PT20 has all it takes to be a great socket set, despite some minor flaws that don't affect its performance and sturdiness.
Last updated price

$

34.79

Stock
In stock
ASIN

B009L8GEPM
---
Crescent CX6PT20
GearWrench 85035
Ideal for Travels and Home Use
Engineered to meet your needs without breaking the bank, this tool set from GearWrench features 35 pieces that include both metric and imperial socket sizes. The vast number of sizes will definitely please even the most sophisticated repairmen out there, even if you are a beginner that prefers doing maintenance without the help of others.
All pieces are made using industrial-grade chromium vanadium steel that ensures a long, stable service life of the whole set. The only noticeable drawback you may encounter when transporting this kit is the somewhat low quality of the plastic cover that closes the case with all the pieces. Conversely, the red plastic bottom part of the case is quite rugged and can withstand quite a beating before breaking (we obviously encourage careful use regardless, though). All pieces can be attached and detached from the universal ratchet without too much of a hassle, and, most importantly, even after quite some time.
To wrap things up, the GW 85035 is an ideal solution for starters, a 35-piece kit that features all sizes you need to complete day-to-day chores in the garage or to fix up your car before you can drive to a certified mechanic if you happen to be out of town. Perfect for both home use and traveling, the socket wrench kit from GearWrench proves that affordable doesn't always mean poor quality.
Last updated price

$

19.97

Stock
In stock
ASIN

B0062FSAVI
---
GearWrench 85035
DEWALT DWMT73804
Tougher Than It Looks
Designed specifically for a big number of fastener bits (both small and large), the 34-piece kit from DeWalt just screams toughness, and thus, we will break down the main aspects that make this kit one of the top picks available today.
First things first, each piece of this quite large set is made of premium-grade chromium-vanadium steel. This special alloy provides unrivaled rigidness of sockets, screwdriver bits, and ratchet. The only thing that may wear off over time is the chrome finish, which in our opinion leaves something more to be desired in terms of quality.
On top of a big number of sockets of various sizes (imperial and metric socket sizes are included in the package), the universal handle can do both wrenching and ratcheting, which justifies the steep price tag of this kit. Moving on, the case that is used for transporting and storing all the pieces is made of high-quality ABS and features not just two but four locking brackets. The brackets ensure that the case will not open accidentally, and as a result - you won't lose a single socket.
In conclusion, this heavy-duty set from DeWalt will be a real gift for any mechanic or repairman that for some reason doesn't own a similar kit yet. Built to last, it will prove its worth more than once during its service life that is backed by a limited lifetime warranty from DeWalt - truly a deal you cannot miss.
Additional Info
Last updated price

$

37.99

Stock
In stock
ASIN

B00WLVV2YE
---
DEWALT DWMT73804
What Is a Socket Wrench?
While combination tools are quite effective, sometimes, they are just not enough. If you are looking for a wrench that will help you handle the hexagonal screws or bolts, there is no better option than a socket wrench. Built specifically for heavy-duty renovation and repair jobs, the good socket kits must contain a big number of standard-sized sockets, tips, and extenders.
By purchasing a complete socket set instead of a particular socket of one size you will be able to tighten and loosen an array of different lug nuts, fasteners, as well as hexagon-shaped screw heads. A set provides more options, and as a result, the job will be done well and quickly.
Some sets come with special carrying cases and some of them don't. In case you are looking just for the sockets, we recommend taking a closer look at the best tool boxes so you don't lose the bits in between the repair sessions.
This kind of product can be a real gift for any mechanic that for some reason doesn't have a complete set of sockets. The sets of sockets are ideal for home use, traveling, and professional utilization in repair shops. If you prefer power tools instead of hand wrenches we also encourage you to take a quick glance at top impact wrenches out there for a quick and effortless tire change.