Any mechanical equipment, be it a household appliance, farm machinery, or parts of a car motor, needs to be lubricated from time
to time in order to perform its functions effectively for a long time. The best way to lubricate any machinery fast and effortlessly is to use a grease gun. Read further to learn more about grease guns, and choose one you've been looking for.
...
Read more
...Read less
X
This site is a free online resource that strives to offer helpful content and comparison features to its visitors. Please be advised that the operator of this site accepts advertising compensation from certain companies that appear on the site, and such compensation impacts the location and order in which the companies (and/or their products) are presented, and in some cases may also impact the scoring that is assigned to them. The scoring that appears on this site is determined by the site operator in its sole discretion, and should NOT be relied upon for accuracy purposes. In fact, Company/product listings on this page DO NOT imply endorsement by the site operator. Except as expressly set forth in our Terms of Use, all representations and warranties regarding the information presented on this page are disclaimed. The information which appears on this site is subject to change at any time. More info
DEWALT DCGG571M1
World-Renowned Quality
It comes as no surprise that the DeWalt DCGG571M1 is one of the most popular lubrication guns among its rivals in the market of household tools. It offers a great combo of high performance, great usability features and ease of use, and comes at a reasonable price. The DeWalt DCGG571M is a cordless grease gun, which means it can be operated anywhere outside your garage. Yet, the battery power here is much higher than you'd typically expect from a battery-powered tool. With 10 000 PSI pressure and 5 oz/m pulp, the DeWalt DCGG571M1 is able to power through all fittings of machinery, mechanical parts of vehicles, or factory equipment in the shortest time possible. Moreover, for better control over lubrication process, the manufacturer has equipped the DeWalt gun with a variable speed trigger. What we like most about this grease gun, however, is that it's able to run almost five times as long as most of the other DeWalt tools, fitted with older batteries. With fully charged battery, it can let you use up to 16 grease cartridge per charge, which is quite impressive.
Unrivalled Usability
Given the battery power of the tool, it is quite natural that it isn't that lightweight. Weighing something about 9.5 pounds, it may feel even heavy if you hold it in hands for a prolonged period of time. This extra weight, though, shouldn't become a problem for you. To make up for a cumbersome design, the manufacturer fitted the tool with a handy shoulder strap so that you can operate the gun distributing the tool's weight over your body. One more benefit to the DeWalt DCGG571M1 is that it has a LED light that allows you to operate the tool into the evening hours. It also has an extra-long 42-inch flexible hose that makes it easy to lubricate things under vehicles and in other hard-to-reach places.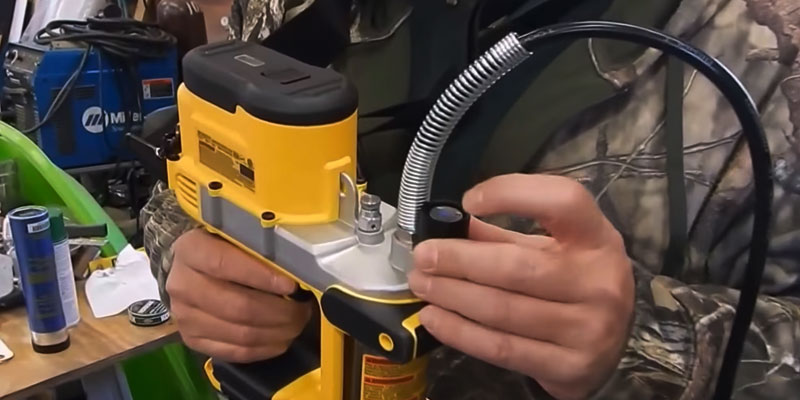 Important to Know
No matter what tool you use, a screw gun, a drill, or a grease gun, you want to use it carefully, to make sure that you don't do any harm to yourself nor cause any damage to the tool. Here are some recommendations from DeWalt you may want to follow while handling a grease gun:
Before every use, check all the working parts of the gun to make sure they aren't damaged;
Always use protective equipment such as a dust mask and eye protection when working with the tool;
Use only DeWalt-approved hoses, batteries, and other parts to avoid malfunction of the gun.
Additional Info
Last updated price

$

0.00

Stock
In stock
ASIN

B00FL2SOXW
---
What customers say about this product
The long hose it works out very well.
Plenty of pressure and battery life.
The shoulder strap, and 42" hose provide the perfect combination to help make it a breeze.
DEWALT DCGG571M1
Carbyne 4500 PSI
For Universal Application
Whether you need to take care of car or trailer mechanical parts, agricultural/industrial machinery, or even maintain some equipment during marine trips, the Carbyne grease gun will come in handy. The benefit of this tool is that it is a pistol-grip model, which means it provides convenient one-hand operation both for left-handed and right-handed users. Another advantage to this gun is that it weighs only 2.9 lbs, which makes it easy to carry around and hold in hands. Speaking of performance of the Carbyne hand-operated grease gun, it isn't, of course, as impressive as that of electric models but is nevertheless more than sufficient for most of daily light-duty tasks. The air bleeder valve, which the manufacturer installed in the tool, allows for preventing air pockets, making the process of lubrication continuous and efficient. What else we like about this tool is that it allows for dual application. As it comes with two attachments, you can switch between a 12-inch flexible hose and 6-inch rigid extension, depending on the jobs you need to do.
Everything for Your Convenience
The unique feature of the Carbyne grease gun is that it's a three-way loading tool. Once you run out of the grease, there are three ways to refill the gun: with standard 14-oz cartridges, bulk suction, and dispenser pumps. In addition to the option of choosing the loading type, the convenient features of the Carbyne grease gun include a non-slip grip and T-shaped handle that is easy to disassemble for refills. 
Durability You'll Appreciate
The Carbyne pistol-grip gun is both efficient and reliable. It is made of durable cast aluminum and it has parts that have been additionally anodized for increased resistance to corrosion. Looking into the core of the tool, we will see the same meticulous approach to protection. To minimise the possibility of the tool's breakage and ensure its longer service life, the manufacturer integrated a spring guard in the hose and fitted it with a heavy-duty coupler.
Additional Info
Last updated price

$

29.88

Stock
In stock
ASIN

B01KZ5OY1U
---
What customers say about this product
The pistol grip lets me pump with one hand while I keep aligned on the grease zerk.
Carbyne 4500 PSI
Lincoln 1162
Meet the Power of Air
Pneumatic lubrication guns are considered to be the most powerful tools among all existing gun types, and the Lincoln 1162 model is a great representative. Designed specifically for heavy-duty jobs, this tool will find its place in auto service centers and other enterprises, where lubrication is part of everyday routine. As the Lincoln 1162 is an air-operated model, it has to be paired with an air compressor. When in action, the gun can deliver the working pressure of up to 6 000 PSI, which allows it to power through all fittings, even heavily clogged, and simplify lubrication chores for you. Designed with a variable speed trigger and fitted with a 30-inch flexible hose, it's easy to control the flow of the grease with this gun and lubricate even in awkward places.
Created With the Usability in Mind
In addition to great performance, this gun from Lincoln can boast usability that can't be underestimated when it comes to using tools for both household and working needs. First of all, we'd like to point out a comfortable non-slip grip handle that provides a strong grip. This should definitely come to your liking taking into account that the weight of the gun isn't very light – 5.4 pounds. Secondly, the tool has a bleeder valve that allows you to release trapped air from the gun to prevent its overheating and malfunctioning. For even greater users' convenience, the manufacturer has included a filler nipple in the box. With this accessory at hand, refilling the gun when you run out of grease will be as simple as 1-2-3.
Safety Comes First
Since any grease gun works under pressure (a pneumatic one is especially powerful), you want to follow some rules to stay unhurt:
Always wear personal protection when using a gun;
Don't wear loose clothes and jewelry to avoid being trapped into moving parts of a tool;
Check if a hose/extension pipe is compatible with the tool. By this we mean the maximum pressure. The hose should withstand the same pressure that the tool provides. Otherwise, a hose can be damaged and cause injury.
Additional Info
Last updated price

$

74.98

Stock
In stock
ASIN

B0019COQ6C
---
What customers say about this product
This works great, lots of pressure and just press the trigger once to keep shooting grease. should last me a long time.
The flexible hose reaches all of the fittings on my truck and trailer without the necessity for contortions.
It is very ergonomically designed and the pistol grip handle is great!
Lincoln 1162
GreaseTek 910100
Handle Light-Duty Tasks in Minutes
If you're looking for a grease gun to perform minor lubricating works from time to time, the GreaseTek tool is worth your attention. This gun is all about performance and usability. Please note that the tool comes disassembled so after you unpack the box, you'll need to put all the parts together. The assembly won't take you much time, and it is a simple process due to the clear instructions you'll find in the user's guide.
Pistol-grip type of the GreaseTek gun provides convenient one-hand operation while knurled barrel design allows for a firm grip without a chance of slipping. Thanks to an 18-inch hose and an extension pipe (included, both come with couplers), it's possible to use the gun to lubricate different parts on different equipment effortlessly. The tool also has a bleeder valve and a bulk filer valve. The former one allows you to get rid of air pockets and ensure continuous grease flow while the latter one simplifies the process of grease load.
Simple Way to Refill a Lubrication Gun
When you run out of lubricant in a grease gun, you can refill it either by loading a new grease cartridge or a grease tub. We'd like to tell you how to load the grease in the most common way using cartridges. So what you'll need to do first is unscrew the barrel and head of the GreaseTek gun to separate them. Then pull the plunger out of the barrel. Take a new grease cartridge, remove the plastic lid and insert the cartridge into the barrel (open the end first). Remove the pull-tab lid from another end carefully. Don't let metal debris get into the grease. Connect the body with the head of the tool tightly by turning them clockwise. Put the plunger in place with the help of spring plunger release. Push the air bleed button to remove excess air and make several pumping movements to make sure you've done everything right and the grease is produced in a necessary way.
How to Take Care of a Grease Gun
To prolong the service life of your GreaseTek gun, you need to store and maintain it properly. It's important to clean the tool with a wet cloth after each use. Don't forget to dry the gun before storage. As for storing conditions, you want to keep the gun in a cool dry area in a horizontal position.
Additional Info
Last updated price

$

21.99

Stock
In stock
ASIN

B019P1MRKU
---
What customers say about this product
I am only using this for low pressure dispensing of grease, but so far its doing what i needed.
This grease gun was packaged nice. It has good weight to it.
I did not use the rigid nozzle, but used the long flexible hose instead. It easily reached all the zerks and was a convenient length.
GreaseTek 910100
Alemite 500-E
Affordable Assistant
The grease gun from Alemite is a perfect choice for you if you're seeking a decent lubricating tool at a reasonable price. Costing less than its electric or pneumatic rivals, this hand-operated Alemite 500-E gun provides great performance you need for taking care of car parts and mechanical equipment in your garage or in an enterprise. The tool belongs to the lever type and it might be somewhat challenging to hold the gun, operate the lever, and keep the tip of 18-inch flexible hose in a necessary place simultaneously. Perhaps, you'll need someone's help to make the lubricating process easier. But worry not, it won't take you much time - boasting the maximum pressure of 10.000 PSI, the tool produces 1 oz of grease per 21 strokes, making lubrication a matter of minutes. We'd also like to draw your attention to the materials of the device. Die-cast aluminum ensures the light weight of the gun so you don't feel tired soon. And the vinyl cover on the handle allows for firm and convenient grip. Finally, don't overlook the 3-way loading of the gun that adds to the convenience of use greatly.
Useful Tip
Grease guns can work with various types of grease, and it's important to choose one type of grease for your gun and not to mix it with other lubricants. The reason for this is that mixed lubricants can affect working parts of a tool negatively and lead to damage of the gun. If you do need to use several lubricants, it's better to use a separate tool for each type of lubricant you use.
Solve Minor Troubles in no Time
Just like with any other tools, you might face some troubles while using a lubrication gun. Below, there is a couple of the most frequent problems you might face when using such tool:
Grease doesn't come out of the tool. It might happen because a grease cartridge or barrel is empty. One more possible reason is air pockets that appear in the head of the tool. Check whether there is grease in a device and use a bleed valve to release excessive air.
Grease leaks. It might leak in different places – around a plunger, from the head (where a hose or rigid extension is connected), and around a coupler. To solve this problem, check if all the parts of a tool are connected firmly and if there aren't any damages. If your tool is damaged, call the manufacturer and use your right for warranty.
Last updated price

$

37.46

Stock
In stock
ASIN

B009K52YIC
---
What customers say about this product
Unlike some couplings I've used, this one has a rubber seat inside that keeps the grease from leaking out when applying pressure.
This grease gun Works. I've had several of those sold at the parts house and none would get grease into the bearings of my travel trailer. This baby get's the job done in spades. The grease goes in, not all over. Very highly recommended.
Alemite 500-E
What Is a Grease Gun?
A grease gun is an irreplaceable tool every handyman, car repairman, or a farmer should have. Small and large manufacturing enterprises can hardly do without having one, too. Grease guns are the tools designed to prolong the service life of machinery, car parts, factory equipment, and household items like lawn mowers, chainsaws, and so on. The advantage to using grease guns over lubricating things manually is that it takes considerably less time and that it also allows for reducing the waste by forcing out just the needed amount of grease. Though the market now is overwhelmed with choices, there are basically only three types of grease guns to choose from: hand-powered with a trigger mechanism, hand-powered that don't have a trigger mechanism, and air-powered. To simplify your choice, we've reviewed the 5 best lubrication guns produced by renowned manufacturers, and we hope one of them will find its place in your household or enterprise.
What Features to Compare
The first thing you want to pay attention to when selecting a grease gun is definitely its type. Grease guns can be powered by hand, electricity, and air, and are divided into three types respectively.
Lever, hand-pump, and pistol guns make a hand-operated group of guns. In lever guns, you should pull the lever in order to make them work. The name of hand-pump guns speaks for itself – you need to perform a pumping action so that the tool starts to force grease. To make pistol-grip devices work, it's necessary to make the movement similar to that you would do when pulling a trigger. Hand-operated models are the cheapest and most suitable for light-duty applications.
Cordless guns run on rechargeable batteries. The main benefit to cordless grease guns is in their portability. You can use them anywhere outside your garage or enterprise.
Pneumatic grease guns are the most powerful of the three. They are designed specifically for heavy-duty tasks. Keep in mind that before using them, you should connect them to a compressor.
Of course, you want to know how good performance of the tool you buy. To find out more about it, make sure to check out the maximum pressure and volume specs. The higher these numbers are, the faster the process of lubrication will be.
When it comes to any household tools, what we all seek in their design is convenience and usability features. With regards to grease guns, it's important that they have long hoses, or at least extension pipes, allowing you to extend to hard-to-reach places, feature ergonomic handles with non-slip grip for convenient use, and come with some indicators showing you how much grease is left in the tool so that you know exactly when it's time to refill it.
FAQ:
Q: Can I use oil instead of grease in a gun? Do guns come with grease?
A: As the name of grease guns implies, these tools are aimed to be used with grease, not with oil. It's not recommended to apply oil instead, as it is thinner than grease and it might leak out when the tool is not in use. Moreover, oil might not give such an effective result as grease would. Unfortunately, the tools don't come with grease cartridges so you need to buy them separately. It's easy to find a necessary grease type in any of auto parts and hardware stores.
Q: Will the grease leak out of the gun when it's not in use?
A: It might. To prevent this unpleasant occurrence, make sure you cover the tip of a hose, an extension pipe, or a coupler with a non-drip protective cap. Also, it's important to store the tool in a cool dark place to avoid grease melting and leakage.
Q: Are lubrication guns ready to use right out-of-the-box?
A: As a rule, these tools cannot be used right out-of-the-box. The thing is that hand-operated guns, for example, need to be assembled first. Although it's easy to put all the parts of a lever, pistol-grip, or a hand-pump gun together, you will still have to spend 5-10 minutes to do this. As for pneumatic tools, they are used in combination with an air compressor so you need to connect the gun to the compressor before the use. Battery-powered models should have the battery fully charged. Plus, grease guns don't usually come with grease cartridges, so you'll have to buy them separately.
Q: Can I use spare parts, for example, a flexible hose or a coupler from another manufacturer with my lubrication gun?
A: It's not a good idea to use spare parts from other manufacturers because of a couple of reasons. First of all, they simply might not fit. Secondly, even if they're compatible with your grease gun, using such parts might cause malfunction of a gun. And if your tool is broken because you used it with non-branded spare parts, it won't be covered by warranty since the manufacturers aren't responsible for the parts they don't produce.
Q: What do I do when grease is over? Should I bring my grease gun to the service center or can I refill it on my own?
A: All tools, hand-operated, pneumatic, and battery-powered, are designed so that you can change grease cartridges or refill the guns with grease on your own. Each tool can be refilled in one of three ways. To know how to refill your gun, check the instructions guide that comes with every tool.