A good garden cart can bring your gardening experience to a whole new level. It takes away the hassle of hauling heavy and bulky
items by hands, thus preventing back aches and saving your time and effort drastically. Try it and the only question you might have is "How could I live without a garden cart before?"
...
Read more
...Read less
X
This site is a free online resource that strives to offer helpful content and comparison features to its visitors. Please be advised that the operator of this site accepts advertising compensation from certain companies that appear on the site, and such compensation impacts the location and order in which the companies (and/or their products) are presented, and in some cases may also impact the scoring that is assigned to them. The scoring that appears on this site is determined by the site operator in its sole discretion, and should NOT be relied upon for accuracy purposes. In fact, Company/product listings on this page DO NOT imply endorsement by the site operator. Except as expressly set forth in our Terms of Use, all representations and warranties regarding the information presented on this page are disclaimed. The information which appears on this site is subject to change at any time. More info
WORX WG050
Ultimately Versatile
If you like multifunctional things and would like to get the most out of a garden cart, you should definitely pay closer attention to the WORX Aerocart Wheelbarrow. It's a highly versatile lifting and moving cart that comes with eight configurations. It instantly converts from wheelbarrow to hand truck, extended Dolly, cylinder holder, bag holder, rock & plant mover, and even a trailer mover.
Made with a Dolly plate, it easily folds down and goes into hand truck mode, making 200-lb loads feel like only 17 lbs. When used as an extended Dolly, it's suitable for moving large appliances, boxes, and furniture up to 300 lbs with ease. What's more, it can be even hooked up to any trailer up to 1000 lbs so as to let you pull it from one part of your garden to the other. That is to say, the Aerocart turns back-breaking jobs typically performed by a couple of people into a manageable task you can do yourself.
When it comes to small gardening jobs, the cart proves itself to be very useful as a bag holder or plant & rock mover. Simply strap your plant into it or put rocks onto the mesh net, and hook it to the extension arms. You're ready to roll. As a nice touch, the lifting net, planter swing, cylinder holder and bag holder come already included in the package.
Surprisingly enough, with the ability to fulfill all the aforementioned functions, the cart is quite small. However, whereas some users dislike its a bit toyish design, we consider it as a benefit. The cart is narrow enough to let you move some things through doors and over stairs. Also, it's quite lightweight and space-saving - you'll be even able to hang it on the wall in your garage.
For sure, the Aerocart is not for hauling numerous bags of cement or other heavy materials. Yet, it's an extremely useful tool that can be converted into something else than a wheel barrel. Plus, it's very easy on the back.
Additional Info
Last updated price

$

260.28

Stock
In stock
ASIN

B014G2G1DC
---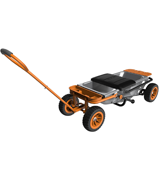 WORX WG050
Gorilla Carts (GOR1001-COM)
A Real Workhorse
The Gorilla GOR1001-COM is a real tank in the world of garden carts. With an incredible 1,000-lb capacity, this utility cart gives you enough power to carry the heaviest gardening items. Even better, it's suitable for the bulkiest of objects owing to its convertible design. Featured with removable sides that can be quickly folded down, it transforms into a flatbed, thus, allowing you to move lumber, tree limbs, fence posts, and other large things.
Another obvious advantage of this utility cart is that it can be hooked up to a tractor or ATV by simply pulling the locking pin and turning the handle. Owing to the sturdy 4-wheel design, the wagon is easy to maneuver on heavy terrain even if it's fully loaded. The trick is that it's made with extra-large 13-inch pneumatic tires that have good clearance and stability.
Although it may seem that the workhorse like this is tricky to set up, it's not the case. The Gorilla cart has been upgraded to significantly reduce the assembly time. It comes with all the parts being easy to put together so that users can get the cart to work in a matter of minutes. All you have to do is discard the black mat and bolt a plywood base on the wire. The new design also gives the cart a smaller turn radius, making it easy to transport heavy objects. On top of that, due to the comfortable handle grip, you won't strain yourself while dragging them around.
In all, the Gorilla GOR1001-COM is a very tough cart that meets the needs of most homeowners and commercial-duty professional users. It's a perfect offering for gardening, farming, and serious outdoor projects.

Additional Info
Last updated price

$

159.99

Stock
In stock
ASIN

B01BECQEA2
---
Gorilla Carts (GOR1001-COM)
VIVOHOME (VH524-GR)
A garden cart with a strong design sense
The VIVOHOME (VH524-GR) has earned high marks from us due to its excellent quality, strong design and powerful load performance. It's the only cart on this list that can hold loads up to 1,100 lbs, which makes it a solid choice for use in gardens, orchards, homes, as well as warehouses and factories. Made entirely of anti-rust iron, it's also the cart that needs little in the way of maintenance, allowing you to safely store it outdoors and not worry about it rusting.
If you're looking to carry quite large or long items like fence posts or tree branches, for example, the VIVOHOME (VH524-GR) fits this job perfectly. Just remove the detachable sides of the cart and you get a flatbed trailer with enough space to accommodate any bulky stuff you need.
The handle is also a big plus here. It has a 180-degree turn ergonomic design, so it can be effortlessly adjusted for convenient movement, making hauling heavy items a breeze. Besides, unlike some cheap garden carts, this one has a strong and long handle, which gives you more freedom of use for efficient work.
Sure, a beast like this needs a good set of wheels to adapt to various surfaces. The VIVOHOME (VH524-GR) comes with such wheels. The manufacturer has fitted it with all-terrain, silent pneumatic tires that boast great elasticity and impact resistance and can effortlessly handle bumpy roads.
To sum up, if you need a cart to haul large loads with a convertible configuration, the VIVOHOME (VH524-GR) is your best bet.
Additional Info
Last updated price

$

0.00

Stock
In stock
ASIN

B07Y59J4CK
---
VIVOHOME (VH524-GR)
Garden Star (70019)
For small garden and yard jobs
The Garden Star (70019) Garden Cart is a crossover between a garden cart and a wheelbarrow. Based on dual air-filled pneumatic tires and weighing 25% less than most standard barrows, it proves itself useful in a variety of small yard and garden jobs.
Much cheaper than its rivals, the Garden Star (70019) Garden Cart is built to last. Its body is made of durable, heavy-duty, impact- and rust-resistant plastic, making it safe to store in a garage or shed. The cart's tray has an anti-rust coating, too.
The tray itself is deep and roomy enough to hold a few bags of sand, compost or mulch. But please, make sure that you do not overload it. With the overall 300-lb carrying capacity, this model is suitable only for smaller jobs.
Fitted with a loop handle, the cart is very easy to push and pull, making it a lovely choice for elderly users and those with mobility concerns. The cushion grip on the handle takes any strain off and makes it easy on your hands.
Naturally, the wheelbarrow needs some assembly. However, it is very easy. All you need to do is screw six bolts and six nuts that come shipped in the package.
To cut to the chase, if you're in search of a lightweight and relatively compact garden cart that can be easily manoeuvered where space is constrained, the Garden Star (70019) should pique your interest. It is a great alternative for those who sit on a fence and do not know what to choose, a garden cart or a wheelbarrow.
Last updated price

$

0.00

Stock
In stock
ASIN

B0743WZY9M
---
Garden Star (70019)
Seina (SUW-300)
Super portable garden cart for outdoor use
Are you looking for a garden cart that is easy to set up and store when not in use? If so, the Gorilla Carts (GOR1001-COM) Utility Cart will come to your liking. Constructed with a durable 600D polyester fabric, this cart needs no tricky assembly and can be folded almost flat in seconds, making it easy to fit in a truck of your car, garage or shed for hassle-free transportation. So, even if you are short on space, it will be easy to find a place for it.
The Gorilla Carts (GOR1001-COM) Utility Cart is designed for outdoor use. It features a powder-coated steel frame, which allows it to hold up to 150 lbs of weight, and four all-terrain rubber wheels, making it easy to push it over sand or bumpy surfaces. Thanks to that, you can use it for transporting pretty much everything from toys to groceries to sports gear when going on a beach picnic.
It is also convenient that this wagon has a telescopic handle. It comes with a lock that allows you to set it at a comfortable height. However, beware that the handle is not very long even when fully retracted. This is why if this aspect is important to you, it may be better to look for a different option.
To wrap up, if you're in need of a really portable wagon for hauling groceries, sports gear and heavy items like sand, weed or mulch, you will be hard-pressed to find a better option than the Gorilla Carts (GOR1001-COM) Utility Cart
Additional Info
Last updated price

$

0.00

Stock
In stock
ASIN

B07CGXY5K9
---
Seina (SUW-300)
What Is a Garden Cart?
Gardening is that kind of activity that most people enjoy doing since it's a very calming and relaxing experience. And a good garden cart can make it even more enjoyable. It takes away all the hustle and mess that often come with ferrying dirt, fertilizers, potted plants, mulch, wooden limbs, firewood, and garden supplies to and from your backyard. It can also solve the problem of injured or aching back, which is particularly important for elderly people. So, no matter what has forced you to indulge in gardening, a high-quality garden wagon is a must-have thing in your garden.

The choice of carts is vast, so we've decided to help you in making the right choice by providing you with the selection of the best carts, utility wagons, wheelbarrows, and flatbeds available on the market today. Having a garden cart will ease the burden of having to transport heavy objects such as rocks, plants, soil, fertilizer spreaders, watering cans, sand scoops, and other garden tools/supplies by hand, allowing you to save a lot of your time and effort.