Desktops & Monitors
Logitech G930 vs Logitech G933
Product Comparison: Logitech G930 vs Logitech G933
X
This site is a free online resource that strives to offer helpful content and comparison features to its visitors. Please be advised that the operator of this site accepts advertising compensation from certain companies that appear on the site, and such compensation impacts the location and order in which the companies (and/or their products) are presented, and in some cases may also impact the scoring that is assigned to them. The scoring that appears on this site is determined by the site operator in its sole discretion, and should NOT be relied upon for accuracy purposes. In fact, Company/product listings on this page DO NOT imply endorsement by the site operator. Except as expressly set forth in our Terms of Use, all representations and warranties regarding the information presented on this page are disclaimed. The information which appears on this site is subject to change at any time. More info
About the Product
No wires to tie you down. Surround sound so detailed, you can hear your opponents before they see you. With a lag-free wireless connection and powered by Dolby Headphone 7.1 surround sound, G930 keeps your head in the game for up to 10 hours between charges.
The Logitech G933 Artemis Spectrum is a wireless gaming headset worthy of serious audio fans. Designed for multiple platform compatibility, these gaming headphones are perfect for PCs, PS3s, PS4s, the Xbox One and any TV with powered USB or RCA audio output.
What customers say about "Key Specs"
Logitech G933 Artemis Spectrum RGB 7.1 Surround Sound Gaming Headset
This was my son birthday present and it is great and it reduce noise for every one else.
They do a great job limiting outside noise, but don't expect active noise cancelling.
It sounds like you are at the movies, can adjust to louder it quiet. Noise cancelling is good.
The sound quality and noise cancelation on these headphones is amazing.
This is a nice headset, they aren't noise cancelling but I can barely hear outside noises.
Ear Cushion Material
Memory foam & Leather
Memory foam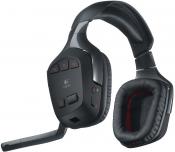 Logitech G930
Logitech G933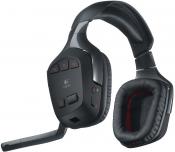 Logitech G930
Logitech G933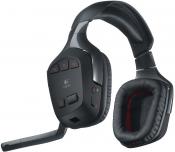 Logitech G930
Logitech G933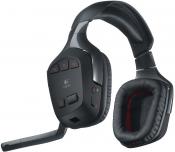 Logitech G930
Logitech G933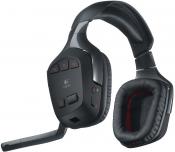 Logitech G930
Logitech G933
What customers say about "Headset"
Logitech G930 Wireless Gaming Headset
The foam used on the ear cups and headbar padding both feel very luxurious and do not hold heat too badly.
You can customize the positioning of the virtual surround sound channels. This works fairly well, but it is VIRTUAL.
Sound Quality and Comfort are quite good. The headset has a switch so you can cycle between stereo mode for music to 7.1 for Games and Movies.
You can not turn up the bass very far and still enjoy higher volumes on the headset. The speakers are not capable of high bass with high volume levels, they will distort and break-up at high volume/bass levels.
My main complaint about these headphones is the high frequency of wireless connection interruptions - something I've noticed from other reviews is apparently a very common problem.
Logitech G933 Artemis Spectrum RGB 7.1 Surround Sound Gaming Headset
Sound is a big one for me - it keeps me moving from headset to headset trying to find that best all-in-one game/work/music/movie headset for every scenario. Truth be told, this it the best one yet.
The speakers in these truly feel like they are surround sound, which is very strange especially considering how comfortable they fit on my head.
These wireless headphones are very good. the surround sound is spot on, can hear from 7.1 all around you. the sound can be adjusted through the amp to make it a bit louder.
The sound, the highs and lows, the crispness of the sound, and overall quality are second to none. This head set sounds absolutely great.
Speakers make a weird and pretty loud click sound when headset is waking up
Microphone Output Sensitivity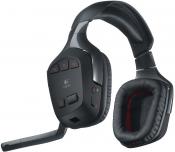 Logitech G930
Logitech G933
What customers say about "Microphone"
Logitech G930 Wireless Gaming Headset
Adjustable side tone, or voice echo. This allows you to adjust how much you hear your own speech via the built in microphone. You can adjust it from not at all up to approximately 25% of the total volume of the headset.
The Mic boom is fully adjustable, that is to say, you can not only move it up and down, but bend it as well. When you push the boom all the way up, it auto mutes the mic. Very useful!
The foldable mic is a very nice touch. It never gets in the way, and I've always had people say they can hear me just fine even if I'm speaking softly.
The only real complaint I have about this headset is Logitech claims it has a noise-cancelling microphone, but I can hear all ambient noises around me clear as day whenever I listen to what my mic records.
Logitech G933 Artemis Spectrum RGB 7.1 Surround Sound Gaming Headset
I think I have finally found one that not only fits well, sounds great and has a mic my team never complains about
Nice mic, sound is clear and without white noise.
I purchased this gaming headset with high hopes, having read the previous reviews. Highly disappointed...my boyfriend said the Mic was robotic/metallic sounding.
The Microphone was inferior for such a price. I had to max out sidetone volume just to barely hear myself.
Excellent7.1surroundsoundatwirelesswithnointerference. Just wish the mic was better quality, but it will do.
Controls
Programmable G-keys, Mute button, Volume roller, Power button, Surround sound switch
Headphones volume control, Mute button, Programmable G-keys, Power button
Compatible Platform(s)
PC
PC, Mac, PS4, Xbox One, VR Systems
Extras
Noise-cancelling mic, Rotate-to-mute microphone, Battery: Up to 10 hours per charge, 7.1 Virtual surround sound
USB Wireless Mix Adapter housed in earcup, PRO-G™ AUDIO DRIVERS FOR SUPERIOR PERFORMANCE, Multi-platform compatible, CUSTOMIZABLE RGB LIGHTING AND TAGS, 2.4GHZ WIRELESS, Custom Sound Profiles, MULTI-SOURCE AUDIO MIXING, USB-POWERED MIX ADAPTER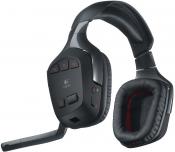 Logitech G930
Logitech G933
What customers say about "Features"
Logitech G930 Wireless Gaming Headset
Great, fully customizable sound. Not only do you have standard bass and treble controls, but there is also a built in eq. Simply install Logitech's gaming software and tinker till your hearts content.
G-keys, these are somewhat useful. I have programed a macro to allow me to answer Skype with video to one key, and push to talk for ventrillo on another key.
Battery life is a solid 9+ hours of use and you can charge them while you play. I still use the supplied charging cradle/cable for this as it gives you roughly 12 foot of line. While using them, they charge up from 20% to full in about an hour
The headset claims 40 feet wireless range but I have not tested this in a viable environment (too many walls here). Although I will say that, when walking down the hall with these on, they retain a signal somewhat further than the ASUS did, which claimed ~33 feet wireless range
Has good range and the battery life so far has been rather consistent at 8-10 hours
Logitech G933 Artemis Spectrum RGB 7.1 Surround Sound Gaming Headset
Great battery time, 12 hours as promised with LEDs off.
Programmable buttons. I needed only one though for PTT in voice chats, no idea how to put them to another use.
Software: LEDs, buttons, equalizer, ability to adjust the sidetone for mic.
The headset is adjustable, the cushions are comfortable and provide a decent noise isolation
The construction seems pretty sturdy. Had Steelseries Siberia v2, they didn't look very solid from the beginning.
Distance is a bit low, already lagging in another room (1 wall, 12 feet away)
Buttons take time to adjust, the volume regulator is kind of too much sensitive
Warranty / Certifications