Desktops & Monitors
Logitech G930 vs HyperX Cloud II
Product Comparison: Logitech G930 vs HyperX Cloud II
X
This site is a free online resource that strives to offer helpful content and comparison features to its visitors. Please be advised that the operator of this site accepts advertising compensation from certain companies that appear on the site, and such compensation impacts the location and order in which the companies (and/or their products) are presented, and in some cases may also impact the scoring that is assigned to them. The scoring that appears on this site is determined by the site operator in its sole discretion, and should NOT be relied upon for accuracy purposes. In fact, Company/product listings on this page DO NOT imply endorsement by the site operator. Except as expressly set forth in our Terms of Use, all representations and warranties regarding the information presented on this page are disclaimed. The information which appears on this site is subject to change at any time. More info
About the Product
No wires to tie you down. Surround sound so detailed, you can hear your opponents before they see you. With a lag-free wireless connection and powered by Dolby Headphone 7.1 surround sound, G930 keeps your head in the game for up to 10 hours between charges.
HyperX Cloud II features a redesigned USB sound card audio control box that amplifies audio and voice for an optimal Hi-Fi gaming experience, so you can hear what you've been missing. Open up a world of detail other gamers will never know — the rustle of a camper's boot, the scuttle in a distant vent. Its independent audio and microphone volume control lets you adjust not only sound volume but also mic volume and easily toggle Surround Sound 7.1 or the mic sound on and off.
What customers say about "Key Specs"
HyperX Cloud II Gaming Headset
Noise cancelling for noisy work and study areas (not to mention airplanes), great for gaming, and great for music. sound quality is outstanding.
Given the nature of the full-sized cups and conforming pads, surrounding passive noise cancellation is exactly what you'd expect: very good.
The noise cancelling is superb, can't hear a damn thing outside once I turn on the headphones.
Anti-noise - it has the best passive noise canceling of any headset I've used
The quality, the fit, the feel it has when it rests on my head is by far the most comforting and relaxing ever...the noise canceling blocks out sound that I don't want to hear while I'm listening to music, watching amazon video, netflix, hulu gaming on the xbox or computer.
Ear Cushion Material
Memory foam & Leather
Velour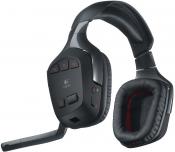 Logitech G930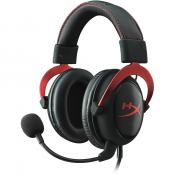 HyperX Cloud II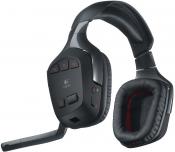 Logitech G930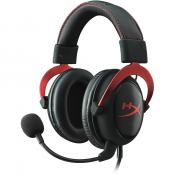 HyperX Cloud II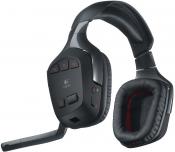 Logitech G930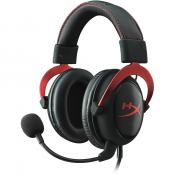 HyperX Cloud II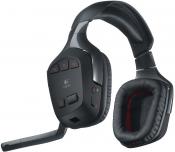 Logitech G930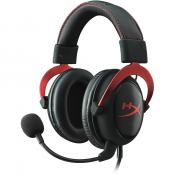 HyperX Cloud II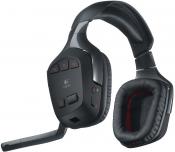 Logitech G930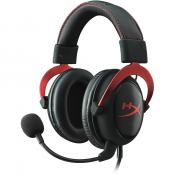 HyperX Cloud II
What customers say about "Headset"
Logitech G930 Wireless Gaming Headset
The foam used on the ear cups and headbar padding both feel very luxurious and do not hold heat too badly.
You can customize the positioning of the virtual surround sound channels. This works fairly well, but it is VIRTUAL.
Sound Quality and Comfort are quite good. The headset has a switch so you can cycle between stereo mode for music to 7.1 for Games and Movies.
You can not turn up the bass very far and still enjoy higher volumes on the headset. The speakers are not capable of high bass with high volume levels, they will distort and break-up at high volume/bass levels.
My main complaint about these headphones is the high frequency of wireless connection interruptions - something I've noticed from other reviews is apparently a very common problem.
HyperX Cloud II Gaming Headset
The foam pad on the head of the mic is removable, I guess for replacement or simply for those so inclined to do so. When the mic is detached, the headset is great for music without the boom in the way.
All the sounds are clear and you can hear everything. The high frequencies on these Are simply beautiful. All in all these are legit the best and would highly recommend to everyone
These were a huge upgrade to my old headset in terms of sound quality - especially with the 7.1 option. They do a great job capturing all frequencies of sound and playing them back.
If you need in game sensitivity these are the ones
I find these head phones have a fairly flat frequency response with dips in the higher frequencies. The bass and mid sound levels are fairly even in terms of loudness which some may dislike if they are looking for bass heavy headphones
Sometimes the sensitivity on the mic is way too high bit the volume adjuster also has a mic sensitivity adjuster so just fix it yourself.
Microphone Output Sensitivity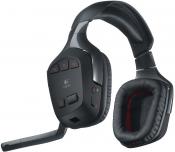 Logitech G930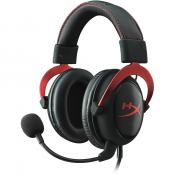 HyperX Cloud II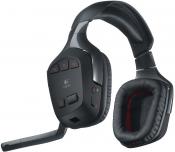 Logitech G930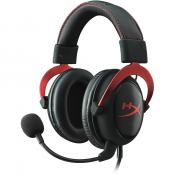 HyperX Cloud II
What customers say about "Microphone"
Logitech G930 Wireless Gaming Headset
Adjustable side tone, or voice echo. This allows you to adjust how much you hear your own speech via the built in microphone. You can adjust it from not at all up to approximately 25% of the total volume of the headset.
The Mic boom is fully adjustable, that is to say, you can not only move it up and down, but bend it as well. When you push the boom all the way up, it auto mutes the mic. Very useful!
The foldable mic is a very nice touch. It never gets in the way, and I've always had people say they can hear me just fine even if I'm speaking softly.
The only real complaint I have about this headset is Logitech claims it has a noise-cancelling microphone, but I can hear all ambient noises around me clear as day whenever I listen to what my mic records.
HyperX Cloud II Gaming Headset
The detachable mic is nifty. It plugs in securely on the left side with a 3.5mm jack and features an infinitely bendable but stable stalk to position it exactly where you want it.
The sound is good enough and the mic boom sounds fine for my casual gaming sessions. For competitive matches in CS GO or Overwatch, I do switch over to the G4ME Ones just for the convenience of the mechanical mic mute function for discord.
Mic Quality: Superb! I use a LOT of VOIP. Skype, Hangouts, all of it sounds a million times better with this than that old desk mic I was using. I've never had a complaint.
I do like the option for the detachable mic, but again, it lacks the ability to adjust voice quality, and sounds like you are talking on an old phone. I have yet to try other drivers for this.
My mic has also suddenly stopped functioning effectively. It's now recording my output sound. In other words, whatever I hear on my PC, is what my mic is picking up. I do not have Stereo Mix enabled or anything of that sort. I've gone ahead and reinstalled my audio drivers as well, to no avail
Controls
Programmable G-keys, Mute button, Volume roller, Power button, Surround sound switch
Headphones volume control, Microphone volume control
Compatible Platform(s)
PC
PC, Mac, PS4, Xbox One, PS4 Pro, Xbox One S, VR Systems
Extras
Noise-cancelling mic, Rotate-to-mute microphone, Battery: Up to 10 hours per charge, 7.1 Virtual surround sound
Advanced USB audio control box with built-in DSP sound card, 7.1 Virtual surround sound, Digitally enhanced noise-cancelling microphone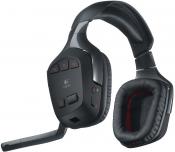 Logitech G930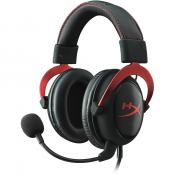 HyperX Cloud II
What customers say about "Features"
Logitech G930 Wireless Gaming Headset
Great, fully customizable sound. Not only do you have standard bass and treble controls, but there is also a built in eq. Simply install Logitech's gaming software and tinker till your hearts content.
G-keys, these are somewhat useful. I have programed a macro to allow me to answer Skype with video to one key, and push to talk for ventrillo on another key.
Battery life is a solid 9+ hours of use and you can charge them while you play. I still use the supplied charging cradle/cable for this as it gives you roughly 12 foot of line. While using them, they charge up from 20% to full in about an hour
The headset claims 40 feet wireless range but I have not tested this in a viable environment (too many walls here). Although I will say that, when walking down the hall with these on, they retain a signal somewhat further than the ASUS did, which claimed ~33 feet wireless range
Has good range and the battery life so far has been rather consistent at 8-10 hours
HyperX Cloud II Gaming Headset
Sound quality is excellent, the mic is flexible and detachable, the cable is nice and long, it comes with velvet ear pads or leather ear pads and a carrying case.
The "remote" built into the cord is easy to use and just adds to allure of the headset itself.
Listening to a Blu-ray movie on my PC it was great to hear every background sound using the 7.1 feature. Thought it was a gimmick until I tried it and I now believe.
Comfort 10/10 This is by far the best feature of this headset. The comfort is like no other headset I've had before. Very comfortable even after all day use. Sometimes I even forget I'm wearing them lol
Short cord if using just audio jack
Warranty / Certifications