Double strollers make a perfect option for twins or two kids under the age of four. They offer a safe place for little ones to sit
during travel when you go out to run errands, attend some recreational events or simply stroll in the park. The range of models, varying in type, size, and prices, is overwhelming. Hopefully, our overview of the most popular models will help you choose the one that will suit both your needs and your budget.
...
Read more
...Read less
MAXIMUM CHILD WEIGHT AND HEIGHT
What is a Double Stroller
Every parent of twins or siblings knows firsthand how difficult it might be to cope with both little fidgets at once when walking and how essential it is to accommodate both kids safely and comfortably. Without the right baby carriage, a stroll can turn into a complete disaster. This is where a double stroller can make all the difference so that both you and your lovely infants can enjoy the stroll to the maximum.
Twin or dual-seat baby vehicles are specifically designed to carry two kids of the same age or of different ages close to each other, both being within the mom's or dad's sight. Usually, these two-passenger buggies are very versatile and feature a number of conveniences for both parents and kids, including a large storage basket, trays, cup holders, ergonomic handles, extra pockets, etc. If the storage basket space is not enough or you need to keep some items protected (such as baby bottles, pacifiers, toys, diapers) you can also select a diaper bag to carry the baby stuff and your belongings as well.
Modern models of twin baby strollers stand out for a lightweight and compact design and easily fold for storage and transportation. Besides, if you have convertible car seats that fit your stroller, you can attach them to the base and use for enjoyable rides with your gruesome twosome!
...
Read more
...Read less
What Features to Compare
Type
Basically, you can choose from two types of dual-seat strollers: side-by-side and tandem or inline baby carriages. Side-by-side strollers are kids' favorites since toddlers can sit right beside one another during travel. However, these models are rather wide and might be difficult to fit through small spaces. Tandem or inline buggies feature single stroller size seats mounted one directly behind the other. This type is an optimal choice when compactness matters. On some tandems, you can set the seats facing each other, while other models offer a "stadium seating" style that allows the child in the back to see over the other one in the front.   
When you choose a stroller for two, adjustable seat positions are also essential. The majority of modern models offer different seating configurations, such as kids facing each other, sitting back to back, facing a parent or facing away from a parent. In some models, you can even switch between the seats meant for different ages if the age gap between your children is over a year.  There are also models with fixed seats that are reclinable but not detachable. In this case, you should choose out of your own habits and preferences. 
Double baby carriages, as a rule, feature strict weight and sometimes even height limits. Hence, you need to be especially careful to choose the model which will fit your growing kiddies.  
Safety and Usability 
When it comes to child's safety, no compromise is acceptable. Safety belts should keep your babies tight and secure in the seat, preventing the infants from falling out. A 5-point safety harness will be the best for the kid's safety. Another basic safety feature is heavy-duty durable wheels that should easily adapt to any terrain, ensuring maximum comfort and stability. A must-have protection option of any baby stroller is a large retractable canopy to keep your little wonders shady and hide them from harmful UV rays.
Next, comes usability. The stroller should be convenient for you and comfortable for your kiddies. Parents conveniences include a wheels size and design for effortless pushing and smooth gliding; a foldable mechanism for a quick and no-hassle folding (one-hand foldable design is the most beneficial); a spacious storage basket and pockets to keep baby's stuff and personal essentials in easy reach and compatibility with car seats for traveling.    
Along with the above-mentioned safety features, baby conveniences include special trays with cup holders, individually adjustable seat backrests and footrests, breathable mesh inserts in the hood or canopy for efficient ventilation on hot sunny days, etc. Some strollers also come fitted with a mosquito mesh, a foot cover and even a soft baby mat. However, you can buy all these accessories separately, if needed. 
Dimensions
Overall dimensions are essential for easy steering and handling. Choose the type that will best suit your needs, depending on how you'll be using it. If you need a sturdy model for daily strolls in the neighborhood, a side-by-side stroller with heavy-duty wheels is a great choice, while a more compact and lightweight tandem will perfectly suit for traveling by car. It will easily fit through standard doorways, elevator doors, and shop aisles.
...
Read more
...Read less
Contours Options Elite Tandem Stroller
A Premium-class Vehicle for Your Beloved Babies
Looking for a tandem double with loads of features? Look no further! The Option Elite Tandem from Contours is a kind of Lamborghini among twin baby vehicles. This modern stroller is meticulously designed in keeping with the needs of parents and their kids. 
Along with a contemporary style, it offers unrivaled usability and functionality packed in relatively compact dimensions. In a tandem design, two seats are located in a maximum practical way, one seat behind the other. Hence, the stroller doesn't look bulky. It's a truly smart solution when compactness is of importance. In addition, the base can easily accommodate two infant car seats that make it a great option for travels since you can take only the base. When traveling with a kid, you need a lot of stuff. And you'll need even more if you travel with two. So, some extra space in your car trunk will count. But if you set on a stroll through the city, the Option Elite features an extra large storage basket for all essentials and baby stuff you might need.
Besides great functionality, this model also stands out for its durable and sturdy design. All textile elements, including canopies, seat pads, and a basket are made of high-quality wear- and tear-resistant fabrics. The wheel system with a dynamic suspension ensures stability, smoothness, and maneuverability. Your kids will feel comfy in their seats and you will benefit from easy steering. 
A Range of Seat Configurations For the Maximum Comfort of Your Kids
The Contour Options Elite Tandem boasts incredible versatility and offers 7 seat positions for the ultimate comfort of your infants. The seats can be easily removed and configured in one of the following ways:
Both seats facing a parent - ideal for kids who need a constant visual contact with parents to feel safe;
Both seats away from a parent - great for little explorers to enjoy the ride and discover the world around them.
Seats facing each other - a perfect option for twins who usually adore communicating with each other.
A back-to-back seat position is convenient for babies of different ages when a newborn needs an eye contact with a parent or might get drowsy, while an older child wants to explore the surroundings.
Three more seating configurations offer different combinations with infant car seats.
Thus, you can replace one seat with a baby car seat to accommodate a baby and a big sibling or attach two infant cars seats to the base for baby twins. When the age gap between your children is big and an elder kid prefers walking, you can carry your newborn in a baby wrap.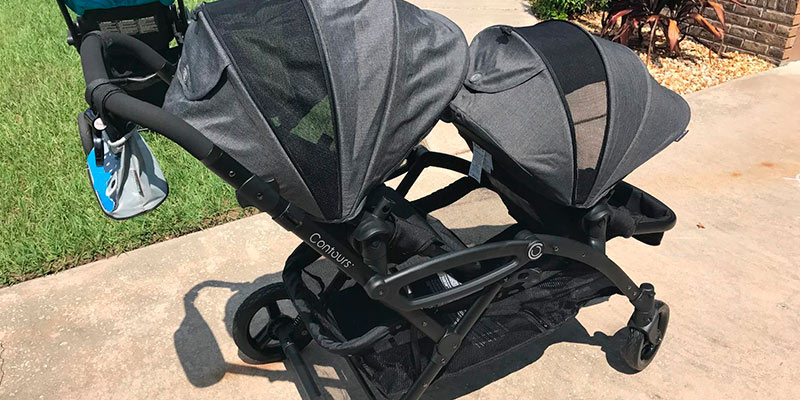 Convenient Both For Parents and For Children
Taking into consideration parents' feedback, the manufacturer improved the previous stroller making it much more balanced, flexible and functional. 
The strong aluminum frame makes the stroller much lighter without compromising its sturdiness. For the kids' comfort and safety, the seats are rather wide and equipped with a secure 5-point safety harness. The seat footrests are adjustable to fit the child's height, while a large retractable canopy shields both little angels from the dazzling sun. Thanks to special mesh inserts, the canopy ensures efficient air ventilation on hot days. 

The handle is padded with a soft material for a comfortable and secure non-slip grip. For your convenience and easy access, the foot brake is located near the rear wheel. An improved brake pedal is ergonomic, easy to press, and responsive.
All-terrain Wheels
One of the biggest benefits of the Options Elite Tandem is that its front wheels are smaller than the rear wheels, which allows you to roll the stroller seamlessly over all types of terrain and street curbs. 
Additional Info
---
Contours Options Elite Tandem Stroller
Baby Trend Navigator Double Jogger Stroller
All You Need For an Enjoyable Strolls and Jogs
As its name suggests, the Baby Trend Navigator is designed for pleasant and enjoyable strolls and even jogs with your lovely twins snuggling in their comfortable seats. Thanks to the extra-large rear wheels, the stroller boasts extreme stability, while the locking front swivel wheels contribute to its easy control and enhanced mobility. Pneumatic bicycle tires with a cushioning effect ensure unmatched adaptability to any terrain, be it asphalt, gravel, ground, grass, or even sand. The stroller will roll smoothly and effortlessly. 
Rugged all-terrain wheels in combination with a super sturdy and lightweight aluminum frame make this model fit for jogging. If you're into sports, you can go run a few circles, while your kids can have a nap in a stroller. To ensure that it's safe to jog, pushing a stroller, there's a 5-point harness system that will keep your kids securely attached to seats.
Wide seats give enough space for little wonders sitting side by side to wiggle, and extra large footrests allow the kids to stretch the legs without hanging their feet off the side. Meanwhile, baby trays with two holders will keep snacks and drinks for your kids while being on a stroll. 
What else will come to liking to all moms and dads is a phenomenal storage option. Coming complete with baskets underneath, pouches on the seat backs and an extra compartment on the handle, you'll have more than enough room for all your essential and valuables. A quick and effortless one-hand folding for compact storage or transportation is another good reason to consider this fantastic double jogger stroller for purchasing. 
With Music at Hand
If you can't imagine your life without music, the Baby Trend Navigator is for you. A parent tray is equipped with two weather-resistant speakers and an MP3 plug-in compatible with most MP3-players and smartphones. Simply connect your gadget to the speakers and go for a stroll with your favorite music on. Now, thanks to the integration of the speakers, you won't put yourself or your baby at risk of not hearing the warning or/and traffic alarms like you would have done wearing headphones. Besides, if your child has developed a habit of falling asleep to lovely baby lullabies, you can play them even when on the street. Handy!
Extra Safety For Your Babies
A special safety belt can be fixed on your wrist and attached to the rear frame tube with another end. It will add safety to riding down the hill and prevent the stroller from free rolling in case your hands occasionally slide off the handle. Remember to keep the belt fixed on the lower frame to avoid skidding. When not in use, the safety strap can be attached on the left side of the frame.
The compatibility with infant car seats makes the Navigator stroller suitable for use from the very birth of your child. Take a look at car seat covers that you could carry along on your strolls when the weather gets nasty.
Secure Sun Protection
Both seats feature separate extra large canopies to protect your kids from the dazzling sun. Mesh inserts allow efficient airflow and prevent overheat. On top of that, you can individually adjust the 3-section ratcheted canopies for the ultimate comfort of your kiddies. Stretch one section to cover only the head of your kid or drag the canopy out completely to keep him/her in shade. The Baby Trend Navigator is a real find for those parents who don't skip strolls no matter what the weather is.
Additional Info
---
Baby Trend Navigator Double Jogger Stroller
Graco DuoGlider Click Connect Stroller
Capacious and Lightweight
Offering all the essentials a growing family needs, the Graco DuoGlider stroller will impress you with its capacity, versatility, and lightweight design. Under the weight of only 29.5 lbs, it features spacious seats for two children with the weight up to 40 lbs each. Both seats are reclinable and have individual canopies and footrests. It's notable that the rear seat folds almost flat for a smaller baby to doze in comfort. 
An all-wheel suspension with lockable front double swivel wheels ensures superior maneuverability, agility, and smooth gliding. The wheels are made of high-density rubber to be durable and to provide good traction. Whether you stroll in the park, go shopping or run errands, the Graco DuoGlider makes walking with two children a breeze.  
A distinguishing feature of this model is a stadium seating style. One child sits behind the other, but the rear seat is slightly raised for a better view. So, the kid in the back can see the world and won't fuss. 
The parents will definitely like a handy tray with two deep cup holders and a large storage bin with enough room to carry your baby's stuff and your personal belongings. A one-hand standing fold option will save you the need to bend and will let you keep your hands free. Similarly to other models, you can stop or fix this stroller with a foot break.
Keeps Your Kiddies Securely Protected
The Graco DuoGlider is packed with a number of safety options you will definitely like. At first, the stroller is equipped with six durable wheels so that you could navigate it across any terrain, through bendy paths and parkways. Secondly, it features a convertible 5-point harness system that not only protects your kids during rides but also adjusts to their needs when they grow. 
For a safe and enjoyable ride, please, follow these simple safety precautions:
Before sitting your babies down in the stroller, always check the folding mechanism.
To prevent your kids from falling out or getting out on the go, fasten them with the safety belts. 
Don't lift the stroller by a handlebar or a tray; the chances are, it will break apart. 
Healthy Sleep in the Fresh Air
It's not a secret that many newborns and toddlers fall asleep much quicker and better when on the move. Why not use this opportunity? All the more, the Graco DuoGlider comes with a rear seat that lays flat for an infant bassinet. This is especially convenient for those parents who have a toddler and a newborn.
If your stroller has a headrest, take it off before lowering the backrest. Fix the backrest in a flat position and let your little one snooze in comfort. For parents of twins, there's an option to attach the seats to the base of the stroller.
If your kids refuse to sleep in their own beds, it's possible that they simply don't feel comfortable there. Get a new crib mattress and you'll see a difference.
Build Your Own Travel System
The Graco DuoGlider is an excellent option for travels. That the stroller base is compatible with all Click Connect car seats allows you to create your own travel system with a click, making it easier for you to take your kid out of a car and have him/her seated in a stroller. This comes especially handy in situations when your twins are sleeping, for example.
Additional Info
---
Graco DuoGlider Click Connect Stroller
TZ Twin Lightweight Stroller Double Baby Pram
Double Happiness For the Whole Family
Though having twins is double happiness, it means twice more daily baby care routines too. From diaper changing to baby feeding, everything doubles. And a walk with two newborns can be a real challenge. This is where the TZ Twin Double Baby Pram will help. Designed to cater to the needs of two children, it will suit both newborn kids and growing toddlers and provide safety and convenience of use in many ways. Adjustable design and compact dimensions are another reason why the TZ pram has become a favorite choice of so many parents. 
To provide kids with comfort and safety, the stroller features a 5-point harness system with soft shoulder pads, individually adjustable leg rests and two hoods with removable sections for enhanced ventilation during summer days. For parents' convenience of use, there are two storage baskets underneath each of the seats with a side luggage.
The TZ Twin Double Baby Pram has been designed to be used under any weather conditions. The set includes a foot cover for cold seasons and windy days, a mosquito mesh for summer, and breathable canopies for efficient sun protection. 
A Custom Solution For Each Baby
Two little fidgets, having individual needs and desires, can drive you crazy sometimes. While one feels snoozy, the other one is ready for adventures. So, what to do? With the TZ Twin baby Pram, you won't have this problem; each of the seats can be set in 3 different positions independently of one another.
Both seats facing away from a parent.
Both seats facing a parent.
Two seats facing each other. 
You Can Ride Everywhere
The wheel system of this dual-seat stroller is universal and suitable for both city roads and backcountry off-road terrains. Made of natural rubber, they absorb shocks perfectly well, making it possible for your kid to sleep in it soundly. Thanks to the bigger size of the two rear wheels the stroller is easier to push, while the two front 360-swivel wheels add to it more agility and mobility. 
Convenient Handlebars
Each seat comes with a soft handlebar that can be used as a carrying handle or support. The handles can also be detached when not needed. 

---
TZ Twin Lightweight Stroller Double Baby Pram
Joovy Scooter X2 Double Stroller
Comfort For Kids and Peace of Mind for Their Parents
Look for a stroller offering ease, comfort, and safety for two? You'll get all this buying this side-by-side stroller. The ScooterX2 is one of the universal double strollers that can be used both on a daily basis and during travels. Designed to be lightweight and compact, it fits most vehicles perfectly, folds quickly and goes through all standard doorways. Yet, the functionality and reliability of the stroller are on top! 
Despite a compact size, the stroller features capacious and wide seats for kids of up to 45 lbs weight each. The stroller itself is very maneuverable and agile thanks to the swivel front wheels. For sun and rain protection, the manufacturer added a big canopy with a wide peek-a-boo window, so that you could keep an eye on your little kids as well. The only drawback of the model is that it is not compatible with car seats. Though, this shouldn't be a deal-breaking factor, seeing that the stroller fits any car trunks easily when folded. 
With the Scooter X2, all strolls with your kids will become much more enjoyable no matter where you go.
You Won't Need to Take Shopping Bags With You
When you have twins or siblings, you'll have almost double the amount of baby stuff to take with you. The Joovy Scooter X2 has enough room to accommodate it all and give you some more space for your own essentials. Besides a storage basket, the stroller also has two mesh cup holders and several zippered pouches for small stuff like a phone, keys, a purse, etc.
A nice addition to the stroller is the in-seat mesh pockets where you can store your kids' toys, food and other essentials that you may need during rides.
Reclinable Seats
Both seats in this stroller are reclinable and can be adjusted individually to kids of the age of 3 months and elder. Changing position of either seat can be done with one hand and in several ways so that your kids could sit and sleep in it comfortably.
Speaking of the safety features, each seat is fitted with a 5-point reflective harness. What else most customers like about this stroller is that unlike many other models it comes with a divider between the seats providing kids with some individual space and preventing them from poking, pulling or pinching each other.
A Smooth Ride
The Joovy double stroller works great in most environments. It is easy to push over most terrains, sidewalks, and park lanes. 
Double front wheels make the stroller extremely stable which is especially important if your kids have already learned how to climb out of the stroller without your assistance. Meanwhile, rear wheels with a sealed bearing ensure smooth riding even on bumpy terrains.
Additional Info
---
Joovy Scooter X2 Double Stroller
FAQ:
Q: Do I need a double stroller?
A: It will be a real life saver for happy parents of twins and an excellent option for the moms and dads of two children below 4 years of age. However, if your elder kid is around the age of 5 years while the second baby is a newborn or infant under 3, it is better to go for a standard single stroller. 
Q: Will a baby carriage for two kids fit in my vehicle?
A: Well, it depends on the capacity of your car trunk and the folded dimensions of the stroller. Just like single-passenger models, two-passenger strollers are collapsible to rather compact dimensions. If you have an SUV or a van with a more capacious trunk, it will most likely accommodate any double stroller. But if look for a model to fit in a regular sedan, you'd better opt for super compact umbrella strollers. Anyway, it is crucial to double-check all dimensions before making a purchase.
Q: Will a double stroller accept two infant car seats?
A: Today, most twin baby carriages are designed to be compatible with infant car seats. It is a very handy option if you travel a lot or need to haul the stroller in and out of the car on a daily basis. The only thing is that usually car seat adaptors are not included and you will need to buy them separately. 
Q: Should I go for a side-by-side stroller or a tandem?
A: A side-by-side stroller is often similar to a single-passenger model and is ideal for maneuvering with two little ones of about the same height and weight, such as twins. It is easy to push on different types of surfaces and curbs. However, due to its width, it is rather bulky and might be hard to squeeze through some doorways and elevator openings. A tandem is much more compact and features the width of a standard single stroller. It easily fits through concise spaces and doesn't take a lot space when folded. The major drawback of this type is a difficult steering, the lack of stability when getting over curbs and little leg space for the kid in the back.
At the end, we recommend choosing the model that better suits your needs and habits and offers ultimate comfort for your precious infants. 
Q: Are there two-passenger models I can jog with?
A: In a variety of modern twin strollers, you can find the models that will meet all your demands and expectations. A double jogger stroller is not an exception. There are two-passenger models designed to be used for off-road walks, running, and jogging. The main feature to check about such models is lockable swivel front wheels for no hassle maneuvering in everyday situations if you plan to use your stroller for more than jogging. 
Note: The manufacturers don't recommend jogging with babies under 6 months old. But walking fast is allowed.
Q: At what age is it recommended to make a transition from a bassinet to a seat?
A: You can do it when your baby can sit upright unaided. Normally, it is at the age of 6 months.
Q: What accessories can I use with a double stroller?
A: You can find the whole variety of accessories on the market. The most popular are drink holders, rain covers, and bug screens. Besides, there are organizers to hold bottles, teethers and other stuff, food trays, car seat base adapters, bag hooks, hanging toys, etc. 
---
Sources:
1. How to Choose a Stroller for Twins, wikiHow.
2. Stef Daniel Choosing a Double Stroller, EverydayFamily.com.

3. What to Consider When Buying a Double Stroller, eBay. January 21, 2015.

4. Chris Barnes Double trouble, CHOICE. January 16, 2017.

5. Saundra Latham Buying Guide: Double Strollers, ConsumerSearch. March 17, 2017.
6. Double Stroller Buying Guide, eBay. March 3, 2016.

7. Ataur Rahman The benefits of double stroller, Mogul. 
8. What Exactly Are The Benefits Of Utilizing A Double Stroller For Your Little Ones? Storify.