All parents take care of their children further development. But, what is the best way to cultivate care, hospitality, etiquette
and even motility? Our answer is - the play kitchen! That is why we offer you to look through the top 5 best play kitchens review.
...
Read more
...Read less
ADDITIONAL CHARACTERISTICS
X
This site is a free online resource that strives to offer helpful content and comparison features to its visitors. Please be advised that the operator of this site accepts advertising compensation from certain companies that appear on the site, and such compensation impacts the location and order in which the companies (and/or their products) are presented, and in some cases may also impact the scoring that is assigned to them. The scoring that appears on this site is determined by the site operator in its sole discretion, and should NOT be relied upon for accuracy purposes. In fact, Company/product listings on this page DO NOT imply endorsement by the site operator. Except as expressly set forth in our Terms of Use, all representations and warranties regarding the information presented on this page are disclaimed. The information which appears on this site is subject to change at any time. More info
KidKraft Uptown Espresso Kitchen
Size
The size of the KidKraft Uptown Espresso Kitchen - is 42.5x17.1x41 inches. It has a sturdy structure and a realistic modern design. It totally imitates the parents' kitchen. Due to its size, it also can be used by several kids. So, now the cooking process can be even more interesting and funny. The kitchen unit is quite big in size, and hence, can easily be used for several years.
Material
This kitchen differs from the other play kitchens for kids. It is made of quality plastic and MDF. This combination of wood and plastic components makes it look like real brand-new kitchens. The colors are neutral. This makes it a good fit for parents with multi-gender children. With no shade of a doubt, your little chefs will be delighted to try out this set and cook their first invented meals. It is one of the best kids play kitchens.
Extras
The KidKraft Uptown Espresso Kitchen is equipped with all necessary appliances for cooking delicious meals. It contains a microwave, an oven, a freezer, a refrigerator and even a dishwasher! These appliances are all able to produce the cooking sounds. Thus, the game may turn into a fascinating and delightfull process with a rich buffet of positive emotions. Unfortunately, this model comes without any set of utensils. But, you can purchase the KidKraft Deluxe Cookware Set (11 realistic items) separately and put it above the sink!
Additional Info
Last updated price

$

154.99

Stock
In stock
ASIN

B00592BOAO
---
VIDEO
KidKraft Uptown Espresso Wooden Kitchen - Overview/Review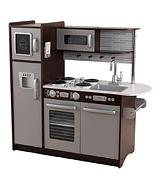 KidKraft Uptown Espresso Kitchen
KidKraft 53179
Size
This pretty pink play kitchen is 33" in length, 13" in width and 35.70" in height. It is rather big and allows several children to play with it. This play kitchen can be used by children from 3 to 13 years. It is easy to clean and eco-friendly. The model features a fridge, microwave, oven, stove, and sink. The fridge is 18" H x 10.5"L x 9" W and the oven is 12.95" H x 10" W x 10.75" D, the sink is removable and the knobs can click, making the process much more realistic and interesting for kids. Children will appreciate all these details and will learn how to use some utensils, skills necessary to develop since childhood. The toy kitchen will also help them get more confident with their own things and space. Young chiefs for sure will evaluate this adorable play kitchen.
Material
When choosing toys for your children it is important to pay attention to the material. Children like to touch and taste everything around because they discover this world in such a way. In order for parents to be calm about the material, this play kitchen is made of wood, an eco-friendly material that ensures durability and strength. It has a hand-painted finish which looks pretty and attractive. This kitchen looks very realistic with its see-through doors that open and close, working knobs, and different shelves. So you can be sure in child's safety and that this kitchen will be interesting for everyone.
Extras
The KidKraft 53179 Vintage Kitchen is a perfect birthday gift for every kid. It looks good in any setting. There are no accessories but you can use your real small plates or cups. This kitchen is packaged with detailed step-by-step instructions. Moreover, this play kitchen is a 2010 Product of the Year Award by Creative Child magazine. So, if you want to make not only interesting but also useful gift to your child, this kitchen is a perfect choice. You will get the best qualities for an affordable price and will make your child happy.
Additional Info
Last updated price

$

122.98

Stock
In stock
ASIN

B0038ANS8U
---
KidKraft 53179
Step2 Lifestyle Fresh Accents Kitchen
Size
The Step2 Lifestyle Fresh Accents - is a lovely children's kitchen for true-to-life cooking games. With its help, you will provide your children with a private place where they can enjoy themselves "cooking" different dishes. This play kitchen is pretty compact - 26 x 13.5 x 41 inches, hence, you can place it even in a small child's room. The Step2 Lifestyle playset is recommended for 2-6 years children but, still, for many 6-year-olds this kitchen is rather small. All doors of kitchen appliances and cupboards can be opened/closed in order to make games even more realistic.
Material
This children kitchen is made entirely of high-quality plastic. Thus, the textures on the surface are very detailed. The additional set of accessories is also made of plastic. All details have a nice look and a good structure. After all, the health of children is the most important thing. In this case, no doubt, the manufacturer Step2 has done everything to provide parents with a peace of mind. Quality plastic, no sharp corners, no burrs! A safe play is guaranteed.
Extras
Accessories can make the games exciting and interesting! And if you don't want your children cry asking you for additional play dishes, get this very kitchen set. The Step2 Lifestyle Fresh kitchen already comes with the most necessary kitchen appliances, a sink with mixer, two lockers, a coffee maker, pots, pans, forks, spoons, salt with pepper, and even a set of 10 toy foods! Note that such impressive set is a great benefit as kids particularly like to play with food! Really, cooking is not very interesting with the empty pots. Also, this kitchen is fitted with a phone. But! The main advantage of this kitchen is the cooking sound effects. Your kids will absolutely love this super kitchen!
Last updated price

$

84.99

Stock
In stock
ASIN

B004EJYAO0
---
VIDEO
Step 2 Lifestyle Fresh Accents Play Kitchen Review!
Step2 Lifestyle Fresh Accents Kitchen
Little Tikes Super Chef Kitchen
Size
The dimensions of the Little Tikes Super Chef Kitchen is 28x14x40 inches. And its unique design allows you to place this unit along the wall and in the corner of a playroom. Thanks to its neutral colours, it suits both boys and girls. The manufacturer claims that it can be used by children aged from 3 years. But, as practice shows, a lot of customers buy it even for 15-months kids. This kitchen comes with feet. It means that it can add height as your child grows. Thus, it can be a toddler kitchen as well as a kitchen for older child. Extremely convenient!
Material
This is a really great child kitchen set. This corner kitchen is made of quality plastic. Thus, the textures on the surface are very detailed. The additional set of accessories is also made of plastic. All details have a nice look and a good structure. So, our verdict - this toy kitchen and its additional utilities are made of quality and environmentally friendly materials.
Extras
This Little Tikes play kitchen has all 3 major appliances (a refrigerator, a microwave and an oven) without being large with the doors that open. This will surely make your child excited. What your kid will also like is the realistic cooking sounds that the burners produce. And, as we have already mentioned before, the kitchen has an additional plastic set of all essential accessories. Thus, the cooking process may be extremely realistic and interesting.
Last updated price

$

89.97

Stock
In stock
ASIN

B001QXDIX6
---
VIDEO
Little Tikes Super Chef Kitchen - Tre's Thursday Toy Review 1/13/11
Little Tikes Super Chef Kitchen
American Plastic Toy Deluxe Custom
Size
The American Plastic Toy Deluxe Custom Kitchen is a great toy for small (and even not very small) chefs. It has a quite impressive size - 32.5 x 12.6 x 37.6 inches, so you have to think in advance where to place it. As some customers claim, it is desirable to attach this kitchen to the wall in order to prevent it from overturning. Due to highly detailed parts and accessories, this toy kitchen is interesting not only for the smallest but also for school-aged children. To be more exact, it is ideal for children from 3 to 15 years, which makes it pretty versatile.
Material
This toy kitchen is produced with safety in mind. All items and accessories have rounded corners, thus, they can not hurt your child during the game. The kitchen itself and the whole kit of accessories are made of high-quality plastic, so you'd have no reason to worry about your kid's health. This material is very durable and reliable. The plastic does not emit any odors. It goes without saying that the whole construction is quite lightweight, so it is well suitable for transportation.
Extras
As we have already mentioned, this is a very realistic kitchen which includes everything your child needs for the game. The kitchen contains a sink, a hob, a built-in fridge, an oven, a dishwasher, and even a microwave. Furthermore, it comes with a kit of 22 accessories - all the necessary utensils for cooking and a mobile phone (all these items can be stored in two wicker baskets). And the kitchen even makes sizzling and bubbling sounds when a child "fries" or "boils" something. The hob is also fitted with realistic burners with lights and sounds. Be sure - your child will cook just like mommy and daddy!
Last updated price

$

0.00

Stock
May be out of stock
ASIN

B00578MPGC
---
American Plastic Toy Deluxe Custom
Infographics
---
What is a Play Kitchen
Playing with the kitchen is not only exciting! The process acquaints your baby with a variety of food and the peculiarities of kitchen appliances. The play kitchens also cultivate the thrift and carefulness. Besides, if a mother plays with her baby, she can teach a child some rules of etiquette. But the best benefit - the play kitchen can provide your kid with some private place, where he or she will like to spend some time. In this review, we will compare some of the best models of play kitchens on offer.
We also recommend you to pay attention to some other interesting children's products reviews, such as best tricycles and best car model kits for young sportsmen and collectors.
What Features to Compare
Children's kitchens come in different designs and sizes. So, our advice is to choose kitchen Size according to the child's height. The play kitchen is equipped with many kitchen appliances such as oven, microwave, sink, etc. Usually it comes as a single unit, normally set along the wall. Such kitchen will ideally fit in a small room.
But there are also kitchen corners, or even camping kitchens for barbecue. Children kitchen island – is a small toy kitchen, which can be installed wherever you want. Thus, your kid can play with it even in the middle of the room. It is also equipped with all kinds of kitchenware. Such model is mobile! You can always take it with you on a trip. Portability and mobility are the main features that make small kitchens so popular among buyers.
As children like to imitate adults, give your child the opportunity to emulate your behavior in the kitchen. We can assure that you will never be upset because of broken dishes. All kitchen elements are made of quality plastic. Thus, toy instruments will not cause harm to your baby.
Some models have got adjustable legs so that the height of a kitchen is customized to the needs of your child. You can buy such unit for a 2-year kid and be sure he or she is going to play it in a few years time.
While choosing a children kitchen, take into account the Material and the quality. Children kitchens can be made from wood or ecological plastic. We would like to mention, that the wooden models look more natural. But if you purchase a wooden model, pay attention to the surface. The wood should be well polished, smooth and pleasant to the touch. Plastic models should be without sharp corners. Make sure that your kitchen unit doesn't have a specific chemical odor and is strong enough to last longer.
We also recommend you to pay attention to the Extras, since this characteristic plays an important role. The extra functions are able to make the game more exciting and realistic. They include imitation of cooking in a frying pan, the call of a kitchen timer, the hiss of appliances, the sound of a microwave oven and so on. All these frills usually use battery supply. In our review, you'll also find some kitchen units with a whole cooking set. It may include a variety of household appliances such as a stove, a microwave, an oven, a refrigerator, a sink, cupboards, and shelves for utensils.
FAQ:
Q: What is the best age to buy a kitchen?
A: Manufacturers always state the age a play kitchen is suitable for. However, everything depends on your child and a kitchen set. If it is designed without any small parts that can pose a choking hazard you can safely buy it for a younger kid. Also, consider a child's height as if he/she wouldn't be able to reach the upper appliances on a play kitchen he/she wouldn't make the most of it.
Q: How will my child benefit from playing with a kitchen?

A: To start with, it will help your children develop social skills if they play with other children. They will know what it means to share and take turns. Furthermore, a play kitchen can help your kid learn math easier as you can show them how to count, subtract and add numbers while playing. What's also important, it'd be easier for a kid to learn food, colors, cookware and identify these items and have a vast vocabulary at an early age.
Q: For how long a child could play with a toy kitchen?
A: Usually kids play with a kitchen for many years, if parents have chosen the right model. You have to know your kid's preferences and interests and thus opt for a kitchen that will not only meet his/her today needs but will also correspond with his/her intelligence after several years of use. Otherwise, a kid can outgrow a toy rather quickly.
Q: Are play kitchens suitable for boys?
A: Boys enjoy cooking as much as girls do. A play kitchen is a developing toy that builds a kid's imagination. If you son shows interest in having it or you have seen him playing with a kitchen at somebody's place, present it to your boy without giving a second thought. Keep your kid's interest in mind.
Q: Should I buy plastic or wooden play kitchen?
A: If you are going to keep a play kitchen for a year or two, go for one made of plastic and don't overpay for wooden models. However, if you would like to keep a toy kitchen for more than 5-6 years, a sturdy hardwood one is a must. It is more durable and won't fade or crack over the years.
Q: Do I need to purchase any extra accessories?
A: Some play kitchens come fitted with basic accessories while other models don't include any add-ons at all. Thus, it is necessary to purchase additional items in order to enhance a kid's play. Start with basic items and go for extra things if a child shows interest and enjoys playing with a kitchen.
Q: Which kitchen to choose, small or large?
A: Everything depends on a number of children who will be playing with this toy, a size of a room it will be placed in, and your budget, of course. Small pretended kitchens are less expensive and ideal for apartments that aren't roomy enough. Besides, if only one child is likely to play with it, opting for a large kitchen may seem irrational. As for the large pretended kitchens, they are the only option for preschools, hospitals, nurseries, or any other public places. This way, many children can use them simultaneously. Also, families with more than one child would appreciate large play kitchens.