Most parents feel a natural urge to get everything their babies might benefit from. And a stroller is a key piece of baby gear. A
variety of types and models may complicate your choice. And we offer our 5 best baby strollers review for you to find a perfect stroller for your little one!
...
Read more
...Read less
Chicco Bravo Trio
Type and Recommended Use
Chicco Bravo Trio System comes with a stroller seat, infant seat, and a base. This provides three unique modes of use to adapt to your changing travel needs as your baby grows. A top rated KeyFit® 30 infant car seat was carefully designed with the baby's safety in mind and it accommodates babies from 4 to 30 pounds. It can be used as an infant carrier, easily attached to the base with the special adapter, or fixed on the backseat of the car. Such sophisticated and at the same time comprehensive Chicco design offers great versatility and allows you to carry babies from birth til they weigh 50 pounds.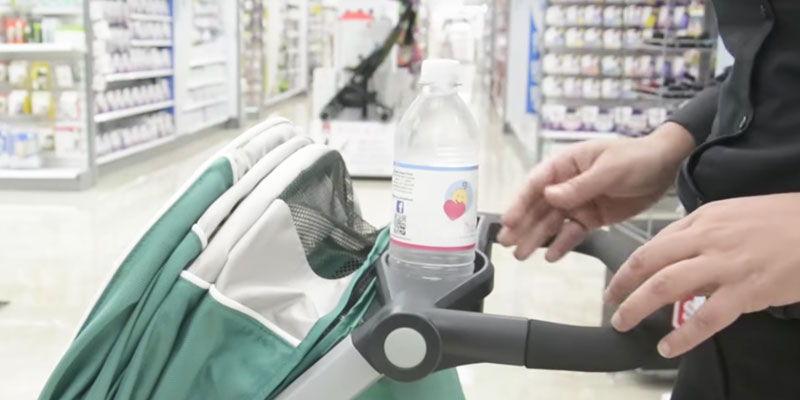 Baby Conveniences
Fantastic Chicco baby stroller has a whole bunch of features to ensure ultimate comfort and safety for your baby. A multi-position reclining stroller seat will snug your infant and offer natural sleeping position if the baby gets drowsy as well as a convenient upright position for your little one to explore the world outside. Besides, an all-wheel suspension helps to create the smooth ride. A 5-point safety harness ensures tight and secure fit holding the baby in the seat. And an extendable 4-section canopy will protect your little one from harmful sun rays in the summer heat or from wind and rain in a cold season. Meanwhile, the lovely peek-a-boo window contributes to overall convenience giving you an opportunity to see the baby all the time.
Parents Conveniences
An incredible Chicco baby stroller is extremely convenient not only for the baby but also for the parents. Using an easy-to-reach handle, you can quickly and almost effortlessly fold the stroller into a compact free-standing position by one hand. A durable all-wheel suspension will allow you to manoeuvre through city houses with ease. A linked rear breaks are easily activated to keep the stroller securely in place. And a height-adjustable padded handle will bring utmost comfort to all moms and dads strolling with their kiddies. At the same time, a handy parents tray with two cup holders will accommodate all the essentials within easy reach. Whereas a handy and spacious storage basket will be of great use to hold the baby's stuff or some purchases if you decide to drop into the shop. We are sure, that this unrivaled baby stroller will meet all the needs and expectations of the most demanding parents!
---
VIDEO
Chicco Bravo Trio Travel System Reviewed Here
Chicco Bravo Trio
Baby Jogger BJ15436 City Mini GT
Type and Recommended Use
Baby Jogger City Mini GT is an extremely solid and durable baby stroller that will definitely impress all active parents. Fitted with enhanced high-quality durable tires, this jogging stroller offers an exclusive all-terrain mobility. You will be able to easily push it on a variety of surfaces including grass, gravel, and mulch on the playground. We consider this jogging stroller as the best model for everyday long strolls or walks in the park that will give all moms a nice chance to get fit after baby's birth. Since the seat backrest reclines to an almost flat position, superb Baby Jogger stroller is suitable for babies from birth to 65 pounds.
Baby Conveniences
This premium-quality baby stroller is packed with all the standard options to make the baby's ride secure and comfy. An adjustable spacious seat reclines to near flat position, snuggling your baby when he/she is sleeping and providing good support when your little one is awake. Besides, in a reclined position the seat has a large ventilation window that provides better air circulation on a hot summer day. A distinctive feature of this model is an extremely large 3-panles canopy for the best-ever sun protection. And an adjustable 5-point safety harness with shoulder pads and buckle cover will safely keep your toddler in place.
Parents Conveniences
In the fast pace of modern life, many parents want to stick to the active lifestyle even having a baby. And this fabulous City Mini GT baby stroller offers the whole variety of features for outdoor exercises, what makes the jogging stroller an exceptional model for active moms and dads. The three-wheel suspension with a swivel front wheel allows you to manoeuvre easily through bendy paths and parkways. While your little wonder is peacefully sniffing in a cozy seat, you can do some exercises without disturbing the comfort of your baby. And hand operated parking brake and rubber handlebar will even add convenience to your fitness strolls. Besides, the handle can be conveniently adjusted to suit the parents of different heights. A compact one-hand fold and an auto-lock will make storage and transportation very simple. And easily accessible storage basket will securely keep all the things you might need during the walk. We can summarize that this all-purpose Baby Jogger stroller boasts a great number of options for active parents along with a comfortable ride for your baby!
Additional Info
---
VIDEO
Baby Jogger City Mini GT Stroller Review
Baby Jogger BJ15436 City Mini GT
Summer Infant 3D Lite
Type and Recommended Use
We've reviewed a huge number of strollers for babys and now can say that Summer Infant 3D Lite is really a top rated umbrella stroller. It can become an outstanding solution for families who frequently travel and use public transport. A durable and yet stylish aluminum frame with a large seat area makes it one of the most practical and lightweight baby strollers on the market. It is super convenient and compact, allowing you to hold the baby and carry the folded stroller on your shoulder with almost no efforts. Fantastic grab-and-go Summer Infant baby stroller supports infants from 6 months old to 50-lb weight. It will give you a wonderful opportunity to enjoy light travelling with your baby!
Baby Conveniences
Compared to other models, this is an affordable stroller that offers all the features and conveniences for your baby's comfort and safety. A roomy multi-position recline seat with a nice padding allows a lively baby to sit upright and discover the world or a sleeping angel to lean back and relax. A handy 5-point harness will keep your baby secure in the stroller for an enjoyable and safe walk. Depending on the weather and season an entirely adjustable canopy will keep your little one cool and shady and provide a reliable protection from rain and wind. Besides, if needed, you can take off the canopy. This really great Summer Infant stroller will become a favorite vehicle of your toddler!
Parents Conveniences
Despite its lightweight design, Summer Infant stroller comes will all essential features for parents that every stroller should have. An ultralight frame is extremely easy to fold, making the 3D Lite stroller highly portable and compact. A carry strap adds convenience, enabling you to carry the folded stroller with ease. Owing to anti-shock front wheels and lockable rear wheels, the stroller is maneuverable and smooth-rolling. A perfect fit for city pavements and parkways. Some more nice features for parents include an accessible storage basket for toys and diaper bags, ergonomically positioned handles, a cup holder, and a rear storage pocket for your keys and phones. In sum, high fashion totally meets outstanding functions!
---
VIDEO
Summer Infant 3D Lite Convenience Stroller Review
Summer Infant 3D Lite
Belecoo Luxury Newborn Baby Foldable
Type and Recommended Use
Most users find Belecoo baby stroller a highly versatile model that will comfortably accommodate your baby from the very first days after birth and till the age of 3 years. In its luxurious bassinet, your newborn will feel cosy and safe like in gentle mom's arms. As your child grows you can transfer it to a standard toddler stroller with almost no efforts. Your little one will surely enjoy exploring the big world with mom and dad nearby.
Baby Conveniences
For the utmost convenience of your child, brilliant Belecoo baby stroller comes with a wide durable and steady seat base and a multi-position recline seat. The seat is fully adjustable for the sitting or lying position. Besides, it is reversible just to your liking or to the preferences of your baby. Forward-facing position allows the parents to communicate with their infants and cheer them up while strolling. Meanwhile, a rear-facing position will help if your baby really likes to view the world from a snug and cozy seat. Additionally, you can adjust a handy 3-section canopy with a sun visor to protect your child from drizzling rain or the burning sun. We can tell you that the overall stroller design contributes to your baby's safety giving you a peace of mind.
Parents Conveniences
Belecoo Luxury baby stroller is fitted with 4 natural rubber explosion proof wheels for a smooth ride. Anti-shock rear wheels will cushion the road shocks and help you hush your baby to sleep. And with a rear paddle brake, you will easily fix the stroller in a steady and safe position. An adjustable non-slip handle adds convenience allowing both parents to choose the most comfortable height to push. Besides, all moms and dads will appreciate easy-to-fold solid steel frame and a massive storage basket to place their essentials. Belecoo stroller is a fantastic model offering high versatility to the parents and providing ultimate comfort to the baby.
---
Belecoo Luxury Newborn Baby Foldable
Cosco Lift and Stroll
Type and Recommended Use
Many moms and dads pick Cosco Lift and Stroll Convenience Stroller for the fact that it is just an exceptional model for rolling over the city pavements, parks, and squares. This consistent Cosco stroller will impress you with the extraordinary functionality and a lightweight strollers' compact design. You can easily push it down and up the city streets without any hassle. And a stunning overall look allows you to choose the stroller for both baby boy and baby girl. We strongly recommend this superior stroller for everyday use that can hold a baby from the age of 6 months and up to the weight of 50 pounds.
Baby Conveniences
Designed with high performance in mind, this incredible baby stroller ensures an ultimate level of comfort and basic safety for the baby who can sit and strives to explore the wonderful world. When you are on the move, a 3-point harness will securely hold your little fidget without limiting the baby's movements. The infinite recline seat with an additional cushioning gives you an opportunity to select the most convenient customized position both for a restful sleep and for an enjoyable stroll. A retractable canopy is quite handy and decently defends the child from direct sun rays. Meanwhile, most toddlers really love a convenient child tray with a cup holder to place their toys, snacks or put a sippy cup, bottle, and juice box.
Parents Conveniences
Best suited for both you and your infant, a top-rated Cosco stroller is fitted with useful functions for a parent convenience. Durable rubber wheels proved to be very maneuverable ensuring a comfortable and smooth ride on even pavements, parkways and other types of surface. And linked foot rear brakes will fix the stroller if needed. Every mom and dad will be delighted by a simple one-hand foldable construction for convenient handling and transportation. As your infant grows, it is more and more difficult to arrange the space around your active and curious toddler. But with this amazing Lift and Stroll baby stroller, it will not be a challenge! A convenient parent tray will hold all the essential items at hand while a vast storage below can accommodate food, books, diaper bag, and toys. All in all, Cosco baby stroller offers reliability, durability, and comfort!
---
VIDEO
Pretty Baby Express Pink Cosco Umbria Stroller - Pink Zigzag Design on Ebay
Cosco Lift and Stroll
What Is a Baby Stroller?
At different times and in different countries people used an array of various transportation vehicles to carry a child. After all, today baby strollers gained the greatest popularity. A stroller industry started to flourish at the beginning of 20th century. And now the market is overfilled with an enormous variety of different baby bassinets and strollers. Hence, any mom or dad can select a stroller that will be best suited for both parents' habits and baby's needs. There are luxurious and extra comfortable, affordable and convenient baby strollers, models for parents who mostly drive the car and use the stroller from time to time and for those who prefer long enjoyable strolls in the park. In our review, we will give you a couple of points how to choose the best baby stroller from a large selection of toddler and infant models.
It is not a secret that for the newborn baby nothing can be better than gentle and soft mom's hands. However, sometimes it is inconvenient for a mom and acquiring a baby carrier is the best way out. Also, you can give your baby the soothing comfort with a baby bouncer. These are safe and comfortable cradles that can rock, swing and jump, giving you time for yourself and other daily activities. And with baby walkers your little angel can make his/her first steps!
What Features to Compare
Type and Recommended Use
There are several major types of baby strollers that we have highlighted in the list below for your utmost convenience. They are as follows:
Standard stroller will be best suited for families living in the city and strolling on even pavements, parkways, and square paths. Commonly, it features an average weight and high maneuverability.
Umbrellar stroller represents the most compact and light type of strollers with the weight not exceeding 12 pounds. Owing to easy-to-fold and compact design, we consider it an excellent type for parents often traveling in public transport. Most umbrella strollers are intended for toddlers who can sit steadily.
Jogging stroller is the most durable and steady stroller with solid all-terrain wheels. This model is designed for active lifestyle followers, offering ultimate comfort and safety to your baby. Thanks to a solid and reliable design, it allows you to accommodate even a newborn.
Travel system is packaged with a car seat frame, a stroller seat, and an infant car seat. We are sure this comfortable set will be highly appreciated by the parents who are always at the wheel. A car seat is used as a baby bassinet from the very baby's birth and up to 6-month age.
Stroller with the bassinet will be an outstanding acquisition for newborns. Your baby will feel comfy and safe. We should mention that some bassinets can be transformed to a seat or replaced by a stroller seat.
The parents of two or more babies will undoubtedly be delighted by extremely convenient strollers with several seats.
Baby Conveniences
The essential features to ensure basic safety and utmost comfort of your little one include a canopy, reclining seat and safety harness. An adjustable seat backrest reclined to near flat position will allow you to carry the baby from the first days after birth. A safety harness should keep your baby tight and secure in the seat preventing the infant from falling out. We discovered that a 5-point safety harness will be the best for the baby's safety. Next, a large retractable canopy is a must-have option of any baby stroller. It will keep your kid shady, hiding your little wonder from a harmful sun. And an extra UV protection will be a real bonus if you like strolling in a sunny weather.
Parents Conveniences
There are elements and functions that make the stroller operation and handling efficient and easy for parents. In our opinion, such features include wheels, brakes, foldable design and mechanism, overall stroller dimensions and usability. Medium-sized wheels will be enough to roll through even pavements and paved paths while jogging in the park or forest areas requires fairly big all-terrain wheels. Swivel wheels add maneuverability to your stroller, and it is even more convenient to have a swivel block option. Most stroller models come with linked foot rear brakes. But for the jogging stroller, it's better to have a hand operated brake. When it comes to folding and dimensions, these parameters mostly affect convenient transportation of stroller in the car or in public transport. We think that one-hand foldable design along with auto-lock is the most beneficial combination for your ultimate convenience. Additionally, we strongly recommend checking the adjustable handle and self-standing position option as well as storage compartments and tray for all your essentials and kid's stuff.