Giving your little one a bath is not an easy task. It can be either adorable or tricky. We mean that a good tub can make bathtime
a lot easier for parents. That's why we have reviewed 5 best baby bath tubs for you. Read bath tub review and make your choice!
...
Read more
...Read less
X
This site is a free online resource that strives to offer helpful content and comparison features to its visitors. Please be advised that the operator of this site accepts advertising compensation from certain companies that appear on the site, and such compensation impacts the location and order in which the companies (and/or their products) are presented, and in some cases may also impact the scoring that is assigned to them. The scoring that appears on this site is determined by the site operator in its sole discretion, and should NOT be relied upon for accuracy purposes. In fact, Company/product listings on this page DO NOT imply endorsement by the site operator. Except as expressly set forth in our Terms of Use, all representations and warranties regarding the information presented on this page are disclaimed. The information which appears on this site is subject to change at any time. More info
Fisher Price DLH01
Extremely Safe for Any Age
Having bought baby bath tub manufactured by Fisher-Price company, you can be sure it will suit the needs of your baby since the very moment of his or her birth till the school age. All you have to do is put Fisher-Price 4-in-1 Sling N Seat Tub either in a sink or on any flat surface, accommodate your baby there and bath him/her. If your little angel is under 3 months, a soft mesh sling can keep your baby over the water and allow you to regulate the level of immersion. When your sweetie is as old as 6 months, you can replace the mesh sling with a so-called baby stopper. This insertion is made of non-slip foam that can prevent your baby from sliding. Really, it will help keep even the most lathery baby in place. If you want to bath your baby in a semi-sitting or stepped-lying position, you can accommodate him/her in a removable seat. This unit will not only guarantee safety of your little one but also provide a wide space for splashing in the water. In case you want to offer as more space for games as possible, you should just remove bath tub seat. Beyond any doubt, Fisher Price bath tub will provide your baby with a delightful bathing session. Don't leave your child without supervision in a bathroom so as to avoid various incidents that may lead to traumas. In a sum, Fisher Price bath tub will be a perfect gift for caring mothers and their kids. Keep in mind that a regular visual and tactual contact between a mother and a baby has a significant impact on a further mental and physical development of baby.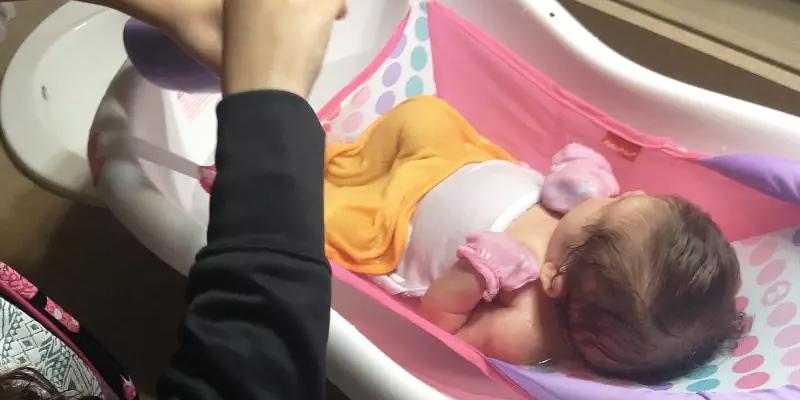 When Fisher Met Price
Fisher-Price is a worldwide famous company that manufactures toys for children. It was established in 1930 when a famous entrepreneur Herm Fisher decided that children of a new generation needed old-fashioned toys no longer. He wanted to represent new toys that would develop and stimulate kids' imagination. Having joined his effort with the ideas of two enthusiasts - Irving Price and Helen Schelle – he began his business. A combination of these businessmen's surnames became an official company name. Thus, Fisher-Price company revealed 5000 new toys to children worldwide. The main principle of Fisher-Price's business is to deliver products that would mean not only safety and comfort but also joy for a length of time.
More Products to Consider
If you like multifunctional items, you will highly appreciate Graco Pack 'N Play with Newborn Napper Elite. It will provide your baby with a sound sleep and enable you to change diapers effortlessly. And when your little one grows a bit older, you can use Graco Pack 'N Play as a playpen. A great product indeed!
Additional Info
Last updated price

$

50.34

Stock
In stock
ASIN

B014D4H75E
---
Fisher Price DLH01
Disney Pixar Finding Nemo
Favorite Cartoon Is Now Always With Your Baby
Almost all babies are fond of certain cartoons and can watch them all day long. It's hard to deny that an overwhelming majority of animated films are made by the Walt Disney company. So, having got Disney Bath Tub decorated with pictures from Princess, Sesame Street, Winnie the Pooh, Mickey Mouse, Finding Nemo, or Pixar Cars, you'll surely not miss a sitter and make your little one absolutely happy! Since this Disney bath tub is easily deflated, you can have it at hand wherever you go. We bet that your baby will urgently wait for the bathing session time to see his/her favorite characters.
Everything At Hand
One of the rules that must be kept while bathing baby is that all bath essentials should be at hand. First of all, you will need:
Shampoo! Aveeno Baby Wash & Shampoo is a great choice.
Baby soap. Our suggestion is gentle Weleda Calendula Soap.
Washcloth. The Motherhood Collection 6 ULTRA SOFT Baby Bath Washcloths can serve you and your baby for a long time.
Warm towel. Being wrapped in Baby Hooded Bath Towel, your kiddy will feel ultimate comfort.
Toys. Konfetti Bathtub Fishing Set With 5 Squirters and Clockwork Fish Toddler Girl Water Toys Wind Up Animal Clockwork Baby Doll will make bathing sessions funnier.
Many parents additionally buy Aquatopia Deluxe Safety Easy Bath Kneeler for a comfortable bath time. The soft kneeler unfolds just in seconds, providing you with pockets that are perfect for shampoos, soaps, etc.
Disney bath tub has also fitted with 2 big compartments for toys or other baby's essentials. Bathing sessions have never been so fun!
Last updated price

$

26.08

Stock
May be out of stock
ASIN

B01F4A8AQ6
---
Disney Pixar Finding Nemo
The First Years Y3155 Sure Comfort Deluxe
Bath Tub That Grows Up
Despite a very simple design, The Fisrt Years bath tub is perfect for bathing a baby aged 0-9+ months. You should also note that the maximum weight of your little one should not exceed 25 lbs. If you want to wash your newborn baby, you should better use a mesh sling. When your baby gets a bit older, a soft non-skid head holder and a stopper come in handy. So we can conclude that The First Years bath tub meets all the safety standards. Note that this toddler bath tubis fitted with a special compartment that is very useful for keeping baby shampoo or other essentials. And when your child grows older, he/she will be able to keep various toys in there. All in all, The First Years Newborn To Toddler Tub is the very item that will guarantee your baby a comfort bathing.
Swimming from the Birth
Beyond any doubt, hygienic procedures of your baby should not be limited to bathing only. Keep in mind that all newborn babies have a reflex to hold their breath while being immersed in water. This reflex is the leading one among others for babies under 6 months. So, you can effortlessly teach your kiddy to swim from the very birth. Note that there are swimming training courses for 6- or even 4-week babies. But, please, consult a pediatrician before attending such courses!
What things should you have for swimming in a public pool? First of all, purchase a reusable waterproof diaper. Read our best diapers review and make your choice. Don't forget about toys for swimming that can create a fun atmosphere for your little one. The next thing you should always have at hand is Luvable Friends Animal Face Hooded Woven Terry Baby Towel . It will perfectly protect your baby from draughts after swimming and won't let him/her catch a cold. Finally, purchase a diaper bag with a diaper changing pad. These are all the important items to have within easy reach to ensure comfort during swimming.
For the first immersion make sure to pick a place with a desert pool where the water temperature isn't lower than 90° F. Or you can buy an inflatable pool and keep it at home. The first training shouldn't last longer than 10 minutes in water, then you can start to gradually increase the time. 30 minutes in water is an optimal length of time for a kid under 1-year-old. If you've chosen to attend a public pool, it's important that you wash your child after each session in the shower, for it's not a secret to anyone, the water in pool contains a lot of bleach. Still, the most important rule for any caring parent is to be convinced that his/her little child enjoys swimming and has fun.

More Products to Consider
Young parents may go out of their depth when they have to wash their baby. Johnson`s Baby company has found a great solution to this very problem by gathering all necessary items in a Johnson's BATHTIME Gift Set.
Additional Info
Last updated price

$

0.00

Stock
May be out of stock
ASIN

B000067EH7
---
The First Years Y3155 Sure Comfort Deluxe
Munchkin Duck
Duck Story
This story began at the end of the 19th century when rubber has gained its popularity as a great material for manufacturing children goods. Peter Ganine patented the first rubber duck in 1940. Then toy was popularized by a famous singer Jim Henson who performed a song Rubber Duckie. Today you can choose a duck from a wide variety of colors, shapes and sizes. Some rubber duckie fans have even entered the Guinness book of World Records. For instance, Charlotte Lee has become famous for collecting 1439 ducks of a different size and color. Moreover, even British queen Elizabeth II has her own favorite rubber duck. So you can be sure that your kiddie will surely appreciate such a great toy. Owing to Munchkin company, you can gladden your little one with the rubber duck bath tub. Being bright and convenient to use, Munchkin bath tub will turn a bathing session into a great adventure!
Optimal Water Temperature
Before bathing your child, pay a particular attention to the water temperature since it has a significant impact on the health of your baby. If you want to temper your little one, fill the inflatable bath tub with the 90-98°F water. To detect the optimal water temperature, you should check it with your elbow or wrist. To make it easier for moms to indicate the right temperature, the manufacturer has equipped Munchkin Inflatable Duck Bath Tub with a White Hot Safety Disc. If the water in your Munchkin bath tub is too hot, this disc turns white so that you know it's not the right time to start bathing and the water needs to be cooled down a bit more. That's pretty convenient and trouble-free! No need for thermometer use.
More Products to Consider
As we have already mentioned, a yellow rubber duck is a must-have item for a bathroom. Perhaps Rhode Island Novelty 10 "Classic Style Rubber Duck will become your baby's favorite toy during bathing sessions.
Undoubtedly, the more toys there are in a bathroom, the more exciting the bathing for your baby will be. So Munchkin Float and Play Bubbles Bath Toy is an ideal option for those who want to provide their children with fun hygienic procedures.
Additional Info
Last updated price

$

34.91

Stock
In stock
ASIN

B0141LYE5U
---
VIDEO
Baby Bathing in Munchkin Duck
Munchkin Duck
Summer Infant Deluxe Bather
Essential Baby's Support
Newborn babies are very delicate. As their back and neck muscles are quite weak, they need a reliable support, especially while bathing. Such inventions as a Baby bather or a Bath support provide babies with total safety. That's why we recommend you to pay particular attention to the Summer Infant Deluxe Baby Bather that can deliver safety and a lot of fun to your baby. It boasts a padded head support that will help babies keep their head above the water and 3-position recline which will provide the maximum comfort. What's more, you can put this bather both into a bath or a sink to start bathing your baby. Don't forget that Summer Infant Deluxe Baby Bather is easily foldable, thus, you can always have it at hand.
First Bathing Experience
Generally speaking, a newborn baby does not need bathing. If a baby still has a navel string, it's advisable to use a sponge bath to keep him or her clean. Beyond any doubt, a first bathing session often makes young mothers nervous. Perceive this process as an opportunity to spend time together with your little one. But, still, it's important to have all the necessary items at hand for a successful bathing of your little sweetie. What are these necessary items? A baby soap, soft sponge, and a small plastic cup for washing your baby with water. Moreover, don't forget about a soft hooded towel, a new diaper as well as baby's clothing. The time right before sleep is considered to be the best for bathing. Accommodate your baby in a bath tub on a soft mesh sling and here you go! Everything's ready, you only need to give support to your little one and hold his/her head. When the bathing's over, wipe your child with a soft towel and finish the procedure with a caring smile. You two have done well together and the next time is going to be much more fun!
More Products to Consider
Cover the bottom of a bath with the Simple Deluxe Anti-Bacterial Anti-Slip-Resistant Bath Mat to make sure that the bath is reliably fixed.
If you are looking for a Summer Infant Deluxe Baby Bather of another color, draw your attention to a Pink Summer Infant Deluxe Baby Bather.
Your baby will need new diapers after bathing. We bet that every parent will be satisfied with the quality of Pampers Swaddlers Diapers. If you haven't bought them once, take our word for it, and give them a try!
Additional Info
Last updated price

$

64.95

Stock
In stock
ASIN

B003BTXSCE
---
VIDEO
Summer Infant Deluxe Baby Bather Product Video
Summer Infant Deluxe Bather
What is a Baby Bath Tub
As a rule, an overwhelming majority of parents go into a tail-spin when they have to bath their newborn baby for the first time. A correct choice of a baby bath tub is vitally important for safe bathing. Having read best baby bath tubs review, you will easily choose the bath tub that will suit your baby best. The best baby bath tub will make hygienic procedures delightful for your little wonder and easy for you.
After bathing, children need a sound sleep. Read baby crib and baby swing review to make the life of your baby more comfortable!
What Features to Compare
Type and Place of Use
First of all, take into consideration the type of a baby bath tub and its installation before purchasing it. Let's consider most popular models!
Standard bath tub is the most popular option for bathing your baby. There are a great variety of different size options, but note that the smallest tubs can be even put into a sink. Standard tubs are often shipped with a mesh or cloth sling for keeping a baby above the water. Moreover, some models enable parents to keep their baby in a slightly vertical position.
Convertible tub is extremely convenient in use due to the variety of adjustable removable elements such as mesh sling or removable baby bath tub seat, using which the bath may fit both newborns and toddlers. Convertible bath tubs are easy to use not only in a standard bath but also in a kitchen sink (if that's needed), which is another obvious advantage.
Foldable or inflatable bath tubs are great for small bathrooms since they can be folded for storage or transportation. Such models are excellent for taking to the beach or elsewhere.
Bath seats / rings are great for babies who can sit but still need extra support.
Luxury tubs are the most expensive models in this range. They are "SPA salon centers for kids" with the number of useful features: a water stream system, handheld shower, etc.
All baby bath tubs can be installed on different surfaces, including floors, tabletops and even sinks. However, regardless of the place of use, your child must be in your field of view.
Safety
Safety of your little one during bathing is a very important aspect. For example, if you need to bath a newborn, the tub should have a mesh sling for keeping a baby above the water or holding him in a semi-sitting position. If you want to purchase a best bath tub for a toddler, bear in mind that its interior surface mustn't be slippery. Otherwise, your offspring may get soused in water. As for bath tub rings, they must feature special suction pads for a secure fixation. Furthermore, most baby bath tub models are equipped with an embedded thermometer or a safety disk which changes its color when the water is too hot. Therefore, your baby will never get burnt. It should be added that water temperature about 90º-100ºF is considered to be optimal. However, don't rely on thermometers only and make sure to check water yourself before bathing your child.
Conveniences
Not only should a bath tub be safe, it should also be convenient. For this reason, manufacturers equipped their products with a variety of additional features that include drain plugs, special storage compartments and many more. Such little thing like a drain plug will let you keep your bath cleaner by ridding of the used water while storage compartments will allow you to neatly arrange all essential items required during bathing - shampoo, soap, toys, oil, etc.