Kitchen Appliances
Blendtec 621 vs Blendtec Designer 625
Product Comparison: Blendtec 621 vs Blendtec Designer 625
About the Product
The Total Blender Classic introduced all of the power and features that made Blendtec the choice of professionals.The Total Blender Classic features six preprogrammed cycles: Ice Crush, Smoothie, Hot Soup, Ice Cream, Whole Juice, and Batters. This exclusive blend cycle technology creates the perfect blends with the touch of a button.
The Blendtec Designer 625 features everything you need to create healthy smoothies, snacks, and meals in a matter of seconds. With an illuminated touch interface, preprogrammed cycles of the most popular blends, this is one blender you won't want to hide in the cabinets. The Blendtec Designer 625 features a capacitive touch, illuminated control panel with easy to see icons. It lights up with a single touch and shuts off automatically, and its completely flat design is easy to completely clean.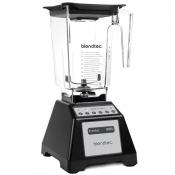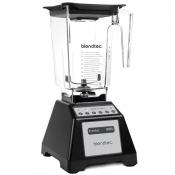 Blendtec 621
Blendtec Designer 625
What customers say about "Key Specs"
Blendtec 621 Blender Classic with WildSide+ Jar, Black
I can put my smoothie ingredients in, whether they are frozen fruit, ice, carrots, beets, kale, ginger, and vitamins, and the Blendtec can handle it all.
It doesn't leave things too chunky. It varies the speeds on its own, so I can put the ingredients in, press the button and it will cycle through different speeds and viola! Perfect smoothie!
The increased capacity of the jar is convenient when you're making smoothies for more than one person, and the horsepower is impressive - no more chunks of ice or frozen fruit clogging up your straw!
Very loud (sounds like a screaming demon when it's on high speed), does not completely liquidize most foods, smaller canister can only be used for thick preparations like hummus, as the non-sealing lid will spray liquids all over the kitchen.
Blendtec Designer 625 Kitchen Blender, Black
Super effective- it will truly pulverize whatever you ask it to.
Delicious, fast smoothies and protein shakes- a shake that would have taken five or ten minutes between screwing the blender parts together, and stopping/scraping with my old blender, now takes literally thirty seconds- just place the jar on the base and hit the appropriate blend button.
It works fast, so it doesn't need to be on that long, which is good because it can get very loud. But like I said, it doesn't need to run long to do its job.
User-friendly programs and variable speed - makes my life easier and required just a minute for my kids to learn to use it.
The wildside jar is too big for making small batches of sauce or nut butters, so i had to purchase the twist jar, which does work well.
It is very loud. Supposedly the Designers series is quieter than the original Blendtec models, so I'd hate to hear how loud those were. But at least it doesn't have to be on long.
What customers say about "Size & Weight"
Blendtec 621 Blender Classic with WildSide+ Jar, Black
Much shorter than other blenders, taking up less space and fits much better underneath our kitchen cabinets.
Lighter and easier to move around, store in cabinets etc.
Strong, easy to store, less bulky.
The height is great for pushing it under your cabinets and it isn't heavy so you can store it away very easily.
Being lighter than the Vitamix, it moves around more.
Blendtec Designer 625 Kitchen Blender, Black
It fits under the counter fully assembled so it can be stored easily on the counter.
The jar is made of a heavy duty BPA free hardened plastic and is very durable.
The overall weight of the blender is lighter than the Vitamix which makes it easier to move, but also makes it slide on the counter.
Attractive design, easy to wipe down the flat control panel, sleek and lower-profile for counter storage.
The blender is so powerful that it tends to slide on the counter when running at anything above medium power and we must put our hand over the top of the blender to keep it from moving.
Blade Material
Cold-forged hardened steel
Plastic
Extras
Fully sealed, push-button controls, Preprogrammed cycles: Smoothie, Batters, Hot Soup, Whole Juice, Ice Cream, Ice Crush, 10 speeds + Pulse, Illuminated LCD timer displays remaining time on blends
BPA-free jar with vented Gripper™ lid, 4 preprogrammed cycles, Illuminated, capacitive touch interface, 6-speed capacitive touch slider + Pulse, Illuminated display indicates remaining blend time
What customers say about "Features"
Blendtec 621 Blender Classic with WildSide+ Jar, Black
One button pre-set blending modes with a digital screen countdown timer. (I.E. Smoothie, Soup, Ice cream)
At least on the smoothie cycle, it is quieter than the Vitamix was when I used it to make smoothies. Still loud, but sounds more like a regular blender and less like a jet engine taking off.
The container is wide, easy to clean, easy to pour from.
The preprogramed cycles seem like they will take care of all circumstances we might run into. This is a high quality product and feels very durable.
The lid works just fine, but it feels cheaply constructed almost like they designed it as an afterthought. I have not done and research as to why the designed it the way the did, but it does feel odd.
Blendtec Designer 625 Kitchen Blender, Black
In the Wildside jar, the bottom of the jar is wide and also allows easy clean up.
Two piece lid fits well on mixer jar and allows for adding ingredients without removing the jar.
The pre-programmed buttons take away the guess work in knowing how to make the perfect blend.
The lid does come apart to rinse out if necessary. A very clever feature is the two open slots on the lid, you can actually just pour liquid over the top while operating it, if you feel you need to add more.
User-friendly programs and variable speed - makes my life easier and required just a minute for my kids to learn to use it.
The Wildside jar has vertical lines on two sides which make it very difficult to use a spatula to get all the blended goodies out.
What customers say about "Power"
Blendtec 621 Blender Classic with WildSide+ Jar, Black
The motor is very powerful, albeit mighty noisy.
Very versatile, Very powerful. Easy to use. Easy to clean.
I like that this blender has the power switch in the back too.
Blenders with this much power are loud. LOUD. Can't have a conversation in the same room while its running loud. Just be prepared for the noise. I dont even like to have the baby in the kitchen when it runs.
Blendtec Designer 625 Kitchen Blender, Black
The motor is very powerful and has easily blended everything we have tried, including quartered apples (seeds, cores and all for applesauce), whole tomatoes, leafy greens, whole strawberries with hulls on, nuts, and ice.
Powerful motor - does the job right the first time and in the matter of seconds.
Incredibly powerful, wonderful machine that evenly and perfectly blends whatever you give it.
So powerful that you could easily liquefy something unintentionally.
It's really really loud. It seemed to get louder as time went on, probably because of the rubber seal degrading.
Warranty / Certifications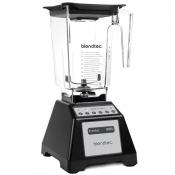 Blendtec 621
Blendtec Designer 625