Camera & Photo
Canon PowerShot G3 X vs Panasonic Lumix DMC-FZ1000
Product Comparison: Canon PowerShot G3 X vs Panasonic Lumix DMC-FZ1000
X
This site is a free online resource that strives to offer helpful content and comparison features to its visitors. Please be advised that the operator of this site accepts advertising compensation from certain companies that appear on the site, and such compensation impacts the location and order in which the companies (and/or their products) are presented, and in some cases may also impact the scoring that is assigned to them. The scoring that appears on this site is determined by the site operator in its sole discretion, and should NOT be relied upon for accuracy purposes. In fact, Company/product listings on this page DO NOT imply endorsement by the site operator. Except as expressly set forth in our Terms of Use, all representations and warranties regarding the information presented on this page are disclaimed. The information which appears on this site is subject to change at any time. More info
Model
PowerShot G3 X
Lumix DMC-FZ1000
About the Product
The PowerShot G3 X camera can be ideal for capturing and sharing all your adventures, indoors and out. With a compact, rugged design that's easy to carry, this premium camera gives you inspirational image quality through its 1.0-inch, 20.2 Megapixel* High-Sensitivity CMOS sensor, plus the power to zoom to an incredible 25x. You'll be able to capture what you see wherever life takes you: broad, majestic landscapes, virtually blur-free low-light images, and beautifully detailed wildlife.
The Panasonic LUMIX FZ1000 captures amazing imagery. Experience the world of 4K video capture. Enjoy true-to-life, ultra high-resolution images in smooth motion.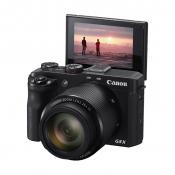 Canon PowerShot G3 X
Panasonic Lumix DMC-FZ1000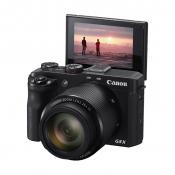 Canon PowerShot G3 X
Panasonic Lumix DMC-FZ1000
What customers say about "Size & Weight"
Canon PowerShot G3 X Camera
Light and small compared to RX10 and FZ1000
Its light/easy to carry
Small size and weight are at the top of my list. You get images close to DSLR quality with a much smaller and lighter weight camera.
Great small camera in a good price.
Panasonic Lumix DMC-FZ1000 4K Point and Shoot Camera
Size is nice, very chunky and feels good in the hand, but NOT pocketable.
This is not a pocket sized camera, but is also not big.
Since it's going traveling, that light weight could be a really good thing.
The camera this way the weight of the camera is't an issue,and if you wear glasses you will find yourself using this mode as default.
There is very little to fault here other than size, though that seems tiny to me as I own over a dozen professional cameras and this is the baby.
ISO Settings
125 - 12800
125 - 12800, Extended: 80 - 25600
Aperture
F2.8 (W) - 5.6 (T)
F2.8 (W) - 4.0 (T)
Low Light/High Sensitivity
Image File Format(s)
JPEG, DPOF
JPEG, RAW, DPOF, AVCHD, MP4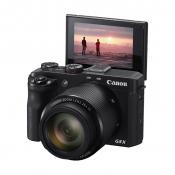 Canon PowerShot G3 X
Panasonic Lumix DMC-FZ1000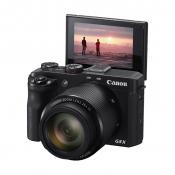 Canon PowerShot G3 X
Panasonic Lumix DMC-FZ1000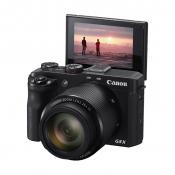 Canon PowerShot G3 X
Panasonic Lumix DMC-FZ1000
What customers say about "Imaging"
Canon PowerShot G3 X Camera
24-600mm optical zoom (2400mm digital). That's sufficiently more than the FZ1000's 400mm to shot for the moon properly, for example.
Picture quality is amazing; it is indistinguishable from my 60D. The Image Stabilization works extremely well. Image quality at higher ISO settings is fantastic.
Noise at moderately high ISO settings can be nearly eliminated with the de-noise functions in Photoshop or Lightroom.
Impressed by the image quality over my trusty 12mp S120 I've been using for a year and a half. The larger sensor is making a big difference already and having more manual features in star mode is great too.
No real slowmo modes (rx10 does 960fps shooting)
Its slower to take pictures than the competition, noticeably, specially if you don't use the burst mode (burst is also slower though)
Auto mode cannot shot raw, all other modes require setup before shooting
Panasonic Lumix DMC-FZ1000 4K Point and Shoot Camera
The camera itself is quite nice, with surprisingly decent image quality, dynamic range, and sharpness at all focal lengths.
The zoom on the shutter button is very fast.
That long zoom and super fast burst mode is perfect for shooting a lot of kids running around everywhere and, if you have kids, you know what I'm talking about.
Another menu-less feature I'm enjoying is the drive mode dial, to select between burst, timer, and bracketing.
The zoom on the camera lens is not as fast and the shutter button zoom lever is much better.
Viewfinder
0.39" OLED LVF (Live View Finder) (2359K dots)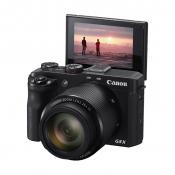 Canon PowerShot G3 X
Panasonic Lumix DMC-FZ1000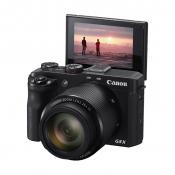 Canon PowerShot G3 X
Panasonic Lumix DMC-FZ1000
What customers say about "Display"
Canon PowerShot G3 X Camera
Touchscreen. Actually works well and is useful for setting up compared to buttons.
The touch screen and the external controls are similar to other Canons, which makes it easier to use, and where the functions aren't to one's liking they can be reassigned.
I do like the tilt touch screen - specially for the auto-focus (you touch on the thing you want to focus on and it locks onto it as you pan the camera).
Touchscreen orientation does not go sideway, only up/down and flipped-upwards for "selfies"
One problem with the touch screen (which I mostly like) is that it is too easy to change settings by mistake with your thumb.
Panasonic Lumix DMC-FZ1000 4K Point and Shoot Camera
And the images in daylight were great, with plenty of resolution and lack of noise to permit important crops when necessary.
4K resolution is simply stunning outdoors and in bright interiors.
The images through the viewfinder are virtually never truly sharp, no matter how much I fiddle with the focusing ring on the side of the viewfinder.
Shooting Modes
Hybrid Auto, Creative Shot, C1, C2, M, Av, Tv, P, AUTO, Portrait, Smart Shutter, Handheld Night Scene, Snow, Nostalgic, Fish-eye Effect, Miniature Effect, Toy Camera Effect, Background Defocus, Monochrome, Star Time-Lapse Movie
Intelligent Auto, P, A, S, M, Creative Video, C1 (Custom), C2 (Custom), Scene Guide, Creative Control
White Balance Modes
Auto, Daylight, Shade, Cloudy, Tungsten, Fluorescent, Fluorescent H, Flash, Custom1-2
Auto, Daylight, Cloudy, Shade, Incandescent, Flash, White Set1, White Set2, White Set3, White Set4, Color Temperature
Shutter Speeds
15" - 1/2000
60" - 1/16000
What customers say about "Features"
Canon PowerShot G3 X Camera
There are a lot of manual and auto modes for creating the best photo.
The image stabilization is quite good--I have not had a difficulty with blurred images.
The image stabilizer worked pretty well. Here you may hear some "clunking" noises which I read else where that it is the image stabilizers moving around a bit, being too close to the lens so I read.
No built in EVF (there's an external one to buy separately)
Lens hangs around when powered off, makes a bit of noise which feels like its clunky (even thus it doesn't cause any issue)
Panasonic Lumix DMC-FZ1000 4K Point and Shoot Camera
The pictures it shoots are breathtakingly gorgeous, the camera is easy to use and I'm having great fun learning all of the advanced features.
I just shoot family stuff like sports, events, and outdoor scenery when we go hiking or something.
This camera is a bit of a power hog. If you want to shoot a lot of footage Take several spare batteries with you . I think it gets worse when image stabilization is switched on.
And the auto white balance is a little cool for my taste. And I don't think a rank amateur will be able to take advantage of all it's features, even though they will get great photos on the automatic settings and preset scene settings.
The automatic white balance tends toward warm and green, which is not always great for skin tones, and often makes landscapes look filmy once they're edited (even when shooting raws). The grain is pretty noticeable, I'd say. If that's the look you're going for, though, it's great.
Output(s)
Micro HDMI, Micro USB, A/V (PAL/NTSC), 3.5mm audio
Micro HDMI, AV Output (NTSC), USB (AV/USB Multi)
Number Of Memory Card Slots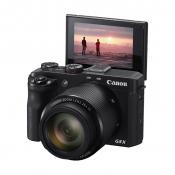 Canon PowerShot G3 X
Panasonic Lumix DMC-FZ1000
What customers say about "Connectivity"
Canon PowerShot G3 X Camera
Fast/easy way to transfer pictures wirelessly (better than sony/panasonic's). Remote shooting only works on iOS right now.
Hot shoe supports add-on EVF and Canon Speedlites.
Mic and headphone connections.
Remote shooting using the iOS Canon Camera Connect app works great for stills
Wifi very simple to use and works well when traveling.
EVF is a pricey accessory.
Panasonic Lumix DMC-FZ1000 4K Point and Shoot Camera
A particularly nice feature is using NFC to control the camera with my smartphone. All in all, a very nice package.
Geotagging is accomplished via the Panasonic app and the phone's location services; alas, there is no GPS built in to the camera.
When using the HDMI output, it won't record to the SD card. Serious flaw in design. Otherwise, great camera, many filters and settings.
I wouldn't recommend this for professionals. It's not possible to get real time video output over the HDMI.
The HDMI output is disabled while recording video.
Battery Model
Battery Pack NB-10L
Li-ion Battery Pack (7.2V, 1200mAh, 8.7 Wh)
Warranty / Certifications