If you're looking for an epilator that will guarantee you a faster epilation and more precise results, you simply can't pass
by the innovative Braun Silk-épil epilators. Featuring longer tweezers and wider epilation heads, they can remove the shortest hair, providing long-lasting smooth skin for a month.
...
Read more
...Read less
Braun Silk-Epil 9 (SE9-579)
Braun Silk Epilator for Wet and Dry Use
The Braun 9-579 Silk-epil includes a set of caps that allow epilating several body zones. Along with a facial cap, which we like a lot, it also includes a facial cleansing brush that you can use for cleansing your face and removing deep-pore impurities. This practically means that you get an epilator and exfoliation tool. While there aren't many things not to like about the Braun 9-579 Silk-epil we do find it frustrating that it has no cap with a freezing effect. That small addition would've been a nice bonus, making the use of the epilator virtually painless. The presence of built-in massage rollers, however, to a big extent makes up for this minor flaw.
Fitted with a wide pivoting head that has 40 tweezers and boasting close-grip technology, the Braun 9-579 Silk-epil can remove more hairs at high speed and grab even the shortest ones (up to 0.5mm) with utmost efficiency. SmartLight helps you illuminate the skin and spot even the tiniest and finest hairs. Also, the Braun 9-579 Silk-epil has two speed levels which help make the process of epilation faster and less painful. The fast speed is best used for coarse hair, whereas a slower one is used for soft hairs.
Running on a battery that recharges in about one hour, the Braun epilator provides up to 40 minutes of runtime. We believe this time should be more than enough for you to do all body zones you want. Add to that a 40% wider epilation head and the fact that it can easily cope even with the shortest of stubble, and it's easy to see why so many people love this machine. So if you'd like to achieve the maximum smoothness with less discomfort, the Braun 9-579 Silk-epil is your best pick.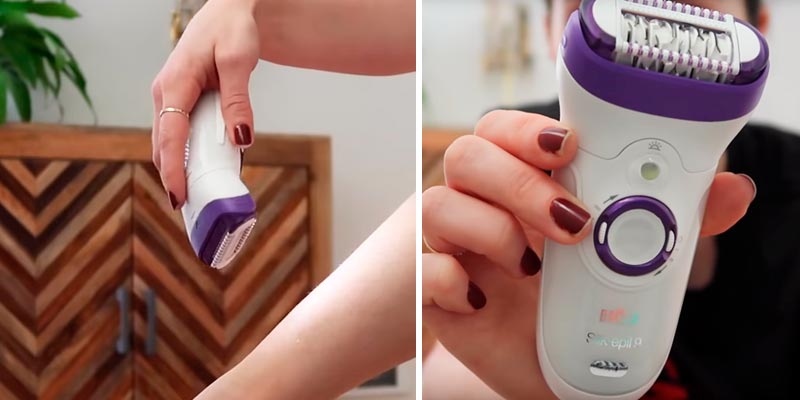 Additional Info
---
What customers say about this product
The motor is very powerful, and the head is wide which speeds up the not so present act of epilating.
It is a nice size. I love the light on it so i can see every single hair.
Easy to use. Looks great. Love all the features, such as the facial brush.
Braun Silk-Epil 9 (SE9-579)
Braun SE5280 Silk-épil
Painless Epilation of Sensitive Zones
If you felt reluctant to try using an epilator on delicate body zones, it's time that you do it. The Braun SE5289 is designed specifically for gentle epilation of all body parts, including bikini zone, face, and armpits. Fitted with a high-frequency massage system, the epilator ensures that the procedure causes little to no pain. Plus, it has a cooling glove which greatly maximizes a soothing effect. The Braun SE5289 boasts the Close-Grip technology which lifts and removes hairs right at the root, making sure the skin is perfectly silky and smooth. In case you prefer shaving method, there's an option to change an epilator head to a razor cap. For doing sensitive areas such as bikini and armpits, it's best to use a trimmer head.
One of the biggest advantages of this Silk-epil model is that it's able to operate in both a cordless and corded modes so if you happen to forget to charge it, you'll have an option to use it from the grid. Speaking of cons, the only one we can think of is that it might be rather loud while working. That said, it'd be fair to note that very few models, which are offered on sale, can be described as totally noiseless.
This Braun Silk-
epil
epilator will change the way you think about epilation. After the very first procedure, you'll be able to see all the benefits epilation provides and are very unlikely to ever get back to shaving or using wax. With the Braun SE5289, the epilation is virtually painless, and the results last for at least three weeks.
Braun SE5280 Silk-épil
Braun Silk-épil 7-880
Smart Epilator
If you don't have much experience with epilators and you seek a model that will be super easy to use, we recommend purchasing the Braun Silk-épil 7-880.
The feature that makes this hair removal device stand out from the crowd is the SensoSmart technology. Thanks to it, the epilator controls the pressure you apply while epilating. It can grip even the thinnest hairs that are about 0.5 mm long. 40 tweezers in the pivoting head will gently remove them from the roots. So even if you are new to an epilation world, with this device you will be able to achieve the best results.
This model comes with 7 extras in a set. You get 5 different caps for efficient epilation on different areas like a Facial cap and a Sensitive cap, plus there is a Shaver head, a Skin Contact cap and a Trimmer cap. To keep the device clean, the manufacturer provides a cleaning brush, but you can also wash the working head under running water since the device is waterproof. The manufacturer includes a pouch that allows storing all the attachments in one place.
The Braun Silk-épil 7-880 will give you silky smooth skin for weeks. Its pivoting head will precisely replicate every curve of your body, and the SmartLight won't let you miss a single hair. It is one of the best Braun epilators for ladies that don't have much experience with such devices.
Braun Silk-épil 7-880
Braun Silk-épil 5 5-541
Quick Charging
The Braun Silk-épil 5 is a functional device that will suit those ladies who travel a lot and need to have a rechargeable hair remover for use on the go. This model requires only 1 hour to get fully charged and provides you with 30 minutes of work at full charge. This time should be enough for epilating the whole body. Such a quick charge will also become handy if you forgot to charge the unit in advance and are in a hurry. With it, you won't have to wait very long until the epilator is ready to use.
The next great thing about this tool is that it is waterproof and it can be used in the shower. The device has an ergonomic body with an anti-slip grip, which makes its use extra comfortable even if you hold it with wet hands.
As for the extras, this model from Braun has all the necessary attachments for effective hair removal like a Shaver head, Trimmer cap and Skin Contact cap. There is also a Massage cap that helps reduce painful sensations during epilation. But unfortunately, unlike other Braun epilators, this device doesn't have a SmartLight feature, which makes it a bit less functional when used in low lighting.
To sum up, if you need an epilator with a quick charge, the Silk-épil 5 is one of the best Braun Epilators you can find. It is ergonomic and comes with everything you need for efficient and painless epilation.
Braun Silk-épil 5 5-541
Braun SE3170 Silk-épil 3
Dry Epilation
If you are not a big fan of using an epilator in the shower and you don't actually need a wet epilation feature in your device, then this model will suit you to a T. The unit features special SoftLift tips that lift each hair that sticks to your skin and directs it towards the pincers, thus guaranteeing you a thorough hair removal.

If you wonder whether epilating with the SE3170 is painful, relax and not worry. Even though the unit has a smaller amount of tweezers in its pivoting head (20 tweezers) and you will need to make more strokes to remove all the hair, the painful sensations will be reduced. Plus, the unit offers 2 speed settings to choose from. The first one is good for epilating sensitive skin and delicate body areas; the second one is good if you want to streamline the procedure. More to that, the epilator is fitted with massage rollers and comes with a cooling glove so you can minimize the discomfort even more.

Further on, the Braun SE3170 Silk-epil 3 is very easy to use. This makes it a sound choice for novices who don't have much experience with this type of devices. Moreover, the unit is not huge and has an ergonomic design so you can hold it in the hand comfortably even when your hands are slippery.

Additional Info
---
Braun SE3170 Silk-épil 3
What Is an Epilator?
An epilator is an electric appliance that removes body hair by plucking it out with the help of multiple tweezers. Since its first introduction in the late 1980s, this device has become extremely popular due to its high efficiency. There are a lot of advantages to using an epilator. One of them is that you can use it safely on all body parts. It will give your skin a long-lasting silky feeling. Another one is that, compared to shaving, it almost excludes risks of cuts and skin irritations after use. Nevertheless, like any other product, epilators aren't totally flawless and have a few disadvantages to them. The biggest one, of course, is that epilating can be painful, due to the fact that epilators pull out each hair individually. However, this con won't be a deal breaker for those who are used to waxing. One other negative point is that epilators often come at quite a steep price. That said, buying an epilator is a long-time investment since it is reusable and you won't need to replace it for a long time, which cannot be said about shaving razors. This is especially true when it comes to Braun epilators that introduce a new standard of epilation, with their 40% wider epilation heads and patented Mirco-Grip Tweezer Technology. Braun company has been in the market long enough to learn their customers and their requirements so they produce a whole range of goods including but not limited to beauty care, health, wellness, grooming, and shaving products. Speaking of epilators, the choice is huge. To help you choose the model that will fit you better, we've compared the best five of them.