Want to smell fresh no matter how hard your day gets? A regular deodorant stick might do the trick but a crystal deodorant will help
spruce up your hygiene as well as keep your body free of chemicals found in regular products!
...
Read more
...Read less
X
This site is a free online resource that strives to offer helpful content and comparison features to its visitors. Please be advised that the operator of this site accepts advertising compensation from certain companies that appear on the site, and such compensation impacts the location and order in which the companies (and/or their products) are presented, and in some cases may also impact the scoring that is assigned to them. The scoring that appears on this site is determined by the site operator in its sole discretion, and should NOT be relied upon for accuracy purposes. In fact, Company/product listings on this page DO NOT imply endorsement by the site operator. Except as expressly set forth in our Terms of Use, all representations and warranties regarding the information presented on this page are disclaimed. The information which appears on this site is subject to change at any time. More info
Crystal Unscented, 4.25 oz
No Smell, No Trouble
Want to ensure proper hygiene at all times but aren't a big fan of those new deodorants with artificial smells and chemicals that don't really do much? We recommend going for the classic option of Crystal Unscented, a compact and odorless deodorant that's just as effective at keeping your armpits sweat-free and your shirts clean.
Despite its 4.25 oz size, this is one of the smaller models among the Crystal range and thus perfect for traveling. It also has a 1.5 oz counterpart that's pretty much a copy of this Crystal deodorant but in travel size.
You won't have to worry about allergies that regular chemical products tend to cause, as the Unscented deodorant is made with pure mineral salt, free of nasty additives. It's been approved by dermatologists and tested on human skin to ensure that no rashes are caused.
Unlike some cheaper models, this deodorant doesn't crumble or crack off with time, remaining whole even after days of heavy use. It does, however, tend to fall out of the holder as time passes, seemingly as the stick gets depleted. Still, that's not too much of an issue unless you like holding the deodorant upside down for some reason.
All in all, this product is large enough to last you a long time, compact enough to fit into most luggage, made of natural minerals to prevent allergic reactions, and works for up to 24 hours. So if you're looking for something classic and healthy, the odorless and organic Crystal Unscented is a perfect choice.
Last updated price

$

4.15

Stock
In stock
ASIN

B000L998JY
---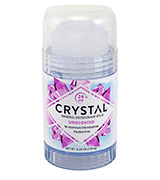 Crystal Unscented, 4.25 oz
THAI Natural Crystal Unscented, 4.25 oz
Sweat-Free for Days
Need reliable protection from sweat that is guaranteed to last longer than those cheap deodorants do? Try out the THAI Natural Crystal Unscented, an organic crystal deodorant stick that is hypoallergenic and offers long-lasting protection.
We do have to say right away that the advertised 4.25 oz size is a bit exaggerated as the actual capacity of the deodorant is around 4 oz or so. Not too substantial but we feel that it's important to know everything about the product you're buying.
Conversely, the promise of the deodorant working for more than 24 hours is completely honest and that's exactly what makes the THAI Natural stand out. Perhaps it's the choice of mineral potassium salts that makes this deodorant's effect more long-lasting. Plus, the materials are all organic and hypoallergenic, so there's very little chance of an adverse reaction.
The THAI Natural doesn't clog your pores and doesn't interfere in your regular sweat excretion while still preventing stains on your shirts and the nasty smells. It's a non-intrusive, all-organic deodorant that is sure to protect you for over a day easily. An astute choice that, despite a smaller than expected size, will save you money in the long run.
Last updated price

$

6.43

Stock
In stock
ASIN

B000AN1JEI
---
THAI Natural Crystal Unscented, 4.25 oz
Crystal Unscented, 3.0 oz
Two Birds with One Stone
Tired of regular old deodorants and itching to try something different? We recommend switching it up completely and using the Crystal Unscented Mineral Stone. This chiseled stone is made of natural mineral salt and thus much healthier to use than regular chemical-filled deodorants.
Sure, it seems crazy at first, rubbing a chunk of natural mineral salt on your armpits. But years of use have proven it to be a handy way to keep sweat at bay. While the 24-hour effect isn't above what you get from most deodorants, the organic and hypoallergenic material choice certainly makes it a bit different.
Plus, most people usually only use deodorants for their armpits but the Crystal Mineral Stone can be applied to your soles. That area also tends to get pretty sweaty, leaving your shoes smelly and unpleasant to wear. However, a few passes of the stone will help curb that problem. It does feel a bit awkward at first and a stick deodorant is usually easier to hold than a full-on stone but it's worth it in the end.
So if you want something new and reliable, the Crystal Mineral Stone is a great find. It won't crumble or leave white stains on your shirts and yet it keeps the sweat smells away just as well as any standard deodorant, except with the added benefit of organic materials.
Last updated price

$

0.00

Stock
May be out of stock
ASIN

B00028QA72
---
Crystal Unscented, 3.0 oz
Positive Essence Unscented, 5.6 ounces
Sometimes Size Matters
Hate that feeling of stickiness that regular chemical-filled deodorants leave after application? You don't have to bear it any longer as the Positive Essence Unscented is a viable and all-natural alternative.
Although the mineral stick is designed to resemble the classic models that you can see in any supermarket, it's made out of natural potassium salts. This both makes it a healthier choice and a safer one as the salts are less likely to cause allergic reactions or rashes.
We do have to admit that we expected a duration higher than 12 hours but, really, it's enough for a whole day out. Besides, it seems like the deodorant gets more effective if applied regularly so a few weeks of use will end up netting you a duration of 15-16 hours for sure.
Unlike some other Crystal models, this is a push stick, so you can rest assured that it's not only not going to crumble but will also stay planted firmly in its housing. And, as we've already mentioned, the stick doesn't leave any residue on the skin so you don't have to worry about ruining your favorite shirt with white stains.
Last but not least, we've got to commend the impressive 5.6 oz size, enough for many months of regular use. Sure, it's a bit undercut and lower-than-average duration but you'll still save a bit of money as this is the biggest container size out there.
In the end, if you're looking for a healthy deodorant that won't leave your skin oily or sticky, the Positive Essence is a fine choice. Though not without its flaws, this mineral stick will help you forget all about sweat and stay hygienic throughout the day.
Last updated price

$

0.00

Stock
May be out of stock
ASIN

B01L6B3X82
---
Positive Essence Unscented, 5.6 ounces
Crystal Unscented, 4.2 oz
The Unscent of a Man
Although real men are always portrayed as hairy and wrestling with wildlife, we do believe that a true man should also maintain good hygiene. There's nothing nastier than getting caught out in the sweltering summer with sweat-doused armpits, especially since it's easily preventable. All you need is the Crystal Unscented Mineral Stick for Men.
This big deodorant stick is large enough at 4.5 oz to last a year of heavy use and you won't even have to use it all that often. Once a day is more than enough as the effect lasts up to 24 hours, even if the user is out doing manly things like chopping wood or working the fields (however unlikely that may be).
The Crystal Mineral is a twist-up model and we recommend never getting too much of the crystal out of the casing as it is admittedly quite brittle and might end up crumbling should you apply too much pressure. However, that brittleness is actually a good sign. You see, the Crystal Unscented for Men isn't made of some random chemicals, it's all-natural, created using potassium salt. It's hypoallergenic and non-staining, a big bonus if you want to keep your favorite shirts sweat- and stain-free.
We get that men usually don't pay much attention to what type of deodorant they use but the Crystal Unscented is a very smart choice. It's affordable, just as effective as the chemical-filled counterparts, doesn't leave stains, and won't cause any unpleasant skin conditions. A manly choice for a thrifty shopper.
Last updated price

$

0.00

Stock
May be out of stock
ASIN

B00028QF9U
---
Crystal Unscented, 4.2 oz
What Is a Crystal Deodorant?
We probably don't need to explain to you what a deodorant is, right? Everybody uses them and most people know the basic concept of this product - a stick that you rub on your armpit to keep unpleasant odors and smells away. Nothing fancy, really, their best way to impress is with stain-free properties or certain aromas catering to different tastes. However, not everybody is excited at the prospect of shoving a bunch of chemicals into their armpit and trusting them to do the task without harming their health. That's where the Crystal body deodorants come in.
It does sound positively crazy at first, rubbing a crystal rock on your armpit. Many users were apprehensive at first but, in the end, the benefits shine through. The whole point of the Crystal deodorants is their lack of harmful chemicals as the whole stick/stone is made of natural elements. It does have ammonia and salts but they are all naturally occurring with much less risk of allergies or long-term health impact. This coupled with the affordable price has made the Crystal deodorants a mainstay in modern culture for decades.
If you like to take care of your body without subjecting it to nasty chemicals, we recommend that you also check out natural tanning oils and massage oils.