Smartphones & Accessories
Sonos PLAY:3 vs Sonos PLAY:5
Product Comparison: Sonos PLAY:3 vs Sonos PLAY:5
About the product
PLAY:3 delivers richer, more robust sound than PLAY:1. Deeper bass, too. All of which makes it just right for places like bedrooms, kitchens, home offices and dining rooms. Single Speaker Stereo: PLAY:3 plays your favorite songs in full stereo. Three Class-D amplifiers and three custom-built drivers create a full, wide sound stage so the instruments and vocals really shine. More Powerful Bass: A rear-firing bass radiator pumps out exceptional deep lows for a speaker its size. Trueplay Speaker Tuning: This exclusive SONOS feature fine-tunes your PLAY:3 to make sure you get the very best sound in any room, no matter where you place it.
Sonos is the wireless Home Sound System that fills your entire home with great-sounding music. Use one app to stream different music to Sonos speakers in different rooms. Or send one song all through the house.
Audio formats supported
Compressed MP3, AAC (without DRM), WMA without DRM (including purchased Windows Media downloads), AAC (MPEG4), AAC+, Ogg Vorbis, Apple Lossless, Flac (lossless), uncompressed WAV and AIFF
Music services supported
7 Digital, 8 Tracks, Amazon Cloud Player, AUPEO!, Batanga, Beats Music, Blinkbox® music, Ca lm Radio, Concert Vault, Dar.fm® Record Radio, Daytrotter, Deezer, Google Play Music, Grooveshark, Hearts of Space, hotelradio.fm™, iHeartRadio, JB Hi-Fi NOW, JUKE, Last.fm, Live365, MLB.com Gameday Audio, Murfie, Napster by Rhapso dy, Netease, Pandora, Qobuz, radionomy, rara.com, Rdio, Rhapsody, RUSC, Sh uffler.fm, simfy, SiriusXM Internet Radio, Slacker, Songl, Songza, SoundCloud, Spotify, Stitcher SmartRadio, TDC Play Musik, The Hype Machine, TuneIn, WiMP, Xiami, YouMusic, Zdigital, and downloads from any service offering DRM-free tracks
Apple Music, Pandora, Amazon Music, Spotify, Google Play Music, SiriusFM, Deezer, Tunein, Napster, 7 Digital, iHeartRADIO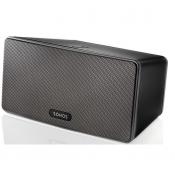 Sonos PLAY:3
Sonos PLAY:5
Product benefits
Multiple orientations
Streams over wi-fi, not Bluetooth, so the music never stops – even if you get a phone call.
Operating systems supported (for stored files)
Windows® XP SP3 and higher, Macintosh OS X 10.6.8 and higher
Features
Stereo sound, can be home theater rears, simple setup, 3 Class-D digital amplifiers, adjustable bass and treble controls
Six Class-D digital amplifiers, transparent sound without interference
Bluetooth version (if specified by manufacturer)
Wi-Fi band(s)
One band 2.4 GHz
One band 2.4 GHz
Warranty / Certifications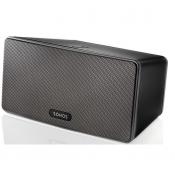 Sonos PLAY:3
Sonos PLAY:5
Product manuals
https://images-na.ssl-images-amazon.com/images/I/91oR2whwYTL.pdf
Date first available
July 20, 2011
September 28, 2015