Smartphones & Accessories
Bose SoundLink III vs Ultimate Ears Megaboom
Product Comparison: Bose SoundLink III vs Ultimate Ears Megaboom
About the product
Meet the speaker that brings your music and friends together—with a style that's all your own. The SoundLink Bluetooth speaker III is our best-performing mobile Bluetooth speaker. It plays louder and longer than its popular predecessor, with advanced Bose technologies that reproduce the fullness, clarity and depth of your music. And a colorful assortment of optional covers let you personalize your speaker.
PartyUp from Ultimate Ears lets you connect wirelessly to up to 150+ Ultimate Ears speakers using the Ultimate Ears app***, so you can take your parties everywhere. Caves. Mountains. Lakes. Rooftops. You name it. So grab your friend's speakers and your friend's friend's speakers and head to any location you can dream up to take the party to a whole new level.
Connection Type
Pairs easily with your smartphone, iPad or other Bluetooth devices. The speaker remembers the most recent six devices you've used, so reconnecting is even simpler.
360-degree sound, IPX7, Pair Up to PartyUp, support Bluetooth Hands-Free Profile (HFP1.5)
Battery Type
February 6, 2014
April 1, 2015
Extras
Silicone button panel protects from dirt and dust
Shockproof
Supported Systems
Android Jellybean and higher
Warranty / Certifications
Product manuals
https://assets.bose.com/content/dam/Bose_DAM/Web/consumer_electronics/support/pdfs/soundlink_bluetooth_speaker_iii/Soundlink_bluetooth_speaker_III_qsg_multi.pdf
Bluetooth version (if specified by manufacturer)
Music services supported
Amazon Music, Spotify, Pandora, iHeartRadio, TuneIn
Bose SoundLink III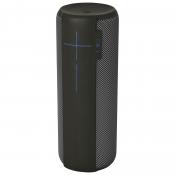 Ultimate Ears Megaboom