There is an alternative to a finger that may be used to control touch screen devices. This alternative is called a stylus pen. This
review compares several styluses most popular among experienced users. Make your choice!
...
Read more
...Read less
Length / Diameter / Weight
Adonit Jot Touch with Pixelpoint Pressure Sensitive Precision Stylus
Tip Features
This Adonit stylus has Pixelpoint, a chrome-plated tip made of a stainless steel for its longest possible usage without replacement. This tip is really fine-point of 1.9 mm only, allowing you to experience the incomparable precision when drawing lines of various thicknesses. This unbeatable precision is also explained by its 2,048 grades of sensitivity, the feature usual for styluses intended for use with graphic pads. It should be mentioned that this Adonit device is an active stylus, so you can draw lines regardless of an angle between your hand and the screen. In addition, the stylus has a built-in grip sensor that activates the device as soon as you take it.
Compatibility and Size
Compatibility of this stylus is limited, meaning that it works exclusively with mobile gadgets made by Apple including such popular models of tablets and phones as iPad 4, all types of iPad Minis, all iPad Airs, iPad 12.9 and iPhone 5. We have to note that compatibility parameters of Adonit Jot Touch with Pixelpoint Pressure Sensitive Precision Stylus exceed the producer's own Apple Pencil by the number of models that can be synchronized with this stylus. Besides that, this device can be used with a great number of various applications for drawing offered by AppStore: GoodNotes, Concepts, Notes Plus, AutoDesk Sketchbook, Astropad, Medibang Paint, Zen Brush 2, Animation Desk Cloud, Picsart Photo Studio, and Tayasui Sketches. The model taken for review is wonderful in terms of comfort and due to its physical dimensions, it will provide you with hours of continuous usage without a hand fatigue. The stylus length is 150 mm, body diameter is 10.5 mm, and weight equals 20 g.
Features and Material
Palm Rejection is one of the major features of the device; this means you can freely place your palm on the screen having no trouble about the accidental input of any data. In this case, the connectivity with mobile devices is done via Bluetooth, assuring fast set-up and substantially high connection stability. It is also worth mentioning that it is the first stylus which can be connected to Adobe Creative Cloud service. You can get access to files and work effectively wherever you are. The power supply from the built-in battery lasts up to 15 hours in case of constant work and one month in a stand-by mode. The battery is charged from USB port of a computer or AC/DC adapter and is fully charged in one hour. A distinctive feature of this stylus is the programmable buttons for shortcuts to the frequently used apps. Also, the stylus is pressure sensitive, meaning that you can adjust the thickness of the drawn lines by the pressure on the tip. The body of a device is made of aluminum, making it light but highly durable, and the rubber band allows for a reliable finger grip.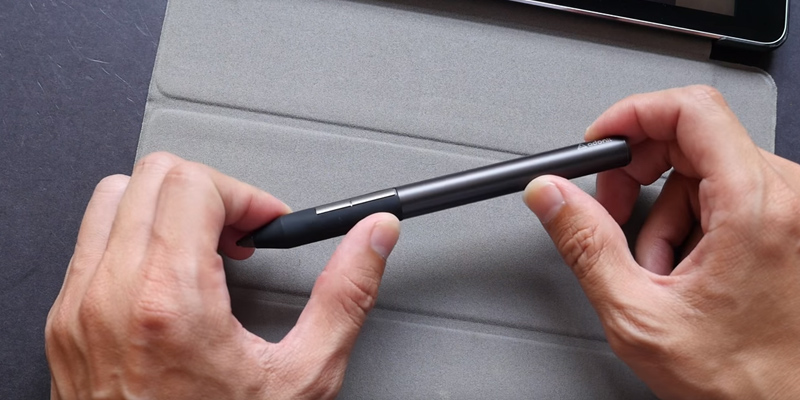 ---
VIDEO
Adonit Jot Touch vs Adonit Jot Script
Adonit Jot Touch with Pixelpoint Pressure Sensitive Precision Stylus
FiftyThree 53PW06 Pencil Digital Stylus
Tip Features
FiftyThree 53PW06 Pencil Digital Stylus features a unique tip consisting of rubber material and ensuring long-lasting usage. We would like to stress that in case of its wear-out, you may purchase more tips separately. The cone-like shape of the tip is designed to draw fine details and lines with the point and broad strokes with the angled edge. We want to emphasize the remarkable precision of work with this stylus which has a special 14kt gold sensor under its rubber tip for fast and accurate reaction.
Compatibility and Size
FiftyThree Stylus is compatible mostly with gadgets manufactured by Apple, including such popular models as iPads 3 and 4, iPad Mini, iPad Pro, iPhone 4s and above. It is also necessary to mention the support of a range of iOS applications for drawing, namely: Paper, OneNote, Adobe Illustrator Draw, Adobe Photoshop Sketch, Astropad Graphics Tablet, Concepts, PicsArt Photo Studio, GoodNotes, Tayasui Sketches, Procreate, Noteshelf, Sketchbook, Mobile Mouse, PDFPen, Notes Plus, Inkredible, FlowPaper, and ZoomNotes. Speaking about convenience, it is one of the most comfortable devices offered on the market. Aside from its stylish appearance, it is well balanced and has a fine grip in any hand. The length of the stylus is 138 mm, its diameter is 15.6 mm, and the weight makes 26 g. All in all, you will be definitely satisfied working with this stylus.
Features and Material
The distinctive feature of this stylus is the Palm Rejection function, which is responsible for recognition of palm touch to the screen and prevention of incidental input of symbols. Plus! The device is synchronized with mobile gadgets via Bluetooth Smart Wireless connection providing fast and stable data exchange. The attachable battery is charged from any USB port within 90 minutes. This charge is sufficient for up to one month of regular work. One more specific feature of this stylus is the built-in eraser on the opposite side of the tip, which allows bold experiments with your drawings. The errors can be easily corrected or deleted immediately without changing tools. Additionally, it should be noted that this stylus features the magnetic snap that attaches it to Apple iPad Smart Cases & Covers. The exclusive design of the device is expressed by the material used: the solid body is made of walnut (though brushed aluminum and gold body is available too) giving it an elegant appearance.
---
VIDEO
Pencil by FiftyThree in Paper, Procreate and Noteshelf
FiftyThree 53PW06 Pencil Digital Stylus
Wacom Bamboo Stylus Pen (CS100K)
Tip Features
Wacom Bamboo Stylus Pen represents one of the best examples of passive styluses which have no need for use of batteries. The stylus has a carbon fiber tip with a relatively good resistance to wearing out. The tip is exchangeable, so you will not need to buy a new stylus if something is wrong with the tip. With the diameter of 6 mm, the tip boasts a relatively good rate of response and precision. The tip of this type allows comfy and efficient usage of the screen navigation of your mobile device, including making quick notes and records.
Compatibility and Size
Looking at the compatibility of Wacom Bamboo Stylus Pen, the Web site of the manufacturer states that it is compatible with almost all tablets, pads, smart-phones, and PCs equipped with the touch-screen technology. We would like to mention its good compatibility with iPad and iPhone 4 in particular. The dimensions of this stylus are as follows: length is 87 mm, diameter is 9 mm and weight is 12 g. It is worth mentioning that this is one of the most compact and ergonomic styluses proposed on the market.
Features and Material
Bamboo Stylus differs from other ones because of its compatibility with the original application for drawing and notes Bamboo Paper and possibility to use this program with iOS, Windows Mobile, and Android systems. Working with this application, you can exchange your masterpieces with other users and have access to your works from any place on the Earth owing to Wacom Cloud Service. Another distinctive feature is the metal cap protecting the tip during the transportation and storage. The body itself is made of the brushed aluminum that is good for its durability and lifespan. Finally, the body surface is milled, which makes the stylus even more elegant.
---
VIDEO
Wacom Bamboo Stylus Review
What customers say about this product
The tip feels almost indestructible, even if the fibers can separate a little while drawing/playing with it, they snap back together.
The pen clip at the base can be removed if you prefer which is a nice feature that other pens don't seem to offer.
Wacom Bamboo Stylus Pen (CS100K)
MEKO 2 in 1 Precision Series Disc Stylus/Styli
Tip Features
This particular stylus is equipped with several tips that you might interchange virtually in a couple of seconds. The main 2-mm tip is made of rubber and has a transparent plastic disk with 6-mm diameter on the top. The disk allows seeing the initial point and all consecutive lines drawn, making it very useful both for drawing and typing. Extra tips are made of a fiber material resistant to heavy use and wear; they also have the diameter of 6 mm. Such tips are commonly used for routine assignments such as menu commands, moving pictures, icons, etc.
Compatibility and Size
The compatibility of MEKO 2 in 1 Precision Series Disc Stylus/Styli is claimed to include such gadgets as Apple iPad 1 and 2, iPhone, iPod, Kindle Fire, Kindle Touch, Motorola Xoom Tablet, Galaxy and Blackberry Playbook Virtuoso Touch. The device is made as an ordinary pen that you are used to, so you will feel comfortable even doing long-lasting jobs. The comfort is also explained by dimensions of the stylus: the length of 140 mm, the diameter of 9 mm and the weight of 24 g.
Features and Material
The major feature distinguishing this model from its competitors is the composition of several styluses. The manufacturer offers the set of two stylus pens with protective metal caps covering the tips during the transportation and storage. Besides, the set includes four additional tips with clear disks and two extra fiber tips. This is important for the efficiency of use as you may always select an appropriate tip for your work. Extra tips also mean longer life of a stylus in general. The stylus is manufactured of the aluminum alloy with stainless steel components, assuming the high durability of the body. The surface of the stylus is covered with rubber in order to improve the grip.
---
VIDEO
Meko 2 in 1 stylus unboxing and review
MEKO 2 in 1 Precision Series Disc Stylus/Styli
AmazonBasics Stylus for Touchscreen Devices
Tip Features
The model AmazonBasics Stylus for Touchscreen Devices has a rubber tip allowing you to use it with any touch-screen gadget with a satisfactory precision and sufficient rate of response. The diameter of the tip equals 8 mm that is also sufficient for such tasks as picture transferring or quick text input. The on-screen keyboard is usually too small for fingers; hence usage of a stylus should prevent misprinting. Actually, this is the largest tip among those selected for this review.
Compatibility and Size
AmazonBasics Stylus for Touchscreen Devices is pretty universal and compatible with many gadgets. The stylus taken for this review can be efficient when used with different touch-screen devices. We have also to mention that the stylus is of a small size, so it can be easily stored in any bag or a pocket for your convenience. The length of this model is 104 mm, the diameter is 8 mm, and its weight makes 5 g.
Features and Material
The special feature of this device is a strap on the rear end of stylus allowing you to attach it to your mobile phone or a tablet. The stylus is also very popular among the ladies after doing their nails or mobile-phone users in a cold season. Speaking of the body material, it is a plastic alloy which is very light. The life durability depends on multiple factors. But if you treat it with a due care, you will have fun using the stylus for a very long time.
---
VIDEO
Amazon Basics Stylus for iPad Review & Opinion
AmazonBasics Stylus for Touchscreen Devices
What is a Stylus Pen?
If you are a user of a touch-screen device as a common tablet or a drawing pad, a touch-screen monitor or a smartphone, you could definitely come across a problem of accurate drawing of lines even if you are not a graphic designer. You could also fail to move a picture smoothly around the screen using the keyboard at the same time because that picture was too small. To make the work with capacitive screens easier and more comfortable, you can use such modern tool as a stylus. The stylus looks like just a pen or a pencil but it provides you with the comprehensive control of touch-screen gadgets allowing you to resolve considerably difficult tasks such as drawing sketches, manual input of the text, etc. This review covers the best styluses and their major distinctive features. If you need a device for fast and comfy text input, for instance at the tablet or any other mobile unit, we can recommend visiting our review that presents the best bluetooth keyboards.
What Features to Compare
Choosing an accessory like stylus for a touch-screen you should, first of all, consider the Tip Features of the device. The stylus tip is its most important part. The precision and sensitivity depend on it. One of the major features of the tip is its material. The tip made of sponge is among the cheapest, being relatively precise. The bad side is that it is worn out quickly and should be frequently replaced. Rubber tips are much more common and used for drawing and text input. Note that the rubber is the material mostly similar to the skin of a human finger. A plastic tip is the feature of expensive stylus models famous for their long lives and extreme precision. The negative part is the tapping sound when the tip touches the screen. Such styluses are also distinguished by transparent caps on their tips allowing you to see the center of your drawing so as to make the next line more accurate. It is very convenient for fine drawing or calligraphy. There is one more specific type of styluses: active styluses that utilize Bluetooth connection for remote control. These styluses have a very high sensitivity level and might even allow regulating the line thickness. They are ideal for drawing and sketching. It would be also important to take into account the tip diameter which might be between 1.9 – 8 mm. You should be aware that some experts believe that the tip diameter should not be less than a fingertip because, in this case, it may imitate the touch of the finger the best.
The next vital features while selecting a stylus are Compatibility and Size. Usually, the styluses are compatible almost with all modern capacitive screens, but still you should read the description because manufacturers often provide a list of devices and models compatible with a particular stylus model. For example, some models may be designed exclusively for work with Apple iPads and iPhones, other models may be universal. If you wish to enjoy the best of comfort and performance from your stylus, you should pay attention to its size. The weight, length, and diameter of the stylus body define its position in the grip.
Finally, we would like to draw your attention to Features and Material. Specific features of modern styluses include an option of remote control via Bluetooth. As a rule, these styluses additionally have some programmable buttons for certain functions. In contrast to passive styluses, the active ones usually have built-in batteries charged from PC USB-ports. Availability of extra tips and caps is another important issue. You will be able, if necessary, to replace a part or choose the best alternative for a specific task. Another key feature of a stylus is an eraser. The eraser allows you to delete a drawing immediately or adjust a picture. Besides, some models combine the stylus and finger controls, i.e. you might smooth rough edges and blend colors on the page with a touch of your finger. In some cases, the manufacturers equip styluses with protective caps, magnets or hand-straps. As for material, we recommend choosing the metal-made models; such styluses look better and live longer.