Smartphones & Accessories
Jawbone BIG Jambox vs Harman Kardon Onyx Black
Product Comparison: Jawbone BIG Jambox vs Harman Kardon Onyx Black
About the product
BIG JAMBOX turns any mobile device (phone, tablet, media player, computer) into a portable, party-powering, hi-fi sound system that wirelessly delivers amazingly clear, full audio at any volume.
Harman Kardon Onyx is the first of its kind from the brand renowned for its acoustic innovation. Combining power, precision, and style, the Harman Kardon Onyx stands out like a piece of art in any room it's placed. With built-in Bluetooth, AirPlay, and DLNA, it connects to all your home and mobile devices. The Harman Kardon Remote app simplifies set-up and lets you start streaming all your content.
Material
Plastic/Metal
Stainless steel/Leather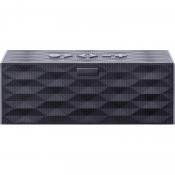 Jawbone BIG Jambox
Harman Kardon Onyx Black
Product benefits
BIG JAMBOX has a built-in microphone that lets you enjoy hands-free calls and video chats using Skype, GoogleTalk, and FaceTime. Whether you're in a conference room or cooking in the kitchen, your conversations will come through loud, crisp, and clear.
Optional Harman Kardon Remote app makes connecting your device easy while giving you complete control over the audio settings.
Features
Exclusive LiveAudio technology lets you experience your music like never before—as if you're sitting front row, hearing it live.
Harman TrueStream technique
Accessories
Wall charger, stereo cable, and micro-USB cable
Removable grill (pre-installed), Power supply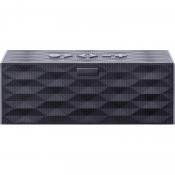 Jawbone BIG Jambox
Harman Kardon Onyx Black
Bluetooth version (if specified by manufacturer)
Warranty / Certifications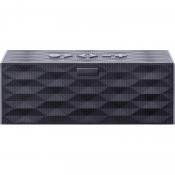 Jawbone BIG Jambox
Harman Kardon Onyx Black
Product manuals
http://cdn2.bhphotovideo.com/lit_files/97405.pdf
https://www.manualslib.com/manual/595716/Harman-Kardon-Onyx.html?page=3#manual