Magnetic charging cables let you recharge various gadgets with as little effort as possible. The best magnetic charging cable kits
supply you with different tips necessary to charge different gadgets.
...
Read more
...Read less
TOPK 4-Pack
All the Cables
TOPK Magnetic Charging Cables are solid, there's not much we can say against them.
The sophisticated IC chip automatically detects the connected device type and adjusts the current to match the device's needs. This way, the cables are able to preserve the battery's maximum capacity.
According to the people behind these cables, the nylon braiding used here has passed 10,000+ bending tests. That being said, we've seen more robust cables, so we're not willing to give the manufacturers this one.
We are, however, more than willing to highlight the 90-degree L-shaped design that the 3-feet and 6-feet cables come rocking.
In addition to these long cables, the package comes supplied with this 1-feet cable that's great for power banks since you won't have to twist and bend the unnecessarily long cord.
Apart from that, the cables come fitted with LED indicator lights, something that most magnetic charging cables are sporting these days, which is great since these lights let you find the cables in low-light conditions. At the same time, the soft blue LED lights won't prove annoying or distracting.
Bottom line, the people behind these TOPK Magnetic Charging Cables are packing the most comprehensive kit, making the product good enough to top this list.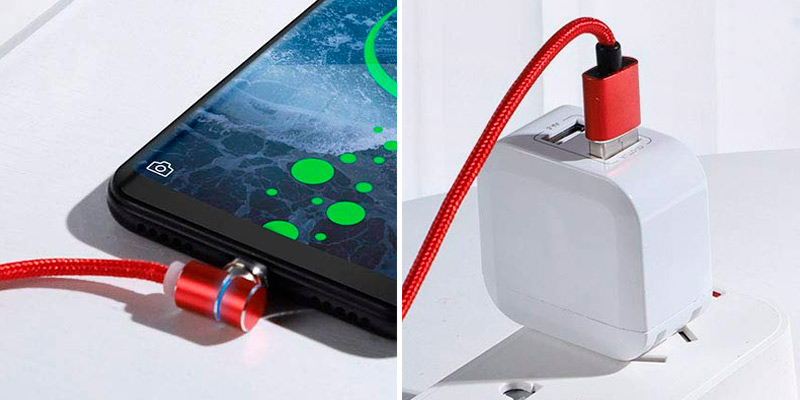 Additional Info
---
TOPK 4-Pack
CAFELE (3 Pack)
Gotta go Fast
Cafele Magnetic Charging Cables are the speediest, strongest, most capable cables on this list.
Because these charging cables are able to conduct <5 amps, you'll be taking far less time to recharge phones, tablets, cameras, and more. Better yet, the wires here are made from high-quality copper, maximizing the signal quality and increasing the cables' durability.
Setting the cables high speed aside, the jackets are incorporating thermoplastic elastomers (TPE), making these cables flexible and heavy-duty nylon braiding, isolating the copper conductors.
The three charging cables inside the package are 6.6-feet long, so you won't have to worry about having enough cord length. Plus, they're tangle-free, which is great since you can attach them to power banks and such without any inconveniences.
The cables' tips come equipped with 360-degree rotating heads, something that we can say about most magnetic cables nowadays.
Unfortunately, the tips do not work with some massive phone cases, something that we can say primarily about these cables.
Besides that though, Cafele Magnetic Charging Cables are the best cables within this lineup for customers who value speed and efficiency. You can even use the connectors as anti-dust plugs.
---
CAFELE (3 Pack)
Smart&Cool (3-Pack)
Compact Tips
Smart&Cool GenX Magnetic Charging Cables are about as smart and cool as the company's name suggests. First, the tips measure only 0.43" x 0.24", so you'll be able to use them even without taking the biggest phone cases off. Second, the cables come equipped with reversible heads, enabling easy one-handed operation.
Sure, the product has its flaws. As far as we're concerned, the USB Type-A connector that you'll find on the cables' rear end is pretty tight and not even remotely as comfortable and accommodating as the aforementioned reversible charging connector that accepts the supplied USB-C, Micro-USB, and Lighting (Apple products) tips. Using these tips, you'll be able to recharge pretty much any and all Android phones (including Samsung) and iPhones.
On the bright side, the magnets here are strong even by magnetic cables' standards, so you won't have to worry about them detaching from the gadget.
The nylon braiding makes the cables pretty tough, while the aluminum alloy head is rugged enough to withstand daily abuse. The head's jacket is made using TPE, so it is pretty flexible despite its rugged composition.
Last but not least, the heads come fitted with LED indicators that will let you find these cables in dimly lit rooms.
In short, using Smart&Cool GenX Magnetic Charging Cables, you'll be able to recharge most devices with comfort and ease.
---
Smart&Cool (3-Pack)
LSGAE (2-Pack)
360-Degree Heads
LSGAE Magnetic Charging Cables are awesome compared to standard charging cables but pretty mediocre compared to the cables within this selection, hence this spot on the list.
There are only two cables constituting the set, which is fine since the cables come supplied with six adapters (2 x USB-C, 2 x Micro-USB, 2 x Lightning tips). The issue here is that these cables are only 3.3 feet long, something that we do not necessarily appreciate.
Plus, as far as we're aware, the cables do not support the QC technology, so you won't be able to use them to quickly recharge certain smartphones.
On the upside, the cables are able to transfer up to 480 Mbps, meaning we wouldn't call them slow either. Also, they come equipped with 360-degree rotating heads, so you'll have no issues quickly and comfortably inserting the tips without turning the device.
The cords are nylon braided, meaning you won't have to be especially gentle with them.
Aside from that, the blue LED indicator lights make these quick charging cables noticeable even in complete darkness.
To sum this up, LSGAE Magnetic Charging Cables are good enough to tussle with most magnetic cables and beat all standard cables but not necessarily excellent enough to compete with the cables we've added to this selection.
---
LSGAE (2-Pack)
Crozziz (2-Pack)
Extra Flair
Crozziz Magnetic Charging Cables are pretty neat.
As you can probably tell from the pictures, the difference between these cables and most magnetic cables are these flowing LED effects that make the cables unique and provide excellent illumination. Also, these effects will let you quickly figure out whether the device is being charged.
Apart from that, what we have here are relatively standard magnetic cables, nothing we haven't seen before.
There are two cables comprising the set. One cable comes equipped with a 90-degree L-shaped design, while the other is rocking the more familiar 360-degree rotating head.
Both make these cables easy and comfortable to insert and remove depending on the surface. Also, both cables support the QC 2.0 tech, so you should be able to quickly recharge most smartphones.
The cables' length measures 5 feet, which is long enough to give you some space between the electronics yet not too long to make them inconvenient.
The product's downsides are pretty much limited to the fact that the magnetic tips here are not as strong as they usually are, so we would recommend treading with mild caution.
Other than that, if you'd like extra flair to go with the cables' efficient performance, this is the product for you.
---
Crozziz (2-Pack)
What Is a Magnetic Charging Cable?
Most people these days own multiple portable devices, from smartphones and tablets to laptops and anything in-between.
The devices' portable nature means you have to constantly recharge them. More often than not, these electronics already come supplied with charging cables. These cables are not nearly as comfortable and convenient as magnetic charging cables though.
With magnetic cables, you never have any issues quickly and easily inserting and removing the cables using one hand. All people are able to benefit from these cables but especially drivers, handicapped people, children, and more.
Plus, more often than not, these cable kits are more sophisticated than their standard counterparts, equipped with LED lights to make them visible in dark rooms and removable tips so that you don't have to carry 10 cables with you to recharge different devices.
Apart from that, magnetic cables are usually adopting rotating heads so that you can insert them into any suitable port with ease.
HDMI and DisplayPort cables do not have to be magnetic though since you're not removing them as often as USB cables, so you can look into these more orthodox products too.