Smartphones & Accessories
Harman Kardon Onyx Black vs Yamaha WX-030
Product Comparison: Harman Kardon Onyx Black vs Yamaha WX-030
About the product
Harman Kardon Onyx is the first of its kind from the brand renowned for its acoustic innovation. Combining power, precision, and style, the Harman Kardon Onyx stands out like a piece of art in any room it's placed. With built-in Bluetooth, AirPlay, and DLNA, it connects to all your home and mobile devices. The Harman Kardon Remote app simplifies set-up and lets you start streaming all your content.
Bring music to every room in your home wirelessly using your existing Wi-Fi network. Start with a single MusicCast speaker and add more over time, or add other MusicCast products like AV receivers and sound bars. MusicCast expands to fit your needs, providing wireless multiroom audio playback controlled by a simple app.
Material
Stainless steel/Leather
Plastic
Color
Black
Black (also available in white color)
Audio formats supported
MP3, WMA, MPEG-4 AAC; up to 192 kHz: WAV, FLAC, AIFF; up to 96 kHz: ALAC
Music services supported
Pandora, Spotify, Rhapsody, Sirius XM, Napster and thousands of free internet radio stations
Harman Kardon Onyx Black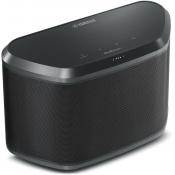 Yamaha WX-030
Harman Kardon Onyx Black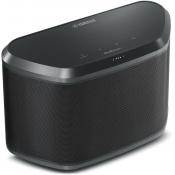 Yamaha WX-030
Controls
Touch controls
Touch control
Product benefits
Optional Harman Kardon Remote app makes connecting your device easy while giving you complete control over the audio settings.
By using the MusicCast App EQ setting, you can perform sound tuning to optimise the source you are listening to or to match your own preferences
Features
Harman TrueStream technique
Exceptional sound clarity and deep, rich bass, versatile connectivity, add audio in up to 9 additional rooms with MusicCast
Accessories
Removable grill (pre-installed), Power supply
Bluetooth transmission range (max)
Operating systems supported (for stored files)
Bluetooth version (if specified by manufacturer)
Warranty / Certifications
Harman Kardon Onyx Black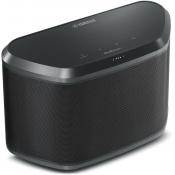 Yamaha WX-030
Product manuals
https://www.manualslib.com/manual/595716/Harman-Kardon-Onyx.html?page=3#manual
https://usa.yamaha.com/files/download/other_assets/6/795276/web_ZU80120_WX-030_om_U_En%EF%BC%A6rEs.pdf
Date first available
October 11, 2013
August 20, 2015