Electronics repairs become more and more expensive every year. But what if you could repair your gadgets in the comfort of your own
home? This is possible with a good phone repair kit. With this small but very useful tool box, you will be able to perform both small-scale and advanced repairs of pretty much any electronic device.
...
Read more
...Read less
X
This site is a free online resource that strives to offer helpful content and comparison features to its visitors. Please be advised that the operator of this site accepts advertising compensation from certain companies that appear on the site, and such compensation impacts the location and order in which the companies (and/or their products) are presented, and in some cases may also impact the scoring that is assigned to them. The scoring that appears on this site is determined by the site operator in its sole discretion, and should NOT be relied upon for accuracy purposes. In fact, Company/product listings on this page DO NOT imply endorsement by the site operator. Except as expressly set forth in our Terms of Use, all representations and warranties regarding the information presented on this page are disclaimed. The information which appears on this site is subject to change at any time. More info
Jakemy (P12)
Neatly Packaged Excellence
The Jakemy P12 features 99 repair tools in one single package that fits pretty much any bag or tool box drawer. Aside from the tiny screwdriver bits, the toolset also features a precision star, hex, and slotted bits. Each bit is made of high-quality magnetic steel that is ideal for working with electronics pieces. To add more, every bit is also chrome-plated to prevent corrosion or rust.
What we liked the most is that all the bits come carefully packaged into a plastic carry case that holds each one in a separate slot. Furthermore, the slots are marked so that you won't have any trouble finding the required bit at a quick glance.
Aside from metal bits, the package also includes a set of plastic rollers that are essential for opening the back and front housing panels of modern gadgets. As a nice bonus, the tool kit also features an anti-static wristband, which will come in handy when you need to work on circuit boards and pressed plates of devices.
In all, this kit includes pretty much everything you'd need for repairs. It is suitable for iPhones (6/7/8/ 8 Plus/ Xs/ XR) and Android phones as well as other popular gadgets including computers, laptops, iPads, PS4, Xbox or Gaming Controllers, vacuum cleaners, watches, and even eyeglasses.

So, if you need a practical and multifunctional toolkit for repairing high-end electronics, you'll be hard-pressed to find a better kit than the Jakemy P12.

Additional Info
Last updated price

$

0.00

Stock
May be out of stock
ASIN

B019ZSPZ0M
---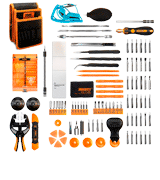 Jakemy (P12)
EEEKit (796835)
Easy to Use and Carry
Unlike other repair kits on our list, the EEEKit comes in a fully-fledged tool case that fits every bit and piece inside. And the carry handle and reliable latches make the box easy to carry even in one hand.
One of the tools that will definitely impress you in terms of functionality is a pair of anti-static tweezers with curved tips. With these tweezers, you will be able to remove, detach, and turn any small part of the phone without the risk of a short circuit.
But perhaps the most convenient thing about this kit is the fact that it features three screwdrivers instead of a simple regular one. Owing to this convenient addition, you will be able to remarkably speed up the repair process.
All bits are made of high-quality CR-V steel and are quite tough, so you can expect them to last quite a few years before wearing out. Additionally, the bits are magnetized, which helps a lot when you need to work with tiny metal screws that are easy to accidentally lose.

To recap, the EEEKit features pretty much everything a skilled technician needs. Starting from screwdriver bits of various sizes and standard driver shapes and ending with plastic openers and tweezers, the kit includes all that and more, enabling you to perform all kinds of electronics jobs with ease.

Additional Info
Last updated price

$

27.97

Stock
In stock
ASIN

B0123DAZWO
---
EEEKit (796835)
XOOL (54970)
A Professional-Grade Package in One Bag
The XOOL is a multi-functional toolkit that includes everything needed to meet the demands of professional technicians who work with mobile phones, tablets, game consoles, and other electronic pieces on a regular basis.

To start off, the package has a driver handle and 56 bits of different sizes and shapes to accommodate virtually any existing screw and little bolt out there. All the pieces are neatly packaged into a folding carry case where you can store them and carry if you need to take the kit with you. The case itself is made of heavy, waterproof fabric and has the right size to fit any medium-sized backpack or bag with ease.

In addition to the driver handle and 56 bits, the package includes such essential tools as anti-static tweezers (both curled and straight) and plastic pryers needed for removing phone screens. For your convenience, the handles of these tools are covered with non-slip grips, facilitating the repair process significantly.

When it comes to iOS users, they will be glad to know that this set of tools features Phillips and Y-tip bits that are designed specifically for removing small parts on iPad and iPhone middle plates.
Wrapping things up, the XOOL 80-in-1 professional electronics repair tool kit is definitely a great value for its price. By featuring virtually every piece needed to repair modern electronic gadgets, it is by far one of the best budget-friendly cell phone repair kit options you can purchase.
Additional Info
Last updated price

$

21.95

Stock
In stock
ASIN

B0718ZM6R1
---
XOOL (54970)
Lifegoo 122 in 1
Everything You Need to Fix a Phone
Designed to accommodate pretty much anything (from a pair of glasses or a ball pen to modern digital cameras and mobile phones), the Lifegoo 122-in-1 repair tool kit is a one-of-a-kind package that has everything a modern repairman needs.
To be more precise, the set includes a hexagonal sleeve, anti-static tweezers, plastic levers, and tools, you name it. And since every new phone model is different from the previous one, each piece is sure to come in handy, especially if your job or hobby of fixing electronics covers something more than just Android and iOS phones.
However, if none of 122 pieces included in the package covers your specific needs, the Lifegoo offers you an extended 177-piece version of the kit as well.
Furthermore, to make the routine of fixing electronics a little bit more bearable, the package also features a magnetic mat for storing all bolts, screws, and other metal parts. The mat also has a special grid printed on it so that you can put the screws in a specific order as you disassemble the phone or another piece of electronics.
Finally, the Lifegoo 122-in-1 repair screwdriver kit is definitely one of the best options for beginners and professional repairmen alike. Light and neatly packaged, it has every essential tool required for fixing modern gadgets.
Last updated price

$

18.59

Stock
In stock
ASIN

B07Z913L48
---
Lifegoo 122 in 1
GANGZHIBAO (GT6470)
An Orange Box Full of Wonders
At a glance, the GANGZHIBAO GT6470 kit may look like a collection of standard screwdriver bits. However, what we have here is one of the most versatile phone repair products available on the market today.
Although this screwdriver kit may seem pretty basic, it comes with a variety of useful tools that can help you repair almost any popular cell phone or gadget. That is to say, the bits included in this 70-piece repair kit are designed to fit every existing screw or bolt commonly found on iPhones and Android phones. And the functionality and usefulness of the toolkit don't end there. With this small white box full of steel bits, you will be able to open your computer, game consoles, VCRs, DVD players, and other household electronics such as remote controllers.
The only thing that did disappoint us, though, is the quality of the plastic equipment that comes in the box alongside the steel bits. So, in case you want to maintain some demanding electronics, we recommend getting an additional pair of tweezers and glass openers, just in case.
All in all, this affordable and highly portable set from GANGZHIBAO can become a great addition to your repair arsenal, especially if you often perform small-scale electronic jobs.
Last updated price

$

0.00

Stock
May be out of stock
ASIN

B07HRKZ7R2
---
GANGZHIBAO (GT6470)
What Is a Phone Repair Kit?
Electronics are part of our daily life but, unfortunately, gadgets can break down over time. And if you would like to bring them back to life in the comfort of your own home, you can get a phone toolkit that can cover everything from basic repairs to more in-depth fixing. A basic phone repair kit features screwdriver bits but not in a regular sense of the word - it contains much smaller ones intended specifically for tiny electronics.
Since each and every electronics manufacturer tends to make their own sets of bolts and screws, having as many different bits as possible will be a good idea. This is especially important in case you perform repairs on a professional level. That's why we have selected the most extensive kits for our review.
Additional tools include various anti-static equipment such as tweezers, holders, openers, and rollers. Do note that if you plan to repair electronic pieces that feature LCD, LED, or TFT screens, you should pick a tool kit that features special suction cups and screen openers. These are needed to avoid breaking both the screen and the housing of a phone.
To keep your workspace more organized and tidy, we also recommend getting a set of magnetic tool holders. And to clean the work surface of any debris that may have left after repairs, it is never a bad idea to vacuum it with a USB vacuum cleaner.