If a conventional laptop seems too bulky for you - choose a much thinner and more compact ultrabook. These devices are extremely
convenient and they are used mostly by people who are always on the go. Check out our informative ultrabook review and make the best pick.
...
Read more
...Read less
What is an Ultrabook
Ultrabook laptops are relatively new devices that have entered the market quite recently. They are an off-shoot of conventional laptops. The very name 'ultrabook' was created by Intel and it denotes a compact, very thin, lightweight laptop with stunning battery life. And there's another requirement for ultrabook laptops - performance. These gadgets must be capable of coping with any tasks. Ultrabooks are a totally new type of mobile computers - they are ideal for busy people who always need to have a laptop at hand, who travel a lot, and so on. That's why ultrabook laptops are very popular with businessmen and entrepreneurs.
However, if portability is less important than top performance - you are welcome to pick one of 5 best Gaming Laptops from our shortlist.
What Features to Compare
When choosing an ultrabook, you must remember that it has to correspond to all the most important criteria we have chosen for our ultrabook ratings.
The first thing you need to consider is the Performance - a key issue for any computers, and an ultrabook is no exception. The performance depends on the hardware any ultrabook has (CPU, RAM capacity, GPU, etc.). No need to remind you that a CPU is a true heart of any computer. The overall laptop operation depends on it - the more powerful the CPU is, the faster your ultrabook runs. As usual, ultrabook laptops have Intel Core CPUs that have multiple cores (usually 2) and low energy consumption. The responsiveness of your ultrabook's software depends on RAM capacity. The higher it is, the more apps you can run simultaneously without a slow-down of the OS. If you need to create graphics or, for example, play PC games, make sure to find out what GPU every ultrabook laptop has. In general, they are either dedicated or integrated (also called embedded). An integrated GPU is a part of CPU responsible for dealing with video signals. Of course, it's less powerful than a dedicated GPU. An integrated GPU consumes little energy and shows sufficient performance for rendering HD videos, etc. By contrast, a dedicated GPU is the best pick for gaming and graphic editing. No need to say, an ultrabook with a dedicated GPU is more expensive than those having embedded graphic cards. Moreover, keep in mind that any modern ultrabook with a dedicated GPU also has an embedded one and it switches between them in order to reduce energy consumption. Finally, check out what kind of storage an ultrabook has. As usual, either hard disk drives (HDDs) or solid-state drives (SSDs) are used. SSDs are far superior in terms of data transfer rate.
Next, you should make a careful choice of the Screen. No need to say, anyone wants to see the best picture possible and there are several criteria that determine it. For example, different ultrabook manufacturers use different panel technologies. There are several major panel types and you should know what they differ in:
TN (Twisted Nematic) - that's an affordable and rather old technology that boasts a good response time, but color rendering is rather mediocre, the contrast ratio is low, the viewing angles aren't wide.
MVA (Multi-Domain Vertical Alignment) - this panel technology boasts the great brightness and contrast ratio, nice color rendering, but the viewing angles are below 160 degrees (so, colors get distorted) and the response time is only 25ms.
IPS (In-Panel Switching) - this panel type boasts the best color rendering, perfect viewing angles (170-180 degrees), the high contrast ratio, but this technology is more expensive and, moreover, the responsiveness isn't record-high.
Also, more and more devices today have touchscreens that make using the OS a lot easier. Thus, decide for yourself if you need it and choose an appropriate ultrabook laptop.
Finally, don't forget to check the Portability and Convenience of every ultrabook, by which we mean the thickness and the battery life. Any ultrabook should be as thin as possible in order to be lightweight and truly portable. Conventional laptops are rather big and weigh more than 2kg, but ultrabooks are much lighter. Therefore, it's much easier to carry them around. And the battery life is also a key point - if you are constantly on the go, you should get an ultrabook capable of working autonomously for around 10 hours. If you prefer using an ultrabook laptop at home, however, battery life isn't that much important. In the end, make sure to check the sound quality of every device, because sometimes it really matters (for conference calls, for entertainment, etc.). Most ultrabooks have built-in cameras of more or less the same capabilities, but we still recommend you to check what the maximum resolution of every webcam is.
...
Read more
...Read less
ASUS UX501VW-DS71T
Performance
This is the most high-performing ultrabook laptop on our shortlist. ASUS Zenbook boasts one of the newest CPUs from Intel - the latest-generation Core i7-6700HQ that includes 4 cores, each of them running at the maximum frequency of 2.6GHz (3.5GHz in Turbo Boost). The CPU combines some of Intel's best technologies - Turbo Boost and Hyper Threading. RAM capacity reaches stunning 16GB and the memory itself is super-fast DDR4 2133MHz. Moreover, this top-rated ultrabook has a dedicated GPU - GeForce GTX960M with 2GB of video memory. Of course, this CPU includes an integrated graphics card - Intel HD 530. Install a driver and the ultrabook will automatically switch between the 2 GPUs for the sake of maximum energy efficiency. Therefore, this best ultrabook can cope with any task - from streaming a movie in 4K resolution to playing some of the newest PC games. No need to mention, even the most active browsing is a piece of cake for this device.
Screen
Unlike many other ultrabooks that have 13.3-inch screens, this ASUS model has a 15.6-inch 10-point touchscreen display that supports an outstanding resolution of 3840x2160 pixels (4K Ultra HD). Thus, you can immerse yourself into the world of movies by watching them in Ultra HD resolution. The image quality is close to perfect thanks to the advanced IPS panel that creates deep and vivid colors and has an impressive pixel density - 282 PPI. The panel displays 74% of Adobe RGB color reproduction and it's also calibrated, so the colors are as natural as possible. The touchscreen technology facilitates the use of this ASUS ultrabook since no mouse or keyboard are required. If you want to use an additional monitor - make sure to connect it via an HDMI port.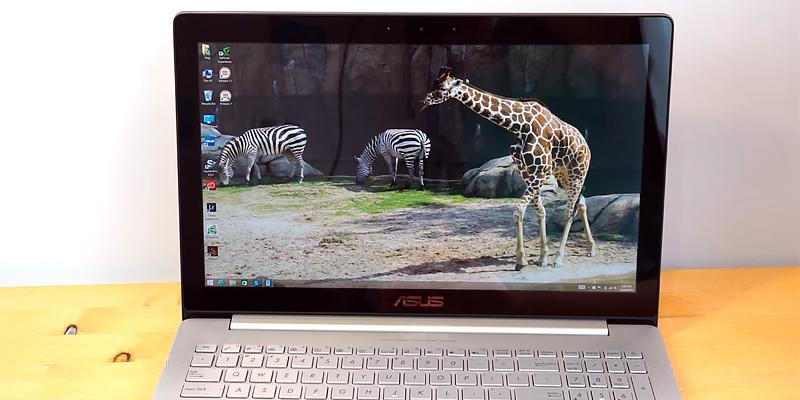 Portability and Convenience
This is the most high-performing ultrabook laptop on our shortlist, which means it has the most powerful hardware. The latter, however, requires space and that's why this model is the thickest (if this word can be used in relation to ultrabooks) - 0.8 inches. Also, the hardware requires energy, so the battery capacity isn't, actually, record-high. This ASUS ultrabook can work up to 5 hours before recharging is required. Speaking of sound quality, it's second to none: speakers produce full-frequency sounds thanks to a SonicMaster Premium, which combines ICEPower, Bang & Olufsen technologies. The oval voice coils and oversized magnets of speakers ensure deep bass frequencies. Therefore, this model is less flexible and compact than some others on our shortlist. AudioWizard and ICEPower apps will help you choose the best sound settings. So, who's a target buyer for this best device? In our opinion, this ultrabook is the best for people who work with graphics, who like playing games, or who need to use some resource-hungry programs and applications. No need to mention, such an awesome device allows you to enjoy video calls and conferences - thanks to a 1.2MP HD web camera and a built-in microphone.
---
VIDEO
Asus ZenBook Pro UX501VW Review
ASUS UX501VW-DS71T
Dell XPS9360-3591SLV
Performance
Dell ultrabook has rather a powerful 6th-generation dual-core CPU manufactured by Intel. It's Core i5-7200U that runs at the maximum frequency of 2.5GHz. This processor of latest 7th generation, yet the energy consumption is lower. Also, thanks to the Turbo Boost technology 2.0, this CPU can reach the frequency of 3.5GHz. But that's not all! Intel Core i5-7200U also boasts Intel Hyper-Threading that boosts the performance even more. As for the RAM capacity, this ultrabook from Dell has 8GB of LPDDR3 memory - enough to provide excellent performance for playing games (not too demanding, though), surfing the Internet, and so on. Concerning the GPU, this ultrabook has an integrated latest Intel HD 620, thanks to which you can watch Full HD movies and connect an external monitor.
Screen
This is a really superb laptop in terms of image quality it provides. This model has a unique 13'' InfinityEdge display with a really thin bezel. Such design makes the ultrabook nearly borderless and, consequently, more compact. The small screen, however, supports extended QHD resolution, i.e. 3200 x 1800 pixels. All that makes watching QHD+ movies a sheer pleasure. If you are wondering what type of panel is used, here's the answer - Dell ultrabook has a cutting-edge IGZO IPS panel that produces natural and vibrant colors. The viewing angles aren't excellent but they are good enough - 170°. The screen has a Corning Gorilla Glass NBT coating which is scratch-resistant and provides pretty good protection.
Portability and Convenience
Dell XPS ultrabook can work without recharging for as many as 11 hours - quite an amazing result! Of course, the battery life depends on how you are using the ultrabook. In general, you can take this Dell ultrabook if you go traveling, on a business trip or at college. As for the portability of the device, it's really lightweight and thin - Dell is just 0.59'' thick (when closed). As a matter of fact, this portable ultrabook laptop fits into nearly any bag and causes no discomfort.
Additional Info
---
Dell XPS9360-3591SLV
ASUS UX330UA
Performance
As in any other cutting-edge ultrabook laptop, this ASUS model has one of the latest Intel Core CPUs - a dual-core i5-7200U that runs at a frequency of 2.5GHz (3.1GHz in Turbo Boost mode). The CPU runs in combo with 8GB RAM, so the hardware of this ASUS ultrabook is rather performing. This ultrabook laptop comes with an integrated GPU - Intel HD Graphics 620, which shows decent video playback capabilities (you can even watch 4K videos on an external monitor or a TV) and even allows you to play some PC games. Of course, this GPU isn't powerful enough for running new PC games at the highest image settings.
Screen
This portable ultrabook from ASUS has a 13.3-inch LED-backlit screen with anti-glare coating, which allows you to feel comfortable even when the device is in the sun. The maximum screen resolution the display supports is 1920x1080 pixels (Full HD) and pixel density (measured in PPI) is quite high, so the picture is always detailed and deep. Moreover, ASUS engineers have used a high-quality IPS panel on this model. The viewing angles are record-high - 178 degrees (both vertically and horizontally). Thus, you can enjoy watching movies, editing pictures, working with graphics, etc.
Portability and Convenience
This is a really ultra-thin and ultra-light ultrabook laptop - only 0.53 inches and the overall weight is just 3 lbs. Therefore, this is an utterly compact device that you can carry with you no matter where you go. ASUS ultrabook will be a helpful assistant not only at home, but particularly at work. If you travel a lot or, for example, need to make presentations - this device is surely a reasonable pick. The battery life is good too - up to 12 hours, so you can use this ultrabook all day long while working or during a flight from NY to LA. It goes without saying, this model of ASUS delivers terrific sound: a combo of Bang & Olufsen and ICEpower technologies provide excellent acoustics. The speakers are very high-end (owing to oval voice coils and large magnets). Sound control is also effortless thanks to AudioWizard software from ASUS. Just like other ASUS ultrabooks, this model has a built-in 1.2MP HD camera that shoots videos at 30 frames per second. The camera is rather good and boasts a low-light capturing technology so that your face is seen to your interlocutor even if it's rather dark in your room.
---
VIDEO
Asus Zenbook UX305UA review - a 13.3 inch affordable ultrabook
ASUS UX330UA
HP 12-a008nr
Transformer
Today, multifunctional devices are getting more and more popular. They combine several digital appliances in a single one and, thus, are really convenient in use. HP Spectre X2 has a removable keyboard so the device easily turns into a huge tablet. No need to mention, the display is based on a touchscreen technology, so you can use this ultrabook laptop without any peripherals (such as a mouse). Also, the keyboard contains an additional battery that, when connected to the main part of the ultrabook, prolongs the continuous operation of the laptop. If you are using this ultrabook in a laptop mode, you will appreciate the well-designed buttons on the keyboard. Not only are they convenient for typing a lot of text, but they are also backlit, which makes using the laptop easy even in a dark room. The keyboard is made of genuine aluminum, known for its durability and reliability. Removing the tablet from the keyboard is simple due to the use of special magnets in the device. Moreover, there's a metal kickstand which you will find really comfortable while watching movies, for example.
Good Performance
This transformer ultrabook laptop boasts quite a powerful hardware, allowing you to tackle any tasks and launch even some resource-demanding apps. First of all, this device has one of the newest CPUs on the market - Intel Core m3-6y30. Such CPUs were developed for tablets and laptops; they boast little energy consumption compared to the Intel's Core i3 family, yet the performance is nearly the same. As a result, Intel Core M CPUs needn't active cooling (i.e. no fans) and fully rely on passive cooling. Just as other Intel processors, these CPUs can literally boost the performance thanks to the Turbo Boost technology (it increases the frequency of the CPU for a short period of time). The CPU runs in combo with the brand-new integrated Intel HD Graphics 515. In all, the CPU and the GPU can handle the majority of popular PC games at low and medium settings. Watching movies will be a sheer pleasure thanks to an amazing Full HD display based on the IPS technology. The colors are deep and natural while the maximum brightness is high enough even if you are using the transformer ultrabook in the street.
More Products to Consider
If you wish to connect flash drives or external hard drives to this ultrabook transformer, you should use a USB Type-C adapter.
Additional Info
---
HP 12-a008nr
ASUS UX303UA
Performance
This ASUS ultrabook has the 6-generation Intel Core i5-6200U CPU that runs on the frequency of 2.3 GHz (2.8 GHz in Turbo Boost mode). It's very high-performing CPU and you will be able not just to browse the Internet, type, and watch movies, but also to work in a graphic editors (like Photoshop, for example) without any lags. The CPU works together with a brand-new integrated HD Graphics 520. Also, ASUS ultrabook has 8GB DDR3L RAM and a solid-state drive that provides 256GB of storage space. No need to say, SSD works really fast and the system boots within less than 10 seconds. You can even enjoy playing modern PC games (though, not at the maximal settings). If you think the following specification is insufficient, you are welcome to choose a better one, featuring more powerful hardware.
Screen
The screen size of this ultrabook's display is 13.3 inches and the maximum supported resolution is 1920 x 1080 pixels, which means you can enjoy watching Full HD videos. The laptop has a high-end IPS panel which provides extra-wide viewing angles - 178 degrees. Moreover, the unit boasts Splendid technology that optimized the screen settings in order to deliver the best image quality possible. In general, there are 4 settings, so you can easily pick the suitable one (it depends on what tasks you need to cope with - gaming, text editing, etc.).
Portability and Convenience
ASUS ZenBook is just 0.7 inches thin. The battery life is rather good - up to 7 hours. Thus, this ultrabook laptop is perfect if you need to travel for several hours - you will be able to work, surf the Internet, or watch movies without any problems. Also, Super Hybrid Engine II technology saves the charge and allows you to boost battery life by 25%. Don't forget that this ultrabook has a solid-state drive (SSD) which is a lot more energy-efficient compared to a conventional HDD.
---
VIDEO
ASUS UX303UA Notebook Review
ASUS UX303UA