Not everyone needs the most powerful computer. Many just need something good enough for accessing the Internet checking email, reading,
etc. The perfect computer for these tasks is an Acer Chromebook. Read on for our reviews of five of the best Acer Chromebooks available!
...
Read more
...Read less
Acer Chromebook R 13 (CB5-312T-K5X4)
2-in-1 Convertible
Chromebooks have been around for a few years, and most of the original models were very similar. They were simple notebook-sized computers running Chrome OS, with the bare minimum amount of RAM and local storage to run the operating system and not much else. Today though, Chromebooks have really branched out from their very humble beginnings, and the Acer Chromebook R 13 Convertible is a prime example of that. Featuring a 2-in-1 design, this Chromebook not only is built like a standard laptop, but it also converts into tablet form for times when you need to both hold and operate it in your hands.
The 13.3 in Full HD Touch Screen provides a crisp, clear picture with full HD resolution of 1920x1080, providing true high definition video on the LED-backlit IPS screen. The integrated touchscreen is quite responsive, allowing for full operation of the Chromebook in tablet mode with just your fingers. The system itself features four modes of operation, including notebook, tablet, tent, and display modes, giving you a great degree of flexibility in how to use the system. All of the modes are intuitive and can be chosen simply by adjusting the screen and base in the configuration that you desire. No other additional steps need to be taken to adjust the usage mode.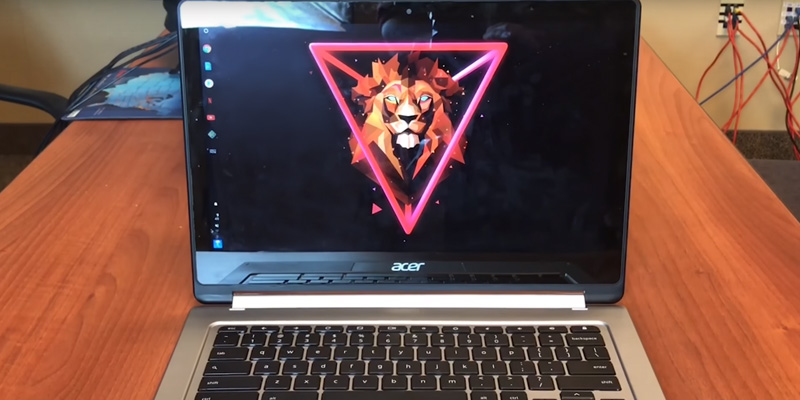 Cutting Edge Hardware
Outside of the aesthetics and usage modes of this convertible Chromebook, the hardware that lies underneath is surprisingly powerful. The system is built around a MediaTek Quad-Core ARM CPU, providing blazingly fast speed while also maximizing battery life. The integrated Imagination PowerVR GX6250 Graphics adapter allows for high quality, full motion video at HD resolutions that will play back smoothly, without any drops in performance. The 4 GB of LPDDR3 memory gives you plenty of power to run multiple apps at once without any performance hiccups, and the 32 GB of internal storage provides plenty of local storage space for apps as well as your personal files. The system is powered by a 3-cell Li-polymer (4670 mAh) battery that provides up to a whopping 12 hours of battery life, meaning there should be no worries about running out of power, even after heavy usage.
Truly a Marvel
The system comes complete with a variety of ports that allow you to connect other devices, as well as full dual-band WiFi, giving you the ability to connect to the Internet from almost anywhere. With all of these cutting-edge features included into a 2-in-1 Chromebook, almost anyone will find this system to meet or exceed even their loftiest demands.
Additional Info
---
Acer Chromebook R 13 (CB5-312T-K5X4)
Acer Chromebook R 11"
Convertible Laptop
A Chromebook that is specifically made for online work can become a solution to many of the problems that you might experience. We highly recommend the Acer Chromebook R 11 C738T-C8Q2 11.6", a reliable and versatile system at a reasonable price. What is so attractive about this model is that it offers great convenience. You can have a lot of fun playing with its 360-degree rotating lid—the Chromebook has four modes to satisfy all your requirements.
The notebook mode allows typing in comfort with a full-size keyboard.
In a display mode, you can watch videos or play games; just move the screen closer to enjoy all the benefits of superb picture clarity.
There is also a tent mode which is quite handy when you don't have enough space to use it as a notebook, for example.
And last but not least is the tablet mode. With it, you can easily surf the internet, read e-books, play video games, and share the screen with others on the go.
The device automatically detects the mode and adjusts both the sound and the display image. In addition to all of the above, the Acer Chromebook R11 is very flexible and doesn't require much strength to open it and start using, allowing you to easily operate it single-handedly.
Fast Speed and Other Benefits
The Chromebook R11 shows speedy performance attained due to MIMO, a technology that makes your wireless connection three times faster than it was before. There is also ultra-fast data transfer provided by the USB 3.0 port. A long-life battery ensures continuous work for up to ten hours without recharging, which makes it a perfect model for those who work while on the go. Moreover, it exhibits excellent efficiency as it requires only several seconds to start up. This way, you spend less time waiting and more time working. The Chromebook R11 has 32GB SSD for internal storage, and if you need more, you can use the extra 100 GB Free Google Storage, but note that after two years it will cost you a small monthly fee.
Laptop-quality Display
The Acer Chromebook R11 body is made of white plastic, whereas the lid is aluminum and uses the Nano-imprint technology that makes it feel like a textured plastic with a metallic finish; hence, you can firmly hold the Chromebook in your hands without fear of slipping. The 11.6" HD screen has 1366 x 768 resolution and features an IPS panel allowing the image to appear sharp from wider angles without losing the picture quality. It is useful when you need to show the display contents to people around you, such as in a meeting. What is more, the screen is touch-sensitive and enables editing, swiping, surfing and organizing with just your fingertip. This Acer Chromebook is certainly a great value for anyone who needs to use it while at home or on the road.
Additional Info
---
What customers say about this product
Processor: I currently have 4 windows with a total of 18 tabs open. I streamed an HD movie on Netflix with all those open, no pauses or buffering. Unreal.
I have the 4GB RAM with 32GB SSD hard drive version. I wouldn't recommend a 2GB RAM Chromebook, especially if you plan on installing plenty of Android apps.
Integration with the Google Play Store and Android Apps allows for extensibility beyond just the chrome store
Ports! In addition to USB 3.0 and HDMI ports, I was excited to see that this Chromebook comes with an SD card slot. I've found these harder to come by these days, but now I can transfer my photos easily without a separate SD card dongle/reader.
Acer Chromebook R 11"
Acer Chromebook 14 (CB3-431-C9W7)
The Battery That Lasts
Acer wasn't always the company that was regarded as one of the better manufacturers and distributors of computer hardware and electronics. But the days when the customers were right to feel skeptical about their products are long gone by now and the Acer Chromebook 14 serves as a great example of that. What we have here is an absolutely solid machine that delivers in a variety of aspects. But before we get into those aspects, the very first thing we would like to mention is the model's battery life as it is by far the most impressive thing about it.
Where your average Chromebook often fails to deliver even 10 hours of uptime, the computer in question is capable of working for 12 hours straight on a single charge, which is nothing short of remarkable. Among other things, this is what makes this model such a great choice for businessmen and people whose job requires them to spend a lot of time on the road. In fact, the battery will be able to last throughout the entire flight from Los Angeles to London, and that certainly isn't something that should be taken lightly.
Stay Connected
Setting the battery aside, the Chromebook in question still has quite a lot going for it. The 32 gigabytes of internal storage ought to offer more than enough storage space for you to install whatever software you deem necessary. And, since this is a Chromebook and not a regular laptop that we're talking about, it should probably go without saying that you won't have to install a whole lot of software as the OS keeps all of the necessary programs on the Google servers. Along with the 32 GB of internal storage space, you will also receive access to 100GB of free storage space on Google Drive for two years. You can use all of it to store whatever you want, from a variety of different multimedia files to video games. And, again, given that it is a Chromebook that we're dealing with, the fact that it comes equipped with the latest dual-band 802.11ac wireless connection and Bluetooth 4.2 technologies shouldn't be overlooked either.
Indoors and Outdoors
Now, before we wrap this whole thing up, we thought it wouldn't hurt to bring up the exterior design of the Acer Chromebook 14. It might not look like something out of the ordinary but every detail has been carefully designed to make the model look pristine and firm at the same time. The 100% aluminum chassis will allow it to survive even the most inconvenient transportation scenarios, the rounded corners are there to protect both the device and its surroundings, and the classic hairline-brush finish is what allows the model to look as sleek as it does.
We also would like to at least briefly touch upon the subject of the display, especially given that the full HD panel features the sort of anti-glare technologies that minimize reflections, making the model arguably the best Chromebook for students as it will allow them to use the device in school as well as outside without putting too much of a strain on the eyes.
All things considered, we would recommend this model to people that tend to travel a lot and could really find some use for the exceptional battery. And if you're a student, the display of the model alone should be enough to convince you to give this Chromebook a try.
Additional Info
---
Acer Chromebook 14 (CB3-431-C9W7)
Acer Chromebook 11 (CB3-132-C4VV)
Beautiful White Chromebook
One of the hallmarks of a modern laptop is a great-looking design that is visually appealing to everyone. Long gone are the days of boring designs and dull colors. Modern laptops, including Acer Chromebooks, often have a specialize sleek and beautiful design that makes it look great in any setting. The Acer Chromebook 11 is certainly no exception, featuring a beautiful white case that is both stunning and durable. The 11.6-inch screen allows for a small footprint coupled with a light weight, allowing for ultra portability.
The characteristics of this system are equally as impressive as its appearance. The 11.6-inch HD Widescreen ComfyView LED-backlit IPS Display gives you a crisp, clear picture at a high resolution, and features an anti-glare covering that allows the video to look its best in any lighting conditions. The system includes an Intel Celeron N3060 Dual-Core Processor that operates at up to 2.48GHz, giving you plenty of speed in your computing tasks. Also included is 4 GB of RAM and 16 GB of internal storage, giving you plenty of memory for running multiple tasks at once, as well as plenty of internal storage. Also included is an additional 100 GB of Google Drive space, allowing for easy cloud storage of data that won't fit in the internal storage.
Features Aplenty
Just the internal specs may be enough to sway most people looking for a powerful yet affordable Chromebook, but there are also plenty of extra features to help entice anyone to this great system. Included with this Acer Chromebook laptop is 802.11ac MIMO wireless technology, giving you plenty of network performance no matter where you are. Also included is a built-in HDR webcam that allows for extra-sharp and detailed video streaming, such as for video conferencing as well as video recording. To top it off, with the included Chrome OS, you get access to a wide variety of apps that can be easily installed through the Chrome Web Store, so there is plenty to do with this seemingly simple Acer white Chromebook.
Super Light and Portable
This superb Acer Google Chromebook is compact and lightweight, weighing just 2.4 lbs, giving you an extremely portable system that you can take with you anywhere. The system is powered by a 3-cell Li-Ion 3490 mAh Battery Pack, which allows you to use the system for up to 10 hours continuous before needing to recharge it. This makes it perfect to take with you while traveling, and it will last you for the duration of even a long international flight. Anyone who finds these features to fit their needs will be sure to find this Chromebook to be one of the best values available.
---
Acer Chromebook 11 (CB3-132-C4VV)
Acer Chromebook 14
Mid-Size Chromebook
Although almost all Chromebooks are made for the same purpose, not all of them share the same characteristics. Chromebooks are quickly becoming almost as widely varied as standard laptops. They are now coming in a variety of sizes, with varying characteristics such as screen size and processor speed, and are actually focused on different segments of the market. Many of the early Chromebooks were geared towards people who essentially wanted a competitor to netbooks, but now you can find a Chromebook for almost any purpose.
The Acer Chromebook 14 is a great example of a Chromebook that is marketed towards a different market segment than the earlier models. Featuring a 14-inch screen, this Chromebook is a great find for those who want something more approaching a standard laptop experience while retaining the simplicity and ease of use of Chrome OS. The 14-inch screen features a resolution of 1366x768, giving you a screen on par with low-end HD displays. Also, it is big enough to prevent a strain on the eyes, providing large enough text and widgets to see easily without needing to squint. The display also features Acer's ComfyView technology, which provides protection for the screen while making it easy to read.
Comfortably Fast
Along with the mid-sized screen is decent hardware underneath, which gives you plenty of performance. This Chromebook features an Intel dual-core Skylake Celeron 3855U processor running at 1.60 GHz with a 2M Cache, which provides plenty of processing power for everyday tasks. The integrated Intel HD Graphics 510 GPU provides great screen acceleration, ensuring that videos play without any dropped frame or stuttering, as well as providing smooth scrolling support in the Chrome web browser. The 4 GB of LPDDR3 SDRAM Memory provides plenty of memory for running multiple tasks at once, and the included 16GB eMMC Flash Memory provides a good amount of local storage for personal files. The system also includes plenty of ports, including HDMI, 2x USB 3.0, 1x USB 3.1 Type-C, 1 x Headphone/Microphone Combo Jack, and even a built-in media reader for expanding local storage.
Light For Its Size
Even though this is a mid-sized Chromebook, it does not add to the total weight of the system, weighing just 3.2 lbs, which is light enough for anyone to easily carry with them when they travel. The battery life of this unit is also exceptional, lasting for up to 10 hours on a single charge, depending on usage. For all of these features included in this mid-sized Acer Chromebook, anyone looking for a Chromebook in this size range will find plenty to love with this model.
Additional Info
---
Acer Chromebook 14
What Is an Acer Chromebook?
Acer is a renowned manufacturer of computers, and is especially well-known for making high-quality portable devices, including laptops and tablets. In the last few years, they have also become very well known for making 2-in-1 devices, which are typically a combination of a laptop and tablet, and which allow functionality that is optimized for both modes. Acer systems are generally known for their quality, and can often be found almost anywhere that computers and portable devices are sold.
Chromebooks are typically laptops that are made especially to run Chrome OS by Google, an operating system that is different than Microsoft Windows or Mac OS X, and which uses Google's Chrome web browser as its main interface. Chrome OS is made specifically for devices that are meant to work mainly while connected to the Internet, and often have limited functionality compared to Windows or Mac OS X. However, the functionality they do have makes them very simple to use, and they excel in use with Internet applications, such as browsing the web, watching YouTube videos, and many other functions that occur online. Chromebooks are also typically less expensive than other full-fledged laptops while retaining excellent performance for their intended tasks.
If you are looking for a laptop bag to carry your new Acer Chromebook in, then take a look at our reviews of five of the best laptop bags.
What Features to Compare
Chromebooks tend to focus on different aspects than a typical standard laptop. They are made specifically for portability, battery life, and ease of use, whereas the standard laptop focuses more on a combination of these aspects combined with overall power. This tends to make Chromebooks a bit less powerful than a standard laptop, with the trade-off of increased battery life and portability. Since Chromebooks aren't made for high powered applications and uses, the list of characteristics that you want to look for will differ from those of a typical laptop. Below are the most common characteristics that you will want to look for in a new Acer Chromebook.
Dimensions
Chromebooks, by and large, will have dimensions on par with those of smaller laptops. These dimensions will largely be due to screen size, which will greatly affect the width of the device. Whichever size Chromebook you get will depend entirely on your tastes. However, if you wish to carry your Chromebook in a backpack or laptop bag, then you will want to make sure that the dimensions of your Chromebook do not exceed those of the carrying capacity of your bag.
Weight
As Chromebooks are focused heavily on being portable, you will want one that is easier to carry, and will therefore want to find one that weighs very little. Most Chromebooks are quite lightweight, and finding one that is light enough to make it highly portable should not be difficult at all.
Screen Size and Resolution
The size of the screen of your new Chromebook is something that will come down to personal preference. However, those who want a sharp, highly detailed screen will want to make sure that the Chromebook they purchase has a high-resolution display. Many Chromebooks come equipped with an HD display, but some cheaper models may have a lower resolution, so make sure that the screen size and resolution are both to your tastes before buying one.
Hardware Specifications
Most Chromebooks are made to be highly portable, which tends to mean that they have lower hardware specifications than a typical laptop. Most of them use lower end hardware inside, which means they won't be a powerhouse. However, the hardware specs of different models can certainly vary. The hardware specs that you want to look at are memory (RAM), storage capacity, and processor type and speed. Finding one with more memory, a high storage capacity, and a faster processor will ensure that even the most demanding tasks that you run on it will work smoothly.
Ports
As with any laptop, the included ports on the device will go a long way towards showing what all you can do with the device. The ones to look for are USB ports for connecting devices to the system, HDMI for video output to a TV or monitor, a headphone jack for audio output to headphones or speakers, and even an SD card slot for local file transfers and increased storage capacity. The types of ports included on different Chromebooks can vary wildly, so you will want to make sure that the model you purchase has all of the ports that you need.
Did you know?
Best Uses For A Chromebook
If you have never used a Chromebook before, there are a few things that you should know about them before you purchase one. The primary thing to understand is that a Chromebook is not the same as a standard laptop that runs Windows or Mac OS X. Instead. Chromebooks use Google's Chrome OS, a simple, web-based operating system that is made specifically for Chromebooks. While the main interface in Chrome OS will appear somewhat similar to that of Windows or Mac OS X, there are some key differences. The key thing to remember is that Chrome OS is meant primarily for "light" tasks, such as web browsing, email, entertainment, and light productivity.
Chrome OS does not let you install any program that you wish like other operating systems do. Instead. it uses Google Chrome as its main interface, meaning that almost all tasks that are done on it are accomplished through the Internet. While you can't just install any program, including most popular applications and games, you can install apps through the Chrome Web Store, which is accessible through Chrome. Furthermore, Google also recently added in support for Android apps through the Google Play Store on select Acer Chromebooks, which gives you access to a large number of Android apps. There is plenty that you can do with Chrome OS, but it is best to be aware of the limitations of it before you purchase a Chromebook. Regardless, below are some of the most common uses for an Acer Chromebook.
Web Browsing

- As Google Chrome is the most popular web browser in use, it should come as no surprise that it is included on Chrome OS. In fact, the web browser actually powers the operating system, meaning that anything that you interact with on the computer is done through some iteration of Chrome. As the operating system is designed around Chrome, you can expect a very pleasant web browsing experience, with almost seamless integration through all other functions of the Chromebook.



Email

- Just as Google Chrome is the world's most popular web browser, Google's Gmail is the most popular webmail service. Gmail is completely integrated into Chrome OS, giving you an easy way to send and receive email without the need to open and close a specific email application.



Videos

- One of the most popular functions of any computer is their ability to play all kinds of videos. The same is true for a Chromebook, which gives you easy access to Youtube as well as numerous other online video streaming services. If you use a paid streaming service such as Netflix, then fear not - you have access to it through Chrome OS just as you

do

through any other computer or media device. There is even support for watching movies offline that you have previously downloaded into your system. Needless to say, there is no shortage of ways of watching movies or streaming video on your new Chromebook.



Productivity

- Although Chromebooks do not come with Microsoft Office installed, you can actually use an online version of Microsoft Office through Chrome OS. If you don't need the full Microsoft Office experience, however, you can just as easily use Google Docs to write your term paper, or Google Sheets to work with your spreadsheet from the office.



Games

- Although Chrome OS is not known as a great system for hardcore gamers, there are plenty of games, both free and paid, available through both the Chrome Web Store and the Google Play Store.



If you are needing more information regarding the best uses for your Chromebook, this article can tell you all you need to know before purchasing your brand new Acer Chromebook.