An attempt to use an ordinary office chair for playing console or PC games is a rather bad idea. It's not intended for long gaming
hours, thus, you'll experience discomfort and even back pain after a while. That's why we propose you to consider this gaming chairs review! We have rounded up the best chairs on the market that have an ergonomic design and can bring you endless hours of comfort.
...
Read more
...Read less
KILLABEE Big and Tall 400lb
For Big and Tall Gamers
When it comes to choosing a comfortable gaming or office chair for big individuals, there's no comparison to the competitors. Specifically designed for big and tall users, the KILLABEE chair can offer unrivaled comfort for overweight people.
To begin with, it's worth emphasizing that this exclusive model can not only support an increased amount of weight and extra height but also allow average users to feel ultimately comfortable throughout the longest gaming sessions.
The rocking high back seat (up to 155 degrees) and extra-wide armrests are anatomically-shaped to conform to every curve of your body. The 3D armrests move back/forth, and you can change the angle on the horizontal, which is nice for any gaming style. Plus, the chair comes with a very supportive headrest cushion and lumbar pillow that are both detachable. That is to say, the high backrest design with the memory foam cushions perfectly support your neck and spine.

In a word, all the parts in this chair are adjustable to bring you customizable gaming experience. You can adjust the height of the chair, tilt the backrest, and, more importantly, set the armrest to three dimensions as well as right or left. All the mechanisms work smoothly, making the chair very easy to control and quick to readjust.
Easy Assembly
The assembly of the chair under review is quite easy. A torque's tool is already included with the purchase, however, the assembly will definitely go faster if you have a drill and a set of hex bits in your household. But even if you don't have those, you can still successfully craft with only what's included in the box. All the bits come together and the instruction guide is fairly clear, not to mention you can always refer to YouTube step-by-step installation.
The pressed leather seems high-quality and the wheels feel very smooth. The reclining function works well and the lumbar support along with the neck pillow make a huge difference. The overall construction deserves 5 stars.
All things considered, the folks at KILLABEE have succeded to create the gaming chair that would be uber comfortable on all levels and for all users. With the 400-lb max weight limit, durable frame, and a rich range of adjustability options, the KILLABEE computer chair will deliver a comfortable gaming experience to users of any build and height.
Additional Info
---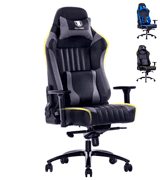 KILLABEE Big and Tall 400lb
RESPAWN 110
Fully Adjustable
RESPAWN is not a big name in the gaming industry, however, there are some reasons why we've included this chair in our top chart. For one, it's a quite budget-friendly option that probably offers more than its retail price. The thing is, RESPAWN is only trying to get their name on the market, thus, the company makes high-quality chairs for moderate price tags.
For two, the RSP-110 chair has a few interesting features that set it apart from many other gaming chairs. The main one is that it can take as much pressure off the spine as possible. It's a fully reclining chair with both back portion and arms moving backward. Simply put, the arms are not fixed but attached to the back with hinges. Hence, they move in tandem with the seat to keep providing elbow support in any position.
As for incline, the chair goes up to 130 degrees and has a footrest to be suitable for quick naps. The footrest sits under the seat, out of your way, when not in use. And when you wish to turn this chair into a bed after long hours of gameplay, you can quickly reach it and enjoy the naptime. Agree that for a budget-friendly model, the RESPAWN 2-in-1 chair has quite a lot to offer. Great value.
Design Peculiarities
The RESPAWN RSP-110 comes un-assembled, but putting everything together will take you less than an hour. Once assembled, the chair seems well-made with the stainless steel frame and thick padding. Some parts, like the controls, are made of plastic to keep the weight down.
By the way, the chair weighs just 50 lbs. While this makes it more lightweight and mobile, that's also the reason it supports less weight than most any other gaming chair out there. That said, though we wish the manufacturers would increase its weight limit, 275 lbs capacity is not all that bad, making it a suitable option for teenagers and most adults.

Other than that, the RESPAWN RSP-110 doesn't have any noticeable issues. It boasts cool design and comes with extra pillows for those who need a little more lumbar and head support. All the controls (tilt, height, recline) are conveniently placed on the right side.
To sum it all up, if you need a wallet-friendly chair that will become a relaxing spot between games, this one is a solid choice. If you're at your computer and want to have a quick nap, with this chair, you'll be able to do that.

Additional Info
---
RESPAWN 110
KILLABEE Massage
Releaving Massage
Just imagine the scenario - you come back home after a long day, your back is stiff, your feet are throbbing with pain, and your shoulders ache... You take off your tight shoes, sit back in an ultra-comfy chair and turn on your computer. But it's not only about playing games. With the KILLABEE chair, it's about total relaxation.
The thing is that the chair boasts the innovative USB electric massager implant embedded into the adjustable lumbar cushion. Of course, it's just a simple vibrating element rather than a complex system mimicking a massage therapist's technique. Still, this massage chair will give you comfort and relief essential for weary people after a long workday. Needless to say, massage function will also be appealing for those who play computer games for long hours non-stop as well as for individuals with back problems. As mentioned, the lumbar pad is adjustable and you can set it even a bit higher than your lower back area if needed.
What also adds to the comfort of use is the soft seat cushion, ultra-high backrest, thickened armrests, and retractable padded footrest. That is to say, the KILLABEE racing chair can perfectly align and support your spine and neck to relieve fatigue and take your gaming comfort to the whole new level.
Durable Construction
This massage gaming chair is also fitted with a multitude of adjusting systems. Besides the moveable lumbar pad, it has a retractable footrest, an adjustable backrest, and an adjustable back angle (from 90 to 175 degrees).
The chair is sized at 27. 6" wide x 27. 1" deep x 48. 4" – 51. 2" high. The seating area makes 21. 3" x 20. 1" and can support weights up to 250 lbs, meaning it's a perfect choice for most gamers.
Overall, the chair is very sturdy and secure. The manufacturer has constructed it from exclusively premium-quality materials without going overboard (hence, the price). The metal frame, Nylon base, smooth-rolling casters, and an explosion-proof gas spring make the chair extremely durable.

The upholstery of the chair is produced from high-quality breathable eco-leather with multi-colored inserts that make the model attractive and comfy. And as a filler, the manufacturer has used the high-density foam material which will keep its shape even under maximum allowable loads.

To recap, this is an ideal product for long gaming sessions or long hours of office work. With its unique massage function, it'll deliver you relaxation anywhere you need it.

Additional Info
---
KILLABEE Massage
Ficmax High Back
For All-day Relaxation
The Ficmax High Back computer racing chair is a super-comfy model that comes at half the price of DXRacer's and similar gaming chairs. Like its competitors, it features almost all the capabilities of high-quality racing chairs - it can freely turn 360 degrees and recline up to 180 degrees back with perfect balance. The seat cushion is 4.8-inch thick and is made of dense sponge that boasts high resilience and permeability. The chair is wrapped in PU leather that feels very solid and looks much more expensive than traditional Walmart chairs. No loose wraps or wrinkles!
Ficmax engineers have done their best to bring you a perfect racing chair with an emphasis on ergonomics. It has the additional back and foot cushions to fit your body shape perfectly and give you the superior support throughout the whole day. This racing chair is also supplied with a removable headrest pillow and a lumbar cushion. It's fairly high and can accommodate pretty tall users. For ultimate comfort, it has extra-wide and extra-thick armrests as well as a super large seat cushion and wide backrest. And the maximum capacity of the chair makes 300 lbs. That's why the Ficmax high-back gaming chair is a real steal for overweight people.
Superior Lumbar Cushion
The feature that sets the Ficmax gaming chair apart from most other computer gaming chairs on the market is that it's capable of massaging your lower back area. The lumbar cushion that is supplied with this chair has a special vibratory function that can be directed at your back in order to alleviate lumbar fatigue. The cushion features two levels of vibration and you can choose which one to use, mild or strong. For complete relaxation, place the cushion so that it touches the pain points in your back, kick the footrest out, and lean back. 
Reliable Design
This gaming chair has a heavy-duty base to withstand all abuse of gaming. The base is made of strong metal materials and has explosion-proof gas springs. It features the lifetime guarantee, meaning that the Ficmax company is confident in its properties in terms of durability.
The Ficmax chair comes in a large cardboard box with all its parts well-packaged and protected. The chair itself is pretty easy to put together, as the package includes clear instructions with pictures and easy-to-follow steps making assembly a quick process for everybody. You should not spend longer than an hour to put this chair together without extra help.
---
Ficmax High Back
Homall Racing Style
The Best Seller
The Homall Gaming chair is the #1 best seller for a reason. It's a huge upgrade from an ordinary office chair and a cheap way to improve your PC gaming experience. It's a frills-free model but it's an amazing deal for the price - it has no extra cushion, extra massage functions or whatever that might force you to pay close to 3x the price. Yet, it feels sturdy and comfy enough to take gaming into a whole new level.
The strong point of the chair is its solid wheels that roll well even on the carpet flooring. The rubberized casters spin smoothly without damaging the surface. Plus, they are praised for the increased durability (tested to endure 1000 miles of rolling).

Another strength is the high-quality suspension that seems solid and isn't being compressed even by a rather heavy weight. By the way, the max weight capacity of the chair is 300 lbs, meaning it can give more expensive models a run for the money.

All the levers are quite firm, hence, you'll be able to easily distinguish once the chair locks into place when you lean back and relax. Good news is, you'll be able to lean the chair completely flat and get the total relaxation.
Great Bang For Your Buck
We also liked how easy is the chair to put together. Everything you need for assembly is included in the box, and the total build time is about 30 minutes. Once assembled, the chair feels solid and supportive. The flaws we noticed are rather small in our opinion - the armrests are static in place and the padding is little stiff for our taste. While the non-adjustable armrests may or may not bother you, minimal padding won't let you play comfortably all day long. You'll need to take a break and move around from time to time. But if you game for 2-5 hour sessions normally, this chair will not disappoint you. Thanks to additional lumbar support, your back won't get sore from short gaming sessions.
To sum up, compared to other classy "racing" chairs, this one feels a little stiffer but still, it's almost on par. The shape and seat feel pretty much the same. The chair is an insane value and probably it is the best model at its price point.
We would definitely recommend this affordable chair to those individuals who are just getting serious about playing computer games. The Homall Gaming chair can become an excellent starter model that could show you how enjoyable the gaming experience can be.
---
Homall Racing Style
What Is a Gaming Chair?
Probably, the best way to enjoy playing your favorite computer game, watching a movie or listening to music is to sit comfortably. Therefore, a proper armchair should not only provide you with comfort for long hours of use but also give you an opportunity to immerse yourself in the game and live the life of the main characters from your favorite titles. All gaming chairs possess some unique features allowing them to provide gamers with enhanced gaming experience. Our guide should help you figure out what they are and how to choose the model that will be especially comfortable for you. We have selected only the most durable and reliable models from different manufacturers.

To enjoy gaming even more, we would also recommend you to build yourself a proper home gaming station. To do that, you may want to buy a gaming mouse, a monitor, and a gaming keyboard. Furthermore, you might decide to invest in a gaming headset. The choice is yours.

What Features to Compare
The main difference between an ordinary armchair and a gaming chair lies in the level of comfort they provide. As for technology, this special chair is far ahead of gaming equipment as most models already come with built-in sound systems, headphone jacks, wireless connectivity and audio inputs. An intense rivalry is going on between various models of chairs. That is why it is quite difficult to choose the best gaming chair. Some models of gamer chairs are more comfortable while some are technologically better.
Material

The first thing you should pay attention to is the material. The frame can be made of plastic or steel which is much more durable. As for the surface, it is usually made of artificial synthetic leather, vinyl or polyester. Such materials have good breathability and high wear resistance. But, you can also find unique chairs with fleece covering. This material is pleasant to touch, soft and slightly fluffy. In addition, it is quite lightweight and resistant to wear and multiple washes.
Design

The next aspect to consider is design. We feel like we don't really need to say it but a gaming chair, just like any other chair, should be comfortable. Remember, it will be there not only when you play video games. Chances are, it will also serve you as an office chair, so it's important that you choose it wisely taking into account all details. Also, gaming chairs differ in construction, with some resembling cockpits and others looking like racing seats. To decide which one will suit you better, think about what video games you usually play.

Convenience

As of convenience features, most gaming chairs come fitted with certain bells and whistles. For example, built-in speakers and a subwoofer are added to enhance the gaming atmosphere helping you fully immerse in the game. The presence of additional accessories makes the gaming chair, giving one model the edge over the other one. Little things such as a soft backrest and 3D armrests matter as well since they ensure more comfort and prevent body fatigue. Finally, you can find gaming chairs with a folding design that were designed specifically for transport purposes.

Size and Weight

Unless you search for a stationary model, it's important to check the size and weight of a chair. These parameters affect how stable the chair will be during active movements. Naturally, the bigger the chair is the more stable it is, and the more suitable it will be for active video games involving a lot of moving. That said, if you need something more compact, the market offers plenty of choices. You can find many lightweight and mobile gaming chairs that can be easily moved around the house when needed.