Woodturning allows creating a variety of wooden objects and it is undoubtedly impossible without a good and modern wood lathe. Our
review features 5 best wood lathes that have been shortlisted to help you find the best one!
...
Read more
...Read less
X
This site is a free online resource that strives to offer helpful content and comparison features to its visitors. Please be advised that the operator of this site accepts advertising compensation from certain companies that appear on the site, and such compensation impacts the location and order in which the companies (and/or their products) are presented, and in some cases may also impact the scoring that is assigned to them. The scoring that appears on this site is determined by the site operator in its sole discretion, and should NOT be relied upon for accuracy purposes. In fact, Company/product listings on this page DO NOT imply endorsement by the site operator. Except as expressly set forth in our Terms of Use, all representations and warranties regarding the information presented on this page are disclaimed. The information which appears on this site is subject to change at any time. More info
JET JWL-1221VS
No Limits to Perfection
Woodworking is a deep and labor-consuming business. However, if you have a wood lathe like JWL-1221VS, your job is twice easier. This woodturning gear demonstrates an excellent performance and proves that a wood lathe isn't always complex and puzzling. Foremost, we'd like to note that JET engineers have done a nice job upgrading their lathes. Unlike its predecessors, JWL-1221VS has a wide bed made of cast iron. Generally, all the lathe components are made of cast iron, except a tailstock and headstock that feature steel components. Such design and impressive lifespan of a tool. Mechanical components of the lathe have also undergone improvements. Thanks to updated spindle bearings, the lathe can withstand higher loads. Moreover, the tool is fitted with a powerful 1 HP electric motor for a better performance. We'd like to mention that the lathe can process pretty large workpieces despite its compact design. Finally, the manufacturer offers the optional extension that allows you to double the bed length.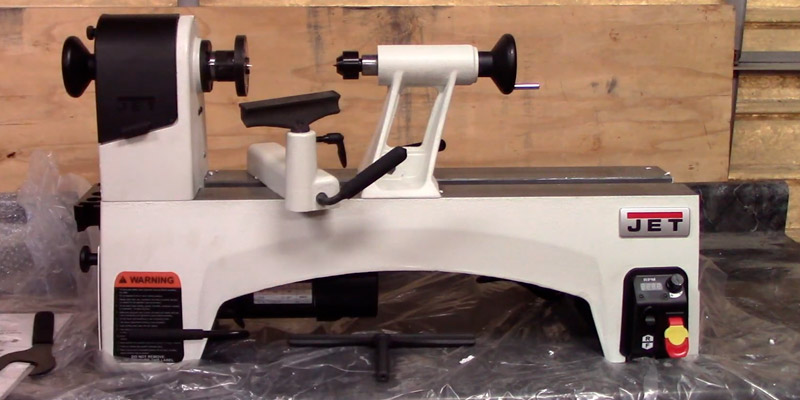 Impressive Functionality
The versatility of JWL-1221VS is difficult to overestimate. All the controls, including an ON/OFF switch, a forward/reverse switch, and a digital readout of the spindle rotation speed are compactly located on the control panel. As for the digital readout, we should say that this solution is incredibly convenient and simplifies setting of the right speed. Also, pay attention to 3 speed ranges that allow turning different types of wood. Furthermore, you can set the minimum speed for processing delicate types of wood. Mind that such opportunity is rarely featured in wood lathes. The handwheels of tailstock and spindle work smoothly and precisely. The innovative ratchet system allows you to easily loosen or strain the V-belt. It is worth saying that JET has applied for a patent for this system, and it largely cuts the belt replacement time.
Conclusion
This wood lathe makes an impression of the almost flawless machine. The headmost design solutions featured in this tool make it special, so professional turners will appreciate it and, maybe, even get the concept of the perfect lathe. We can also highlight a considerable weight of this unit, which is an important advantage. You may wonder whether the heaviness can be a benefit and we will shed light on this question! A weighty lathe causes fewer vibrations while working.
More Products to Consider
We recommend you to acquire a bed extension to double your lathe's bed length, a face shield to protect your face from wood shavings, and a set of chisels for manual processing your future wooden masterpieces.
Last updated price

$

899.99

Stock
In stock
ASIN

B00BGBVJCU
---
VIDEO
Jet 1221VS Review and Tips
JET JWL-1221VS
Delta Industrial 46-460
Quiet Gear
Delta Industrial 46-460 is the wood lathe elaborated for home applications, but it can compete with full-size models thanks to its decent power. It is hard to imagine that this small lathe can cope with a difficult task. It has all the functions typical of these tools, yet this wood lathe has some particular features distinguishing it from other models. As you know, this lathe has a compact size and it can be placed even on a small table. Don't worry about turning large workpieces, as you can buy an additional bed extension. The lathe body is made of cast iron, so the long operational life is guaranteed. We also noticed that the lathe motor works quietly and generates almost no vibrations. Furthermore, the lathe is practically noiseless even when it's running at the highest speed.
Three Speeds
The electronic speed control is the first advantage of this wood lathe. 3 speed ranges help you pick the most appropriate spindle rotating speed for accurate turning. Also, the patented tensioning system provides the right belt tension after each speed change and, thus, ensures a longer life of the tool. We liked a V-belt featured this lathe has. This belt has 6 V-shape grooves that resist slipping better in comparison with common flat belts. In addition, we were glad of the reversing function that allows superb polishing. We'd like to note that Delta engineers provided a smart solution by installing lathe controls on top of the headstock. Firstly, controls are less exposed to shavings and chips, so controlling this lathe is safe and simple. Secondly, controls are located at your eyes' level, which adds to the convenience. Hence, you won't have to lean and fumble for controls as they are always at hand.
More Products to Consider
We recommend you to buy a bed extension that will help you process large workpieces.
Last updated price

$

716.51

Stock
In stock
ASIN

B00309ZZRQ
---
VIDEO
Woodturning My New Delta 46-460 Lathe
Delta Industrial 46-460
Shop Fox W1704
Lathe for Simple Tasks
This benchtop wood lathe manufactured by Shop Fox can be treated as a light-duty tool. Yet, it does not mean that the quality of this lathe is poor. Having the force of 1/3 HP, this wood lathe is apt for handling softwood, and if you are looking for such machine, no need to overpay for a more powerful one. We should mention that Shop Fox W1704 is based on a robust one-piece cast-iron bed that vibrates less comparing to the tools with composite beds. Also, not every lathe can boast such reliability. We'd like you to draw your attention to the stepless speed control. This is the dial that manages the spindle speed and allows you to set the spindle rotation depending on a workpiece hardness. Let's note the lock-out paddle switch among safety features of this wood lathe. This switch turns the lathe on only when the safety key is inserted and events an unauthorized use of the tool.
Some Info About Softwood
We would like to mention some types of softwood that can be processed on a lathe. Basswood is one of them. Basswood grows from New Brunswick to east Manitoba in Canada and from the east of North Carolina to Kentucky and Nebraska in the USA. The timber of basswood is very soft and light; it isn't prone to cracking and drying. Basswood is easily machinable and cuttable and is often used in woodworking. The basswood timber is unfit for making furniture due to its softness, but it is perfect for making souvenirs, toys, decorative elements and interior adornments. Basswood can be softened with vapor, as well as hardened by means of drying. Willow is another example of softwood. Willow is able to vie basswood as it is also light, soft, tough, and elastic. Willow is used for making various implements like tennis rackets and prosthetic devices. The trunks of large willows are widely used for the construction. About 65 species of willow grow in the US and only 25 of them reach maturity. Salix alba is a species of willow most commonly used in woodworking because of its properties and structure.
More Products to Consider
We advise you to purchase a plastic center finder for easy centering and alignment of your workpieces.
Additional Info
Last updated price

$

269.99

Stock
In stock
ASIN

B001R23SWW
---
VIDEO
SHOP FOX W1704 Lathe Unboxing and Setup
Shop Fox W1704
RIKON Power Tools 70-100
6 Speeds for a Better Result
Rikon 70-900 mini wood lathe is one of high-quality and functional woodworking tools. The unit is made of cast iron and fitted with quite powerful 1/2 HP motor. The lathe has a convenient power switch for turning the motor on or off. We'd like to highlight a comfortable speed changing among the functional capabilities of the tool. The lathe has 6 speed settings, so you can select the necessary rotation speed depending on a workpiece. The speed is changed when the belt drive moves on the pulleys in the headstock. You just need to remove the rear cover to get access to pulleys and change the belt position. Moreover, RIKON 70-100 has a spindle with 12 indexing holes, so you can lock the spindle in any of these positions to freeze a workpiece for further processing.
Versatile Conveniences
The locking levers and switches of this lathe work faultlessly, while the quill and spindle are perfectly aligned, hence you'll get an accurate turning. The spindle revolves smoothly at each of 6 available speeds. The tool rest also moves along the bed easily. Let's take a closer look at the bed of this wood lathe. This bed isn't long but it's quite normal for a non-commercial tool designed for home use. Still, the lathe bed can be increased by 40'' with the help of a bed extension for processing large workpieces. In general, RIKON 70-100 is a moderately priced mini wood lathe that offers decent capabilities for pleasurable woodwork.
More Products to Consider
We advise buying an extension for lengthening the bed (by 24"). Also, it's strongly recommended to wear a face shield for protecting your eyes from wood chips when turning.
Additional Info
Last updated price

$

545.00

Stock
In stock
ASIN

B002FB74YM
---
VIDEO
New Rikon 70-100 Mini Lathe (CMRW#35)
RIKON Power Tools 70-100
Grizzly H8259
Simple and Convenient
We have no doubts saying that this wood lathe by Grizzly is one of the best tools for beginners. H8259 is a compact benchtop wood lathe that tackles medium-scale woodworking projects. We'd like to note that the tool has 5 speed settings that make the woodturning as accurate as possible. Generally, we like this lathe and the perfect assembly quality. The cast-iron bed and other parts of this lathe featuring steel components confirm the machine's durability. The wood lathe is coated with the epoxy paint for the best protection against corrosion. The lathe controls are on a decent level, the ON/OFF switch is located conveniently and all handles and levers work precisely. We would like to note that the lathe has a convenient tool rest and a spindle that securely grip workpieces. The lathe motor delivers the power of 1/2 HP, which is more than enough for making dishes, cups, and other utensils.
Safety Rules
A wood lathe isn't the most dangerous machine in the world. Yet, you should follow some safety precautions while using this tool.
1. Start processing a workpiece only when the spindle reaches a full speed. Feed a tool bit gradually and slow the feed down while turning twigs.
2. Make sure your workpiece is free from nails and other metal inclusions before you chuck it, otherwise the processing might become dangerous.
3. Inspect the gears of your lathe regularly and clean and grease them when necessary.
4. Turn your lathe off as soon as abnormal noise, knocking, or vibrations appear.
5. Never stop the spindle manually.
Complying with these safety recommendations, you will protect yourself and extend your lathe's lifespan as well.
More Products to Consider
In case you perform some manual woodwork, get this handy chisel set.
Additional Info
Last updated price

$

0.00

Stock
May be out of stock
ASIN

B0017KH7K8
---
Grizzly H8259
What is a Wood Lathe
Wood is in demand at all times. The finely turned and craftily decorated wooden items are valued really high. Moreover, wood has its own vibe. If you need to make a truly nice wooden object, common joinery tools might be insufficient. In this case, a wood lathe is evidently the best assistant. The range of capabilities wood lathes offer is overwhelming. These tools can be used for making furniture, dishware, toys, processing and shaping wooden pieces, and a lot more.
In addition, consider miter saws for precise angle cutting as well as circular saws for cutting up slats and planks in your woodworking jobs.
What Features to Compare
Performance
You should be guided by some important aspects for choosing a wood lathe which is right for you. First of all, pay your attention to the performance features, particularly the motor power and spindle speed range. The motor power may vary from 1/8 HP up to 2HP and higher. If you need a lathe for home use, a 1/2 to 1HP model will be enough. The wood lathes for industrial use are typically powerful. As for the spindle speed range, the picture is clear. The more speeds a lathe has, the better. Both high and low speeds are applied depending on a wood hardness and turning needs. So, a variable speed can be crucial for some users of wood lathes.
Capacities
Capacities are the next important point when choosing a wood lathe as they determine the size of pieces a lathe can process. Here, you need to consider a few parameters including the swing over bed, swing over tool rest, distance between centers, faceplate diameter, spindle travel, and the type of quill and spindle. So, choose the lathe the capacities of which conform to your workpieces and items you're going to make.
Conveniences
Conveniences of a wood lathe are also important. They include such aspects as special materials the components of a wood lathe are made of, comfortable control elements, etc. These aspects affect the lathe controllability as well as its wear-resistance and durability. After all, the size of a wood lathe matters too. Commercial-grade wood lathes are usually quite big, yet some models (those for home use) are small and can be installed in tight workshops.
Sources:
1. How to Select a Lathe, Instructables.
2. How to Choose the Right Size of Lathe, eBay. March 3, 2016.
3. How to Select a Lathe, wikiHow.
4. Choosing a Woodworking Lathe for Your Woodworking Project, DoItYourself.
5. Lathe, Wikipedia. November 16, 2016.
6. Chris Baylor How to Buy and Use a Wood Lathe, About. December 28, 2015.
7. Skill Set: Understanding the Lathe, Makezine.