Smooth and soft skin helps all women feel perfect and forget about the discomfort of 'bristled' skin. And that's why a special women
razor will be extremely helpful for any woman. Check our ladies razor review and make your pick easily.
...
Read more
...Read less
Philips HP6378
Usability and Battery Life
A multifunctional electric shaver makes the shaving process easy and efficient. This is an electric shaver-epilator, and you can choose the most optimal length setting. A floating head accurately follows the contours of the body. This shaver can be used for both wet and dry shaving. The razor does not need frequent charging, its operating time with a fully charged battery is 1 hour. The charging level indicator has an LED indicator that shows when the bikini shaver is fully charged and ready to use. It is suitable for wet shaving with foam or gel.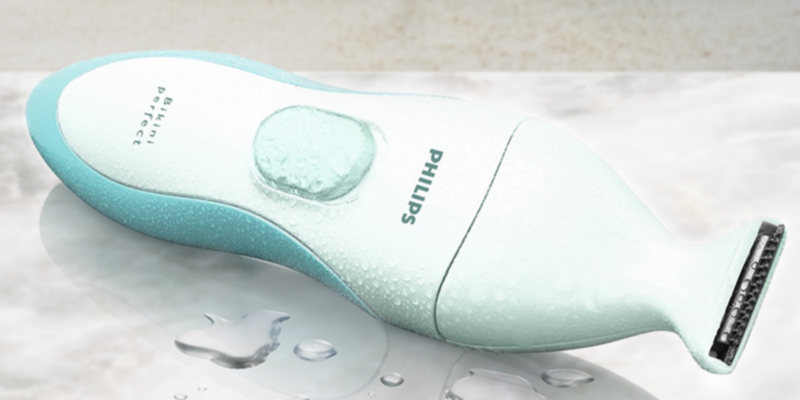 Attachments
Six precision attachments make the shaver ultra-efficient in use. There are 2 trimmer attachments designed to give hair a certain length. A comb attachment allows you to tame and shape hair more accurately. A razor attachment with a trimmer makes the use more convenient. An attachment for eyebrow shaping provides a salon correction procedure right at home. An epilator attachment with a tweezer system captures and removes hair roots. That all provides the skin smoothness for about 3 weeks.
Components
Philips electric shaver comes with a charger, a convenient carrying case for storage and transportation and a special brush for comfortable cleaning of the device. Also, the set includes the exfoliating gloves, which are used for massaging and scrubbing your body before shaving. Tweezers with LED backlight make the process of trapping and tweezing (even very small and quite unseen hairs) as accurate as possible and surprisingly fast.
---
VIDEO
Details Philips HP6378 Bikini Perfect Deluxe Trimmer, Opal / Aqua Best
Philips HP6378
Conair LTGS40RCS
Usability and Battery Life
A shaving system with 4 blade makes the shaving process accurate and effective. This Beauty Groomer will help you remove unwanted hairs easily and create your unique style. Two floating heads precisely follow every curve of the body. A charge level indicator will notify you when the device needs recharging. A 25-minute operation on a full charge will last for quite a few shaves. An electric shaver can be used directly in the shower.
Attachments
All the attachments are designed to meet even the most stringent requirements. Conair bikini trimmer will help to keep the bikini area in a pristine condition without unnecessary problems. This safe and convenient device makes it easy to trim and model your bikini line . A micro trimmer and a special eyebrow attachment are used for removing the tiniest unwanted hairs and for modeling eyebrows. 5-position and 2-position combs allow you to customize the hair length.
Components
The shaver features include a handy charging stand, a cleaning brush for comfort care and a protective cap which must be worn when the shaver is not in use. At the same time, oil for cleaning serves as a lubricant for razor blades, providing additional care and keeping the shaver in the operant condition. In addition, the package includes 4 different attachments, all of which are suitable for full body shaving without any problems!
---
Conair LTGS40RCS
Panasonic ES2207P
Usability and Battery Life
Panasonic women's electric shaver has three independent floating heads and boasts a triple shaving system that ideally suits for shaving legs, bikini and the underarm areas. It exactly follows all the contours of the body. This shaver does not cause irritation and redness. One of the advantages is a long operating time with a fully charged battery - 1 hour. It is absolutely safe for shaving in the shower and hypoallergenic inner shaving blades don't irritate the skin.
Attachments
Women's shaver uses three independent floating heads to shave smoothly along contours of your skin to make your legs, underarms and other areas look perfect. There are two additional attachments that come with this device - two floating shaver trimmers. These are small devices, their difference is that they do not pull out the hairs but gently and carefully shave them. Thanks to painless operation, trimmers are ideal for bikini and underarm areas. Super-sharp blades of the triple shaving system are designed for accurate shaving.
Components
Shaver Panasonic Close Curves includes a case for storage, which also can be used as a traveling bag when set out on a journey. What we definitely like about this model is that it can be mounted right to the wall for more accurate and neat storage. It won't get lost on the shelf with other brushes and facilities, but save you space and effort on clean up. The AC charger is supposed to be plugged in, so you can quickly recharge the shaver when it runs down. After each use, it's highly recommended to clean the device with a special cleaning brush so that it serves you longer and prevents proliferation of any bacteria.
---
VIDEO
How I shave | Panasonic Close Curves Wet Dry Shaver
Panasonic ES2207P
Finishing Touch Yes FINTCHY
How Yes! by Finishing Touch Works
Healthy and shiny hair is always beautiful. However, what if it grows fast, thick and where you don't want it to grow? Yeah, it's kind of a problem. Nowadays, it is hard to imagine a person who believes that upper lip hair and hairy legs are a symbol of femininity. That's why there have been so many ways of hair removal invented - waxing, epilation creams, razors, laser hair removal. However, Sensa-Light technology is something new. Due to modern technical know-hows, painless and instant hair removal has become possible. All you need to do to start the procedure is draw a switched or fully charged device to the skin, and it will start working automatically. The unique design follows the shape of your body. It gives a chance to remove all the hair even in underarm and bikini lines. Yes! Hair Remover has two heads. The micro-oscillation trimmer is ideal for hair removal from difficult-to-approach face zones while the micro-foil head copes pretty well with hair on arms and legs.
One more pleasant advantage of Yes! Hair Remover is that this device manages both thin and thick hairs equally well. Additionally, you can use it on any skin color. Moreover, you don't need to use any cream as this model of hair remover excludes a possibility of irritation or skin redness.
Advice on Application
If you have noticed that Yes! Hair Remover lacks its former efficiency regardless of the fact that the device is fully charged or connected to a power source, don't panic - it can mean you need to replace a Sensa-Light head. In general, both heads (micro-oscillation trimmer and micro foil head) are supposed to work approximately for a year without change. However, everything depends on the frequency of use and procedure duration. Thus, if you need to, you can order more heads from here. The manufacturer delivers their goods with customers in mind and offers favorable terms and sales. Besides, you can always get in contact with Customer Service if you've got any questions concerning their product.
We would also like to draw your attention to the simplicity of this women razor's servicing. To keep it in a good condition, you need to use a cleaning brush after each use (it's sold together with the device). To improve usability of the razor, the manufacturer has also included a special storage case so you can transport it safely and comfortably. However, you should remember that Yes! Hair Remover is designed for dry use only; make sure that your razor doesn't contact water.
More Products to Consider
There are so many ways to get rid of those irritating hair in hard to reach body areas. For example, you can use nose and ear trimmer instead of tweezers and worry not that some single tiny hair may spoil your appearance.
Additional Info
---
Finishing Touch Yes FINTCHY
Remington WDF4821
Usability and Battery Life
An electric shaver is equipped with two shaving heads that can deviate in different directions and planes, and then return to their original position. The heads perfectly follow the contours of your body. A triple shaving system makes shaving more efficient and comfortable. Cordless usage time is 30 minutes. The razor is suitable for wet shaving, you can use it with both gel and foam. Hypoallergenic foils allow shaving without irritation.
Attachments
Two different, compact attachments provide full care for your legs, bikini and underarms zones. A floating bikini trimmer ensures absolute precision and a painless shaving process. It turns into a big advantage when used for delicate, intimate zones. A comb attachment for trimmer allows you to trim and shorten the hairs to a predetermined length, so you can use your imagination and create any style.
Components
The package of Remington WDF 4820 shavers includes two different, compact attachments that perfectly suit for removing hairs from any sensitive zone. In addition, there is a cleaning brush, which will easily help you to clean your device from the hairs after each shaving procedure. A charging base is very compact and it will not take up much space on the shelf in the bathroom and you can easily carry it while traveling.
---
Remington WDF4821
What is a Women Razor
Neat, smooth skin is a goal of every girl who takes care of her appearance. In the past, ladies had to endure pain and irritation while getting rid of unwanted hair, but now modern devices come to their aid. Women's razors are designed specifically for the delicate female skin.
An electric lady razor is a great alternative to traditional lady razors, giving quick and effective results without redness, cuts and ingrown hairs. Due to the grid system, these lady razors are well suitable for use in sensitive, delicate zones too.
If you strive for longer shaving effect, pay attention to epilators. The results after epilation usually last for a month or more just like after waxing. You can also opt for laser hair removal systems. They are more expensive but they cause no pain at all.
What Features to Compare
Usability and Battery life
Before you choose a female razor, it is necessary to consider its usability. The vast majority of women electric lady razors come with floating heads. They allow you to precisely repeat the contours of the body and make shaving more comfortable. The more floating heads a trimmer has the better it will adapt to the body curves. A fixed head has an ideal angle for a comfortable shave. The number of blades in the shaving system greatly expands the possibilities for hair removal and creation of intimate haircuts. An important advantage of any ladies' shaver is that the shaving blade in the system is not directly in contact with the skin, so you can forget about irritation. Battery indicator serves for usability and notifies when an electric shaver needs recharging.
When buying a lady razor, please note, whether it is battery powered or rechargeble. The charger is always included, in case if it is recharged off the mains. Electric shavers powered by batteries are considered to be more economical, but the batteries need to be regularly replaced. So it is important to consider the battery life of the lady razor. Typically, the device on a full charge can operate for 30-60 minutes. This is enough for a few shaves.
Attachments
Special attachments allow to significantly extend the functionality of electric lady razors. They help not only to achieve the perfect smoothness of the skin, but also to do the bikini design. Trimmer is something like a groomer, designed to give hair a certain length. Trimmer, as a rule, completely replaces the main attachment, which is why the device is called a trimmer-shaver. It is capable of cutting hair very short and hair contouring.
A bikini trimmer, also called a precision trimmer, is a model with a narrower working part, it easily allows you to make intimate hairstyles and create drawings.
A trimmer is more convenient and useful if the kit includes a head-shaver. This tool lets you completely remove the hairs, giving the skin absolute smoothness, and does not irritate the skin.
A comb is a plastic attachment that sets over the lady razor, it is not adapted to shape the haircuts, but it effectively shortens the hair on the flat areas of the body.
Attachment for eyebrow cutting is indispensable in cases when you need to shape them accurately.
Another thing you may want to consider before buying a trimmer or a lady razor is whether it's aimed for wet or dry use. Most models are completely safe for use in the shower so if you'd like to get all benefits of using gel and foam, such shavers are for you. There are also models, designed for dry shaving only. You've got a lot of options to look through.
Components
All women's razors contain a variety of attachments and components for extra convenience. A typical kit of any ladies' razor consists of a cleaning brush, a storage case and a charging base. Some manufacturers of electric lady razors also include additional attachments such as exfoliating gloves for body exfoliation, a pair of tweezers with LED backlight, some oil to clean the women's razor, etc. All of those things are a huge advantage when choosing a product.