If you want to have smooth and groomed skin but aren't ready to go through the pain which epilaion and waxing usually entail, you
need a women razor. With the help of a women razor keeping your skin in perfect condition will be easy and comfortable!
...
Read more
...Read less
X
This site is a free online resource that strives to offer helpful content and comparison features to its visitors. Please be advised that the operator of this site accepts advertising compensation from certain companies that appear on the site, and such compensation impacts the location and order in which the companies (and/or their products) are presented, and in some cases may also impact the scoring that is assigned to them. The scoring that appears on this site is determined by the site operator in its sole discretion, and should NOT be relied upon for accuracy purposes. In fact, Company/product listings on this page DO NOT imply endorsement by the site operator. Except as expressly set forth in our Terms of Use, all representations and warranties regarding the information presented on this page are disclaimed. The information which appears on this site is subject to change at any time. More info
Philips BRL170
Designed for Your Curves
The BRL170 shaver is currently one of the most sophisticated products in the Philips lineup. It comes with an extensive set of extra attachments that will let you groom all of your body areas to perfection. And as you may expect from the brand, the shaver boasts exceptional quality and will definitely serve you for long years to come.

The perk of this shaver is that it's designed with comfort cushions that deliver a very gentle touch, especially in your curviest areas. The wide, soft-touch cushions are placed on either side of the shaving head to prevent cuts, shaving bumps, and irritation during your shave. By the way, the shaving head is featured with dual floating foils and a flexing neck to move with you.
But what really sells the product is its award-winning design. It's made with the s-shaped handle that allows for a better reach all over your body, not to mention that it also looks very nice. The said handle also boasts an anti-slip grip for easy use in the shower or bathtub.
Since it's one of the most advanced electric shavers from the #1 world brand, it's a little on the expensive side, but so far, it's well worth the extra cost.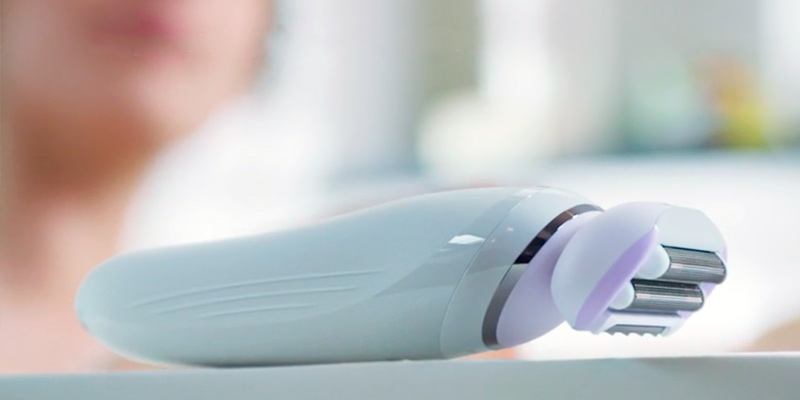 Extra Attachments
As mentioned, the razor comes with a rich set of extra accessories to expand your grooming possibilities:
Skin stretcher cap. By attaching the skin stretcher cap onto the shaving head, you can make your hairs stand upright during shaving. This will result in easier removal.
Bikini trimmer head is for trimming hard-to-reach areas in your private zone. The bikini trimmer head should be placed flat onto your skin for trimming and perpendicularly for styling and shaping.
Bikini trimmer comb. This plastic comb can be attached to the said bikini trimmer head. It's meant for precision trimming of the trickiest and smallest areas of your body. It will let you trim hairs to a length of 3mm.
As you can see, the Philips SatinShave Prestige Women's Electric Shaver is one of the best models for creating various styles in your most delicate zone. You'll be hard-pressed to find a more usable grooming tool for the bikini area.

Additional Info
Last updated price

$

54.95

Stock
In stock
ASIN

B01APRR60Y
---
Philips BRL170
Remington WDF4821
Frills-free Model by a Reliable Brand
If you're after a frills-free women's razor that would serve you for long years to come, the Remington WDF4821 may fit the bill perfectly. Made by a trustworthy manufacturer, the razor doesn't offer that many extras like its costly peers, although it does provide comfortable shaving and long-lasting performance. It's the case when the less is more.
Featured with the advanced 3-blade cutting system, the Remington WDF4821 razor delivers a very smooth shave without irritation. The electric shaver is equipped with two shaving heads that can deviate in different directions and then return to their original position to conform to your curves perfectly. The blades are fairly sharp, yet the manufacturer claims you won't experience nicks and cuts.
Compared to its predecessor, the Remington WDF4821 promises to deliver 50% more effective trimming in one pass, which means faster shaving time. And according to the customers' reviews, this seems to be true. Most women say that shaving their legs, pits, arms, and knuckle hairs all at once doesn't take longer than 5-8 minutes. So, considering its cordless runtime of 30 minutes, the razor should be re-charged once in a week or so.
A Few Words about Extras
To deliver pain-free shaving, the Remington WDF4821 electric razor is made with a flexible hypoallergenic foil that prevents irritation in sensitive areas even with dry shaving. Not dissimilar to most other models, this razor is also suitable for wet shaving, while its ergonomic design ensures a comfortable, secure grip in a shower.
Speaking about extras, the Remington WDF4821 doesn't have a lot to offer. It comes only with a floating bikini trimmer and a comb attachment for it. When used for delicate, intimate zones, the trimmer ensures absolute precision and painless shaving. And when you need to trim and shorten the hairs to a predetermined length, you can insert a comb attachment and use your imagination to create intricate cuts.
As a nice touch, both attachments, as well as the base with the razor itself, won't take up much space on the shelf in the bathroom. Compact, precise, and very intuitive to use, the Remington WDF4821 is a great mid-tier electric shaver that will last you for a long time and please you with extra-smooth results.
Additional Info
Last updated price

$

16.07

Stock
In stock
ASIN

B000BH5IN6
---
Remington WDF4821
Panasonic ES2207P
The Bestseller
With more than 10,000 positive reviews on Amazon, the Panasonic ES2207P women's electric shaver is an absolute bestseller on the market. And there are a couple of reasons for that. It's a very affordable and effective razor produced by a trustworthy manufacturer.
The razor has three independent floating heads and boasts a triple shaving system that ideally suits for shaving legs, bikini, and the underarm areas. It exactly follows all the contours of the body, leaving smooth skin with no hair at all. The blades of the triple shaving system are super sharp and ensure accurate and safe shaving each time, regardless of the area that needs to be groomed.
To make your shaving experience more comfortable, the manufacturer has included two additional attachments in the box - shaver trimmers. They both are quite small and can provide you with a very close shave without pulling hairs out. Therefore, these trimmers are best used for bikini and underarm areas.

Importantly, this shaver gives a close shave without nicking, scraping, or inflicting other forms of pain or irritation.
Nice Ergonomics
Although it's a budget-friendly device, it's suitable both for dry shaving and washing. And even in the shower, it's fairly easy to hold - it fits well in hands and doesn't slip out of your grip.
The placement of the buttons is good for both right-handed and left-handed users. You'll be able to start and stop the shaver or open/close the pop-up trimmer with the thumb of your hand you're holding the unit with.
Like most other shavers, the Panasonic ES2207P is cordless and rechargeable. The manual says that 12 hours of charging gives about 20 minutes of shave on its peak power, which may sound ridiculous at first. However, even novice users will be able to shave both legs and underarms in less than 15 minutes. So, we believe 20 minutes is more than enough.
What we definitely like about this model is that it can be mounted right to the wall for more accurate and neat storage. It won't get lost on the shelf with other brushes and facilities, but save you space and effort on clean up. The AC charger is supposed to be plugged in, so you can quickly recharge the shaver when it runs down.
All things considered, the Panasonic ES2207P is a great option for those who are tight on budget but still want to get a decent shaver from a reliable manufacturer. It has no extra frills but does its job flawlessly.
Additional Info
Last updated price

$

19.99

Stock
In stock
ASIN

B0018A32XS
---
VIDEO
How I shave | Panasonic Close Curves Wet Dry Shaver
Panasonic ES2207P
brori Cordless Wet and Dry
Gets Everywhere
In case you have a hard time shaving with a regular razor and don't want to spend crazy money on something that may not suit you, we have a great offering for you. Coming at a fraction of big names, the Brori Electric Razor is a practical, ergonomic, and cute shaver for women. Made with a 3-in-1 High-Speed shaving head, it works equally well on large areas like arms or legs and tricky areas like bikini line or underarms. Also, it's great for trimming extra-short stubble without any residue. This great performance is largely achieved owing to the three high-performance, razor-sharp blades - straight one, curved one, and a 3D floating foil.
What's more, this combo of blades is oriented at an optimal angle of 27 degrees to give you extremely close shaving, without causing nicks and cuts. With that, the tool is very smooth to operate owing to a powerful, low noise motor. It makes the device running extremely quietly, while still exhibiting plenty of power to cut through any type of hair.
For the best results, you can use this razor with some shaving cream in the shower. The tool is IPX7 100% waterproof and very comfortable to hold and use even with wet hands. In addition to being fully washable, the razor comes with a long cleaning brush and detachable shaving heads for easy maintenance.
Great for Travels
When it comes to extras, this hair remover is equipped with the built-in LED light for illumination of the blind spots. It effectively reveals even the finest hairs to provide a thorough hair removal experience. It also makes it possible to shave in low lighting conditions without missing a spot.

If you're one of those who often travel either for business or pleasure, you'll appreciate the fact that the Brori razor supports USB quick charging and accepts dual voltage. Also, it's cordless and can be charged in two ways - via the charging stand and directly from a power outlet or a USB-compatible device. Both the unit and the charging stand are quite compact and easily fit into a little cosmetic bag. As a nice touch, the manufacturer thoughtfully provides a black, travel pouch in the box. So, if you're looking for a compact electric razor to keep your body looking smooth wherever you go, this Brori 3-in-1 model fits the bill perfectly. It is small and works very well, which makes it ideal for regular travelers.
Last updated price

$

24.98

Stock
In stock
ASIN

B08BHM867Q
---
brori Cordless Wet and Dry
Tencoz 2 in 1 Wet & Dry
Two Heads are Better Than One
If you're after a shaver that would work well on all parts of your body and give a very close shave without skin irritation, the Tencoz Electric Razor for Women is surely worth your closer attention. Although it's produced by a relatively unknown brand, the build quality is good and the design is really smart. The head here is fitted with the mesh head (3D floating foil) in the middle and straight blades at both sides. Therefore, it allows for removing all the hair in two simple steps. At first, you should move the shaver against the direction of the hair growth, keeping it at a 45-degree angle. This way, the straight blades will be involved to cut the longer hair. Once you're done with this step, you place the razor 90 degrees against your skin and it quickly shaves off short hair and residual stubble with the floating foil. With that, it ensures no nicks, cuts, or pulling. It's made with hypoallergenic stainless-steel blades that are suitable even for people with very sensitive skin.
Yet, what really puts this model above the competition is the addition of a small, interchangeable facial shaver head. It's been designed for removing unsightly hair and making your face smooth without causing pain and discomfort. Equipped with high-quality blades, the facial attachment easily removes pesky peach fuzz and fine baby hairs. It doesn't pull the hair from the root but gets very close to the skin.
Worry-free Purchase
Like more expensive models, the Tencoz razor has an IPX6 waterproof rating and is convenient to use in the bathroom. Also, it's very easy to take apart and suitable for rinsing under the running water. So, cleaning should be a breeze. The same goes for re-charging. Since this women's hair shaver comes with a USB cord, it's compatible with a wide variety of devices and can be juiced up via a wall phone adapter, tablet, laptop, or a power bank. On average, a full charge takes 1.5 hours and allows for 60 minutes of shaving time.
If you're still hesitating whether to choose this device by unknown brand or go with a pricier but branded shaver, you'll be pleased to know that the manufacturer offers not only a 180-day product service and life-time customer service but also a 90-day money-back warranty, which makes the Tencoz razor is a worry-free and risk-free purchase. It'll deliver a very clean shaving on any body area including you face.
Last updated price

$

24.99

Stock
In stock
ASIN

B07TJVVG61
---
Tencoz 2 in 1 Wet & Dry
What Is a Woman's Razor?
Women crave for smooth legs, a groomed bikini line and hair-free underarms, and knowing that, the beauty market offers plenty of ways to let them achieve that smoothness. You can wax, epilate, as well as remove hairs using hot sugar, depending on how much money you are going to spend and how much pain you're ready to endure. But the easiest and fastest way of all is, of course, by shaving. With a razor at hand, you can remove unwanted hair from all body areas without irritating skin and use it in delicate zones to achieve a super-shave close.
The only problem you may have is to choose the best suitable model out of hundreds possible. There are simple disposable razors, standard electric razors, electric razors marketed at men and, of course, razors marketed at women. What separates women's razors from any other deal is that they generally have a smaller size, they fit in the hand comfortably, and they glide over all tricky body parts with ease, due to their floating heads that let them accurately follow your contours. Quite often they also have special gel ribbons or built-in cream, which helps prevent itchiness and other shaving mishaps.
Other than that, a woman's razor doesn't differ that much from a regular electric razor. It comes with a pivoting head, a few blades and a handle for a non-slip grip. The blades are generally refillable and can be changed once they get dull. Plus, they can be used with or without a cord, providing you with the option to shave the way you're more used to.

For this article, we've gathered five best women razors from different brands and from a different price range so everyone should be able to find their best pick.
What Features to Compare
Usability and Battery life
When choosing a female razor, consider what type suits you most. There are two types to choose from - battery-powered and rechargeable. Which one to choose will depend on how often you plan to use your shaver. In general, if you're planning to use your shaver quite often, we recommend opting for a rechargeable model letting you have a shave any time you need without replacing/buying batteries. Battery models, in turn, will come in useful for those who often travel and do not intend on bringing an adapter with them on every trip.

Another thing worth checking is the shaver head. For better shaving results, it should be floating, have enough blades to allow you to create various intimate haircuts and be fixed so you can shave at the most optimal angle. Also important is a battery indicator which will notify you when the battery runs low. On average, rechargeable models operate for 30-60 minutes which, despite being not very long, should suffice for quick sessions.

Attachments
You should also check the package, that is, what added attachments are included with a lady razor. These attachments greatly add to the functionality of a device, allowing you to shave, trim and cut hair where you don't want it to grow as well as to create various unusual designs. The most popular attachment found in electric shavers is a trimmer. Often it is used as the main attachment and is best used for shaving very short hair and or for hair contouring. See what other attachments can be packed with a device:

A bikini trimmer, also called a precision trimmer, is an attachment with a narrower working part; it is used for creating various intimate hairstyles and even drawings.

A trimmer is more versatile. It can be used on hairs of different lengths and will let you achieve a very close shave without any irritation.

A comb is, well, a comb. Usually, it is made of plastic and set over the head of the lady razor. This comb doesn't help shape the hairs though. What it's primarily used for is shortening the hair on the even body areas.

An eyebrow trimmer can come in handy for grooming and taming eyebrows. It is precise and it is very easy to use with no special skill required.

Another point of interest is whether the shaver is designed for wet or dry use. Most models today are quite versatile and can be used both wet and dry. Here you should make a choice depending on your personal preferences and peculiarities of your skin. If your skin isn't susceptible to rash and irritation, you can safely opt for a dry lady razor that offers a quicker way of shaving. And if you prefer to shave while taking a bath or shower, go for the one designed for wet shaving.

Components
Along with the added attachments, the kit of a lady razor may contain a few more extras. The list of these extras usually includes a cleaning brush for cleaning tiny hairs that might be left in the shaving system, a case for storage and transportation, a charging base, special exfoliating gloves for body exfoliation, tweezers, and sometimes even oil for greasing the device. Naturally, these things will affect the price of the product making it more pricey, but if you seek convenience, paying a bit more for the extras is worth it.

Did you know?
Hair Can Tell Stories About You
Just like our fingerprints and teeth, our hair is unique. It is often used for DNA analysis as it contains information about a person's genetics, lifestyle, and diet. It can tell about everything that's in the bloodstream including drugs and medicine. By the way, every hair on your body has its own nerve, blood supply, and muscle. The only thing the hair can't tell is your gender because men's hair and women's hair are completely identical in structure.
What's Your Personality?
Some scientists conducted several surveys to find the correlation between our hair color and personality. The study showed that blondes are usually very cheerful and flirty, redheads are strong and reserved, while those with dark hair are serious and smart. Another interesting fact that blonde people have the biggest number of hair follicles. Maybe, that's the secret of their good mood?
Perfect Absorber
Hair can effectively absorb oil from water. So, any oil spills can be cleaned using the human hair.
Taboo Areas
Have you ever noticed hair on your palms, lips, feet soles, mucous membranes, or eyelids? No! That's because these are the only areas on our body that are completely smooth. But hair can grow everywhere else. And unfortunately, human facial hair grows faster compared to other hair on our body. That's why you might also be interested in purchasing a special facial epilator.
How Much Time People Spend on Hair Removal in Their Lifetime
Have you ever thought how much time you spend on shaving your legs, armpits, bikini area? What about tweezing your brows? A mind-boggling fact is that an average woman spends approximately 1,728 hours shaving her legs over a lifetime. That makes 72 days! Each shaving takes about 4 minutes. Moreover, the survey shows that shaving is the most hated beauty ritual by women. But we're sure that one of the reviewed razors will definitely make hair removal procedure much more enjoyable.
As for men statistics, they spend 5 months of their lifetime on shaving.
Time Spent on Other Beauty Procedures
Women spend considerable time (and money) on other beauty procedures including:
Styling hair takes about 2 hours each week and 294 days over a lifetime.
Removing makeup. Women spend about 52 days on removing makeup and even more on applying it.
Moisturizing takes approximately 44 days of our life.
Tweezing eyebrows makes 30 days in sum.
Painting and grooming nails take more than 30 days.
An average American woman spends an incredible sum of money on her appearance over a lifetime - more than $80,000.