Many of us enjoy spending hot days in a swimming pool. Naturally, we want to keep them tidy, and the cleaning becomes a headache.
Fortunately, we have robotic pool cleaners that can do this job for us. We have reviewed 5 best models to help you decide which one you need.
...
Read more
...Read less
X
This site is a free online resource that strives to offer helpful content and comparison features to its visitors. Please be advised that the operator of this site accepts advertising compensation from certain companies that appear on the site, and such compensation impacts the location and order in which the companies (and/or their products) are presented, and in some cases may also impact the scoring that is assigned to them. The scoring that appears on this site is determined by the site operator in its sole discretion, and should NOT be relied upon for accuracy purposes. In fact, Company/product listings on this page DO NOT imply endorsement by the site operator. Except as expressly set forth in our Terms of Use, all representations and warranties regarding the information presented on this page are disclaimed. The information which appears on this site is subject to change at any time. More info
Dolphin Nautilus CC Supreme Automatic
High Tech Pool Cleaning
Some pool owners demand only the best equipment for maintaining their pool, regardless of its specific function, and are often willing to spare no expense in order to ensure that they only have the best of the best. When it comes to finding a robotic pool cleaner, these same people are most likely to look at the Dolphin Nautilus CC Supreme Automatic Robotic Pool Cleaner, one of the top-rated robotic pool cleaners out there. Even if your requirements are a bit less than having the best of the best, though, you should still find this model to be right up your alley.
First off, this pool cleaner from Dolphin, although not the cheapest model out there, is definitely worth every penny that would be spent on it. This model has pretty much every feature that a pool owner would want from such a device, and not only that, it requires very little in the way of maintenance, so you won't have to spend a good part of a day taking care of it. Instead, this robotic pool cleaner is almost entirely self-sufficient, requiring only the initial setup process and choosing a mode for its work routine, and it will take care of the rest without the need to babysit it. This, after all, is exactly what most pool owners want from a robotic pool cleaner - maximum cleaning power with very little effort.
WiFi Monitoring
To go into more details about this robot's capabilities, it is fully programmable with three different cleaning modes that you can choose, based on the amount of time you want it to spend on a cleaning cycle as well as the size of the pool. The Quick cleaning mode does a fast cleaning cycle of your pool that will take only 1.5 hours. The Standard cleaning mode, which is what most pool owners will want to run regularly on their pool, goes through the standard cleaning procedures and takes up to 2.5 hours. The Enhanced cleaning mode, which is meant for pools that require extra-special detail in cleaning, such as those that are very grimy and haven't been cleaned in a while, will take up to 3.5 hours. Needless to say, the selection of cleaning modes will leave almost any pool owner happy.
On top of the great selection of cleaning modes, another feature that owners will love is the robot's WiFi connectivity. Owners can download the MyDolphin Plus app on their mobile device, which allows them to monitor the robotic pool cleaner all throughout the cleaning cycle, without having to babysit the device in person. In fact, this app will work from anywhere, so it's perfect for those who want their pool cleaned while they are away on a trip, so they can return to a sparkling clean pool. With this great selection of features, it is easy to see why the Dolphin Nautilus CC Supreme Automatic Robotic Pool Cleaner is the premier choice in pool cleaners.
Last updated price

$

1,449.00

Stock
May be out of stock
ASIN

B083LMN9FD
---
Dolphin Nautilus CC Supreme Automatic
Dolphin Nautilus CC Plus
Schedule Your Cleaning
Most robotic pool cleaners offer a level of convenience to their users, but there are still some ways in which they can offer more. One of those ways is in being able to program the cleaning schedule, which can save a lot of time in having to operate the device. The Dolphin Nautilus CC Plus Robotic Pool Cleaner is a great robotic pool cleaner that is able to give full cleaning coverage to any pool up to 50 feet in length while offering a higher level of convenience than many other models. This robotic pool vacuum includes a weekly cleaning schedule that can be programmed by the user, letting it work automatically to give your pool a thorough cleaning. You can set what times to clean, as well as the days, letting you choose every day, every other day, or even every third day for operation, giving you a great amount of flexibility in when your pool will be cleaned. All of this can be set with a single button, making this one of the easiest robotic pool cleaners to use. It just doesn't get much easier than that when it comes to cleaning your pool!
No Babysitting Required
The advanced algorithms used in this robotic cleaner give it the ability to provide a thorough cleaning of the floor and walls of virtually any type of pool, ensuring the entire surface is cleaned. This model uses powerful dual scrubbing brushes to perform the cleaning action, attacking dirt and debris that has accumulated on the pool surface. The fast action of this device lets it deliver a thorough cleaning in under 2 hours, making it one of the fastest workers that we have seen. The top-loading cartridge filters also make sure that every last bit of debris is captured, leaving your water crystal clear.
As mentioned before, this device is quite easy to program with its cleaning schedule, and once you drop it in the pool, you can forget about it until it finishes, as it will automatically crawl along the entire bottom and sides of the pool. One hitch with this unit is that many users have noted that it doesn't work well on stairs, which is an unfortunate fact with most other robotic pool cleaners. However, the flat surfaces of the pool can be easily crawled and cleaned with no issues. All told, this robotic pool cleaner is a fantastic product that should leave any pool owner happy with its performance.

Additional Info
Last updated price

$

779.00

Stock
May be out of stock
ASIN

B00Q8M0NWE
---
What customers say about this product
Pretty good unit. Does a job fairly well on my vinyl california pool.
The filters just pop in the top. there's 2 sets. A screen set that seems like it's for a pool opening with a lot of leaves.
It's faster. I dropped it in and it zoomed off to the other end of the pool in about 30 seconds.
Dolphin Nautilus CC Plus
Dolphin Premier
Premier Brand
Dolphin has made a name for themselves as one of the premier makers of robotic pool cleaners, and that reputation is bolstered by the Dolphin Premier Robotic In-Ground Pool Cleaner. This pool cleaner is one of the easiest and most powerful to use, featuring Ultra-Efficient Twin DC Motors in combination with two working brushes that work together to make this vacuum cleaner the most efficient and at the same time economical. Dolphin has included advanced algorithms in this model that allow it to deliver a completely thorough cleaning of almost every nook and cranny of your pool, along the bottom and walls, ensuring that it picks up every last bit of dirt and debris, even spots that seem to be embedded into the pool walls and are difficult to clean manually.
This model is not only effective at cleaning, but it is also extremely easy to use, requiring almost no guidance from the user. The instructions included with the unit are not very helpful, but at the same time, this is almost a complete non-issue as the controls are quite straightforward and require little user intervention. This unit includes a convenient handle that lets you easily lift the unit out of the pool without worrying about having to jump in the pool in order to retrieve it.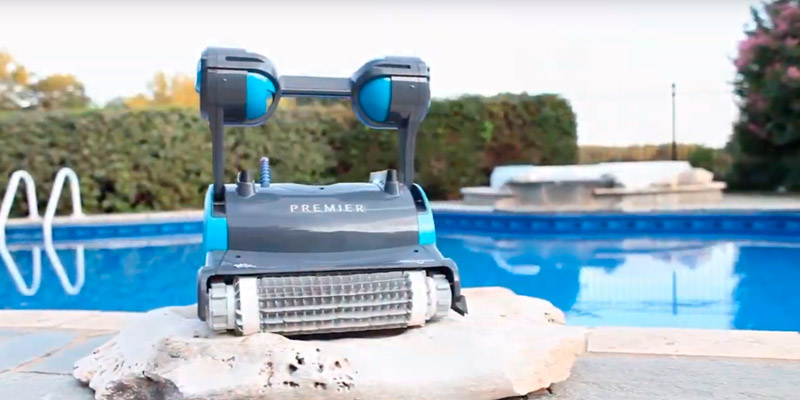 Self-sufficient Vacuum
Featured on this unit and dual scrubbing brushes that are quite powerful, able to scrub away every last trace of dirt and debris that has built up on the pool bottom and walls. Three filter options are included in this model that give you a choice of different filters that should help match the best one to your particular pool's needs. The unit can just be dropped into your pool and let loose to run for a 3 hour cleaning cycle, which may be longer than some other models, but the results will also be unmatched.
The patented anti-tangle cable will ensure that the device is able to move around your pool freely without worries of the cable getting tangled up, and the device is also not prone to getting stuck, meaning that you won't have to constantly monitor the cleaning, letting you do other things while it gives your pool a thorough vacuuming. All told, this robotic pool cleaner is one of the best and most efficient models on the market, making pool maintenance a breeze for anyone who uses it.
Additional Info
Last updated price

$

1,247.00

Stock
In stock
ASIN

B01BP8PLMM
---
What customers say about this product
This is an excellent product. It would be helpful if it had better instructions for the average person as to how to assemble and use the different features.
If you truly want a great pool cleaner - this is it. It does amazing work.
My pool has never been so clean. the filters were able to pick up sand and algae without any issues. thanks again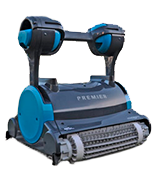 Dolphin Premier
Dolphin Triton
Easy Cleaning
Pools tend to get dirty pretty quickly, often attacking lots of dirt and dust that dirties up the water as well as collecting along the walls and floor. In addition to dirt, though, one of the bigger problems with pools is cleaning out the algae that will inevitably start growing in it. This tends to be much more difficult and time-consuming to do, especially with standard pool cleaning tools. Anyone who has the Dolphin Triton Robotic Pool Cleaner, though, will find this often hard-to-do job much easier to perform, especially since no effort will be required of the pool owner.
This robotic pool vacuum, just like the other models reviewed here, helps automate the process of keeping your pool clean thanks to its full automation with 3 different cleaning frequencies that will let you set it and forget it. In addition to that, though, this model really excels in simplifying the standard maintenance that is needed of such pool cleaners, with cleaning out the unit being extremely easy. The internal waste basket can be removed with just the click of a button for easy emptying, and the filter can be cleaned by quickly hosing it down. In short, you won't have to spend much time keeping this unit in tip-top shape.
Keep Your Pool Healthy
Regular cleanings on a pool are necessary for keeping the water safe for everyone's health, and this robotic pool vacuum excels at making this as easy to do as possible. The cleaning performance of the unit is in-line with most other models, featuring a filtration rate of around 4200 gallons per hour. The unit will easily crawl along the bottom and sides of your pool, and it should have no problem with removing even the toughest caked-in dirt, as well as any algae that it encounters. Even large leaves will be sucked into the vacuum with ease, leaving your pool with crystal-clear water once the cleaning cycle has finished.
As mentioned before, this unit has three different cleaning frequencies, letting you choose between daily cleanings, every other day, or every third day, so the robot should automatically run through a pool cycle on the days that it is set to do so. The unit is also energy-efficient, as it will automatically turn off once a cleaning cycle is finished. Some users may be disappointed that the unit doesn't have any WiFi connectivity for remote programming and monitoring, but setting the cleaning cycle on the unit itself is very easy to do, so this shouldn't be an issue for most people. All things considered, this robotic pool vacuum will prove itself to be effective at keeping your pool clean with healthy water to swim in.
Last updated price

$

899.00

Stock
In stock
ASIN

B01MRNQ3GE
---
What customers say about this product
It cleans the tile about 2 inches above the water line so fill the pool 1/2 way up the tile. Gets all of the pool and the steps.
It has a convenient basket with good filters including a fine filter for algae. It is easy to clean.
We have a large pool and lots of trees that like to feed it. Bought this after some research and its awesome. Cleans the thing great, including the walls and entry stairs.
Dolphin Triton
Dolphin Nautilus CC Automatic
Fully-Featured Budget Robot
Robotic pool cleaners are pretty expensive devices, and definitely not something that most people would purchase on a whim. These devices carry a high price tag, and with that, they are expected to perform their jobs admirably. This means that many people probably won't consider a budget model due to worries about fewer features or lower performance. The Dolphin Nautilus CC Automatic Robotic Pool Cleaner, however, should change a lot of people's minds about purchasing a budget-priced robotic pool vacuum.
So why should people take a look at this model? It's quite simple, really. Despite the budget price, this robotic pool vacuum has many of the features as well as the performance that is often expected of much higher priced models. This includes the ability to plan and schedule a routine of pool cleanings for the robot, with this unit able to run on a weekly schedule at intervals of daily, every other day, or every 3 days, so you can set the cleaning schedule that will perfectly match your needs. Once the schedule is programmed, the robot does the rest, going through its automatic cleaning cycle without requiring any additional user input or intervention outside of cleaning the filter.
Great Performance for the Price
The ability to automatically clean the pool based on a set schedule is great, but it won't mean much to anyone if the cleaning performance isn't up to standard. Thankfully, with this model you definitely won't be left disappointed. This robotic pool vacuum delivers exceptional cleaning performance thanks to many of the innovations that were put into this model. For one, it uses a series of scrubs and filters to help remove all dirt from the sides and bottom of the pool, leaving no trace of it behind. What's more, this model doesn't utilize suctioning or pressure for cleaning, making it much more energy-efficient than many other models. This means that you save money not only with the budget price of the unit, but also with its lower energy demands.
This unit isn't the fastest model on the market, but it's also not too slow, taking 2 hours to clean a pool of up to 33 ft in length. The Clever Clean system in this robot ensures that it uses the optimal path for cleaning the pool, so you won't have to wait all day to finish cleaning before you can enjoy your time in the water. Cleaning out the filter is also quite simple, leaving the maintenance of the unit to not be much of a bother at all. In the end, anyone who wants to save some money both on the cost of the pool vacuum as well as with its energy costs will find this model to be the ideal choice.
Additional Info
Last updated price

$

599.00

Stock
May be out of stock
ASIN

B01N78IVWJ
---
Dolphin Nautilus CC Automatic
What Is a Robottic Pool Cleaner?
Every owner of a swimming pool inevitably faces cleaning. Filters and chemicals can purify and clean water, yet the hard particles of dirt deposit on the pool floor and organic sediments settle on the walls below a waterline, so you have to remove them manually. Dust, dirt, grit, insects, leaves, etc. may fall into the pool, breaching the comfort and microclimate. The pool cleaning by hands is laborious and ineffective. The leading companies in robotics developed robotic pool cleaners that are real technological wonders. Robotic pool cleaners are state-of-the-art products that incorporate advanced technologies. These space-saving appliances will undertake the cleaning, working under the preset program.
Customers who highly value their time and hunt for high-end devices would surely appreciate having a robotic vacuum at home as well. Also, you may be interested in our selections of cordless vacuums, stick vacuums & electric brooms, and steam mops.

Best Robotic Pool Cleaners
What Features to Compare
Cleaning modes

Choosing a robotic pool cleaner should be done in accordance with the type of pool you have (in-ground, gunite, or inflatable) and its finish. Also, consider what cleaning modes are supported to make sure the device will handle the job at its best. In general, robotic cleaners can be divided into two major types:

Robotic pool cleaners for walls and floor;
Robotic pool cleaners for floor.
Operating these cleaners is as easy as it gets. Fitted with special rollers and caterpillars, they easily move across the surface of the pool with no supervision needed and can clean off limescale and ingrained dirt from the pool finish with ease. These rollers can be of several types: combo brushes for film and tile; PVC brushes for film and gunite pools; super brushes for tile, film, stainless steel and composites. In addition to the mentioned types, there are special turbo brushes located right in front or inside the suction tube to speed up cleaning, and there are those with scrapers capable of removing the toughest stains without causing damage to the coating.

Self-sufficiency and performance
Self-sufficiency and performance are the criteria of no small importance when it comes to choosing a robotic pool cleaner. These parameters show how effectively a cleaner works and how much time it requires to get the job done. This is influenced by software solutions, allowing a cleaner to run smartly and effectively. You should consider performance (gallons per hour) depending on the length and the depth of your pool, and the length of a power cord. The bigger the pool is, the higher performance and the longer the power cord is required.
Usability
Usability is the third important aspect to draw your attention to. Usability includes implementation of controls, for example, availability of remote control. The ease of cleaning a pool cleaner is significant as well. The special brushes and scrapers thoroughly clean the surface from bloom, dirt, algae, and microorganisms, and then the cleaner draws it together with water. Then, the dirt passes through a filter and deposits in a canister or a porous bag, and the purified water leaks outside. Therefore, the ease of cleaning is also important. The other functions and elements such as a transportation caddy, timer and programming, quick cleaning, anti-tangle systems and accessory sensors will undoubtedly come in handy when cleaning the pool.