Many of us enjoy spending hot days in a swimming pool. Naturally, we want to keep them tidy, and the cleaning becomes a headache.
Fortunately, we have robotic pool cleaners that can do this job for us. We have reviewed 5 best models to help you decide which one you need.
...
Read more
...Read less
Polaris F9550
Cleaning modes
The Polaris 9550 is designed for cleaning in-ground pools up to 60 ft long. It is able to clean all types of finish materials featured in contemporary pools. This pool cleaner is appropriate for cleaning both floor and walls of your pool, as well as waterline. Moreover, it is able to clean pool steps, which is beyond the strength of other pool cleaners. It should be noted the Polaris manufactured several similar models 9350, 9450 that are different in price and feature less functions and lower performance.
Self-sufficiency and Performance
This robotic pool cleaner features several cleaning modes, namely Floor, Floor/Wall, Waterline Only, and Custom. In addition, it can be programmed for 7 days ahead thanks to the programmable timer. This feature makes this cleaner fully independent and effective with minimum user's interference. The Vortex Vacuum Technology provides steady performance reaching 4500 gal/hr and 4 times faster cleaning. ActivMotion Sensor™ intelligence technology allows this robot to orientate in your pool excellently and choose the most effective cleaning paths.
Usability
This swimming pool robot can be programmed both from a permanent control unit and a motion-sensing remote. The Easy Lift System allows this robot to come up in the desired location of your pool with the touch of a button. Hence, you can easily grab the cleaner upon completion of cleaning. As regards the cleaning, it is easy and all you need is to open the cover, and take out and spray a filter canister. It is worth noting that the cleaner features Dirty Canister Indicator that notifies you of the canister filling.
---
VIDEO
Polaris 9550/955 Robotic Pool Cleaner Review & Field Test
What customers say about this product
Storing it on the caddy is another nice feature. Even after one cleaning I feel comfortable in walking away from this and returning later.
Still having some issues where it doesn't quite cover the entire pool surface area and the wand is difficult to use, sort of like a Wii remote control.
Shock, a lot of it, 30lbs at three different times, and a little brushing from me and now my pool looks good.
Polaris F9550
Dolphin Nautilus CC Plus
Cleaning modes
The Dolphin Nautilus CC Plus Robotic Pool Cleaner is a great robotic pool cleaner that is able to give full cleaning coverage to any pool up to 50 feet in length. This robotic pool vacuum includes a weekly cleaning schedule that can be programmed by the user, letting it work automatically to give your pool a thorough cleaning. You can set what times to clean, as well as the days, letting you choose every day, every other day, or even every third day for operation, giving you a great amount of flexibility in when your pool will be cleaned. All of this can be set with a single button, making this one of the easiest robotic pool cleaners to use.
Self-sufficiency and Performance
The advanced algorithms used in this robotic cleaner give it the ability to provide a thorough cleaning of the floor and walls of virtually any type of pool, ensuring the entire surface is cleaned. This model uses powerful dual scrubbing brushes to perform the cleaning action, attacking dirt and debris that has accumulated on the pool surface. The fast action of this device lets it deliver a thorough cleaning in under 2 hours, making it one of the fastest workers that we have seen. The top-loading cartridge filters also make sure that every last bit of debris is captured, leaving your water crystal clear.
Usability
As mentioned before, this device is quite easy to program with its cleaning schedule, and once you drop it in the pool, you can forget about it until it finishes, as it will automatically crawl along the entire bottom and sides of the pool. One hitch with this unit is that many users have noted that it doesn't work well on stairs, which is an unfortunate fact with most other robotic pool cleaners. However, the flat surfaces of the pool can be easily crawled and cleaned with no issues. All told, this robotic pool cleaner is a fantastic product that should leave any pool owner happy with its performance.
Additional Info
---
What customers say about this product
Works wonderfully! I had a salt water pool filled with pollen, and you could tell right away where the Dolphin Nautilus PLUS had been.
The filters just pop in the top. there's 2 sets. A screen set that seems like it's for a pool opening with a lot of leaves.
Love the top access filters and the job it does. Has the ability to schedule cleaning. Have not used the feature yet but the cleaner works awesome!!
Dolphin Nautilus CC Plus
Hayward SharkVac XL (RC9740WCCUB)
Cleaning modes
The Hayward SharkVac XL (RC9740WCCUB) Robotic Pool Cleaner is one of the smarter robotic pool cleaners that we have seen. Its smart steering technology lets it prowl along the floor and walls of your pool, digging up and vacuuming every last bit of dirt and debris that it encounters. Its smart sensors can easily detect whenever the cleaner has breached the surface of the water, and allow it to utilize its cleaning patterns to ensure a thorough top to bottom cleaning of any type of pool of up to 50 feet. These sensors have the added benefit of helping to protect the motor and extend the service life of this robotic pool cleaner.
Self-sufficiency and Performance
This robotic pool cleaner runs separately from your pool's filtration system, ensuring that there is minimal risk of backlash or spilled debris that would work to dirty the pool again after cleaning. The easy operation of the unit means that you can turn it on, drop it in the pool, and come back 2 hours later to find a sparkling clean pool that will be a pleasure to swim in. What's more, this cleaner is able to learn the layout of your pool, helping it to automatically adjust its patterns to maximize the efficiency of its cleaning.
Usability
As mentioned before, this is a "drop-and-go" pool cleaner that will work automatically without needing direction of the user. When it finishes the cleaning cycle, you can remove the top-loading cartridge filter to clean out all of the debris and dirt that was collected. One thing to note, though, is that the button to open the top is quite tricky, and may cause some problems for some people. Outside of this, though, this robotic pool cleaner is one of the easiest models to use, and should last for a long time without worry of breaking down.
Additional Info
---
Hayward SharkVac XL (RC9740WCCUB)
Dolphin Premier
Cleaning modes
Dolphin has made a name for themselves as one of the premier makers of robotic pool cleaners, and that reputation is bolstered by the Dolphin Premier Robotic In-Ground Pool Cleaner. This pool cleaner is one of the easiest and most powerful to use, featuring Ultra-Efficient Twin DC Motors in combination with two working brushes that work together to make this vacuum cleaner the most efficient and at the same time economical. Dolphin has included advanced algorithms in this model that allow it to deliver a completely thorough cleaning of almost every nook and cranny of your pool, along the bottom and walls.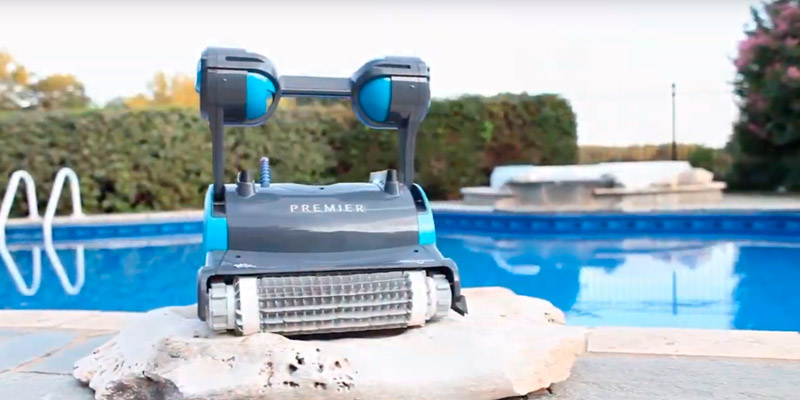 Self-sufficiency and Performance
Featured on this unit and dual scrubbing brushes that are quite powerful, able to scrub away every last trace of dirt and debris that has built up on the pool bottom and walls. Three filter options are included in this model that give you a choice of different filters that should help match the best one to your particular pool's needs. The unit can just be dropped into your pool and let loose to run for a 3 hour cleaning cycle, which may be longer than some other models, but the results will also be unmatched. The patented anti-tangle cable will ensure that the device is able to move around your pool freely without worries of the cable getting tangled up.
Usability
This model is extremely easy to use, requiring almost no guidance from the user. The instructions included with the unit are not very helpful, but at the same time, this is almost a complete non-issue as the controls are quite straightforward and require little user intervention. This unit includes a convenient handle that lets you easily lift the unit out of the pool without worrying about having to jump in the pool in order to retrieve it. All told, this robotic pool cleaner is one of the best and most efficient models on the market.
Additional Info
---
What customers say about this product
The different media types is an awesome feature and needed in my dusty backyard. The no-tangle cord really works, too.
We have had this cleaner about 3 weeks now and it has done a great job at getting dirt and debris off the bottom of the pool.
My pool has never been so clean. the filters were able to pick up sand and algae without any issues. thanks again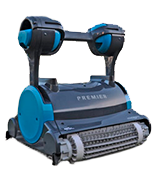 Dolphin Premier
Aquabot ABJR Junior
Cleaning modes
Aquabot Junior is developed for all types of pools up to 40 ft long. It is able to clean various surfaces, such as vinyl, gunite, and fiberglass. Therewith, this robotic pool cleaner is capable of serving both walls and floor of a pool, including waterline. It will cope with any impurities including dirt and leaves, and purify and clean water. The modified model called Aquabot Junior NXT is available featuring higher performance and enhanced functionality.
Self-sufficiency and Performance
The powerful engine of Aquabot Junior provides the performance of 4500 gal/hr. This robotic pool cleaner features the rolling brushes located at both ends of the body, which are intended for cleaning the pool walls and bottom from pollution. The special filter is able to remove the particles up to 2 microns, so as to purify water without chemicals and pumps. The complete cleaning cycle takes 4 hours.
Usability
This robotic pool cleaner features a self-contained filtration system with a reusable capacity of 34 quarts. The cleaner start is very easy and quick thanks to the Plug and Play function. To get your swimming pool cleaned, you just have to connect the cleaner to a power supply and control the unit by pressing "Clean" button. Finally, the cleaner features two handles located on both sides of the body that help you easily sink and take the cleaner out from your pool.
---
VIDEO
Aquabot Jr. Robotic Pool Cleaner
Aquabot ABJR Junior
What Is a Robottic Pool Cleaner?
Every owner of a swimming pool inevitably faces the cleaning. Filters and chemicals may purify and clean water, yet the hard particles of dirt deposit on the pool floor and organic sediments settle on the walls below a waterline, so you have to remove them manually. Dust, dirt, grit, insects, leaves, etc. may fall into the pool, breaching the comfort and microclimate. The pool cleaning by hands is laborious and ineffective. The leading companies in robotics developed robotic pool cleaners that are real technological wonders. Robotic pool cleaners are state-of-the-art products incorporating the advanced technologies. These space-saving appliances will undertake the cleaning, working under the preset program.
Customers who highly value their time and hunt for high-end technologies would surely appreciate having robotic vacuums at home as well. Also, consider our cordless vacuums, stick vacuums & electric brooms, and steam mops.

Best Robotic Pool Cleaners
What Features to Compare
Cleaning modes

When you choose a robotic pool cleaner, you should know the type of your pool (in-ground, gunite, and inflatable), and its finish. Being guided by this information, you should choose a cleaner by a cleaning mode. There are two main types of robotic cleaners designed for specific types of cleaning:
Robotic pool cleaners for walls and floor
Robotic pool cleaners for floor
Robotic pool cleaners travel thanks to their four wheels or special rollers and caterpillars. The rollers serve not just as the means of transportation but also as effective tools for removing deposits and ingrained dirt from a pool coating. The rollers can be divided into several types either: combo brushes for film and tile; PVC brushes for film and gunite pools; super brushes for tile, film, stainless steel and composites. There are also special turbo brushes for quick clean-up, located before or inside the suction channel. Some robotic cleaners are equipped with the scrapers, designed to remove the dirt from the walls and the floor of the pool. On knowing this peculiarity, you will be able to choose a robotic pool cleaner to meet your own requirements and suit your daily tasks.
Self-sufficiency and performance
Self-sufficiency and performance are the criteria of no small importance in choosing a robotic pool cleaner. These parameters show how effectively a cleaner works and how much time it requires to do the job. This is influenced by software solutions, allowing a cleaner to run smartly and effectively. You should consider performance (gallons per hour) depending on the length and the depth of your pool, and the length of a power cord. The bigger the pool is, the higher performance and the longer power cord are required.
Usability
Usability is the third important aspect to draw your attention to. Usability includes implementation of controls, for example, availability of remote control. The ease of cleaning of a pool cleaner is significant as well. The special brushes and scrapers thoroughly clean the surface from bloom, dirt, algae, and microorganisms, and then the cleaner draws it together with water. Then, the dirt passes through a filter and deposits in a canister or porous bag, and the purified water leaks outside. Therefore, the ease of cleaning is also important. The other functions and elements such as a transportation caddy, timer and programming, quick cleaning, anti-tangle systems and accessory sensors will undoubtedly come in handy while cleaning the pool; they directly influence the usability.