Getting into RC hobby is always exciting, and if you decide to start with remote control aircraft, it's a beautiful decision! That's
why we've selected the best RC airplanes for you to choose the appropriate model.
...
Read more
...Read less
X
This site is a free online resource that strives to offer helpful content and comparison features to its visitors. Please be advised that the operator of this site accepts advertising compensation from certain companies that appear on the site, and such compensation impacts the location and order in which the companies (and/or their products) are presented, and in some cases may also impact the scoring that is assigned to them. The scoring that appears on this site is determined by the site operator in its sole discretion, and should NOT be relied upon for accuracy purposes. In fact, Company/product listings on this page DO NOT imply endorsement by the site operator. Except as expressly set forth in our Terms of Use, all representations and warranties regarding the information presented on this page are disclaimed. The information which appears on this site is subject to change at any time. More info
HobbyZone Sport Cub S
Attractive and Agile
This miniature replica of the HobbyZone® Sport Cub S airplane can let you fly, dive and rise in your backyard with incredible ease. With the features this radio control airplane is packed with, you get a ready-to-fly model to teach yourself to fly a plane just anywhere. The SAFE® technology, the innovative electronic flight protection system, helps you learn flying, whereas different modes allow you to become a proficient flier in a couple days. Even if the aircraft suddenly pitches down, you can quickly get it back to a steady flight by pulling the Panic Recovery trigger, whichever flight mode you choose. What's more, 4 channels give you control over the throttle, rudder, elevator, and ailerons for unbelievable aerial tricks, and the 2.4GHz DSMX® technology makes the airplane compatible with any Spektrum™ DX4e transmitter or better.

Pros:
Steerable tail wheel for easier landing;
Powerful electric motor for better performance;

Li-Po battery and charger included;

USB port for fast charging from DC.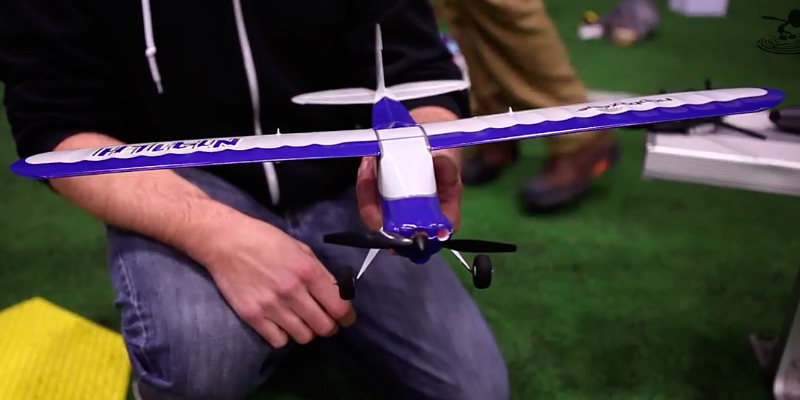 Additional Info
Last updated price

$

350.00

Stock
In stock
ASIN

B00LOC0BSE
---
HobbyZone Sport Cub S
Flyzone DHC-2
Glide Through Water and Air
The Flyzone DHC-2 Beaver is one of the most recent RC airplanes in the Flyzone product line. The product comes fitted with 2.5" foam wheels and a steerable tail wheel for better maneuverability on the ground, and a pair of floats with steerable rudders so that it could easily land and take off on lakes, ponds or rivers. With the durable AeroCell foam fuselage and one-piece wings with struts, this remote control aircraft will resist any flight challenge you intend for it. The model is powered by a battery which you can access by opening the hatch on the airplane bottom. Taking a closer look at the plane, you can see the navigation and landing lights which replicate the real ones with a perfect precision, making a plane the accurate copy of the full-scale plane. So, take a chance to get this cute remote control airplane for your home.
Pros:
Compatible with any 2.4GHz SLT transmitter;
Easy to access battery;

Durable AeroCell foam body;
Excellent replication of the real airplane.

Additional Info
Last updated price

$

0.00

Stock
May be out of stock
ASIN

B00BL16WTA
---
Flyzone DHC-2
HobbyZone Champ HBZ4900
The Little Orange Champion
Here is another exciting radio control aircraft by Hobbyzone, the mini copy the of famous Aeronca plane. Looking at it, it's easy to notice that it's pretty small, which makes it perfectly suitable for flying in small backyards. The durable construction of wings and fuselage allows you not to worry too much about damage in crashes, while the tail wheel ensures safe landing and takeoff on any terrain. This airplane is also incredibly easy to control thanks to the Spektrum™ 2.4GHz transmitter with the DSM2® technology that ensures uninterrupted and interference-free control whenever you fly. Moreover, you can use this transmitter to fly other models such as ParkZone® and Blade® micro aircraft with Bind-N-Fly® technology. Being small, lightweight and stiff, this HobbyZone remote control aircraft is a great solution for novice pilots.
Pros:
150mAh Li-Po battery and USB charger included;
3 controllable channels including the steerable tail wheel;

Detailed instruction manual with flying tips in the box.
Last updated price

$

0.00

Stock
May be out of stock
ASIN

B00YQ2HQUU
---
HobbyZone Champ HBZ4900
KKmoon F949
It Will Fly Far Away
The KKmoon F949 is the RC aircraft which is designed in conformity with the Cessna-182 real plane. The engineers have equipped this model with 3 coreless motors that provide immense flying power, thus you can be sure this plane will fly like a swift. The airplane is cast in EPP composite material that has high flexibility and excellent recovery capability to survive crashes and awkward landings which are very likely for beginners. With the control range up to 200 m, the KKmoon F949 is cool for flying in open-sky areas. Finally, we'd like to mention the controllable throttle, elevator, and rudder, which allow you to fly forward, up and down, left and right, make 360-degree rotations, and loops, and have marvelous flying memories.

Pros:
Cool finish;
Easy-to-use controller;
Flying range up to 200 m;
Adjustable rudder volume size for all kinds of aerobatics.

Last updated price

$

69.99

Stock
May be out of stock
ASIN

B00SKZOVR0
---
KKmoon F949
Dromida Twin Explorer
Reach for the Sky With the Twin Explorer!
Picking the radio control aircraft by Dromida for our review, we were impressed with its look from the very beginning. The bright decals and curved wings make the plane groovy and easily distinguishable from other models. Apart from looking good, the airplane also performs well, thanks to the dual motor, that is why it's called Twin Explorer. The pair of propellers forces the aircraft with greater power and provides better maneuverability in comparison with single-prop models. Made of a crush-tough foam, this radio controlled aircraft is capable of withstanding bad landings and rapid falls, allowing new pilots to enjoy the flight again and again. On the plane belly, there's a power switch and a hatch for a battery that is quick to charge via a USB charger. Getting the Twin Explorer, you've got nothing else to buy, everything's included to let you fly it straight away.
Pros:
Dual props for more power;

Easy launch with a wave of hand;
Quality radio system with USB charge port;
USB Li-Po battery charger;
AA batteries for transmitter included.

Last updated price

$

0.00

Stock
May be out of stock
ASIN

B01LGHZ05K
---
Dromida Twin Explorer
What is a Remote Control Aircraft?
The RC industry is captivating more and more people worldwide and has enjoyed a big technological advancement in recent years, offering a vast range of models for both beginners and professionals. Remote control aircraft takes a special place in this range, being a source of fun and amusement for users of all age groups.
A radio control aircraft is a small replica of a plane controlled remotely by an operator using a handheld radio transmitter. If you are a beginner in RC flying, choosing a model correctly is the very first task, as it will directly affect how good or bad your radio control experience will be. So, we picked 5 best remote control planes to help you make a choice.
Give a look at our reviews of tricopters and quadcopters that can take your RC adventure to a whole new level.