Want to make sure that everybody hears you loud and clear? You could shout and risk losing your voice or you could just use a powerful
megaphone to send your voice over large distances.
...
Read more
...Read less
X
This site is a free online resource that strives to offer helpful content and comparison features to its visitors. Please be advised that the operator of this site accepts advertising compensation from certain companies that appear on the site, and such compensation impacts the location and order in which the companies (and/or their products) are presented, and in some cases may also impact the scoring that is assigned to them. The scoring that appears on this site is determined by the site operator in its sole discretion, and should NOT be relied upon for accuracy purposes. In fact, Company/product listings on this page DO NOT imply endorsement by the site operator. Except as expressly set forth in our Terms of Use, all representations and warranties regarding the information presented on this page are disclaimed. The information which appears on this site is subject to change at any time. More info
Pyle PMP58U
Go Team Go!
Need a bright and high power megaphone to get some pep and send the crowd chanting for your team? Whether you're a cheerleader or a coach, the classic white and red Pyle PMP58U will get the crowd screaming without you straining your voice even a bit.
This model works both on batteries and via an AC adapter (though you'll have to buy that accessory separately) and consumes relatively little energy. In fact, the 50 Watts consumption seems downright tiny considering that it transmits sound as far as 1200 yards.
Oh, and you're not restricted to transmitting your voice only. This model has an AUX-in port as well as a USB one so you can play music or prerecorded audio clips. There's also a preset siren sound, useful for emergencies where simple voice commands might not be enough.
The Pyle PMP58U also has a handy carrying strap though we'd actually recommend getting an extension for it. You see, this model is on the heavy side so your hands might get tired of holding it for the whole event. However, with a longer strap, you could just hang it on your neck easily.
All of the above does, of course, come with all the standard megaphone features such as the adjustable volume and detachable mic. But it's the extras that make the Pyle PMP58U stand out and make it one of the best choices for all.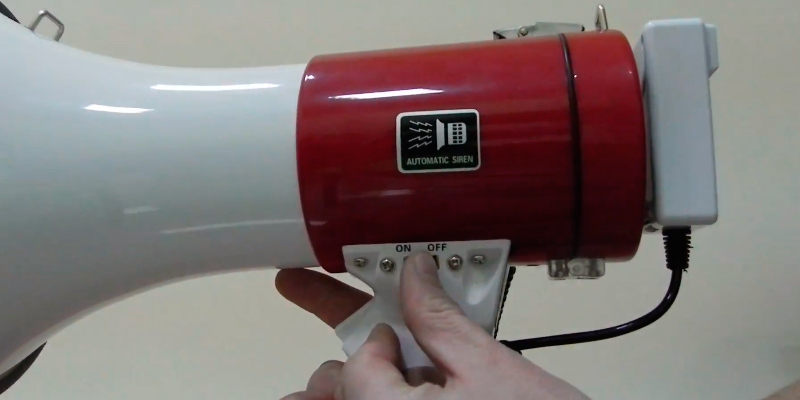 Additional Info
Last updated price

$

0.00

Stock
May be out of stock
ASIN

B004HJ754O
---
Pyle PMP58U
Croove 733
Pump Up the Music!
Love going to college football matches but don't feel like they're epic enough? You can get the crowd rowdy with the Croove 733, designed to raise the public's spirits and get them chanting.
While you can use this model as a basic bullhorn megaphone, it comes with a siren mode that will attract attention no matter how noisy the event is. Additionally, it has a music mode that plays the ultra-popular 'Ole Ole' song, a familiar tune for football fans. If that doesn't get the fans shouting, nothing will!
However, this kind of sound requires a substantial amount of energy. Thus the Croove 733 eats through D batteries like they're candy so make sure to bring a few spares just in case. Alternatively, you can turn down the volume via the controls, though we personally prefer it loud. After all, why not take advantage of one of the most powerful megaphones out there?
This model is also quite convenient to carry around as it has a strap and the handle folds easily. That way you can stick it in a bag or keep it hanging from your wrist as you move. It's quite lightweight and won't be a burden at all.
All in all, this is one of the best accessories for sports events where the crowd needs a little push to get inspired. It's convenient to use and carry and you can't go wrong with the quality that the Croove 733 offers.
Additional Info
Last updated price

$

19.99

Stock
In stock
ASIN

B00FP19LAE
---
Croove 733
Pyle PMP40
Hearing You Loud and Clear!
Tired of trying to get your voice and commands heard while feedback and noise get in the way? Clear sound transmission is what you need and that's exactly what the Pyle PMP40 delivers.
The microphone on this model has a noise suppressor so it only picks up your voice and keeps it clean with no traces of feedback. You don't have to speak directly into this megaphone like a cheerleader, there's a detachable mic that can be used instead. That way it seems more professional so you can use it on construction sites, for example. The mic is push-to-talk so you won't ever accidentally transmit something you'd rather not.
We did hear a few complaints about the handle being awkward to hold for too long. However, that's just a matter of how you grip it and, who knows, it may fit perfectly well into your hand. Besides, this model is quite lightweight so it's not like this device will be dragging you down.
The Pyle PMP40 transmits voices over a distance of up to 1000 yards, up there with the top of the line models. It only uses batteries though it does take quite a few to function, probably due to the wide coverage area. It also has music and siren modes, just like other Pyle bullhorns.
While this particular model may not be the overall most powerful bullhorn we've seen, it does offer exceptionally clean sound, which can be the deciding factor in a lot of cases. So if you value sound quality over extra features, this is the megaphone for you.
Additional Info
Last updated price

$

25.99

Stock
In stock
ASIN

B002PAZZM6
---
Pyle PMP40
Sugar home Portable
Save Your Batteries
Need a bullhorn that won't burn through batteries too fast and still carry your voice over a reasonably large distance? Try out the Sugar Home Portable megaphone, a budget-friendly and energy-efficient model.
This bullhorn works on 4 C batteries and, thanks to optimized energy consumption, a single set of batteries will be enough for 10 hours of work at the maximum volume. In fact, the device will work twice as long if you turn that sound down just a little bit. Considering that most sports events don't last all that long, this should be more than enough for several weeks or maybe even over a month of regular use.
The Sugar Home Portable also has a siren mode so you can quickly get crowds to disperse, useful for emergencies or parties that have been going for too long. This model carries sound over a distance of 600 yards so you can be sure that everybody hears you.
However, like many other models of plastic megaphones, the Sugar Home bullhorn's glossy body scratches easily, which makes the device look really worn even after a few months of use.
So if battery use matters to you and you want a bullhorn that works efficiently and doesn't cost a pretty penny, don't hesitate to get the Sugar Home model. It may not be the sturdiest but it's certainly one of the more cost-effective choices out there.
Last updated price

$

0.00

Stock
May be out of stock
ASIN

B01M9JB6E1
---
Sugar home Portable
Ideas In Life Portable
Take Control of the Volume
Looking to get a rowdy crowd in order but don't want to resort to high-volume shouting right away? Sadly, most megaphones seem to have poor sound adjustment controls so you end up either whisper-quiet or loud enough to get people covering their ears. However, the Ideas In Life Portable bullhorn is, thankfully, different from the rest.
This model's volume control slider moves very smoothly so you can choose precisely how loud you want to be. It also doesn't distort the sound once you turn the megaphone up to the highest level, which is a common problem with cheaper models. Plus, the wide bell diameter keeps the sound from being muffled by strong winds, which can happen if you're out in the open.
We have to warn you that the low price of the Ideas In Life megaphone does come at the expense of good materials. For example, the foldable handle tends to get wobbly over time so you might have to tighten the screws if you want it to stay firm. The strap, though, stays on with no issues and doesn't tear even after prolonged use. Still, the body of this bullhorn is relatively sturdy and there's little to complain about in terms of sound. If you don't want to spend too much and still need a high-quality model, the Ideas In Life Portable bullhorn may just be an optimal purchase.
Last updated price

$

19.77

Stock
In stock
ASIN

B01DJNRPWU
---
Ideas In Life Portable
What Is a Megaphone?
Honestly, it's hard to explain what a megaphone is without going too basic or too scientific. We'd prefer the approachable route, though, so let's just leave it at this: a loudspeaker like that is a device that helps you transmit your voice or, in case of some models, other sounds loudly over large distances. This can be helpful if you're coaching a sports team, leading a rally, or simply want to have some fun at a party. Depending on the model, you may be able to send your voice as far as the length of a football field or maybe even further. Some of them are intended for use in high-noise environments where you'll have to be shouting over large machinery or construction equipment. Also, you'll have to check if your megaphone speaker works on batteries or via an AC adapter so you'll know whether it can be easily taken out "in the field" so to speak.
If you're all about loud and high-quality sound, check out our
boomboxes review
, these little music players are perfect for parties. And if you want to get the whole house shaking with the power of sound, don't hesitate to pick out a set of
floor speakers
to amp up the bass.