If you like wearing rings, bracelets, and necklaces, you know for sure how demanding in terms of care and maintenance jewelry is.
With a jewelry cleaner at hand, all your costly gems will always look like new, sparkling with a myriad of tints!
...
Read more
...Read less
Precious Metals to Use With
Sienna TrioShine 3 in 1 SJC-1601
Powerful Cleaner and Sanitizer
If you need a feature-rich device for cleaning your jewelry and small personal belongings, the Sienna TrioShine 3 in 1 can be your top choice. This ultrasonic bath boasts an amazing cleaning performance.
Thanks to the steam function with the pressure of 55 PSI, this sanitizer removes dirt and tarnish, making your stuff as shiny as new. The ultrasonic cleaning feature is also available. The device generates 46,000 ultrasonic vibrations in 1 second, which allows for removing up to 99.9 % of all germs and bacteria. You can select the desired function using the one-touch panel on the top of the cleaner. All the controls are very clear, so you won't have any trouble using this jewelry cleaning machine, even if you've never used one before.
Yet, considering that this ultrasonic jewelry cleaner is so powerful, it is obviously quite energy-consuming too. Capped at 1100 Watt, it's not the type of device you'd want to run every day. Having said that, we believe once you clean all your jewelry, you will use it only occasionally which will not break the bank.

The capacity of the tank is about 11 oz, which makes the device not very big (17 x 4.5 x 10.5 inches). However, given that one cycle takes only about 5 minutes, you can always repeat the procedure as many times as you need should you be not able to fit all of your precious items in it. Such quick cleaning time makes this sanitizer an irreplaceable item in your household when you're in a rush and need to clean your stuff urgently before a party or some formal event.

Package Contents
With the help of the Sienna TrioShine, you can clean not only jewelry made of precious metals but also small stuff like watches, glasses, toothbrushes, retainers and other things. We also really like that this machine comes with a clear guide that explains which setting is better for each type of precious stones.
Apart from the instructions, this home jewelry cleaner comes with a funnel, a measuring cup, a piece of microfiber cloth for delicate drying, a basket, tongs and tweezers. These tools will make the cleaning process way more convenient and precise.
All in all, the Sienna TrioShine 3 in 1 is an effective cleaner and sanitizer for jewelry and other small items that will leave dirt and bacteria no chance to survive. It may be a bit pricey, but if you are willing to get the best jewelry cleaner for home and professional use, this is a solid fit.
Additional Info
---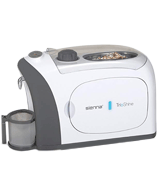 Sienna TrioShine 3 in 1 SJC-1601
InvisiClean Pro Elite IC-2755
Convenient Timer Feature
If you want your jewelry to always look sparkling but you don't want to spend much time scraping your valuables by hand, we recommend taking a closer look at this device. The InvisiClean is an ultrasonic cleaner that offers professional results.
With the help of this device, you will be able to clean not only jewelry but also other stuff like glasses, waterproof watches with watchbands, hygiene items, toy, tools and many more.
However, make sure you don't put glasses with scratches or mechanical watches since the cleaner can damage them. Also, avoid putting there oxidized jewelry and objects that have loose stones or generally soft porous items.
We would like to point out that this stationary unit is suitable for all precious metals. To clean everything up, the InvisiClean uses ultrasonic waves. Basically, it creates bubbles in water or cleaning solution that effectively removes built-up dirt from your items.
What we also like is that the tool features a timer. You can select the working time from 90 to 600 seconds. In order to avoid overheating, the device is fitted with a fan that serves for cooling down the motor during work.
By following the manufacturer's recommendations, you can prolong the service life of the device significantly. Of course, you can find this info on the Internet, but we'd like to focus on the most important things. First of all, make sure that you do not let the device run dry over than a half minute. Secondly, despite it having a built-in fan, avoid using it longer than 30 minutes without interruptions.

Capacious Tank
Now, let's move on to the dimensions. The size of the cleaner itself is about 8.7 x 5.4 x 5.6 inches, while the tank is 7.1 x 3.4 x 2.3 inches. And even though the max fill of the unit is not the same as the total capacity and makes only 22 oz instead of 27 oz, it is still bigger than most other ultrasonic cleaners you can find on the market right now.

To make this ultrasonic jewelry cleaner a bit more convenient, the manufacturer equipped it with a detachable power cord that you can easily remove when you need to empty the tank. What is more, there is a basket and a watch holder included in the set. With the help of the holder, you will be able to keep the watch face above the cleaning solution to avoid damage. Speaking of cleaning solution, it is recommended to mix water with a small amount of washing solution or similar liquid. Also, remember not to go above the water line.

In conclusion, if you seek a home jewelry cleaner that will make your stones shine, we highly recommend choosing the InvisiClean Professional Ultrasonic Cleaner. It suits for all precious metal jewelry and other metal/glass things. Plus, such features as a built-in timer, basket and watch holder make it very convenient in use.
Additional Info
---
InvisiClean Pro Elite IC-2755
FAMILI FM8000WW
Created to Make Your Things Shining
The Famili FM8000WW is a versatile device as it works pretty well not only for jewelry but for other accessories as well. This device can really make your jewelry, watches, glasses, and other items clean and glossy.
This device has an intuitive and well-readable display. Thanks to the variety of settings, you can be sure that any dirt will be removed from your jewelry. You do not need any additional cleaning solutions. Just pour there some tap water and push the button.
It's an ultrasonic cleaner that generates waves with a frequency of 42,000 Hz. The waves create small cleansing bubbles that gently lift grime and dirt away. The oxygen bubbles penetrate even the most difficult areas, making your accessories sparklingly clean.
Some users don't like the fact that the tank is rather shallow. It is less than 2 inches deep, so you may not be able to fit some pretty thick items in the tank. Nevertheless, it is still enough for most of the accessories. 
Special Features
The appliance boasts a very compact size. At just 6.9" x 8.3" x 5.5", the device can be easily placed in a closet or somewhere else. The cleaner has an intuitive control panel with three buttons. Two of them are for switching the cleaner on and off. By pressing the central one, you can select the optimal cleaning cycle. The Famili FM8000WW offers 5 preset cycles (90, 180, 300, 480, and 600 seconds).

This device can also clean dentures, coins, utensils, shaver heads, and other accessories. It became possible thanks to different holders and baskets that come in the set. Besides the standard tray for jewelry, the set includes a special watch holder and a spindle with a spacer ring for your CDs, DVDs, or Bluray discs.
To sum up, the Famili Ultrasonic Polishing Jewelry Cleaner is a decent tool that will make your accessories and other small items shiny in just a few minutes. And the fact that this tool is very compact and easy to use makes it even more appealing.
---
FAMILI FM8000WW
Magnasonic MGUC500
So Gentle on Your Jewelry
The Magnasonic is a great little thing that will easily make your jewelry shine again! Using ultrasonic technology, the MGUC500 provides very gentle cleaning of your jewelry. It's effective for various precious metals and stones. For example, even if you need to clean a snake necklace chain, this device will do it successfully. 
Generating ultrasonic waves of 42,000 Hz, the Magnasonic cleanses your jewelry from dirt and grime without using chemicals and damaging your items accordingly. So, this cleaning method is suitable for metal costume jewelry and jewels alike. Due to that, this cleaner can be rightfully called a multifunctional device.
The Magnasonic cleaner has a fairly ergonomic design. It features a slightly rounded body which is very convenient to carry around. The device is compact and doesn't take up much space. Unfortunately, the water tank can't be removed, thus, you might have some difficulties with refills.

Apart from jewelry, this ultrasonic cleaner is suitable for watches, glasses, hygiene items like combs and toothbrushes and other small stuff. However, it is better not to use it for cleaning jewelry with loose stones and glasses with cracks.
Modes and Controls
The Magnasonic jewelry cleaner machine is extremely easy to use. The control panel has a digital display and three buttons. Two of them are intended for turning the appliance on/off, while the third one is used for choosing the cleaning cycle. By the way, the Magnasonic offers 5 cleaning cycles with different operating time (90, 180, 280, 380, and 480 seconds). The device automatically turns off when the cycle ends, so it's not necessary to control the whole process. Just put your jewelry inside and set the cleaning time.
After the cleaning, we recommend you to always put your accessories in a jewelry box to protect them from water drops, deodorant splashes, perfumes, and other cosmetic products. All this can damage your valuables and, as a result, they may lose their gloss.

All things considered, the Magnasonic device is an optimal solution to keep your jewelry in ideal condition with minimum efforts. Being pretty ergonomic yet still very efficient, this cleaner is perfect for those who have a lot of precious metal jewelry.

Additional Info
---
Magnasonic MGUC500
VIVREAL SU-768
For Family Use
If you need a functional cleaner for frequent home use at a reasonable price, you will be hard-pressed to find a better model than the VIVREAL SU-765.
The perk of this jewelry cleaning machine is quick and efficient cleaning. It produces powerful 43,000 Hz ultrasonic waves that create millions of small bubbles, capable of removing stubborn dirt and blemishes that build up on your accessories. With that, the device works gently without causing any damage to the polishing of your jewelry.

Further on, using the VIVREAL SU-765 you will be able to clean not only precious metal items but also small household stuff, watches, CDs, glasses and the like. Thus, all family members will be able to put this unit to good use. That said, we'd like to point out that you'll struggle to place there glasses with a very big frame, so keep note of that.

Other than that, the VIVREAL SU-765 imposes no troubles and is very easy to use. It's enough to fill it with clean water and it will be ready to use. However, in order to achieve better results, it won't hurt adding some cleaning detergent.

Waterfroof Panel
What users especially like about this machine is that it is compact and quiet. Measuring 8.4" x 6.8" x 4.8" in dimensions and with a 20-oz water tank, it doesn't occupy all that much space and it works quietly so you can be sure that it won't disturb you.

The cleaner comes in a sleek black and white body and has a user-friendly control panel. All buttons featured on the housing are waterproof providing you with peace of mind about the safety of the unit. Also of note are 5 timer settings allowing you to pick a cleaning cycle from 90 and up to 480 seconds. Plus, you have an auto turn off function.

Finally, the VIVREAL SU-765 is one of the more affordable options on the market. At more than a reasonable price you can get yourself a functional machine that will get the job done without breaking the bank.

To conclude, the VIVREAL SU-765 is a good quality ultrasonic cleaner, able to cater to the needs of the whole family. It's reliable and versatile, enabling you to clean in it not only jewelry but also glasses, keys, coins, dentures, watches, and more. Based on the ultrasonic technology, it cleans effectively and quickly.
Additional Info
---
VIVREAL SU-768
What Is a Jewelry Cleaner?
Nowadays jewelry is quite popular both with men and women. People around the globe wear classy cufflinks, bracelets, diamond rings, wedding rings, earrings, etc. For sure, everyone knows that jewelry requires special care to sparkle and look beautiful year after year. Of course, you can clean your accessories using a piece of cloth or simple dish soap, but doing so you risk damaging it. As an alternative, you can also go to a specialist, but it costs money and it is time-taking. So what is it you're supposed to do? The best solution to this problem is buying a proper jewelry cleaner.

A jewelry cleaner is a device specially designed to help people clean their valuable accessories and coins. Unlike other ways of cleaning, this device cleans things thoroughly yet gently, protecting them from tarnishing and damage. Also, they exclude the risk of mechanical damage which can take place if you try to clean it by hand. So if you're the type who has a lot of jewelry that has to be taken care of, we hope, after reading these jewelry cleaners reviews, it should be easy to make the right choice.

Jewelry is an important part of our look, but not the only one. Our hair and clothes add to the integrity of this look defying us as a person. With this idea in mind, you may want to consider buying a garment steam cleaner, a device allowing quickly refreshing clothes without taking them off the rack and a travel hair dryer, a dryer of convenient travel size that is easy to carry in a tote or even handbag.

What Features to Compare
Type
Basically, there are two main types of cleaners: electric devices and different solutions. The choice of a jewelry cleaner depends on what kind of jewelry you wear. The electric devices usually use ultrasonic technologies, while solutions use chemical active formulas. Ultrasonic devices are great for people who adore precious metals and stones and wear jewelry all the time. However, if you don't need to deep clean your jewelry that often, a chemical solution is a more reasonable choice.
Cleaning
Another important thing to consider is the method of cleaning. Electric devices use different technologies such as ultrasonic or steam cleaning. As for chemical solutions, their formula varies, yet it should be safe enough to be used with the majority of metals and alloys. You do not have to be a chemist and know all the chemical ingredients, you should just be aware of what precious metals the formula is best for. Knowing that you can be absolutely sure that your valuables will be clean and well-protected. Of course, you need to remember that the more careful you are, the longer your items will serve you.
Features
Any jewelry cleaner has some extras which add to its usability drastically. For example, most high-end devices are very easy to use, since they are equipped with digital controls that simplify the process of cleaning and help you operate the device. If you are going to use the device for commercial needs, you should opt for a powerful and multifunctional cleaner. For home use, you can simply purchase special wet wipes (they are rather affordable and easy to use). However, keep in mind that sooner or later you will run out of these wipes and would need to purchase new ones. Some of the models also come with a few convenient attachments in a set. The watch holder and the basket are among them. These additions will provide extra safe and careful cleansing of small fragile stuff.
Time
Most of the ultrasonic jewelry cleaners come with a timer feature. The setting generally varies from 90 to 480 or 600 seconds. The average time of the cleaning procedure should be not less than 2 minutes. However, if the dirt is very tough, you might have to run cleaner for a longer time or even repeat the longest procedure. It is also important to check if the cleaner is completed with a fan. this small addition can prevent overheating. Yet, even if the device features a built-in fan, it is still not recommended to run the cleaner more than two or three times in a row without letting it cool down for a bit.
FAQ:
Q: Are there any other ways to clean jewelry?
A: Of course, there are. You can find a lot of cleaning methods on the Internet. Some people clean jewelry using Aluminum foil, ammonia, vinegar, baking soda, beer, and even toothpaste. However, every of these methods has its drawback. Soda, for example, makes the jewelry shining, but you should be very careful while cleaning tiny things, as you can scratch them. You can also go to a professional jeweler to get your valuables glossy, but frankly speaking, it's a rather costly procedure. 
Q: What makes the silverware tarnish? 
A: There can be a lot of reasons for silver tarnishing. Product quality, chemical exposure, humidity of the environment, or direct sunlight.
Q: What can damage my jewelry?
A: Under the influence of the external environment, jewelry might lose its luster. Such factors as oxygen, water, household chemicals, cosmetics, creams, and the sun can have a negative effect on your valuables. You should also avoid mechanical damages, as they lead to micro-scratches on the surface of precious metals. As a result, a product just loses its gloss.
Q: What are the advantages of the jewelry cleaning machines?
A: First of all, jewelry cleaners are very convenient to use. You just need to put your valuables into the tank.
Q: Can a jewelry cleaner protect the surface of the product from scratches?
A: As a rule, most models can. Typically, they cover items with a protective layer to prevent micro-scratches. 
Q: What metals can a jewelry cleaner be used with?
A: It depends on the cleaner type. Some of them can be used with all precious metals, while others are suitable for silver, gold, brass, and copper only.